Outdoor Entertaining with the Neighbors
Last Updated on August 25, 2023
After moving to the new house last summer, The Boy and I learned we lived in a neighborhood very different from the last. The old house was in a subdivision of cookie-cutter homes with manicured yards, and no one spoke to each other. I couldn't tell you what the woman across the street from me looked like, nor did I know her name. (I lived there for 4 years.) Case in point, one evening, pulling out of the driveway, I waved from the car. "I finally know what she looks like," I said to The Boy.  He laughed and replied, "Oh Momma, you know that's the nanny, right?" Palm to forehead.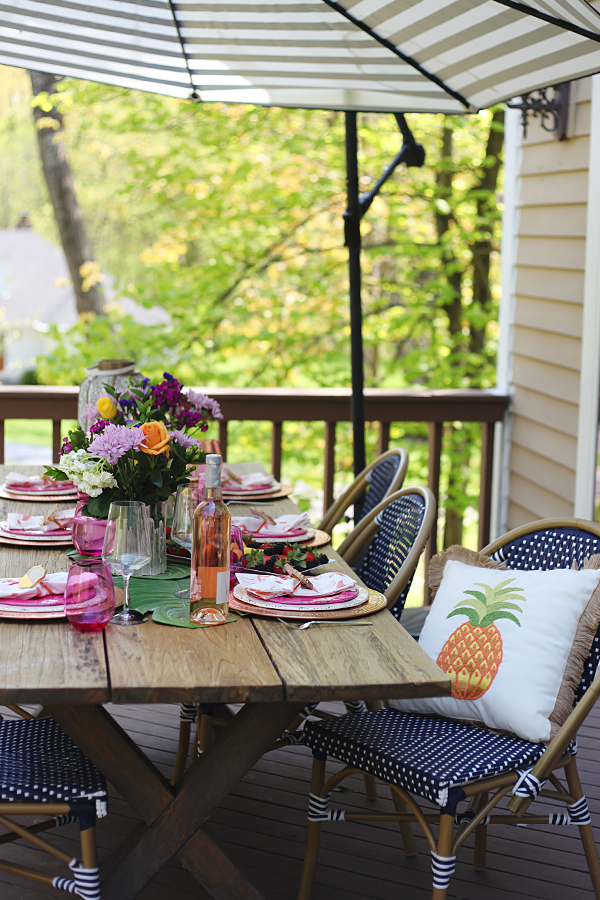 The new neighborhood has the look and feels of a lake house community. Single lane roads filled with small hills and twists and turns. The best thing, everyone waves at each other. On the first real night in the new house, I was getting the kids ready for bed and Thorsten was making his way upstairs to help…the doorbell rang. A sweet couple from down the street was standing on our doorstep, holding a bottle of wine and a card with their number in case we needed any help. Pretty soon another bottle of wine showed up. Neighbors stopped by in their golf carts decked out in bull horns, string lights, and music.
With people popping by to say hi on evenings and weekends, I learned real quick to have the basement fridge well stocked with boozy beverages and always have snacks on hand. We worked a bit on the outdoor decor last year, but after a broken bowl (and a few glasses), I knew I needed to improve our outdoor party gear game. Pier 1 Imports reached out to partner up for their #Pier1BlockParty and the timing couldn't be better to head down the street to pick up some much-needed essentials. Especially since I had just received a catalog announcing an outdoor decor sale. Once I walked through the front door, I decided I didn't want to leave. Quite literally everything I needed for longer days and warm nights was all in one spot.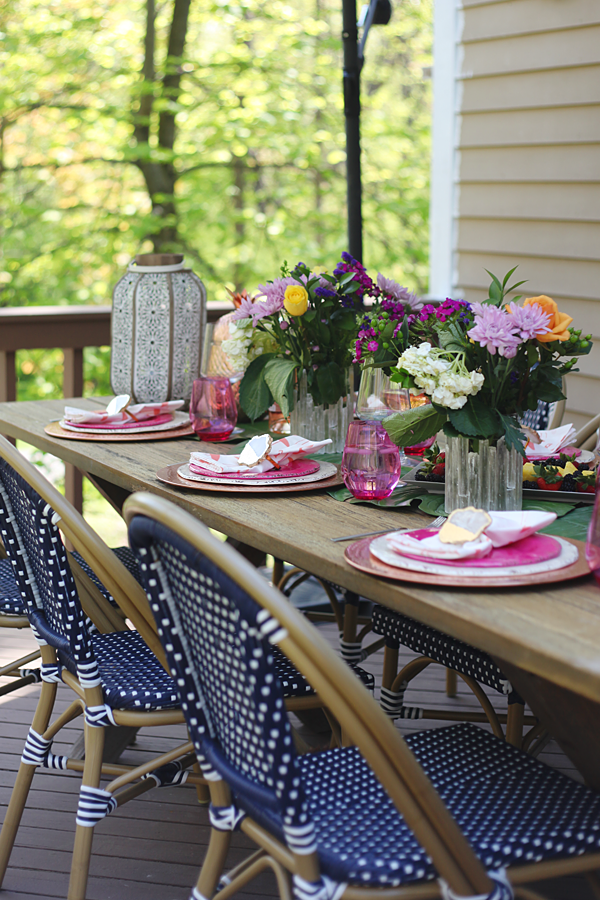 Outdoor Decor and Entertaining Tablescape
First stop was dishware…they would be my foundation. I picked out sand-colored melamine dinner plates, and ding, ding, ding, right next to those were flamingo pink salad plates. It's like they knew I was coming!
I found a little area to start playing with a place setting — for which I highly recommend doing. It's the best way to see how your tablescape will lay out. As long as you pick up your mess, the employees don't seem to mind. Although you may get some curious looks.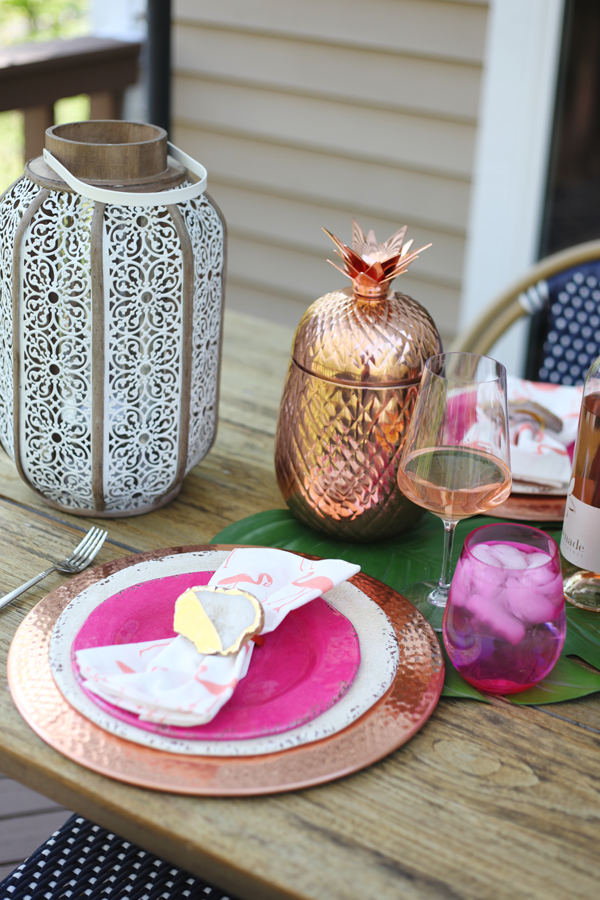 Pictured in the catalog were these large lanterns…which might be my absolute favorite. I snapped up the last two on the store shelves. One for each side of the picnic table. They're gorgeous when lit up at night casting a glow of incredible patterns. The pineapple ice bucket also caught my eye as did the matching rose gold chargers. The shiny metallic kept my eye moving. Hummena, hummena, hummena.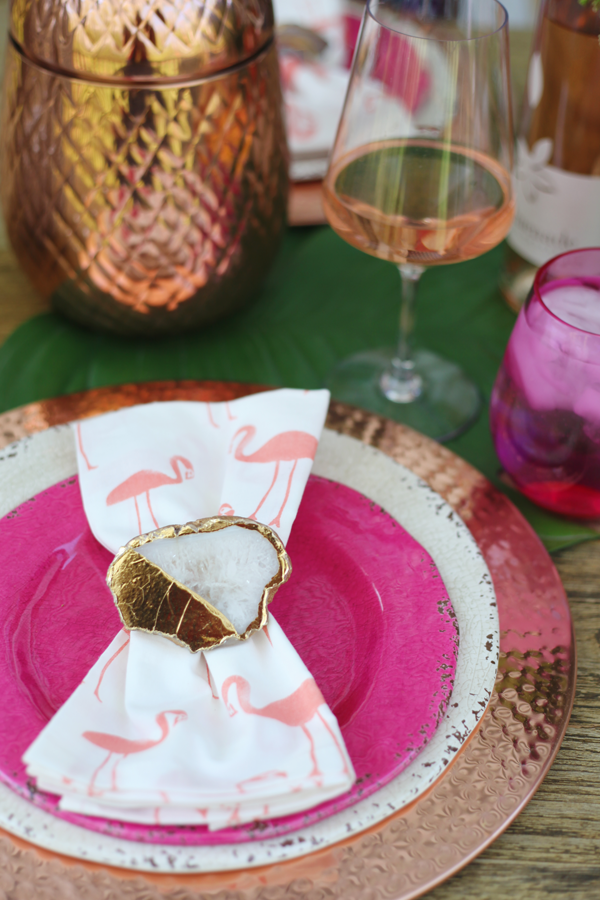 Now for that extra pop of color to really make the pink sing. Everyone loves plants in pink and the faux plant leaf placements fit the bill. Instead of using them under each place setting, I thought stringing 4 together made for a unique runner. They are a type of plastic that also makes cleaning super easy when you have 4-foot monsters slinging fruit. Just give 'em a wipe down and they're good to go.
The napkin selection was plentiful which made it difficult to choose just one pattern, but in the end, I fell in love with a simple flamingo print. To add a bit of glam to the whimsy, I wrapped them in a stone napkin ring…that cuteness will not blow away on breezy days.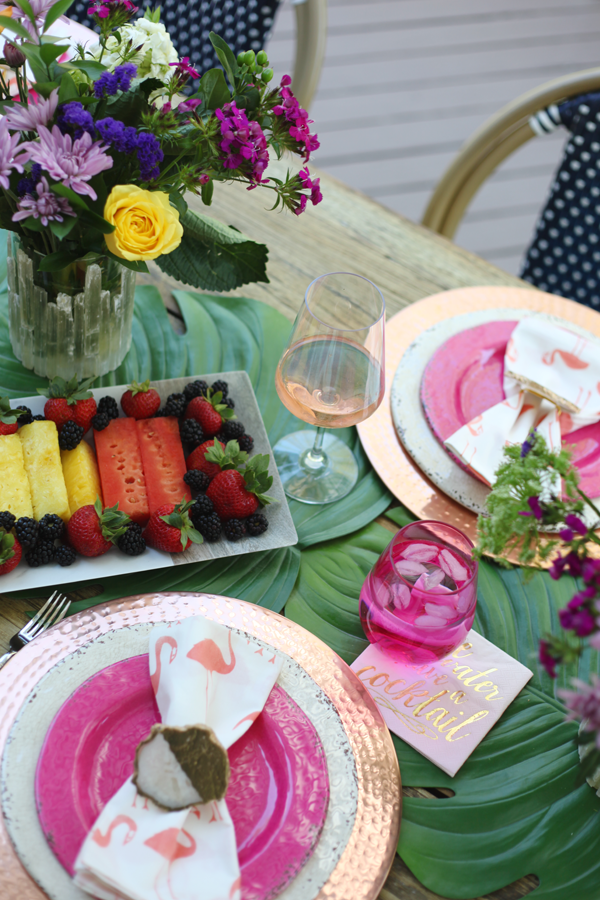 The vases aren't really vases at all, but rather gypsum stone hurricane candle holders. Personally I liked the added texture over a plain glass vessel, and I'll bet if I never said a word, you'd be none the wiser.
You might think the marble tray and water and wine glasses are breakables, but they aren't. I broke the no glass on the patio rule with the vases, but not here. Keeping the kids in mind, this tablescape may look pretty but it's also tough.  The pink stemless wine glasses can be used for mocktails or cocktails, and the goblets are for rosé all day.

If you want to add a dash of color to your space, head on over to your local Pier 1 Imports. Now if you'll excuse me, I have a date with that pineapple pillow up top and some fresh fruit.
For this post, I received product to review from Pier 1 Imports. All opinions are my own and always will be. Thanks for supporting the content that keeps House Of Hipsters going and supporting our sponsors.