Design Crush: Decorating with Pink
Last Updated on August 25, 2023
Peonies are in season, and let me tell you, I have pink on the brain. I used to think it was a color only for little girl bedrooms, but man, oh man, times have changed, my friends. Pink can really make a statement! Who knew you could design your space with bubblegum pink walls and not have it scream I live in the Barbie Malibu Beach House? While perusing Pinterest, I started to spy pink everywhere. In the bedroom. In the living room. Even in the dining room. Seriously, it's everywhere! Let's take a gander, shall we?
RELATED: Did you know I'm the gal behind I Have This Thing With Pink? Here's the story behind this famous Instagram account.
Hits of pink here and there won't make your space seem overly girly. A mid-century modern room can go from feeling really masculine to balanced with unexpected pops. A little high-end luxe glam.
Want pink without feeling like you walked off the set of Mean Girls?
Using Pink Decor For A Splash Of Color
Pick up some accent pillows; they can go a long way. Or snag a vintage stool, and hit it with a can of spray paint. BTDubs, I recently found a great fuchsia at Joann Fabrics in case you're lookin'. Anyhoo, don't be afraid to get creative when decorating with pink. Spray a funky old bust from a thrift store, or a statue or vase.
Pink Rooms That Feel Elegant
Paint an accent wall with a daring bright pink and leave the other three white. Combo it with crisp white bedding and fun pillows. I pinky swear (pun intended) it won't be too overpowering. You can also make it feel less Barbie by accenting it with black to give it balance. I imagine the girl who lives here to be a bit wild. She has a contagious laugh and tons of fabulous friends.
Pink Wallpaper Surprise
I chose this pink Crane Fonda wallpaper to line my foyer closet and about broke the internet when I posted it on Instagram. This DIY was an easy weekend project, and it makes me smile whenever I open the door.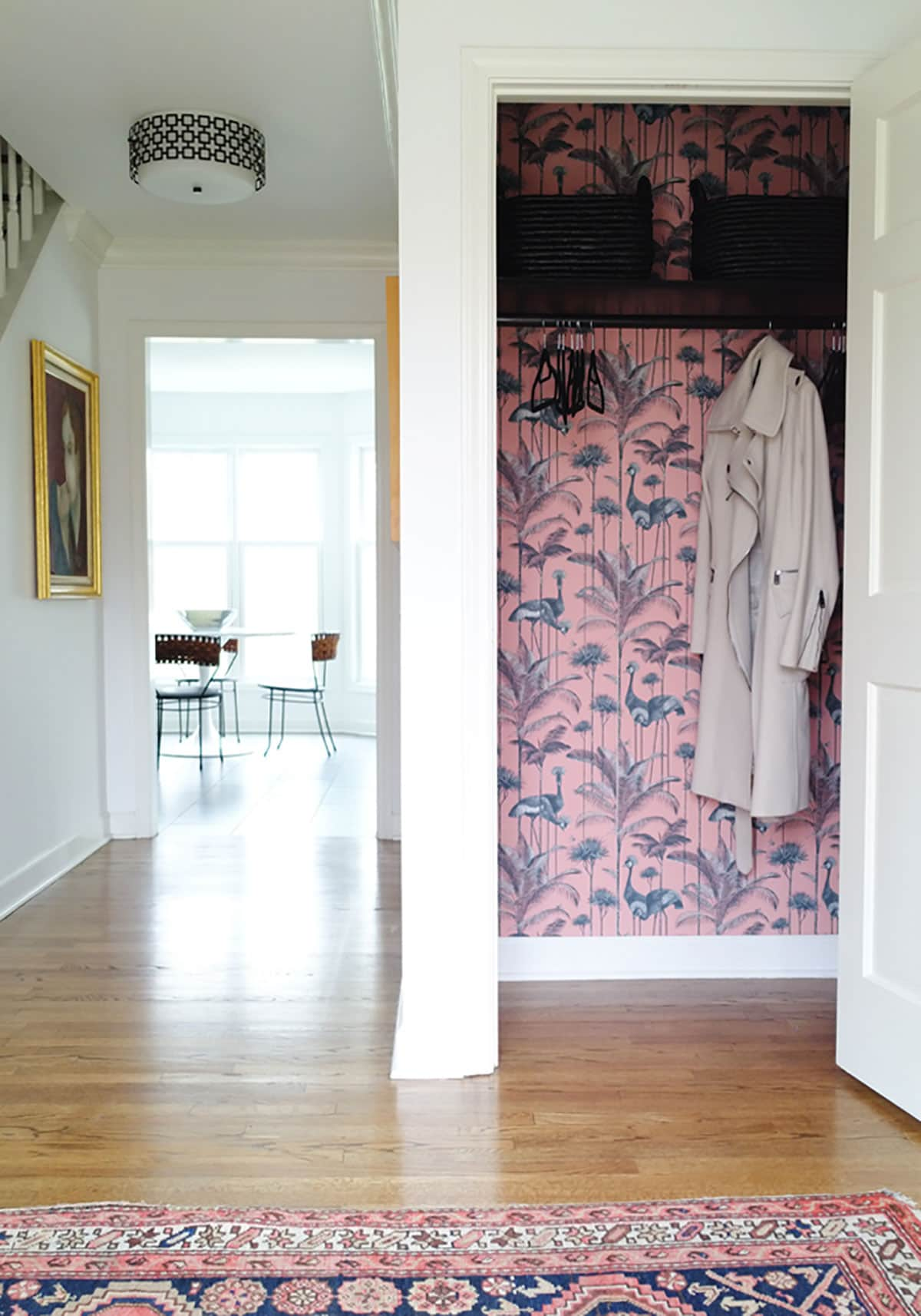 Pink Rugs In The Home
Don't forget this floor flair you all went nuts over the other day. A vintage Persian or tribal rug can be a great way to start decorating with pink. The rug will help ground your room, bring your eye to the floor and make your space feel cozy and fresh. It says, "I'm sophisticated but with an edgy side, and I might just like to party."
Be it traditional seating or something more unexpected like these bar stools, pink's a great way to keep the space feeling fresh. Very enticing.
Have you used pink in your home? Post it on Instagram and tag me so I can see it!



Discover More Modern Eclectic Home Decor Ideas
If you're looking for affordable original art, here are my super secret sources. Read now and tell no one.
When I style my coffee table and bookshelves, I have an abundance of decorative coffee table books on hand. Check out my list of go-tos.
If you're struggling to arrange your living room layout with a fireplace, here are five furniture layout options with expert interior design tips.
Check out these top affordable home decor picks from Amazon, Walmart, and Target to spruce up your room.
If you're on a tight budget, check out these cheap outdoor furniture and decor picks to jazz up your backyard.
Wanna know how to make your home look expensive? I've got my top 8 tips on the blog, just click that link!
Get my expert interior design tips on how to decorate with art.