Little Girl Bedroom — Dueling Kids' Rooms
Last Updated on June 28, 2023
My children have been neglected…well, I should clarify…their bedrooms have been neglected. What can I say, bedrooms for little kids kind of intimidated me. Colors and patterns can easily turn into a hot mess, and let's face it, I'm not the type of parent who will sign off on a Disney princess themed room…much to my daughter's dismay.
Little Girl Bedroom Design Ideas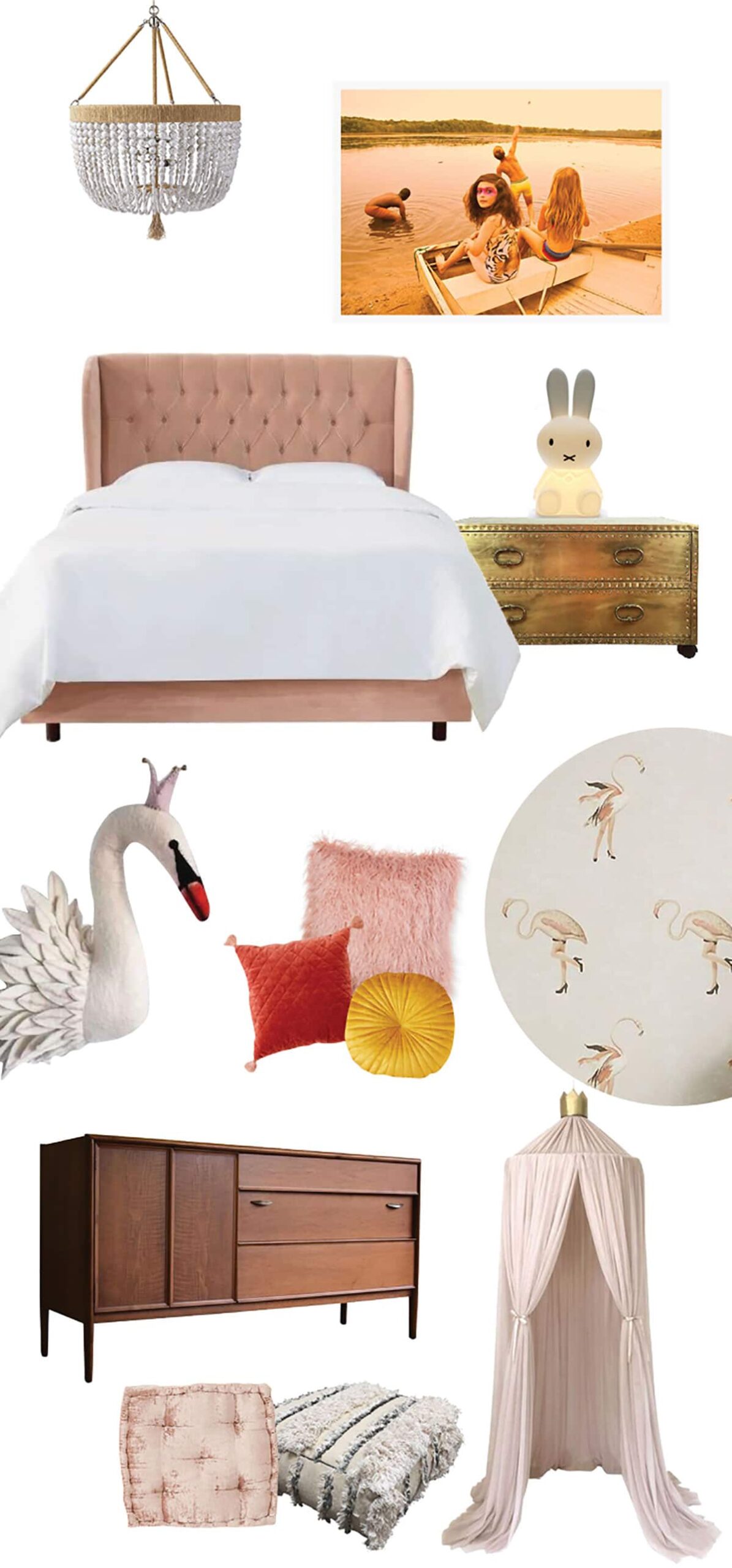 About a year ago, I made a Pinterest mood board for Zoe's bedroom. It's sat sad and empty until last week. Something lit a fire under me, and I started pinning all things pink like a banshee. I really liked the direction it was going and finished it within a couple of hours. Holy moly it actually looked pretty good!
One major problem…I have 2 children. Now there is no way I can design a room for one child and not the other. Fair is fair. So, because I'm bonkers insane, I've decided to makeover both kid's bedrooms at the same time. Yep, DUELING KIDS' ROOMS!
Today I'm starting with Zoe's bedroom. A makeover fit for Marie-Antoinette herself…well, the reading canopy is a bit over the top. As I normally name the rooms I'm working on, I've been tossing around Lady Bird for this space…check the wallpaper. However, I'm not entirely sold on the name and am open to suggestions. While you mull that over, let's dig into her makeover.
To keep the cost low, I tried to use existing items. Zoe's lucky enough to already have the Mid-Century dresser, brass chest, white beaded chandelier, Miffy lamp, and Stephanie Vogas print in her current bedroom.
Can we just take a moment for the wallpaper? It was my main source of inspiration…I mean, srsly, flamingo heads with lady legs. Gah! The wing-back bed frame is the same as the one we have in the master bedroom. It doesn't cost a fortune and compared to everything else I shopped around for, I personally like this one the best. It also comes in pink, and since Zoe is a little pink tornado, it's fitting. Besides, I always wanted a pink bedroom, and never got one. I was all in. I'm still working on the bedding, and she will need storage.
Speaking of…storage is really freaking expensive! I love this white palm rattan shelving. It has that classic vintage look, but it's actually a new piece…and it's on sale for half the price. This toy box is not quite as expensive, but $300 for a box? The search for toy storage continues. Wish me luck!
Stay tuned for the boy bedroom design ideas — it's up next. Oh, and here are the sources for the Lady Bird bedroom…ya, still not sold on it.
White Beaded Chandelier – similar and on sale!
Pink Tufted Bed Frame
Stephanie Vogas Print (for Land Of Nod)
Flamingo Legs Wallpaper
Vintage Sarreid Brass Chest
Pink Faux Fur Pillow – no longer available
Yellow Round Pillow
Poppy Tassel Pillow – no longer available
Wood MCM Dresser
Pink Velvet Floor Cushion
Wedding Blanket Floor Cushion – no longer available
Miffy Lamp
Swan Head with Crown
More Bedroom Design Inspiration
If you're looking for suggestions on where to buy the best sheets and bedding, click that link for a complete round up. You'll find everything from the best flannel sheets to linen, percale, and sateen.