Affordable Decor Ideas From Amazon Home, Walmart, & Target
Last Updated on July 25, 2023
Yes, I've been known to splurge here and there, but when I can zhush my room with affordable home decor that looks expensive, just take my money. Today I'm rounding up the best of the best modern decor that won't break the bank and still looks like a million bucks. So let's stop with the dilly-dally chatter and jump right in, shall we?
BUT WAIT! Don't miss this epic list of 31 Amazon Must Haves for your home. It's a banger list of Amazon finds I own, tested, and love.
Best Affordable Home Decor On Amazon
It's no secret I'm a fan of all the affordable decor finds on Amazon. And because I love to shop, I'm constantly updating my Amazon Storefront (it's basically a library of my favorite finds), so be sure to bookmark that sucka and check back often. Here are 13 of my favorite flavors of the month.
RELATED: Don't miss this epic post filled with the best of Amazon home decor favorites.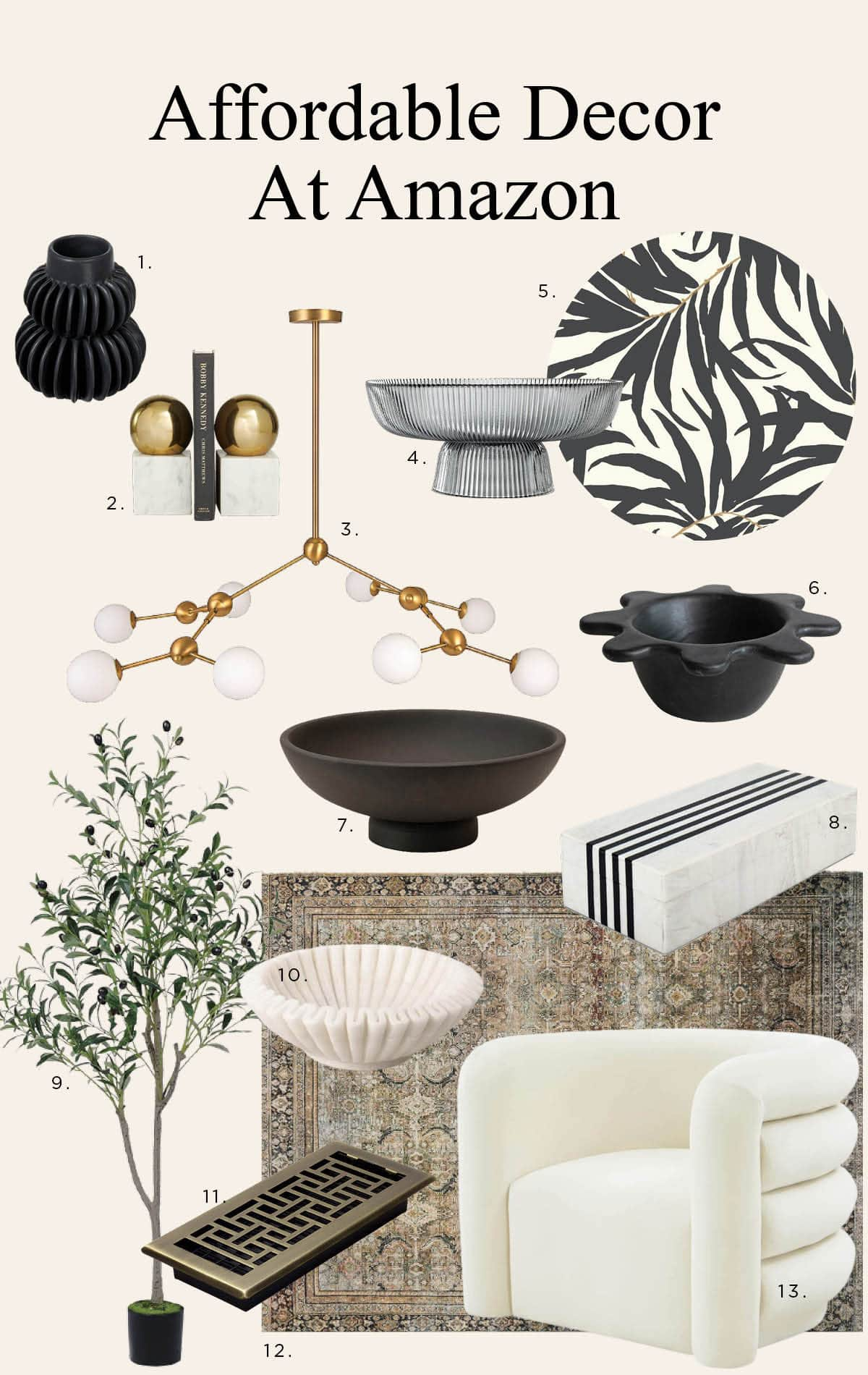 RELATED: Don't miss my Amazon Prime Day top sale picks for 2023.
Modern Pleated Black Vase – perfect for accent decor; pop it on the kitchen window sill with a few foraged florals, or use it as a pencil holder.
Marble Orb Bookends – clutch the pearls; how chic are these? I'm obsessed.
Large Spudnik Sphere Chandelier – this mid-century modern chandie would look great hanging above a kitchen table, kitchen island, or in the dining room. You might think a pendant light like this would cost a small fortune, but no. This light comes in under $120. Shazam!
Ribbed Glass Footed Bowl – this bowl is 10″ in diameter and would look great on a kitchen countertop filled with fruit or used on a coffee table—just pop it on a stack of interior design books.
Black & White Palm Leaf Wallpaper – I hung this in my black and white bathroom seven years ago, and I still love it today. This modern peel and stick wallpaper is currently on sale for under $50 a roll and is also available in a gorgeous green colorway.
Black Flower Petal Bowl – I love the modern organic look of this piece, and it's only $14.
Black Mango Wood Footed Bowl – if you saw my round-up of unique modern vases, you know about my favorite hard-working black pedestal bowl. This one is similar but costs $30 less, making it more budget-friendly.
Black & White Box – decorative boxes are an interior designer's secret weapon. They're perfect for wrangling remotes.
Artificial Olive Tree – this artificial tree is available in 4 different sizes, and the tallest (6-foot) is only $85. I own this tree and love it – but when you unbox it, be sure to fluff and bend those branches for a more realistic look. If you want to find more faux olive trees, click that link.
Marble Ruffle Bowl – the MadeGoods designer version of these marble bowls cost a small fortune, but finally, a more affordable option exists. They add instant texture to a room, and I love using them as coffee table decor or as a catch-all tray in the foyer.
Decorative Grates and Vents – elevate the look of any room with one of these antique brass finished grates. They are a game changer.
Most Loved Rug On Pinterest and Instagram – the Loloi II Layla rug is one of those decor gems that looks good with almost any decor style, and the best part is that an 8′ x 10′ area rug is only $120. Combine that with Amazon Prime free shipping, and this rug is a steal of a deal.
Cream Lounge Chair – this chair is probably the most expensive piece in this entire round-up, but it's a chair, it's comfy, and it's by TOV, so I'm keeping her in here. Besides, I'm hardcore crushing on her.
SCROLL THROUGH THE THUMBNAILS TO SHOP THESE AFFORDABLE AMAZON HOME FINDS


RELATED: Get my faux real design tips on how to decorate with artificial plants.
10 Walmart Home Decor Finds That Are Affordable
A few years ago, while scrolling through Pinterest, I came across an ad for a set of post-modern pink and brass dining room chairs. They stopped me in my tracks, and I immediately declared Walmart's home decor lit. Since then, Walmart has amped up its style by collaborating with brands like Better Homes and Garden, Drew Barrymore, and Gap Home. It's become one of my favorite places to shop for accent decor. Here are my favorite affordable home decor finds of the moment.

3-Piece Outdoor Furniture Set – I know I just rounded up affordable outdoor furniture, but I missed this 3-piece set, and it's currently on sale for $275—2 chairs,the cushions, and the side table. The black and white stripes are giving French Riviera vibes.
Ceramic Table Top Picture Frames – I picked up this picture frame for a foyer refresh along with this faux marble tray that I found in the bathroom department — always look in the other sections and think outside the box.
Arched Wall Mirror – I also bought this arched mirror for the foyer refresh, and it's fantastic — simple yet a statement maker. It comes in both black and gold finishes and costs under $75.
Chambray Organic Cotton Curtains (Set of 2) – I love affordable curtains, but these might be the most inexpensive pair I've found. $25 for a set of two! WUT?!? I also love these with the three stripes at the bottom. That's a great price. Walmart, you're on fire today!
White Footed Fluted Bowl – I swear, every single time this bowl is restocked, it immediately sells out. The 12″ diameter bowl is $15, and there's also a smaller 8″ diameter version for a whopping $5.50. Best thing is you can use it indoors or outdoors. Don't sleep on this decor staple.
Brass Finish Bar Cart – every time I share my bar cart, my DMs explode with requests for the link. Sadly, mine is no longer available, BUT this is pretty much an exact dupe, and it's spectacular!
Cream Tufted Throw Pillows – this cutie is on sale for under $15 – run, don't walk.
Nubby Oversized Decorative Pillow – how perfect to jazz up a bed or sofa?
Modern Graphic Area Rug – this fresh graphic area rug is a budget-friendly steal of a deal.
16-Piece Stone Dinnerware – creamy matte glaze, modern look and feel, plus dishware and microwave safe. This entire set is $36.
SCROLL THROUGH THE THUMBNAILS TO SHOP THESE GREAT DEALS AT WALMART


RELATED: The Anthropologie Primrose mirror is a stunner, but the price tag is extra high. Check out these budget-friendly Anthropologie Mirror Dupes that are practically dead ringers.
Shop These 12 Affordable Decor Ideas At Target
Shea McGee can do no wrong, and Target is killing it with its latest Studio McGee home accessories collection. You can legit find everything you need for your entire house. First thing on my wishlist is that artificial maple tree. Hello luva.

Artificial Maple Tree – if you're looking for that Nate Berkus home look with the big tree branch in the corner, this is the ticket.
Woven Oval Mirror – this woven mirror is giving Serena & Lily coastal Hampton vibes. It's on sale for $49. Can you believe it? That's a great deal!
Framed Vintage Textile – this stunning yet simple piece of art will add texture to any room.
Rattan Wrapped Accent Table – Studio McGee does it again, that perfect coastal look and feel but for a fraction of the cost. I'm obsessed with this little side table.
Rattan Wall Scone – (SIMILAR) the hinged arm makes this sconce the perfect bedside lamp if your nightstand is short on space.
Arch Accent Table – there's just something so perfect about arches. This wooded table isn't necessarily cheap, but at $150, it's still incredibly affordable.
Faux Shagreen Box – a decorative shagreen box for $15? Yup, I'll take it and the larger version too.
Wicker & Metal Patio Egg Chair – I bought this chair for our deck two seasons ago, and that bad boy still looks brand new – and before you ask the question, yes, the frame has sat outside in the harsh Chicago winter. We bring the cushion inside.
Floor Lamp With Tapered Rattan Shade – finally, an affordable version of this lamp exists. The original Celerie Kemble Arteriors lamp retails for $1300, but this Target dupe is on sale for $108. BTDubs, there's a table lamp version that is presently out of stock, but you can sign up to be notified when it's restocked.
Velvet Ottoman With Wood Base – these ottomans are back in stock, but I can't decide if I love the olive green or the light brown more. What do you think? I'm leaning toward the olive.
Terracotta Vase – if you want that classic Studio McGee vibe, look no further and grab this vase.
Magnolia Stems In Pot – the perfect touch of greenery for any tabletop. There's also a smaller version available here.
SCROLL THROUGH THE THUMBNAILS TO SHOP THESE AFFORDABLE TARGET FINDS


RELATED: Don't miss the round up of unique decorative boxes. You're inner design will love you for indulging.
Have a great weekend, and happy shopping! I'll chat more on the blog next week, but you can hang out with me on the weekend on Instagram or TikTok. TGIF!



Discover More Eclectic Modern Home Decorating Ideas
If you're looking for faux plants that look real, you've hit the jackpot. Sharing all of my favorites, and if you stick around, be sure to check out my roundup of faux olive trees and my most recent roundup of faux fiddle leaf fig trees.
Get ideas to spruce your backyard with this round-up of outdoor patio furniture.
Ever second guess yourself on what rug size to buy for a living room? Here lie the answers you desire.
Rounding up the best home decorating books – if you're looking for gift idea inspiration for a home decor obsessed loved one, this post is for you!
Get my 7 expert tips on how to hang artwork in your home.
If your windows need a zhush, check out these affordable curtains you can buy online, and don't miss my top picks of velvet curtains.
Melted disco balls are all the rage. Check out the best disco ball decor for your home and tips on decorating with them.
Affordable modern home decor ideas – if you're on a budget but want to refresh your space. Try these tips!
Cane furniture is trending, and so is rattan and cane lighting. If cane isn't your jam, but you want more lighting ideas, check out this round-up of boob lighting alternatives.
Try these ideas for DIY home decorating on a budget and make your home look like a million bucks.
If you're looking to make an easy Cricut project, get this modern kitchen towel pattern for free.
I recreated my entire living room full of vintage finds with Walmart home decor. You gotta see it to believe it.