Walmart Home Decor Is Lit
Last Updated on July 1, 2023
Ya, I said it. Walmart's new glam retro home decor line is lit AF. The other night I was scrolling through Pinterest and was served an ad in the feed. Wow, that's a pretty chair! Wait, wut? Walmart, is that you? Talk about a design double take.
It may sound snobbish, but I normally make this face when I think Walmart.
And I know I'm not alone, but it's time to suck it up buttercup. Walmart's home decor department is bangin. They have elevated the look and feel, and it's all affordable home decor.
On Feb 8, they launched their retro glam line MoDRN, and it's set to compete with the likes of West Elm and CB2…only get this…it's half the price. Can I get a scream emoji? And yes, it really does look lux. Their Milo Baughman style brass chair is a fraction of the real deal.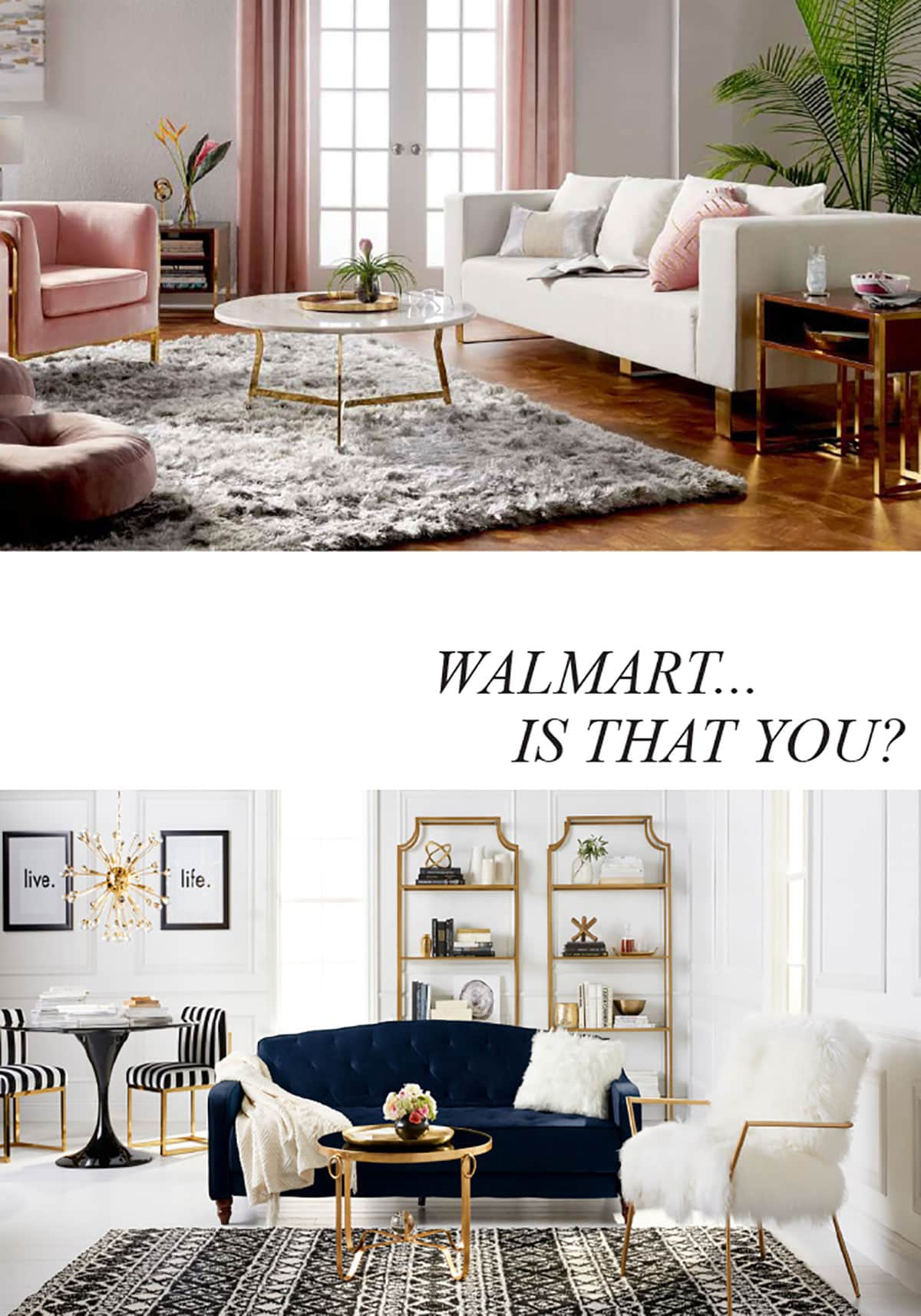 Brass? Check! Velvet? Check! Pink? Check! Marble? Check! Channel back? Yep, got that too. Take my word for it, you're basically going to want everything. Let's take a closer look.


Shop These Top Picks Of Affordable Home Decor
Pink Velvet Barrel Chair – no longer available
Garden Stool – no longer available
Modern Glam Side Table – no longer available
Modern Office Chair  (I also love it in the ivory.)
Sofa with Brass Legs – no longer available
Now, I haven't seen the new line in person, so I can't comment on quality, but fingers crossed they didn't skimp. The new home decor line has been broken down into nine styles: modern, mid-century, traditional, glam, industrial, bohemian, transitional, Scandinavian, and farmhouse. Oh, and be sure to check out Drew Barrymore's Flower Home line.
Most of you are familiar with People of Walmart. Still, word on the street is they've spent over $18 million dollars to rehab their reputation and threw a couple billion at employee happiness. It looks like Walmart is now committed to changing its customer's opinions. I'm curious to hear your thoughts on this elevated look. Are you convinced?


Discover More Home Decor Ideas
I've been playing around with some living room design concepts. Check out the latest mood board I came up with.
Summer is just around the corner, so it's time to start thinking about sprucing up your outdoor patio furniture. Be sure to check out this round-up of the best outdoor rugs.
Love the Primrose mirror but hate the price tag? I got you! Here's a full round-up of affordable Anthropologie mirror dupes.
Do you have a rug that is too small or too big? Not sure? Here's how to choose the best size rug for a living room.
Have a fear of commitment? Check out this round-up of best removable wallpaper – including a couple of wall murals.
Elevate your light fixtures with this round-up of boob lighting alternatives. And learn to layer lighting like a pro with this guide to the best bedroom lighting.
Love plants as decor but have a black thumb? No worries! I have a rounds ups of the best faux olive trees, my favorite faux fiddle leaf fig trees, and a huge round-up of faux plants that look real.
Storage bins and other organization ideas to keep your home clutter-free. From the pantry to the kitchen to the bathroom to drawers, I've got you covered! And check out the decorative boxes post if you're looking for ways to corral your remotes on your coffee table.
Want to add a little magic to your room? Try adding some disco ball decor with these sparkly ideas.