Drew Barrymore's Flower Home at Walmart
Last Updated on December 8, 2022
Drew Barrymore just dropped a new home decor line at Walmart called Flower Home, and it couldn't be any more perfect! It's a little bit boho, with a touch of glam and whimsy. So Drew, and right up my alley. Oh, and did I mention it's completely affordable? Ummm ya. As of late, I'm under a pretty strict budget, so I thought this collaboration would be the perfect time for a guest bedroom refresh!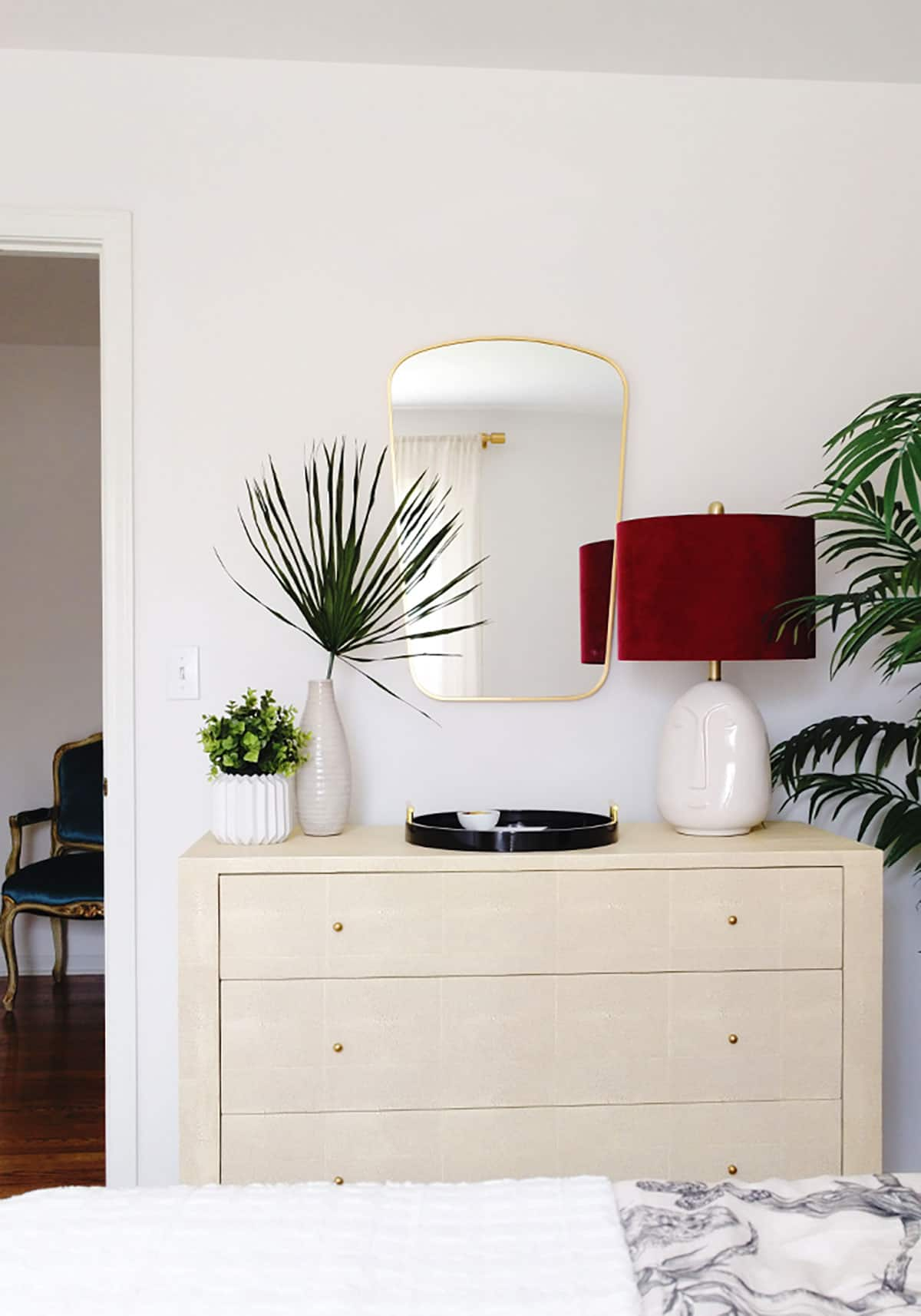 Drew Barrymore's Flowers Home – Affordable Decor At Walmart
Since we bought the new house, this small space bedroom has been a revolving door of home decor that's never quite worked. The ivory shagreen dresser I fell in love with at the flea market has had me stumped. It needed some height and a tiny splash of color to warm it up…but nothing too bright and wackadoo for me. Something subtle.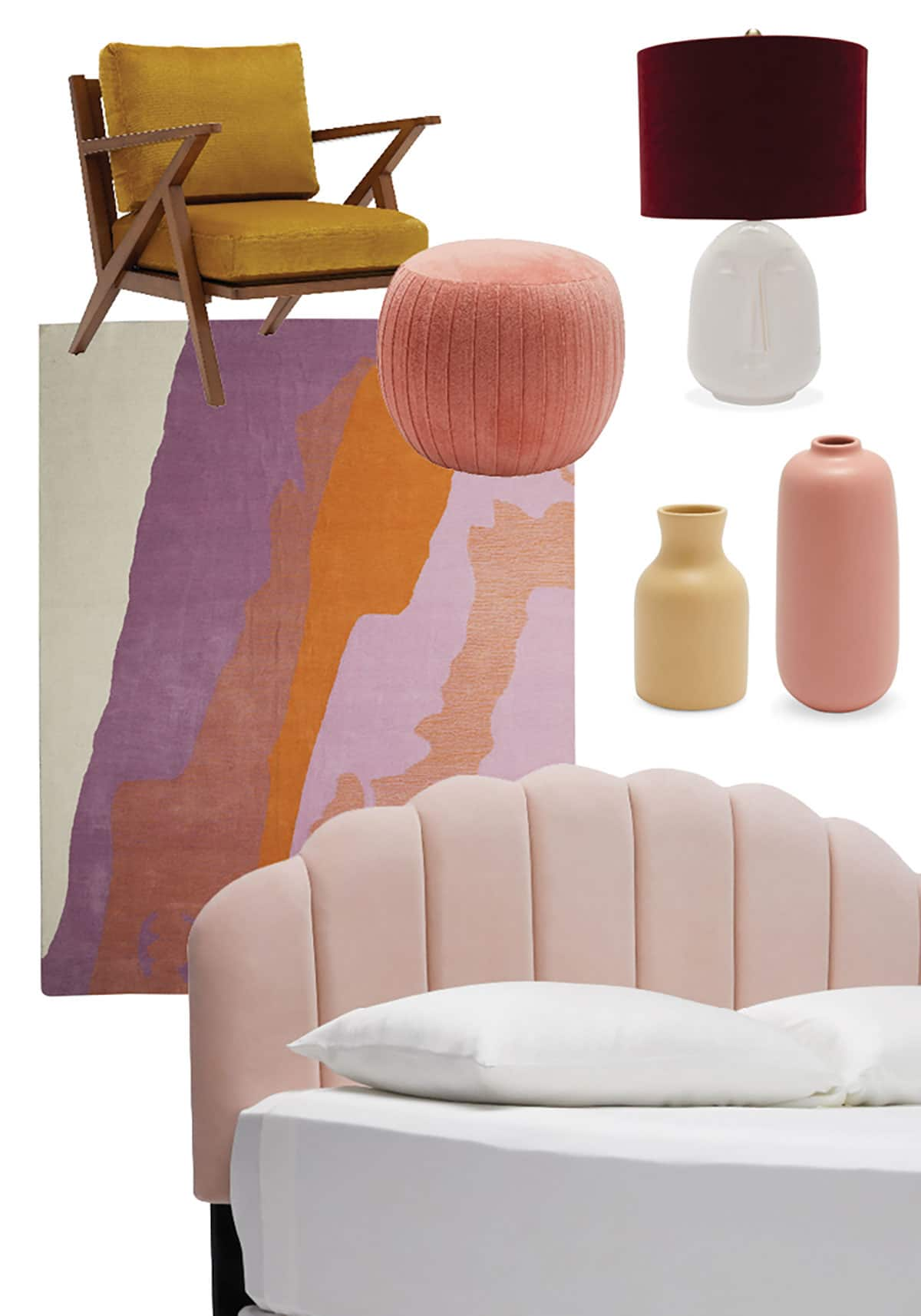 When I started playing with some of the pieces in the new Flower Home line, I basically redesigned a completely new bedroom in two point five seconds. Whoops! Srsly, that pink headboard is to die for! Channel back! Scallops! And pink! Oh my Dear, you checked every box. I paired it with a Mid-Century Modern style lounge chair with a mustard yellow cushion and an abstract rug that is currently on my must-have list. Drew, you did me good girl!
Then, of course, I stumbled upon her pink sofa and paired it with that cute little wine-colored barrel back chair. The color combo is so yummy. I went back to the poufs, switched the color from pink to gold (also comes in peacock blue), and popped them into my mood board…and then I was like wait…this is supposed to be a refresh for the guest bedroom…not your office Kyla. Sometimes when you find something so good, the creativity goes wild. Must focus.

Bedroom Refresh Using Affordable Home Decor At Walmart
Looking at both rooms of inspiration, I realized I had fallen hard for that adorable lamp with the face. Yup, adding you to cart mister man. I stepped away from both mood boards and sat in the guest bedroom and looked around a bit. That's when I realized the space was missing one key component…a mirror. Drew has two in the Flower Home line. One that is oval and another that is asymmetrical…both are brass.

Because I wanted to add height, I chose the asymmetrical, and let me tell you, it looks smashing. Cutie you're just the height I needed. Added bonus, it reflects the one and only window for added natural light.

Notice that fancy little black tray with gold handles? It showed up as a "you also might like" suggestion. Imma add you to my cart too! It's not from Drew's line, but it is available at Walmart. It's oh so perfect for guests to wrangle their jewelry. I threw in a little card I designed for the Wi-Fi password for the house. The high black lacquered look is that little touch of glam that I'm always drawn to.
Because my time is a bit limited these days, I used the site to store pick-up feature. A few days later I received a text message saying everything had arrived. Somehow lady luck was really on my side because I scored a front-row parking spot…a rarity!

After arriving back home, I immediately unboxed my new treasures and popped them into the guest bedroom. Srsly, I'm dying over the face lamp…and ERMERGERD the ruby red velvet shade is just the pop of unexpected color this space needed. Yes, you read that right! I have color in my house. Holy scream face emoji, it's a miracle! It looks shazam next to the vintage brown leather gym mat headboard and warms up the duvet cover perfectly. Guest bedroom refresh completed with just a minor touch here and there. I'm pleased as punch.
Side note, I did go back and peek at some dinner plates from Flower Home, and I need an opinion. I'm really drawn to both patterns and not sure which to purchase. The Jamaican Yellow plates are calling my name and the splash of color would look amazing in the dining room. But the dark moody Vintage Floral is stunning (and it also comes in Georgia Peach).

Which colorway and pattern do you think would look best with the new marble table?
This post is sponsored by Walmart.
Discover More Affordable Home Decor and Budget-Friendly Decorating Ideas
Trying to recreate my living room using only affordable home decor from Walmart
Rounding up the best affordable washable rugs that are perfect for the kitchen.
If you're looking for affordable modern home decor, then this is the post for you! Shop my favorite picks.
We just moved into the new house, and with summer around the corner, I create this affordable patio makeover with a limited budget and a love of navy blue.
This round up of cute backpacks is perfect if you're looking for a laptop backpack, a cute book bag for back to school, or a travel backpack.