Vintage Decor And Antiques In Barrington
Last Updated on February 9, 2023
I've been slightly quiet on the blogger front this year, but that doesn't mean I've been sitting on the sofa eating bonbons. No sir-ee bob! I've been busy behind the scenes building a little vintage empire in downtown Barrington, IL. In October of last year, the owner of Steeplechase Antiques approached me. "Hey Kyla, the shop next to me will be up for rent. Remember when you said you might be interested in opening a brick and mortar…we're you serious?" Ummmm, no. Errrrrr, maybe? Well….screw it, what's the worst that could happen, right? Why not. Count me in!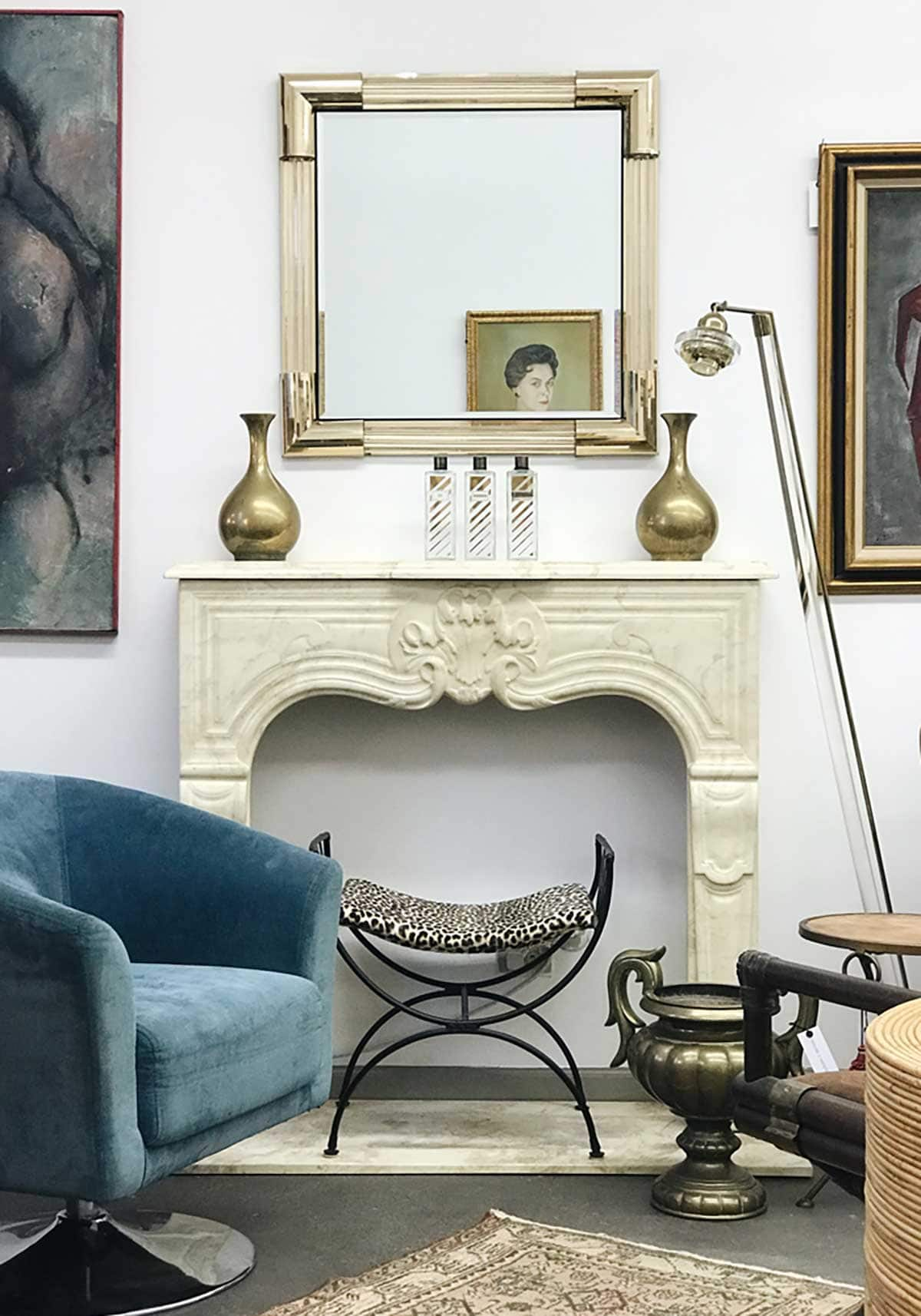 So first thing's first. The address. I gotta figure out how to do that whole Google biz thing online, but you can find me at 425 W. Main Street, Barrington, IL. (update…I figured it out…I'm official!) I'm still working on the curb appeal. It's definitely boring right now, but the front window is looking fly AF with those custom pink marble lamps and pink Keith Fortley flower sculpture.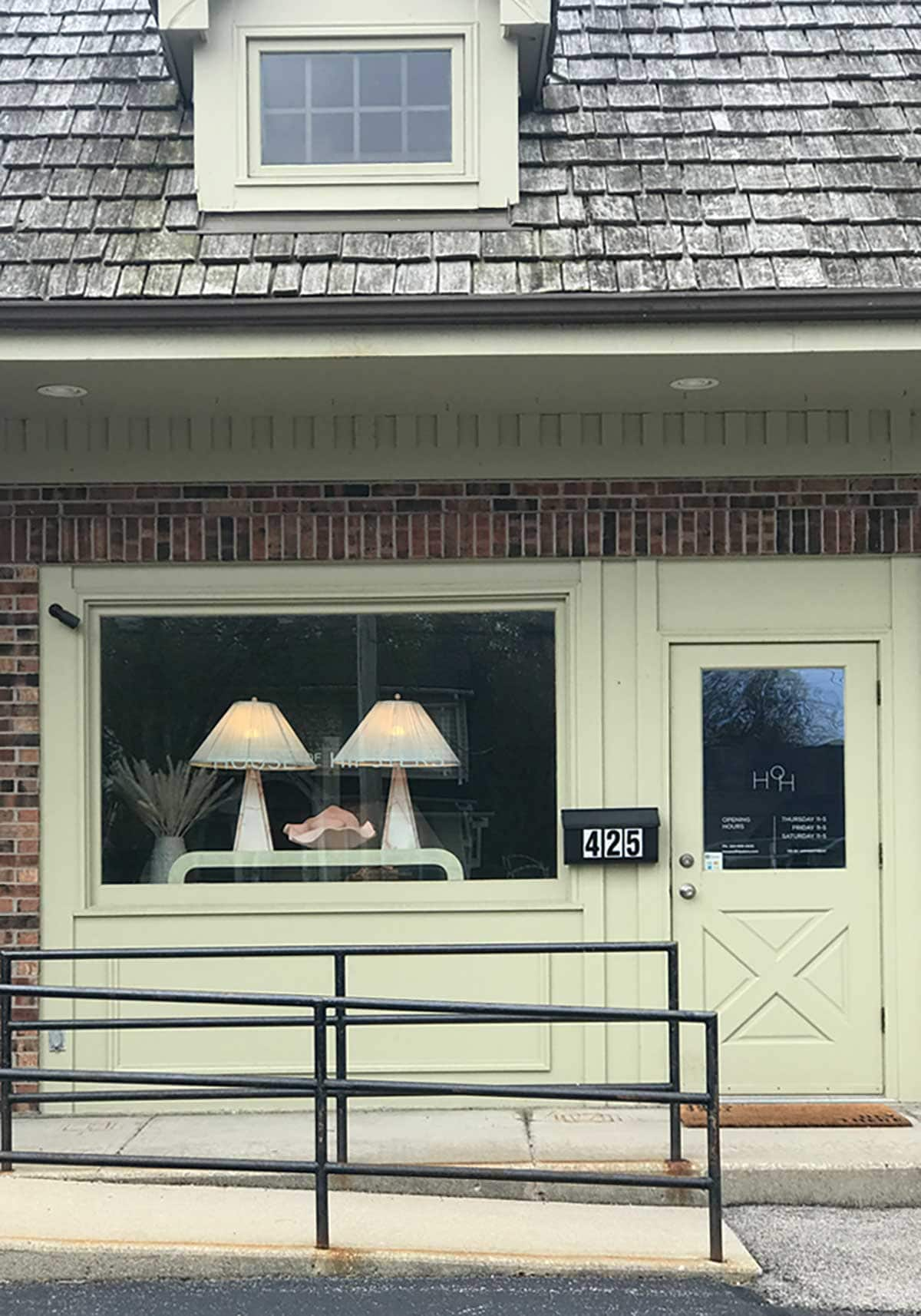 The keys landed in my hot little hands in March and the space received a coat of Snowbound…because what else would I paint it? The Boy built a pink wall and then it was moving time.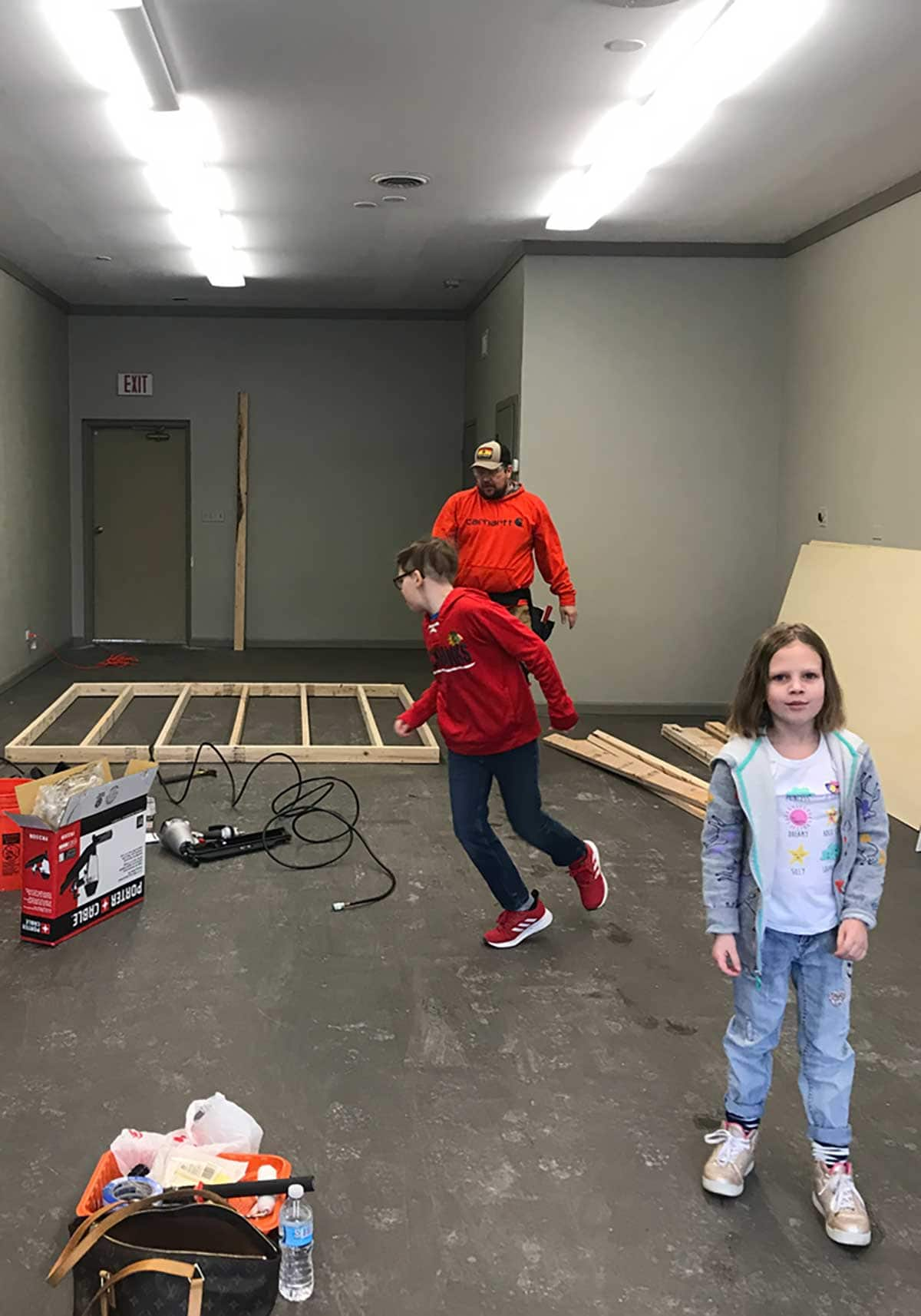 Two trailers later, I had a giant mess on my hands which made me feel slightly overwhelmed. But thanks to the helping hands of The Savoy Flea, progress was made. And I gotta say, I'd be lost without this lady. Girl, you did me a solid. Thank you Marianne.

A few things fell apart right before opening day April 11, but I wasn't going to let me push the date back. I didn't have a checkout counter but improvised with a folding table and linen tablecloth. The window decal had not shown up. I had zero signage..and presently only have a sandwich board. The large light-up sign still says Barrington Rug Company which was two shops ago, LOL. It's on my to-do list. In fact, I just stopped writing to text my landlord…who BTDubs is awesome! He texted me a good luck message on opening day and asked if everything was a-okay. SRSLY? Couldn't have landed in a better place.

So let's chat about opening day. OMG, it was crazy busy! Soooooo many insanely amazing people stopped in to say hello. I even had an excited customer walk in behind me while I was opening the door. The first piece out the door was a little brass camel. It was so cute!
My friend Ilana stopped in with presents and well wishes. Kim from Strangelovely stopped in flowers, my Barrington Boss Lady Group brought me wine and cookies and even more flowers. Ashley brought me champagne. My parents sent orchids. A neighbor made me this incredible HOH 4.11.19 sign. And much to my surprise, followers stopped in. You guys are real!!!! That might have been the most shocking thing ever. Sometimes you have no idea if anyone is even listening, you know?

Apparently, this whole shoppe thing was a much bigger deal than I originally thought it to be. Just like the blog, a brick and mortar was never a biz goal or even on my radar…it was more of a huh, let's roll the dice and see what happens. Complete spur of the moment decision. There was no major build up or plan, but after the first day, I sat down on the pinkies and just soaked it all in for 15 minutes. I was proud of me. The Boy was proud of me. My friends hugged me before leaving and said, "girl, you're gonna crush it". The whole day was completely overwhelming, and at 7 pm when I laid down with Zozo to read her a bedtime story, I crashed.

Since opening day, foot traffic has been a nice steady stream of some of the friendliest people ever. Local interior designers found me quickly and one posted the shop to her Instagram with the hashtag #makingbarringtonhipagain. Ya, Imma keep that m'lady. It's brilliant! Barrington, you have embraced me and my eclectic crazy style with open arms, and I couldn't be happier. Thank you!
Find More Eclectic Decor Ideas and Vintage Decorating Tips
This is how we How To turned an antique dresser into a vanity, and I scored it at an estate sale for under $100.
Sharing my secret squirrel list of favorite home decor shops in Chicago.
Sharing my favorite vintage decor finds with Chloe from Boxwood Avenue and Sarah from Room For Tuesday.
If you love decorating with antiques, don't miss my 7 Tips For Buying Vintage Decor.
Best Affordable Washable Rugs that are a must-buy if you have kids or pets!
Check out this Fall Home Tour of eclectic finds.