Easy Guest Room Makeover
What started with a new mattress from The Dump turned into the easiest guest room makeover. The new mattress led to a new headboard which led to new pillows which led to new bedding which led to getting legit crazy and letting TikTok pick the paint color for the walls! Complete snowball effect. But I just finished hanging the black textured wallpaper in the primary bedroom so why not keep crankin'? Let's jump right…in bed!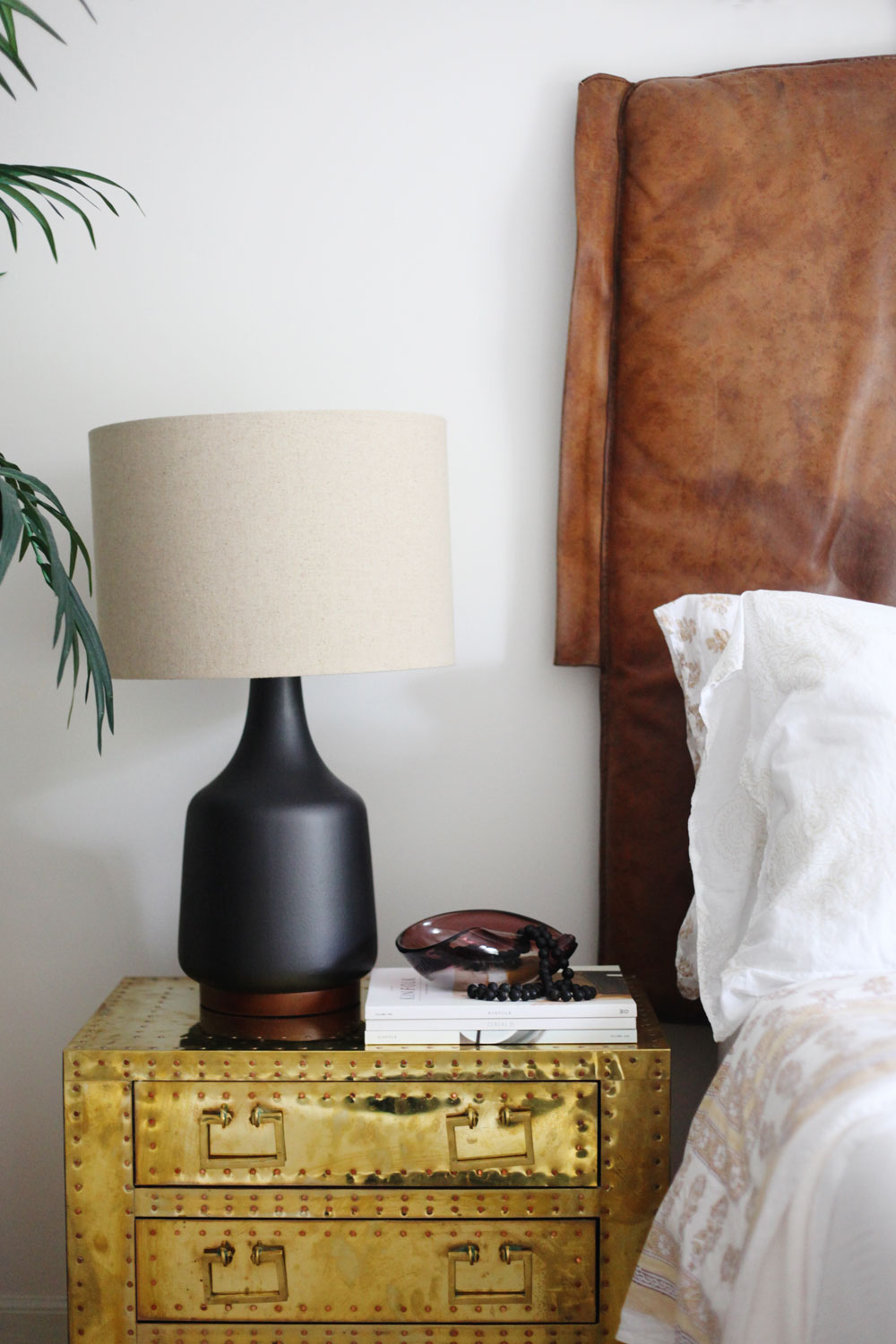 When we bought this house, I purchased a vintage leather gym mat from Prague (now for sale on Chairish). I loved the headboard, but it never looked perfect in the guest bedroom. It hung on a plain old 2×4 because we couldn't figure out how else to secure it to the wall and the entire design just fell flat. I wanted a brass bar but didn't try very hard to source one. The white walls made the bedroom feel cold, and I just couldn't nail the duvet and pillow combo. Seriously, beds are hard! Especially neutral bedding. The entire room was missing the shazam factor, so when I signed up to try out and feature a new mattress, I knew immediately extra zhushing in this guest room was in order.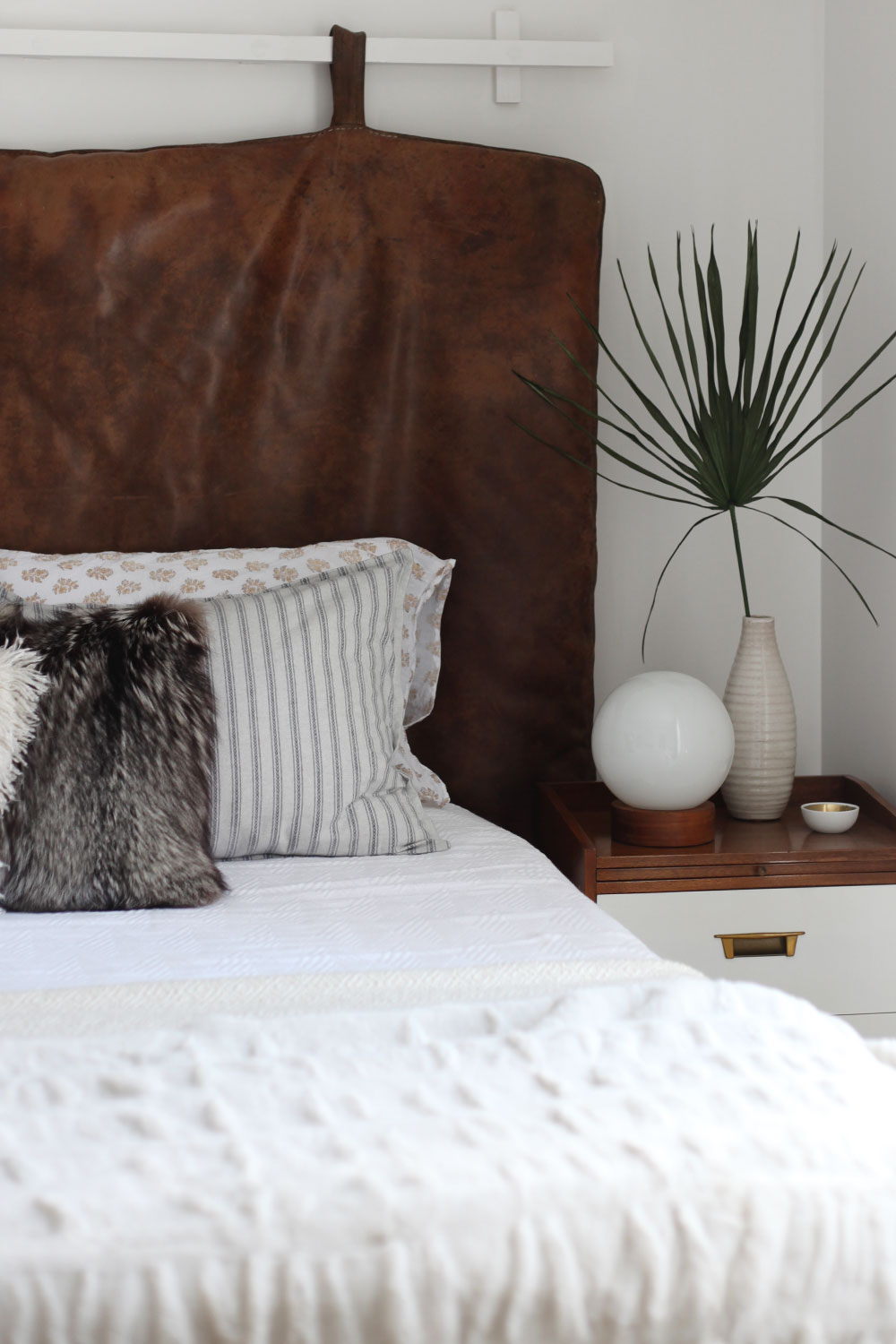 I told my ride-or-die vintage bestie Marianne that I was on the hunt for a new headboard, but this was going to be a guest room makeover on a tight budget. There could be no spending dollars.
Homegirl is broke these days. But, you put your desires out into the universe, and good things will come. Marianne immediately texted back, "Plankroad is having a sale on headboards and just posted a boatload of them on Instagram." Shazam! Covid safe, of course, we met up for a shopping excursion extraordinaire! She introduced me to Jimmy and said anything you can't find, he's your guy.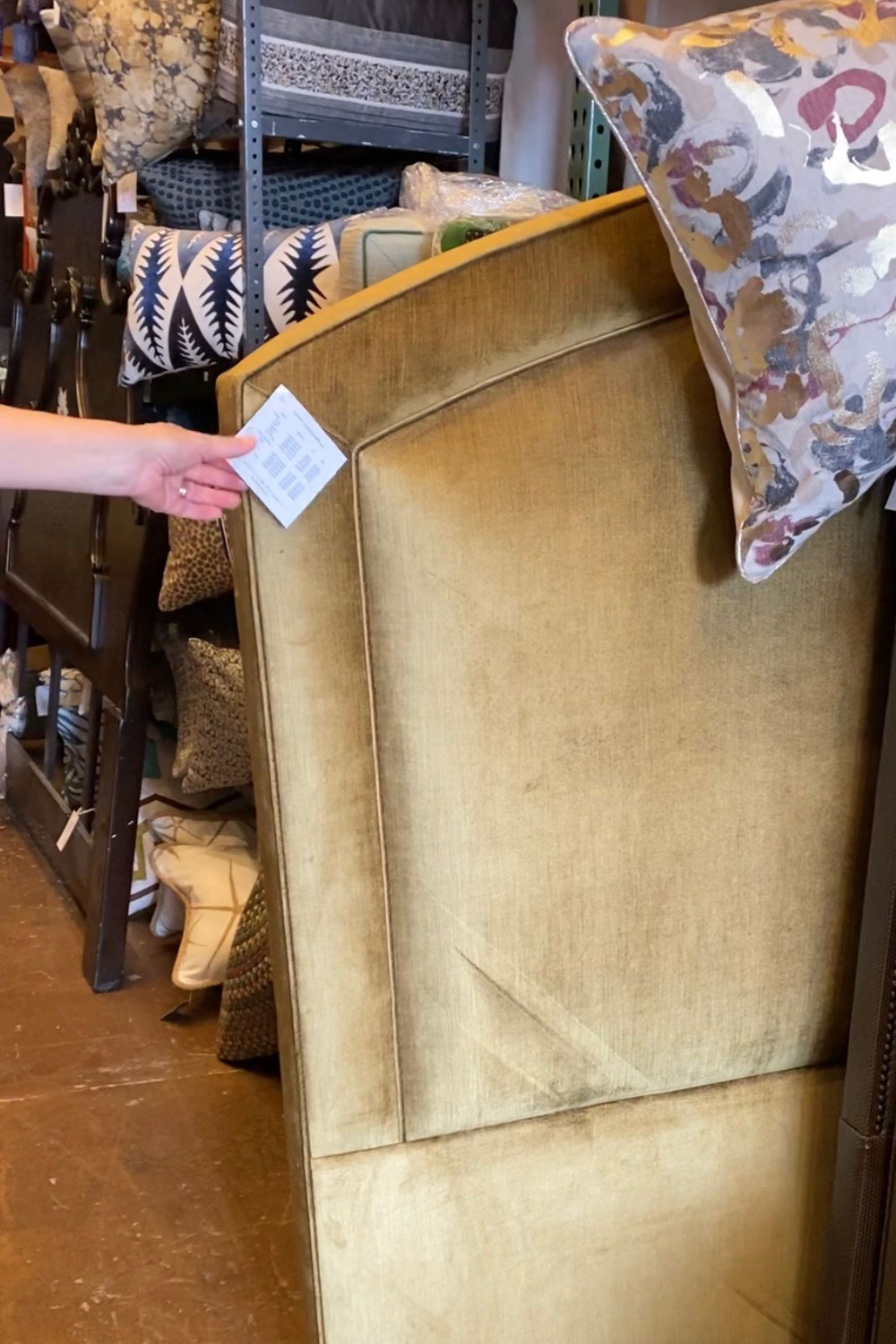 Shopping Sources For Guest Room Makeover On A Budget
Not even 10 steps inside, boom, we found this gorgeous velvet headboard. Immediately I was smitten. It was a perfect size, the perfect shade of green, and $200. The price was right. Yo Jimmy! Slap a sold sticker on that bad boy. I might actually be able to pull off this guest bedroom makeover on a budget. BTDubs, if you visit Plankroad and find something you love, do not put it down. This is a must-stop-shopping mecca for local interior designers, and if you put that coverlet down, it's fair game. Hence the slap a sold sticker on it. That sucka was mine.
After walking around with armloads of pillows and shams and duvets oh my, we started playing with multiple color palettes. One was the green headboard paired with plum mohair pillows and plum and gold patterned pillow, the other was a funky deep teal (yes, those are Kelly Wearstler Graffito pillows) and velvet gray. This was bold and way out of my normal neutral decor wheelhouse, but hey, let's have fun, right? I wound up filling my entire car and still managed to stay under budget. Plankroad is the home decor outlet shop for Eastern Accents. It's filled floor to ceiling with discontinued textiles, decor from photoshoots, and pillows prototypes that may have been redesigned with different trim. The headboard I purchased was from a recent shoot.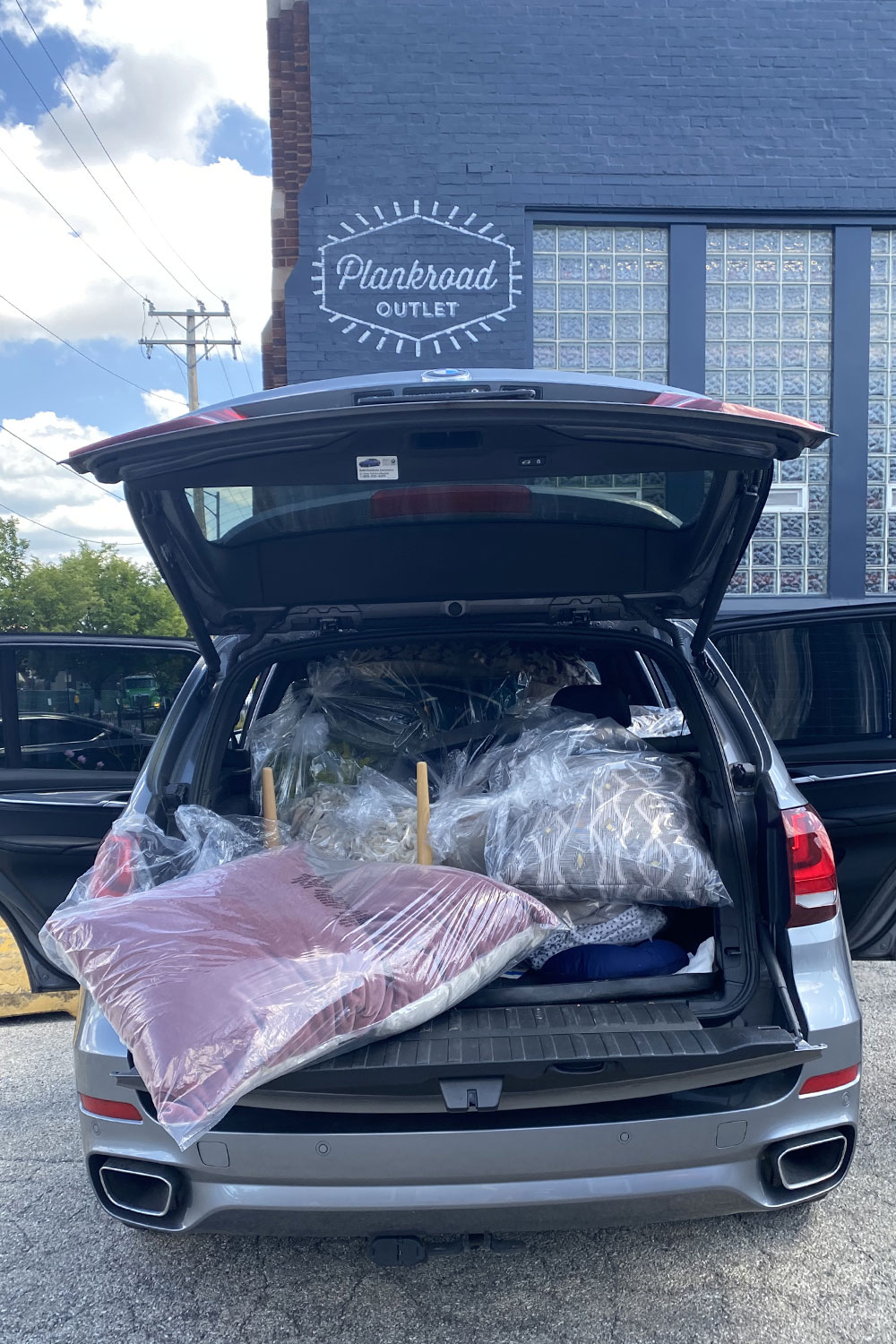 My TikTok audience was given a few options for paint…cuz losing complete control was not an option. Deep teal walls, salmon pink, or a safe mushroom greige. Salmon and teal were neck and neck, but ultimately salmon won the race. Finding the perfect shade took a bit of time. Too pink, and it'll turn bubblegum barbie. Millennial pink was a hard no. That trend has said goodbye. I wanted to push towards coral and rust undertones. After seeing Chippendale Rosetone by Benjamin Moore, I was sold. It has almost a terra cotta look (definitely darker once it dries) and has a chameleon effect in a different light. Here's a peek at the PURA mattress that started it all. We really like the extra pillowtop. It's luxurious to sleep in.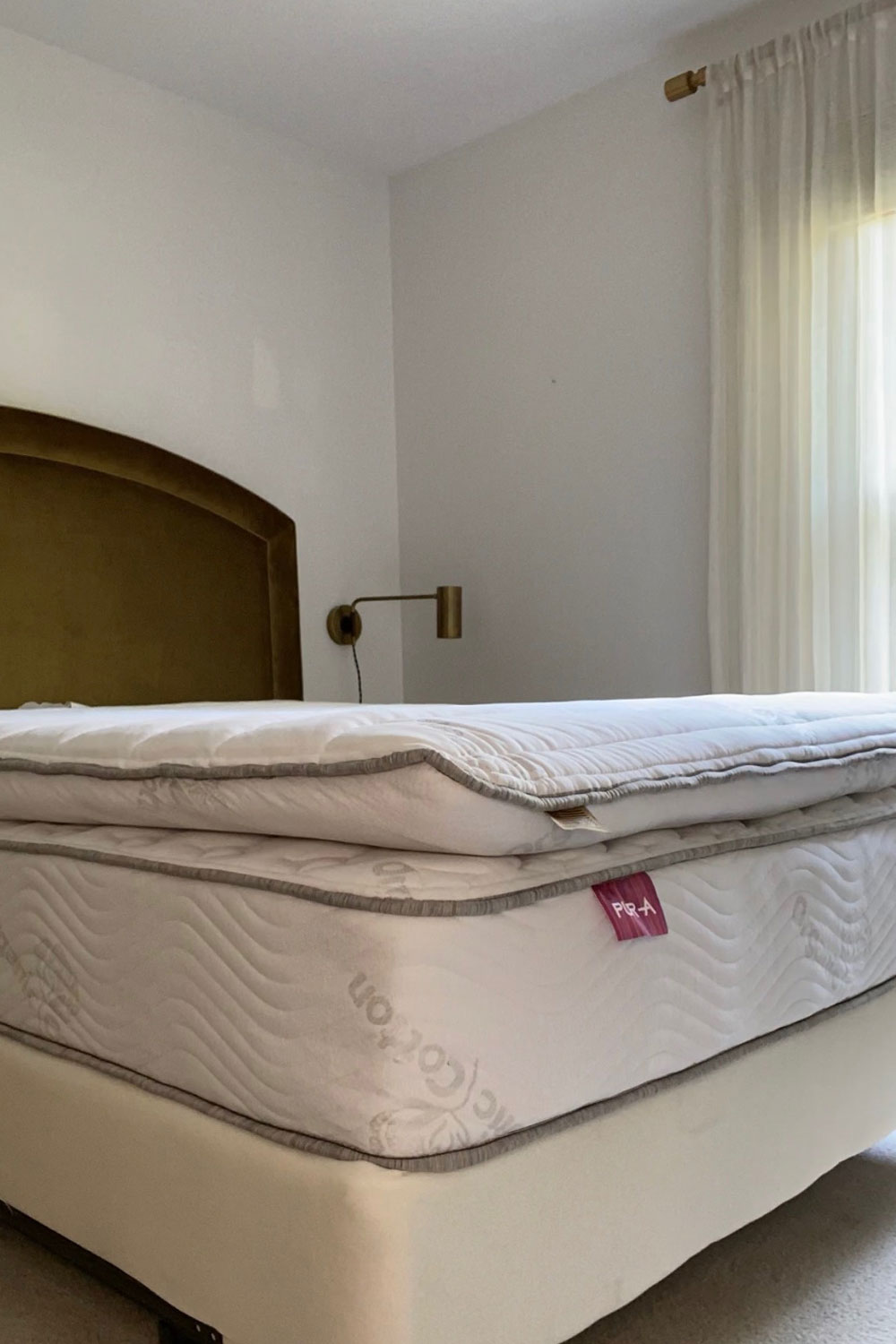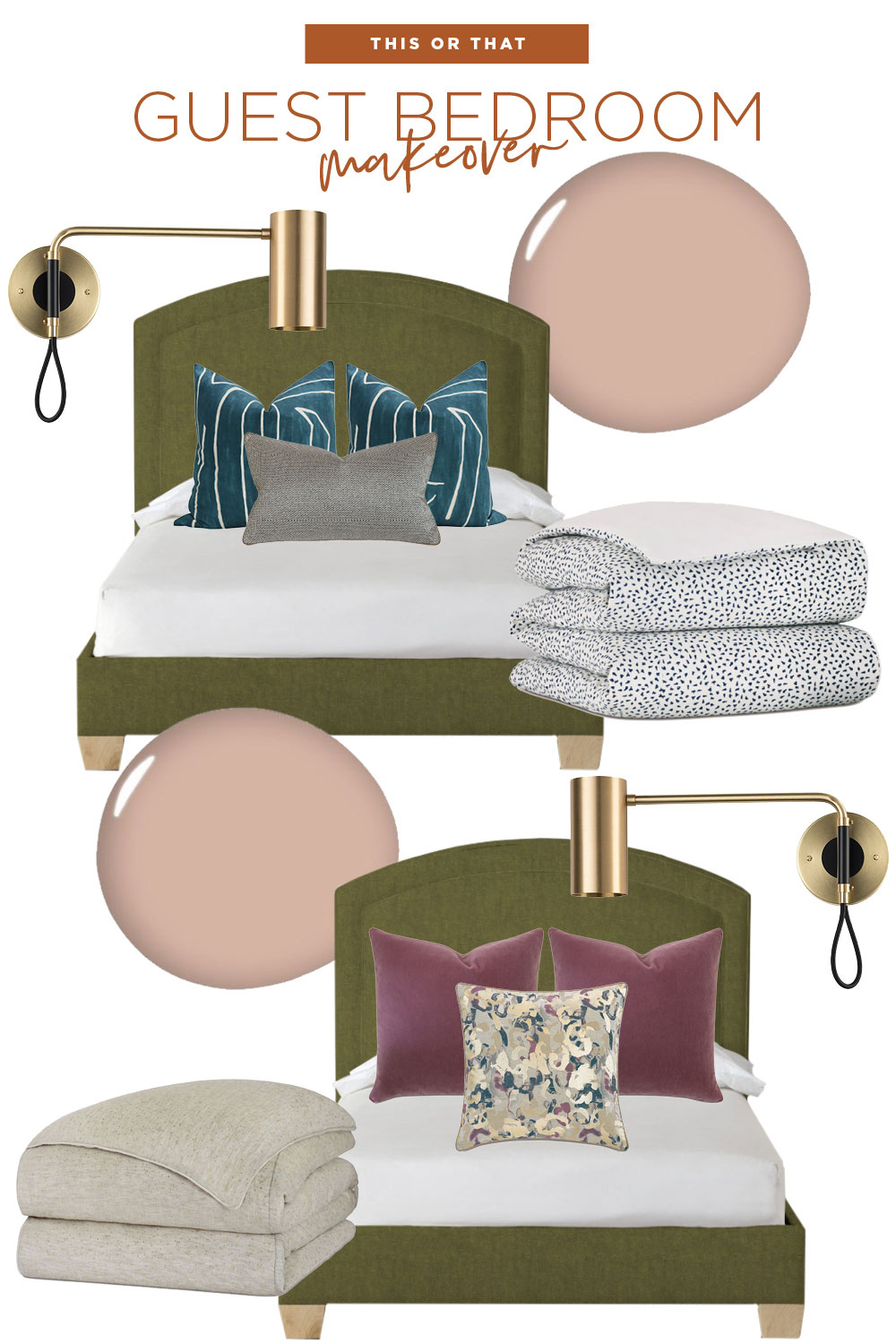 The brass sconces were existing and all the textiles and the headboard were outlet prices.
I'm busting at the seams to show you the paint…CHECK OUT THESE PINK WALLS! Part of me wants to paint the ceiling as well.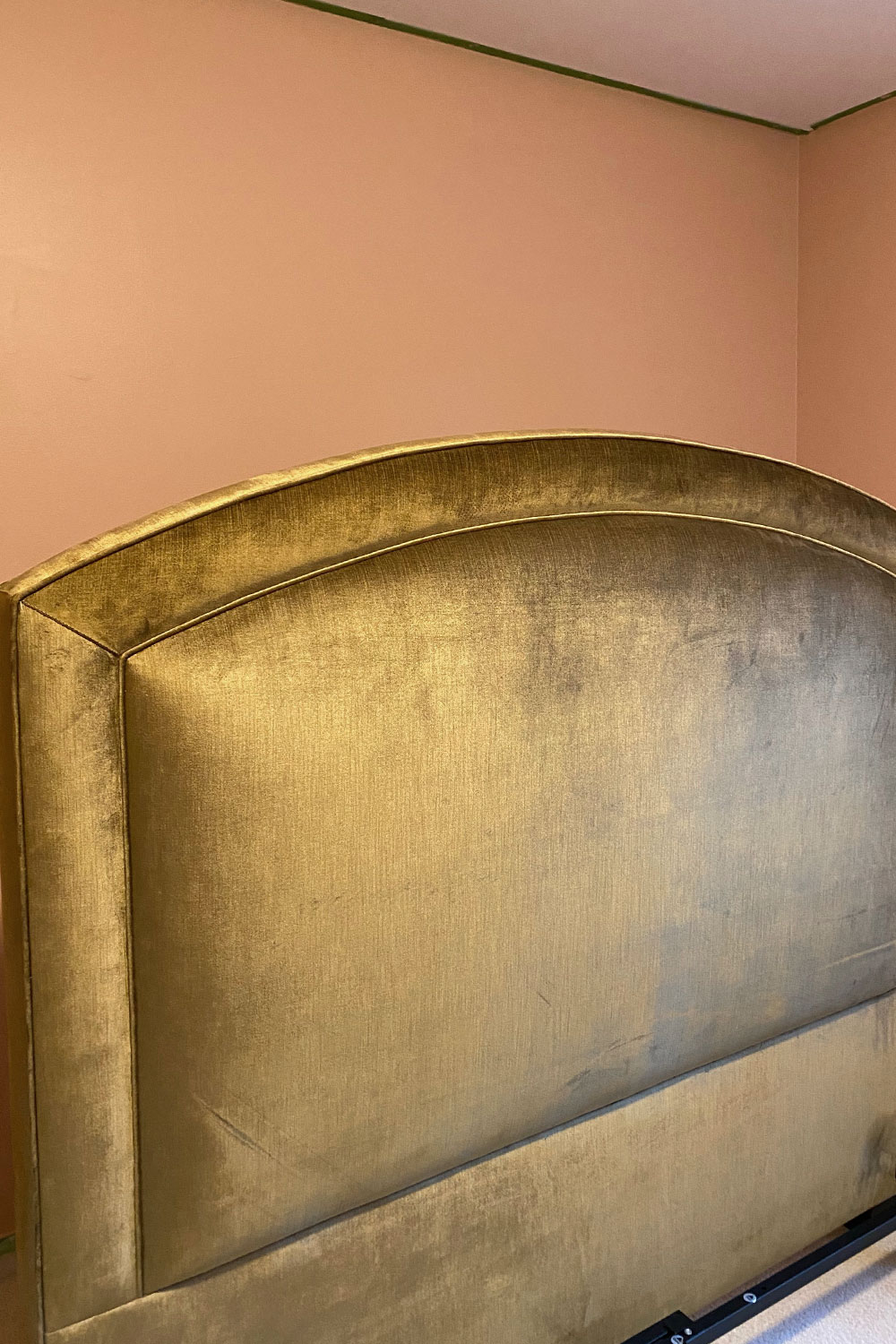 Before I cliff hang you on this easy guest bedroom makeover, I've gotta share the art I found at Warehouse 55. Marianne was hanging curtains in her new flea parlor booth and needed a helping hand…you should totally check the place out if you live in the Chicagoland area. So many vintage treasures to be found. The vendor next to the flea parlor had this incredible vintage portrait of a woman and the color palette matched the space perfectly! Pops of every earthy color I could have imagined. While holding my hands over my head hanging curtains, I kept sneaking peeks at her. Can we just take a moment for this beauty?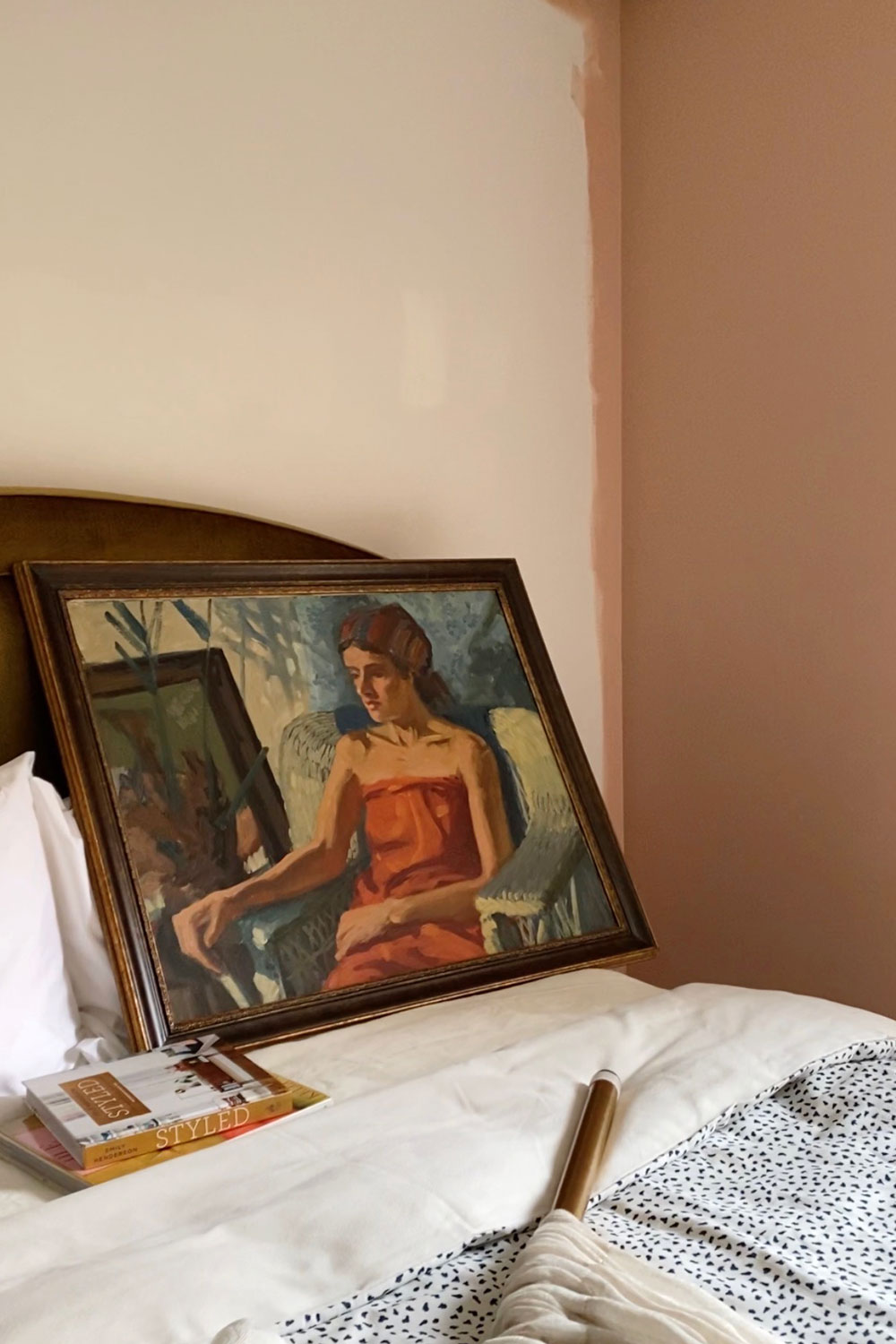 Stay tuned because you're gonna die when you see everything put together! I'm off to pick out some showstopper lighting. Gotta replace that awful plastic $4 flush mount boob light.
CLICK THROUGH THE GOOGLE WEB STORY TO SEE  MORE!