Serena & Lily Home Decor Favorites
Last Updated on July 25, 2023
Serena & Lily is a brand that needs no introduction. I discovered them 12 years ago while decorating my son's nursery, and I've been a fan ever since. They reached out asking if I'd like a couple of pieces for the guest bedroom makeover I've been working on, and of course, I immediately replied with a resounding heck ya! But I'm not stopping there. Today I'm sharing all my Serena & Lily home decor favorites, including the new pieces that arrived, a tried and true lamp I've loved for years, and a few others on my wishlist.
Serena & Lily Alpaca Throw
I've been coveting this alpaca throw for a year and finally made it mine. When it arrived, I immediately ripped open the box like a kid on Christmas morning and wrapped myself in its luxuriousness. Side note hands up if every time you think of an alpaca, this comes to mind.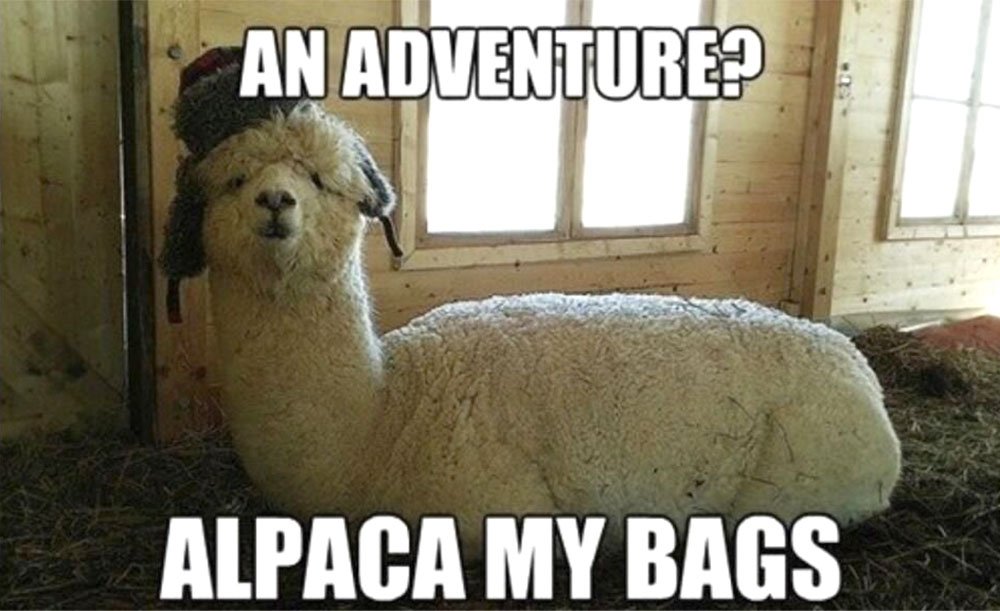 Enough funny business; let's get back to the guest bedroom. Upon "completion" — quotes because, let's face it, it's never really complete — I loved the space, but of course, my love of all things color faded, and I wanted to tone it down a bit—story of my life. So I took some advice from Instagram and began playing with the bedding. Removing the playfulness from the dot pattern on the coverlet and adding more sophistication with neutrals. Yes, the Serena & Lily alpaca throw is an investment piece, but alpaca wool is a durable, high-quality, luxury yarn that is soft and stands the test of time. The quality is extraordinary.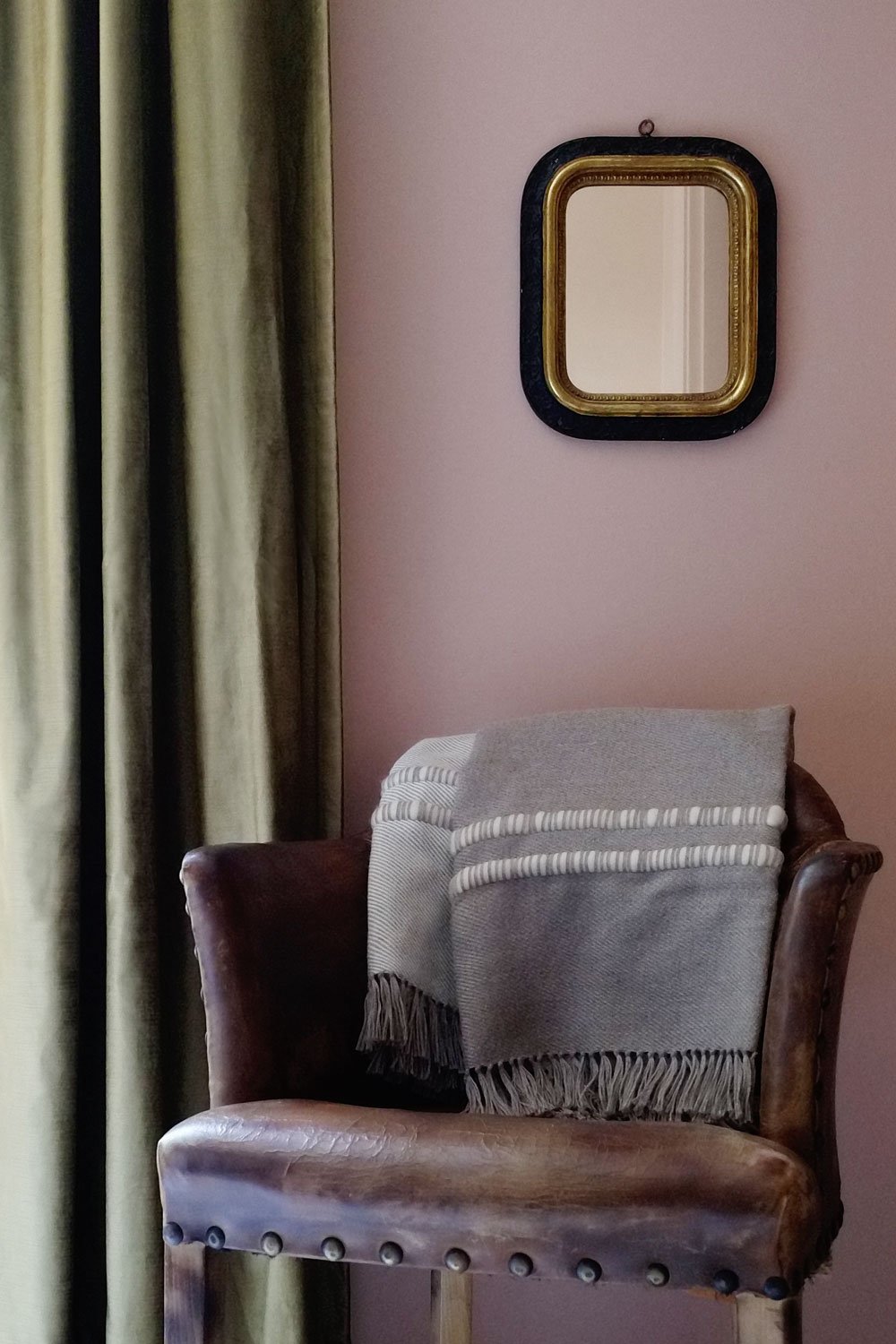 As you can see, the blanket adds that extra bit of softness and texture to the leather chair (it also comes in navy). If you've been on the fence, just know this blankie is all that and a bag of chips — worth every penny. I, of course, chose the most expensive alpaca throw Serena & Lily offers, but there is also the Milo Alpaca Throw which is half the price and comes in 6 color choices. Oh, and this one is on sale (I love the fringy detail).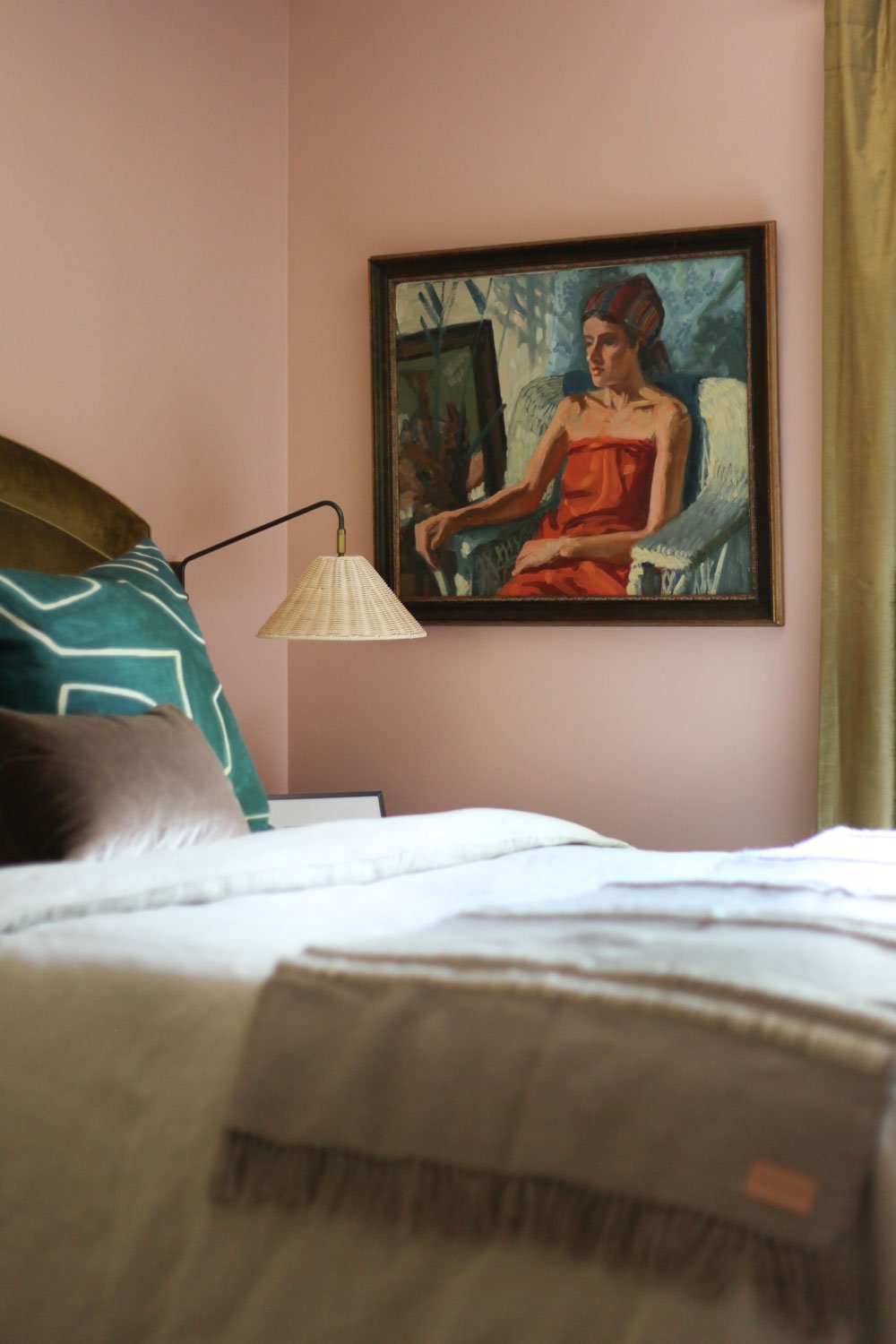 Here's another look at the added texture of the throw. I'm loving the tone on tone for the bedding. What do you think of this new look? Was I successful in toning down the playfulness?
*This post is sponsored by Serena & Lily.
I only recommend products or services I use personally and feel my readers will enjoy. Thank you for supporting the brands that keep House Of Hipsters going. All content and words are my own.
Below is a glimpse of the before. Similar, but not alike.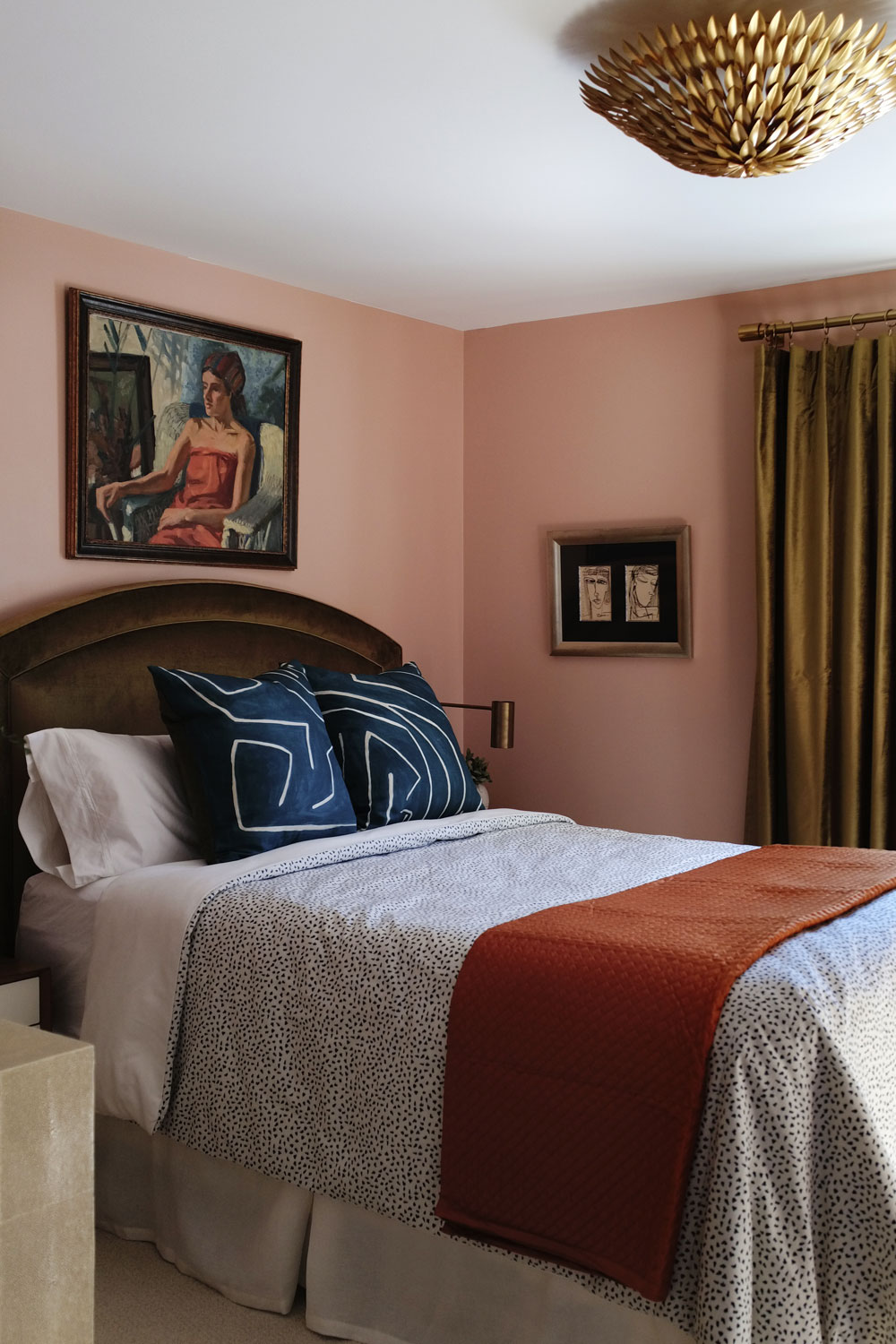 Comparing the two, I can clearly see that the before was entirely too busy for my everyday. Taking a closer look, I may move the portrait of the woman to a different wall. I love her, but she seems too front and center here.
Serena & Lily Flynn Single Wall Sconce
I'm obsessed with all lighting, and these textural wall sconces had to come to live in the guest bedroom. A vintage pharmacy lamp inspires their design, but what drew me in and stole my heart was the wicker shade. They're sleek, simple, and interesting, yet a bit different from my normal Mid-Century Modern look and feel — I'm here for the change.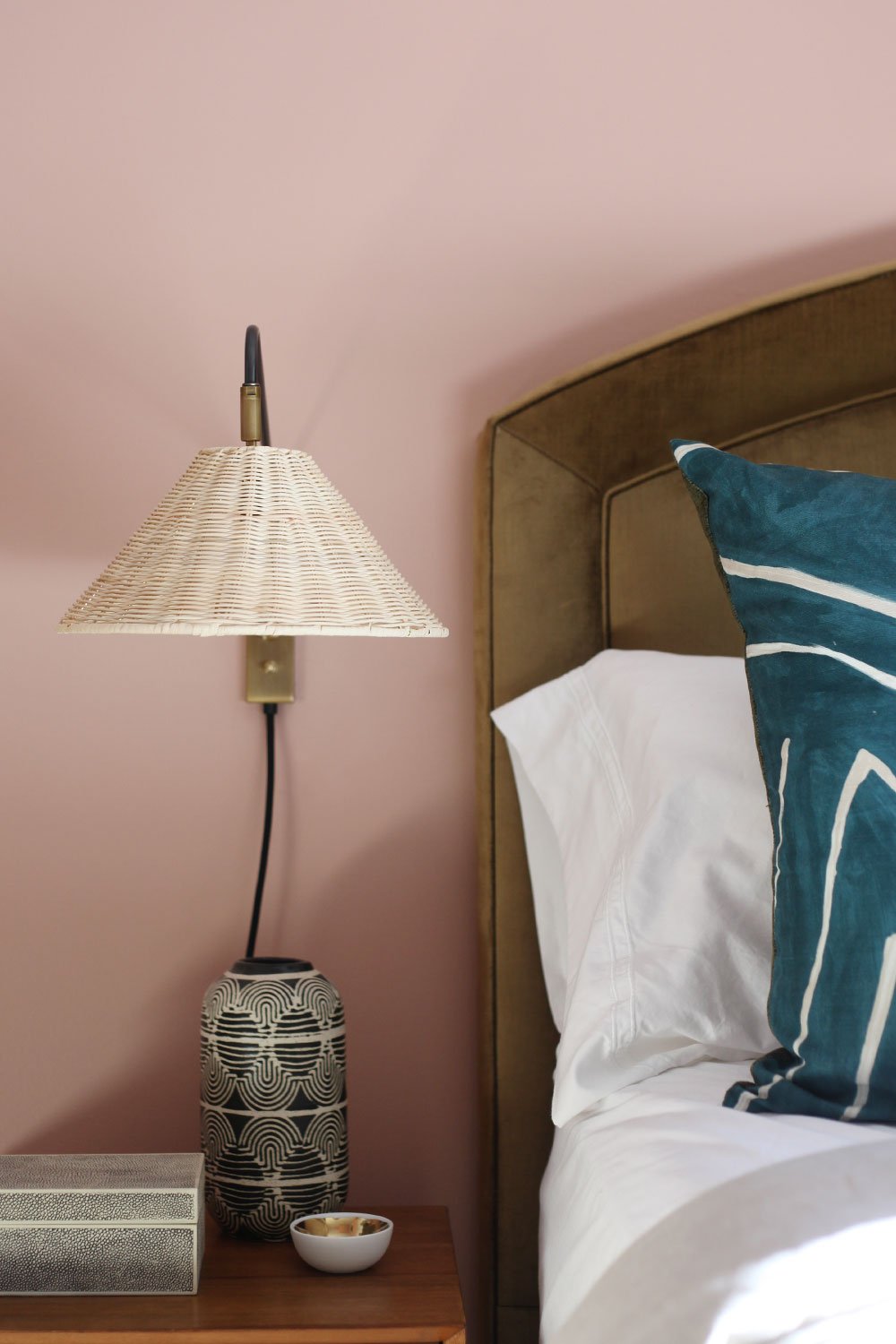 You may remember the old brass sconces. We had them in our former house, so they've been around the block and then some. It was time for a change. Here's the before.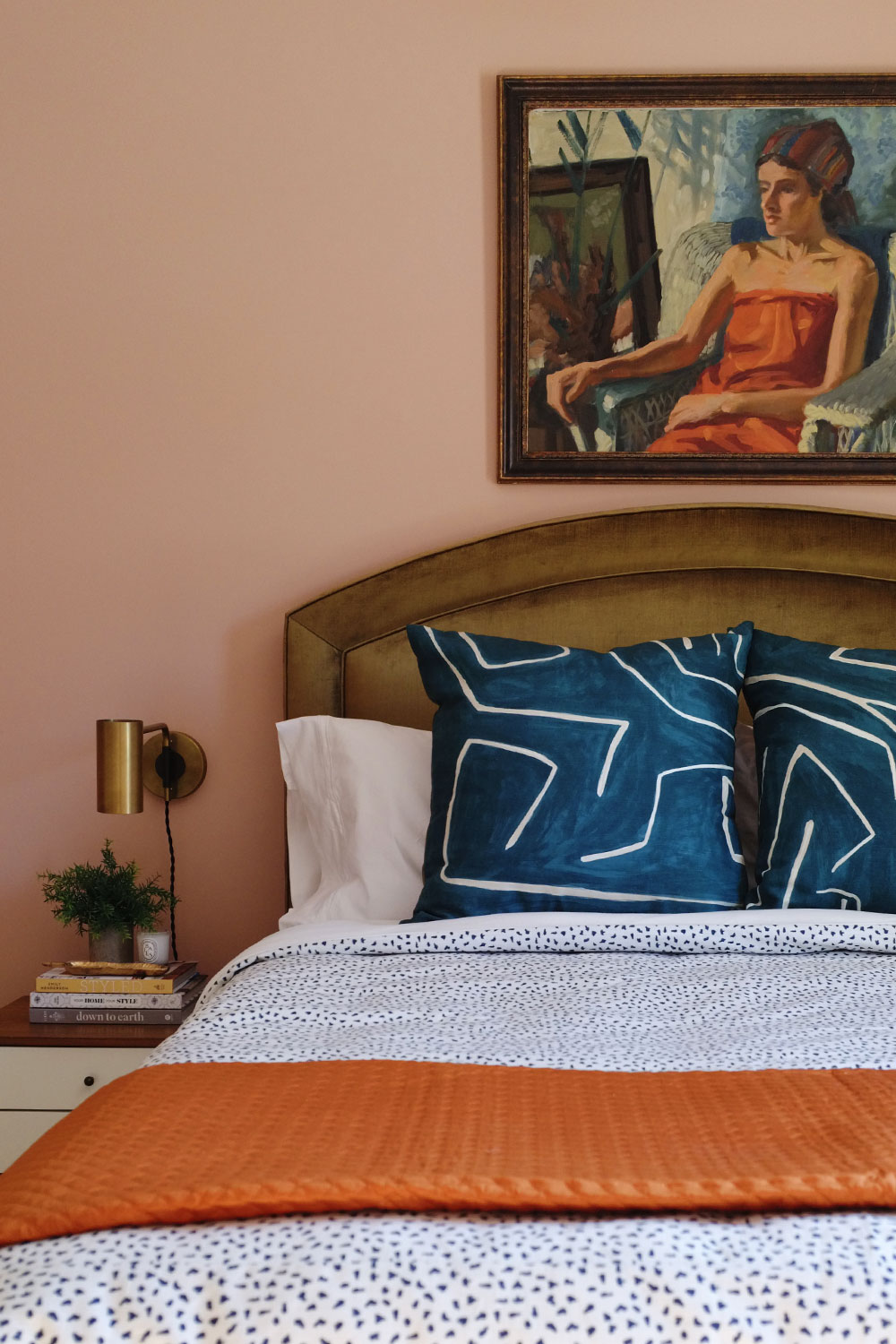 Nightstands
I'm still working on replacing the existing nightstands because I'm no longer loving that cheugy Mid-Century Modern look. There are a couple on the S&L site that might work, though. The space is tight, and the trick will be to stay under 20″, so the Balboa Nightstand, coming in at 18″ wide, first caught my attention. But the wicker wall scone over the hand-wrapped rattan is just too much. Since this is the guest bedroom, it really doesn't need drawers for storage. Maybe something like the Parisian Side Table would work better? Although the width is almost 23″ wide so it might just be too wide. I feel like Goldilocks right now.
I like the idea above of the black table with the wicker, so the Reese Nightstand might be just what the doctor ordered. It has simple lines, yet the cerused ebony finish gives it that extra shazam detail. It comes in at exactly 20″ wide, so it should fit, and even though storage is not needed in the guest room, this nightstand has one drawer for any essentials. PLUS, it'll be fabulous with the wicker sconces. Thank you for bearing with me while my mind makes design decisions. Now you know the inner workings.
More Serena & Lily Home Decor Favorites
Serena and Lily Cove Table Lamp
A couple of years ago, I purchased the Cove Table Lamp, and it's still a favorite today. The subtle nautical charm brings the outdoors in for a fresh look, and the matte ivory shells add incredible texture to your room. I can't tell you how many guests have pet this thing. Even though it doesn't look like it, this lamp is easy to clean. Just a few sprays of canned air does the trick.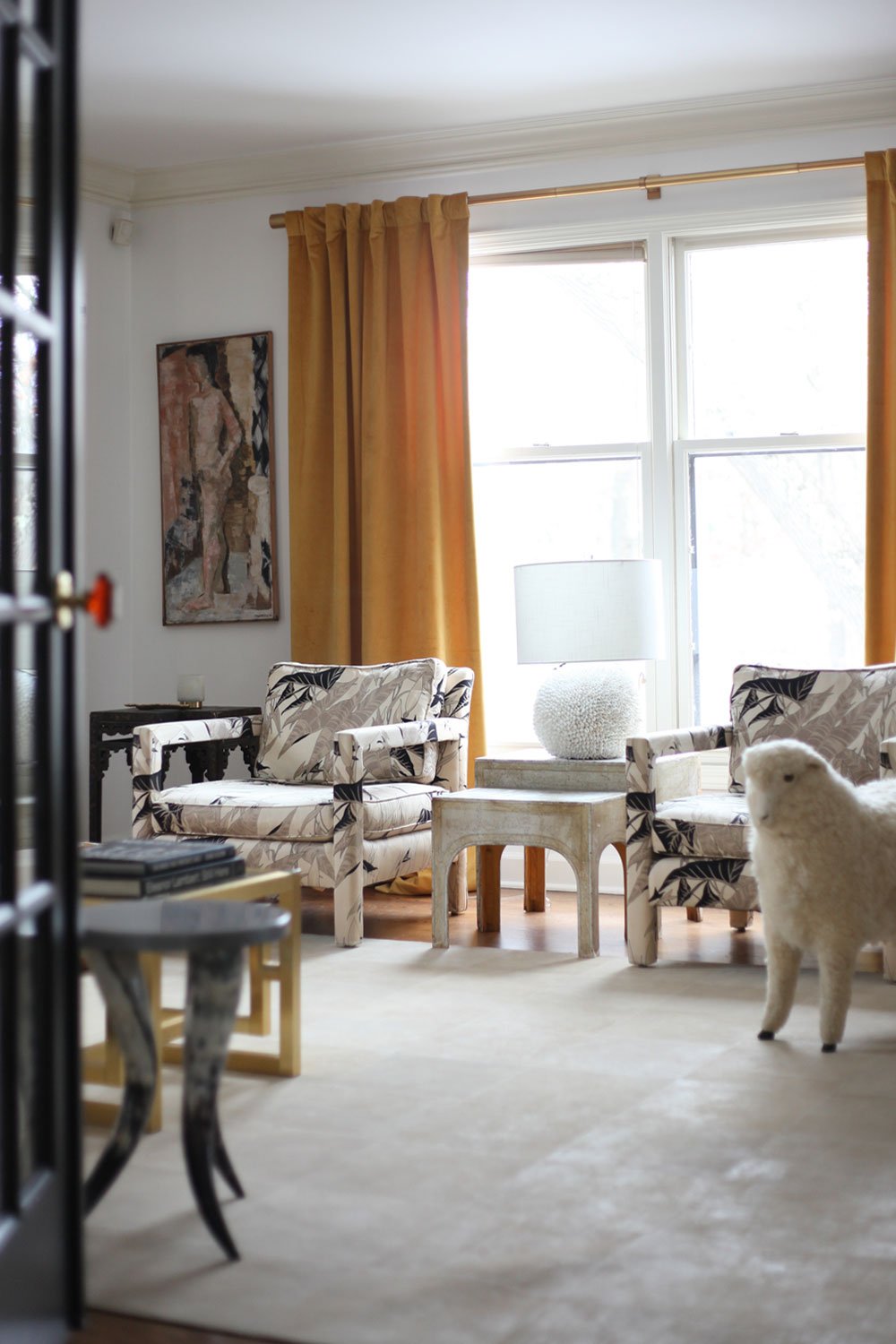 Here's a more up close and personal looksy at the shell detail. Would you pet it? It's okay if you say you would.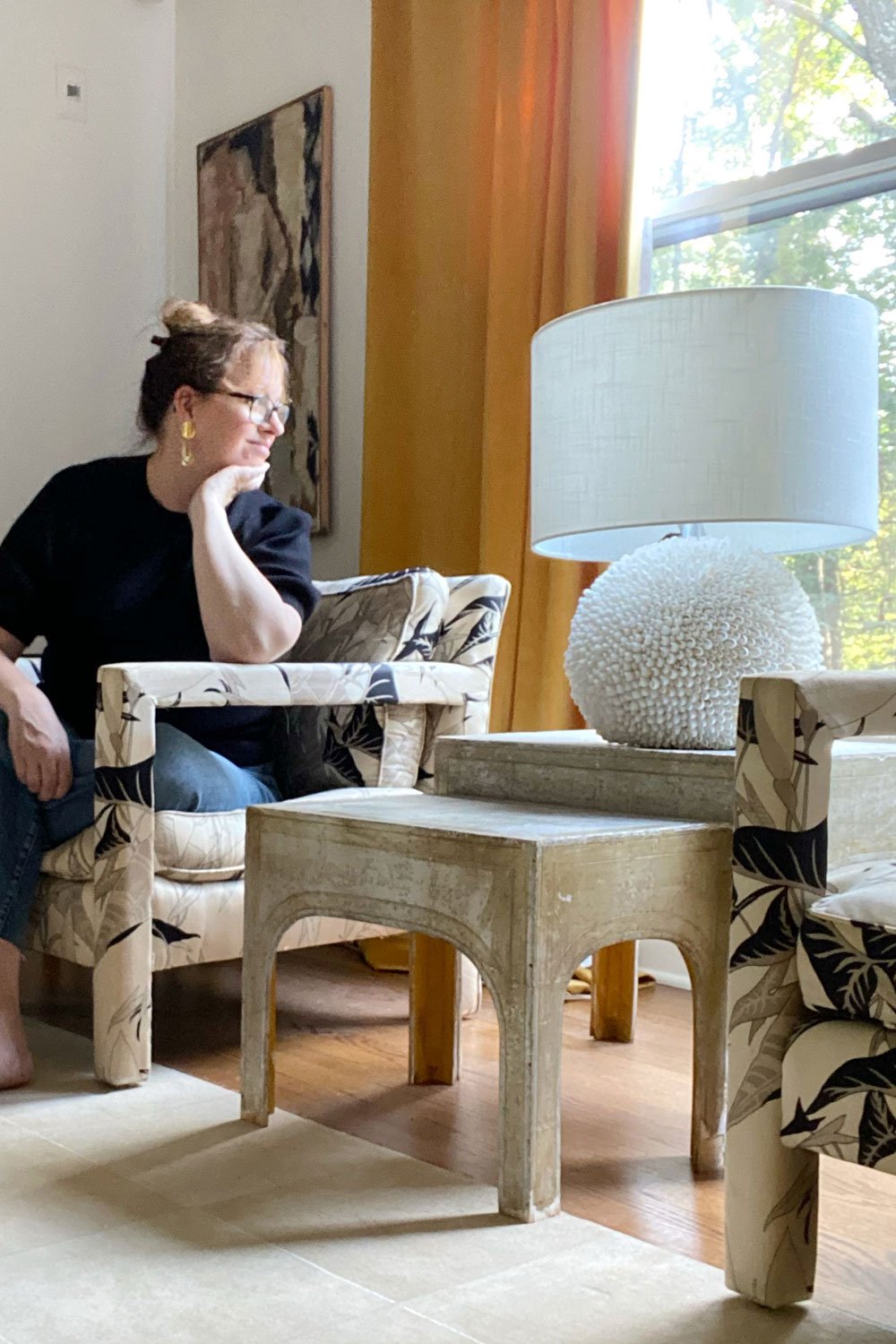 Serena & Lily Claremont Floor Lamp
This sleek modern floor lamp pivots to just the right angle, and I would love for it to live behind the sofa in my TV room. This understated yet timeless light is on my list of home decor to buy.
Serena & Lily Mirrors
There are 2 mirrors at S&L that I particularly love. One is the Portola Mirror which was featured in my decorating with neutrals post.  When I purchased the Cove Table Lamp, I had to make the decision between it and this mirror. It was a tough decision. Made from small pieces of rattan, it adds gorgeous texture to any wall. But I also love the delicate details on the Lisbon Mirror. It's handcrafted,  made of coconut beads in varying shapes, and it's not until you give it an up-close and personal look that you see the beautiful artistry. She's a showstopper that is high on my wishlist.
Seagrass Wrapped Glassware
Again I'm going to wax poetic over texture. These seagrass-wrapped highball glasses are stunners, and don't forget the old-fashion glasses. These scream summer dinner party with friends. Simply add my Lime In The Coconut cocktail recipe. It's the perfect boozy beverage. P.S. The seagrass is removable so these glasses easy to wash — ya, I read your mind. P.S.S. There's also a matching pitcher, you know, in case you'd like to whip up some sangria instead.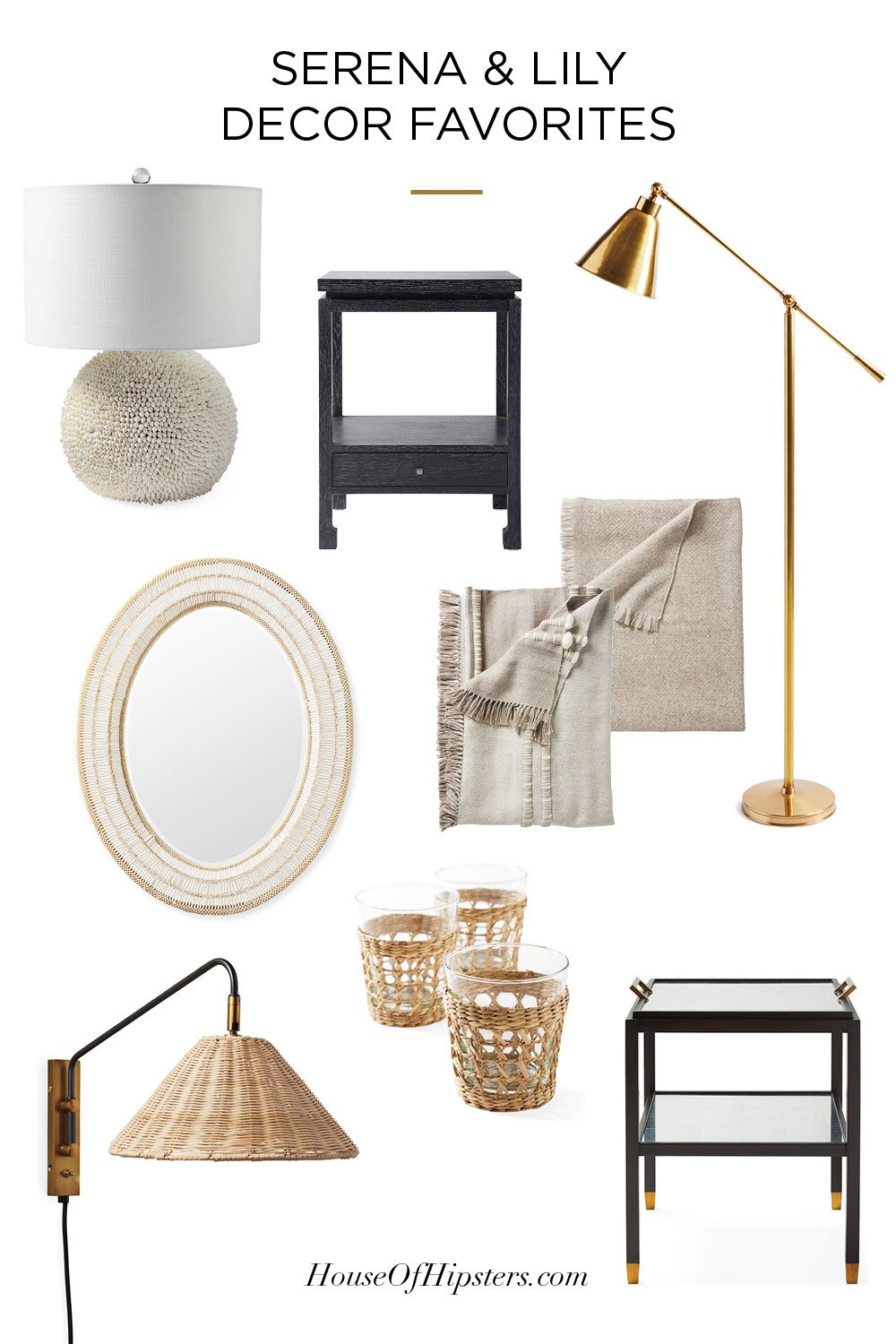 And there you have it, friend! My complete wishlist from Serena and Lily. We all deserve a bit of luxury when it comes to home decor, and when you invest in quality pieces, they last a lifetime. Did I catch your fancy with any picks? Or maybe you have a favorite that I didn't share. Let me know your thoughts in the comments!



Find More Modern Home Decor Ideas and Inspiration
Reviewing the Best Interior Design Books that I refer to over and over again.
Rounding up the Best Faux Olive Trees to decorating your indoors.
Check out these Summer Living Room Ideas to transition your home decor
Best Trending Jeans because the skinny jeans are out.