My Decorist Makeover Part 2
Last Updated on September 27, 2023
It's been a little while since we've checked in on my Decorist makeover. No, no I didn't forget. Pinky swear. I've actually been working on it like a madwoman. The final board arrived in my inbox the day before I left for Germany. Since I was out of the country for 2 weeks, I couldn't order anything until after I returned. Bob, my neighbor, would have had a lot of boxes to store in his garage for me. I apologize for the delayed update. In case you don't remember, I was presented with 2 concepts designed by Ashley Redmond, my interior designer from Decorist, and I was taking a poll from you to see which y'all liked overall.
Concept 1 kept my existing bed and added two gorgeous brass nightstands. It was light and airy and the hints of brass would bounce the light around the room. I was also obsessing over that beautiful woven chair. Here's a peek at the board to refresh your memory.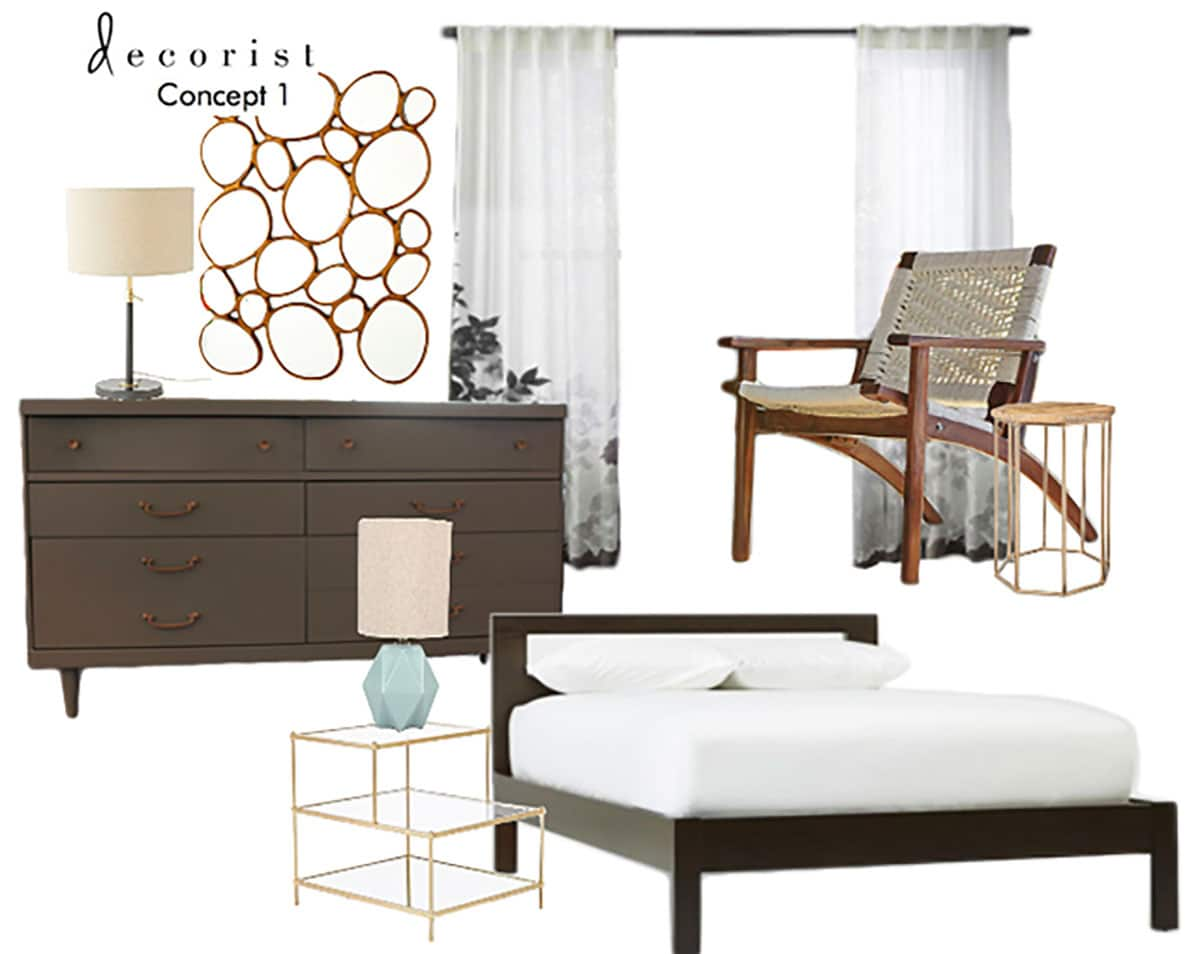 Concept 2 for my Decorist makeover had similar neutral tones yet a totally different style. Ashley went with a more natural, earthy feel but still pulled in clean lines and the mid-century modern look I adored. The leathers, jutes, and natural woods gave it the touch of boho that recently has been making my heart swoon…thanks to Justina Blakeney's new book.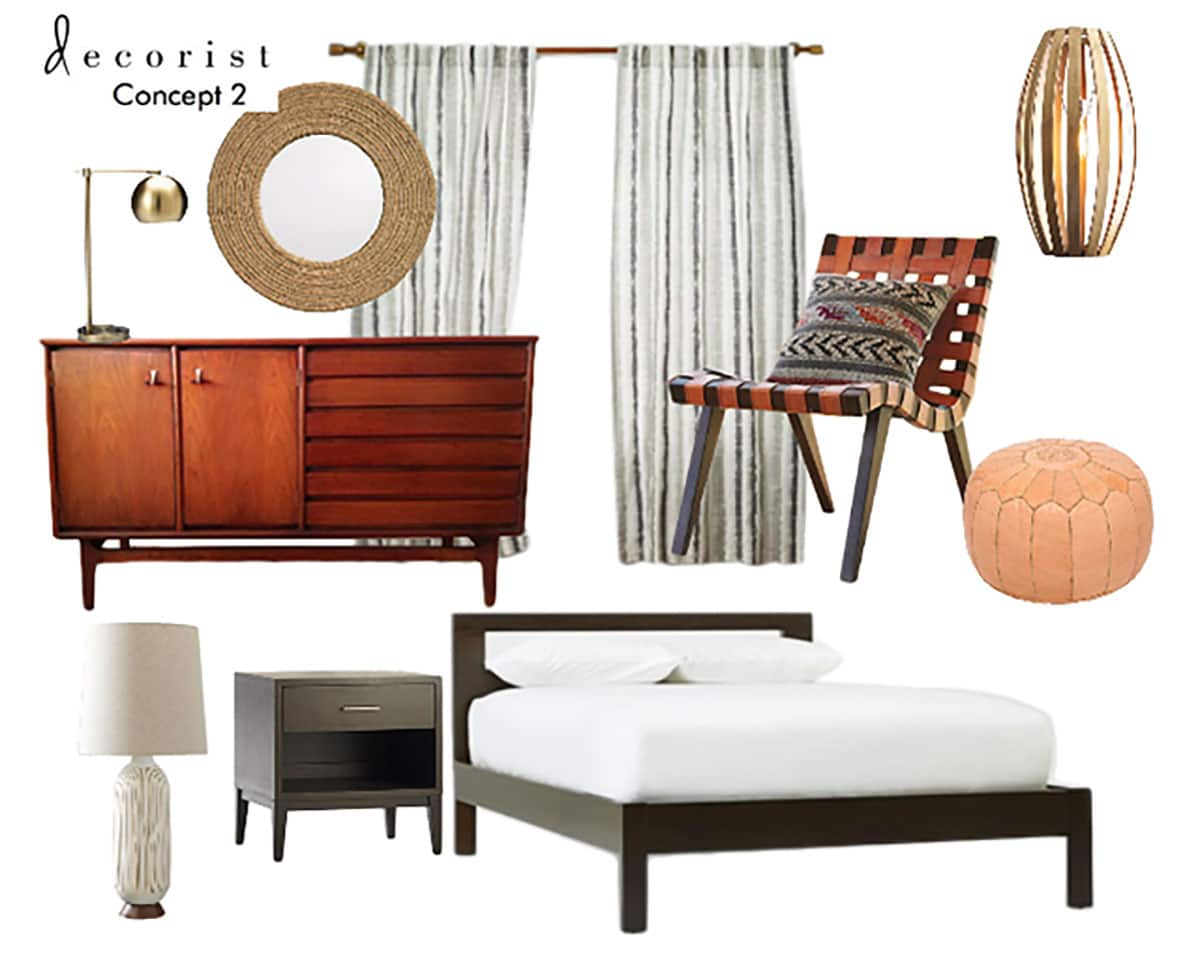 So which concept did I choose? Click thru to find out! But before that, let's have one last look at the horrendousness of what this room used to look like, shall we? Oh and don't forget, if you're thinking about purchasing a Decorist package for yourself, enter the code "HIPSTER" to receive $20 off your Classic Makeover…and nope, I'm not getting anything if you use that code. We just really like each other.

Ashley didn't make this decision easy. The blog comments leaned towards Concept 1, Light & Airy while Facebook leaned towards Concept 2, Natural & Earthy. Since Concept 2 kept my original bed and nightstands, I opted for Natural & Earthy. I loved the jute mirror and the mid-century dresser…and that leather chair with the caramel leather pouf and sheepskin rug??? Come on! Get in my house already! I absolutely loved the direction it was going. Here's the final board.

Did your heart just skip a beat? Mine sure did. I swear I opened that email and said, "Clutch the pearls. This is amazeballs." I loved it so much I was singing about kittens and rainbows. Before the final board arrived, I purchased all the base pieces. The mirror, pouf, and leather chair. Jen @fleamarketfab arrived the following weekend to help me out with my master bedroom, and together we made one big trip to West Elm. Shop, shop, shop. I bought the remaining pieces: the pendant, curtains, rod, and floor lamp amongst many other things. I've never seen my SUV packed so tightly…well, except for maybe this past weekend, kinda. Here goes…bear with me.
Installing Furniture In The Guest Bedroom

See, I had a slight epiphany while at the flea market. Let me explain. It's completely my fault. I hindered Ashley by telling her she had to use my bed frame and pushed her to use my nightstands as well. Not that there's anything wrong with shopping the house, but I also gave her a tight budget to stay within. In hindsight, I should have done one or the other. She told me upfront not to be so matchy-matchy with the look I was going after. Break things up. To find a dynamite dresser and possibly nightstands. She really wanted me to have that new amazing room experience. As you can see here, it's happening.

I sort of poo-poo'd her comments at the time. I mean, I'm House Of Hipsters right? I totally know what I'm doing….umm, ya, not so much. Seriously, leave it to the experts. Listen to them! THEY know what they're doing. I still didn't have the dresser, but maybe I would feel differently after its arrival. The dresser Ashley chose was on Etsy, and it was pure perfection and totally reasonably priced. Drawers on one side, doors on the other. Beaming with personality. BUT, the shipping was as much as the dresser itself. So, I started to make some calls. I was a thrifting queen. I could totally do this. I went on my Mid-Century Modern Chicago Facebook page. Attended some estate sales. The search was on for a local piece. Finally, a local vintage shop in Chicago came through with the win. Jen and I found it after a late-night party with wine and Craigslist during her visit.

When I moved the existing bed and nightstands in the room, Ashley's words rang true. I had more or less moved my old master bedroom into my guest room. My heart sunk. Hmmm. That was dumb of me. Now what. I decided to sit on it until all the new bedding and remaining items arrived. The Boy hung the artwork, curtains, and pendant last week…yep, I wasn't sold, and it was ALL my fault. My plan was to go back to Ashley this week, my head hung low and say help, I need new nightstands. Girl, you were right. Soooooo right! Please fix the matchy-matchy woes of my ways.
Anyhoo, Saturday morning I had plans to go to the Randolph Street Flea in downtown Chicago. I also received a tweet from Summer Thornton Designs about their 2-day moving sale. The plan was to go to the early buyer at the flea and then stop at Summer's office on my way home. Possibly a stopover at Humboldt House. My children thought otherwise, and I didn't leave the house until after 8 AM. My course changed to Summer's first. It was destiny. The score of the century you guys! More on that later, but I was dancing down the stairs on the way out…dancing followed by a lot of sweating, swearing, and crying. I couldn't fit my haul into my car. Crap. And it wouldn't budge. Finally, after being honked at repetitively and yelled at by a bicyclist for doubling parking in the bike lane, I managed to weasel it all in. Sorry, I'm rambling…back to my bedroom. Focus.
Bohemian Headboard Found

So I walk into the Randolph Street flea and there it was…the MOST insane, off-the-chain bamboo rattan headboard. I slowly walked over to it thinking there was no freaking way this was king-sized. Don't get your hopes up girl. There was no way you could be THAT lucky in one day. But sure enough. IT WAS A KING-SIZED RATTAN HEADBOARD! FOR $100!!!!!!!!! ARE YOU FRIGGIN' KIDDING ME??????? I immediately grabbed the booth owner and dragged him over to admire its beauty with him. With my head cocked to the side, I asked timidly, "Do you  deliver?" Knowing what I had in my car already, stuffing it in there was a no-go. I said a silent prayer to the flea market gods and prepared to get my soul crushed. He didn't, but the flea market itself had a delivery service. I immediately paid for my goods and marched my butt over and booked a posh ride to escort my new baby home. When inspiration strikes, sometimes you need to move on it right away. Sorry I didn't consult with you Decorist. I hope you approve!
Unbeknownst to Ashley, I already had this wedding blanket. Ashley had explained in her email to me containing the final board that she loved the look of the flax coverlet bedding from West Elm layered with a white linen duvet. My mind started to crank thinking, "How awesome would it be to layer that wedding blanket on top of the bedding with the rattan headboard?!?!" I almost couldn't wait to get home to put it all together.

Here's a peek at the wedding blanket, I have yet to tear down the old bed and replace it with the rattan headboard, but I swear, it's going to look so hot! Can you see the vision? When it was delivered, it clearly added so much more texture to the room.
And then I took another look at the nightstands yesterday. Boy did they look old and hunky chunky now. Boring and brown and slightly dated. They really had to go. They didn't match the style I was going after at all. Hi Ashley! You're in my head again!
Another plan popped into my old noggin. A year ago I bought a mid-century modern nightstand from District Chicago for my daughter's room. I distracted her with McDonald's this afternoon and swapped her pretty mid-century nightstand for the hunky chunky ugly nightstand. I'm a horrible person! But I mean, really, she's not even 3 years old. Would she really notice? BTDubs, ummm, yes, yes she did. She was unhappy, but she'll live, right? And besides, it's perfect!

So now what? Well, I have to get that dingy yellowish paint off the walls and get some nice bright white to lighten up the space. And if you scroll up, there's kind of a hole in the corner by the basket of blankets. I'm thinking a nice big fiddle fig tree would look perf there. What do you think? I also need to add a bit more artwork on the walls. And I need to replace the last hunky chunky nightstand. I'm also thinking these photobooth strips from my wedding might be a really cool touch on the walls. Oh and speaking of artwork, above the leather chair, I bought this cute little drawing of a dog from Orlando as well. But I was so excited to hang it, I completely forgot I have this cute fox hook that would look adorable next to it.
So my to-do list is:
1. White paint
2. Big plant
3. More artwork
4. One more mid-century nightstand
5. Hang the fox

I was not paid for this post but did receive a makeover as compensation. I only recommend products or services I use personally and feel my readers will enjoy. All opinions are 100% mine.