Design Crush: Decorating With Rattan
Last Updated on February 9, 2022
While perusing outdoor furniture, I stumbled upon a fancy rattan chair. The Boy had just okayed purchasing patio furniture, so the search was on. I made an offer to the seller that was soon accepted and made an appointment to pick it up. I drove an hour, walked inside his home and my heart skipped a beat, then quickly sunk. Here was quite possibly the prettiest rattan chair I've ever seen. There was no way in H-E-double hockey sticks this chair would be sitting outside on my patio. But what to do with it??? I had already committed to purchasing. As you all know, I kinda have a love affair with chairs. An addiction one might call it…or at least that is what The Boy calls it…and decorating with rattan was never really my thing. I mean, I did have a Franco Albini ottoman, but that was it. How would this boho rattan look with my mid-century modern clean lines? Well, I was about to find out.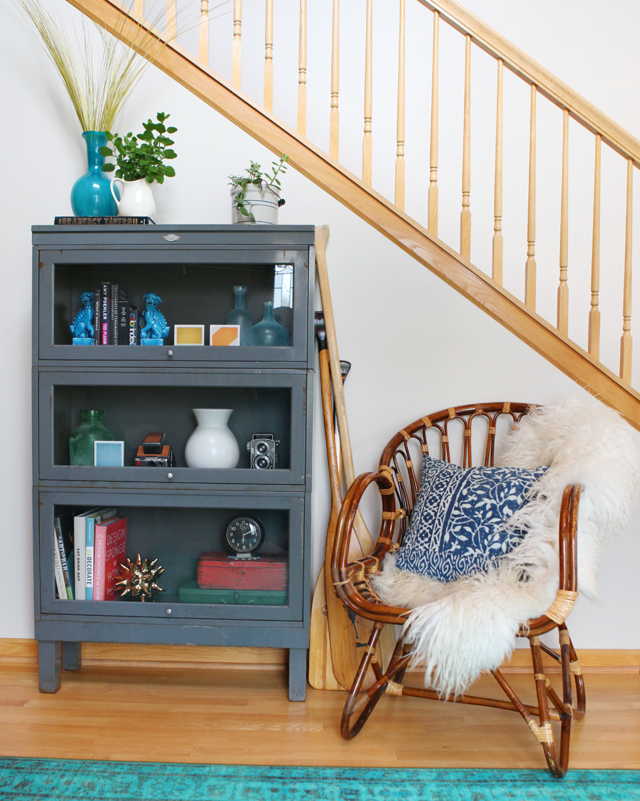 I drove home with a big ol'smile on my face. Yes, sir-ee Bob, this chair was so on ratt-on!!! Once home, I walked around looking for an open spot for my new baby. Foyer. Boom. It would be replacing the Heywood Wakefield chair because its upholstery color was WAY too close to the cabinet it sat near…it had always bothered me, but I refused to say I made a mistake. I turned to Pinterest for some styling advice, and really loved the look of a sheepskin rug and indigo pillow.
I had just purchased an indigo pillow. This was happening! I was decorating with rattan and making it work. It looks so fabulous against the industrial look of the metal barrister cabinets. In fact, it really complimented it and softened the look altogether. My love of rattan blossomed right then and there. And I kinda, sorta found another rattan chair. Don't you be judging me like The Boy…and my son who in all of his 5 years of wisdom told me I bought too much furniture and I was wasting money. I pinky swear it was totally by accident. It found me. This time it was a Franco Albini. There was no way I could say no.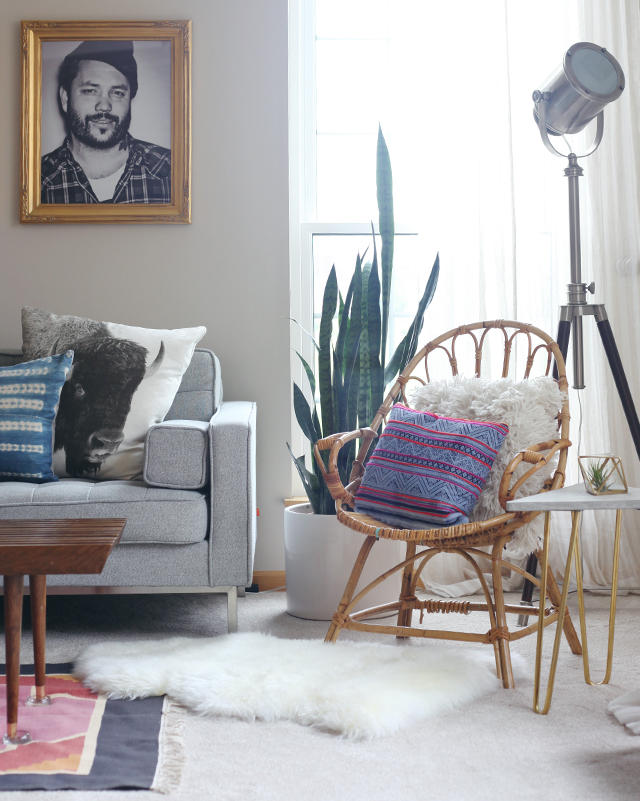 Upon its arrival, The Boy held a chairivention. I have since been cut off. Patio furniture is my sole focus. So not fair. But he can't keep me away from Pinterest. Here's a bit more inspiration for decorating with rattan. Feast your eyes on this…but before I sign off, be sure to check out the best cane furniture post and my round up of beautiful rattan and cane lighting.
Discover More Home Decor Inspiration
7 Tips — How To Decorate A Bedroom