How To Remove Pinterest's Visual Search Dots Tutorial
Last Updated on June 16, 2023
Over the last 7 days, I've veered off the decor course to shed some light on a topic that frustrates many content creators. Pinterest's little white dots that auto-tag verified merchants' products and promoted product links. After a ton of Googling and brainstorming with fellow creators, I discovered we have a few different options on how to remove Pinterest's visual search dots. Which path will you choose?
Before reading this post about How To Remove Pinterest's Visual Search Dots Tutorial,  you may want to take a gander at Pinterest Problems and white dots on pins to better understand the ins and outs of Pinterest for Business and how it affects content creators.
Be a part of the conversation and join the Pinterest Content Creators Facebook Page.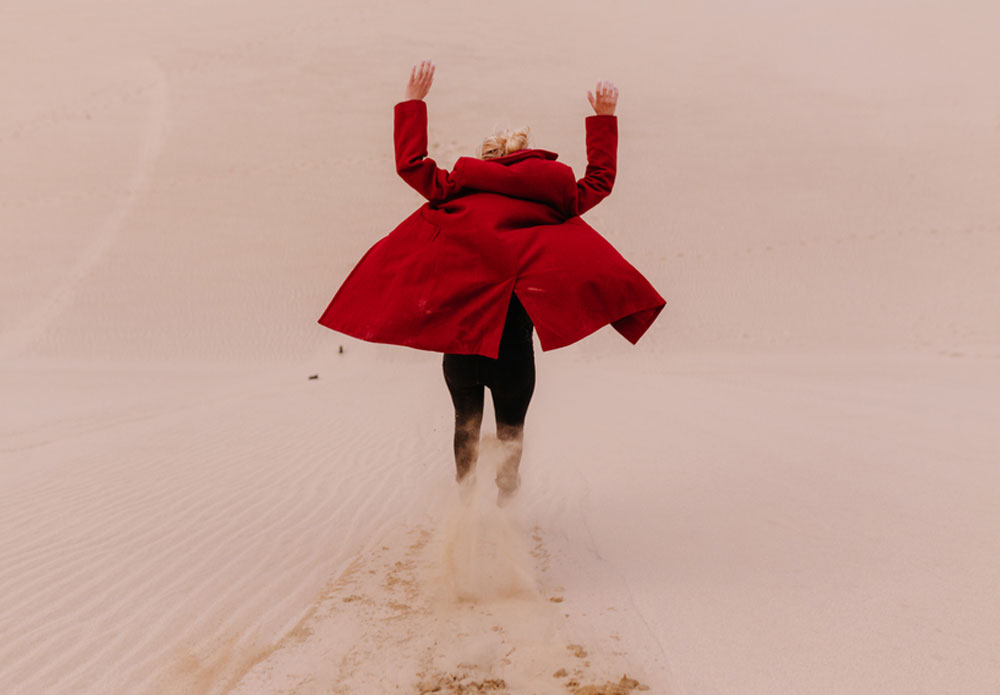 Should I use Pinterest For My Business?
OMG, yes! Pinterest is still a great platform, and when used strategically, you can generate a good amount of traffic from Pinterest to your website, and that is the key to success. When you create a pin, focus on keywords and SEO. Give your pin a text overlay and maybe even add your logo (smaller). Follow the best practices advice that Pinterest gives brands.
For example, if I was creating a smokey eye makeup beauty tutorial, I would suggest following the design look of a Pinterest Collections Ad. The pin size should be 1000 pixels wide by 1500 pixels high. The hero image is at the top with a text overlay below (or on top) that reads The Best Smokey Eye Tutorial as the header copy. Below the header in smaller type, include "by blog / company name". At the bottom of the pin, add a few products needed for the tutorial. You could also make the pin one large hero shot with the same text overlay…or do both for an A/B test.
Should I Delete Pinterest Pins?
OMG, no. Do not delete your pins or boards. But, I will suggest that you only pin images from your website. Forget the idea of balancing your boards with pins that are not yours. Who made up that rule anyway? If Pinterest is in it to win it, you should be too. To get the most out of Pinterest, my suggestion would be:
Create a main brand board that houses pins from your website…only pin your images.
Create supporting boards that represent the categories of your brand. For example, every image I publish would be pinned to my House Of Hipsters On The Blog board (which is presently archived because I'm stubborn and making a point even though my 2 week Pinterest boycott is only hurting myself..I may rethink that strategy). After a week or so, I would repin those pins from my main brand board to a supporting category board.
DO NOT CREATE Story Pins. They do not link to your website. They do not drive traffic to your blog. They do nothing to benefit you financially. What Story Pins do is they keep the users on the Pinterest platform so they see more promoted brand ads in the feed. Pinterest has no interest in helping users leave their platform. Leaving the platform doesn't make Pinterest money.
If you must create a Story Pin for the organic reach is huge, use it to your benefit. Create a Story Pin that promotes your blog / brand. It's a way to beat Pinterest at their own game. Slap your logo on that sucka and show the user why you and your website are so freaking awesome. Every frame should have copy that reads, "hey user, discover everything you need on BlogBrandHere.com". Give them a reason to find you. Be incredibly enticing.
How To Remove Pinterest White Search Dots Tutorial
When Sylvia initially responded, she said, "we do want to make it possible for creators to monetize their own content which is why we allow creators to add affiliate links to their content". Wait wut?
• Pin your image to your main brand board.
• Wait a few days, maybe a week, and go back to that pin.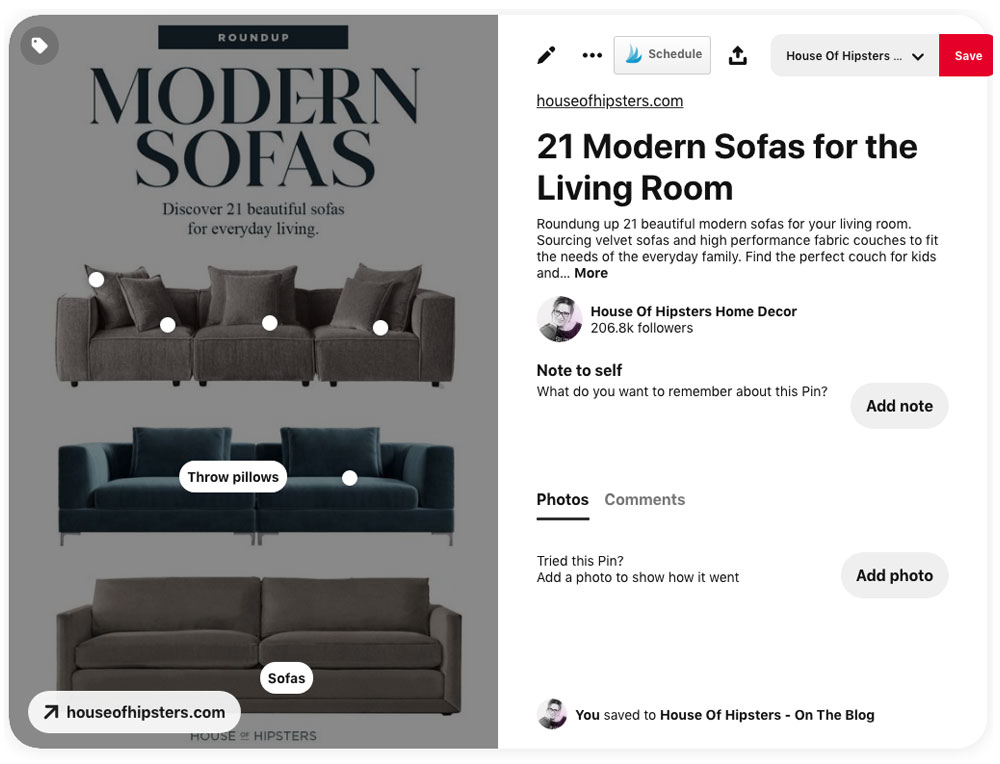 • Click on the sales tag icon in the upper left corner…see it. It's time to warm up the affiliate link engines…if your affiliate allows for it. Check the rules first because if the past week has taught us anything, it's, "Just because you CAN do it, doesn't mean you SHOULD."
• Click the + sign under "Add products"

• If you have an online shop, tag the products you have already pinned or click on "URL".
• Enter the web address where the product can be found…this is where you add your affiliate link, and you can tag up to 25 products. UPDATE! Silvia Oviedo Lopez, Global Head of Content & Creators at Pinterest, assured me that Pinterest wanted content creators to have the ability to share affiliate links and sell products on their pins. However, that functionality was removed shortly after this post was published.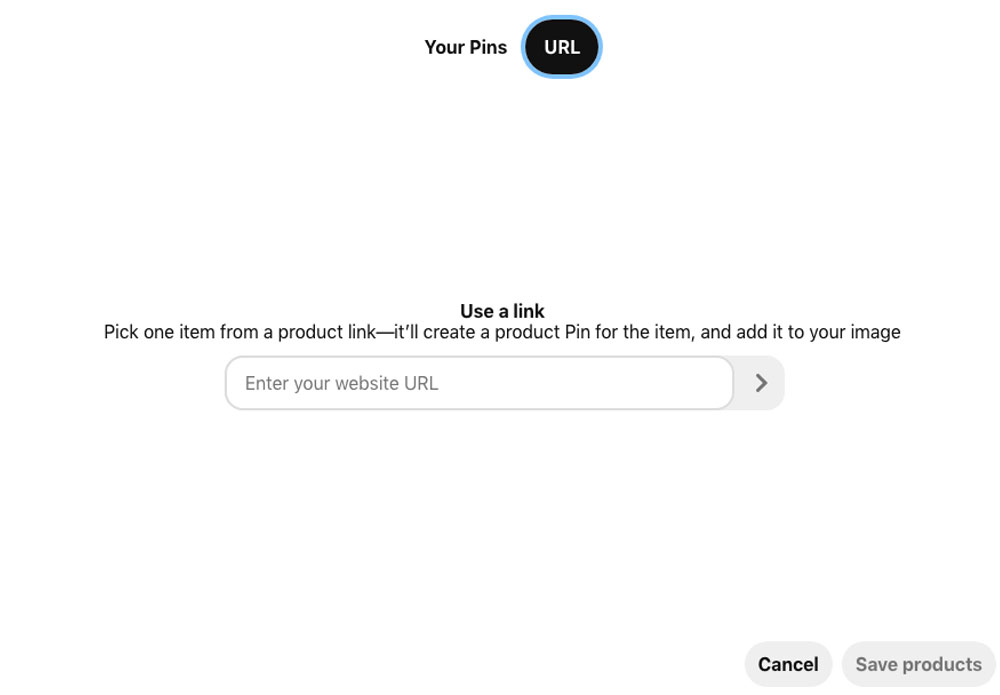 • Click the product thumbnail to add, and when you've finished tagging, click "save products".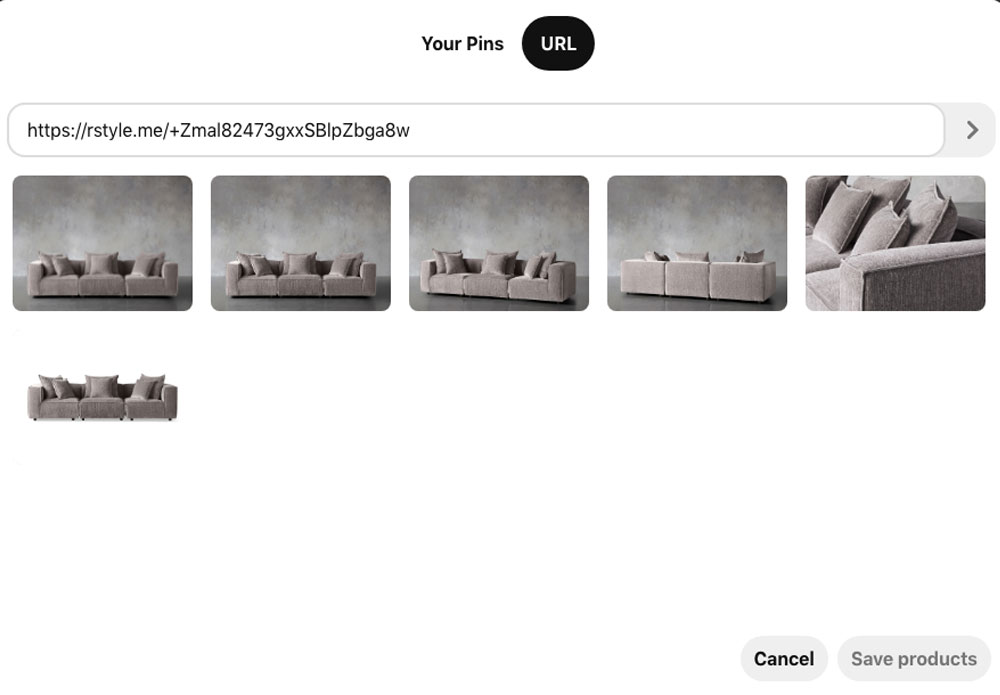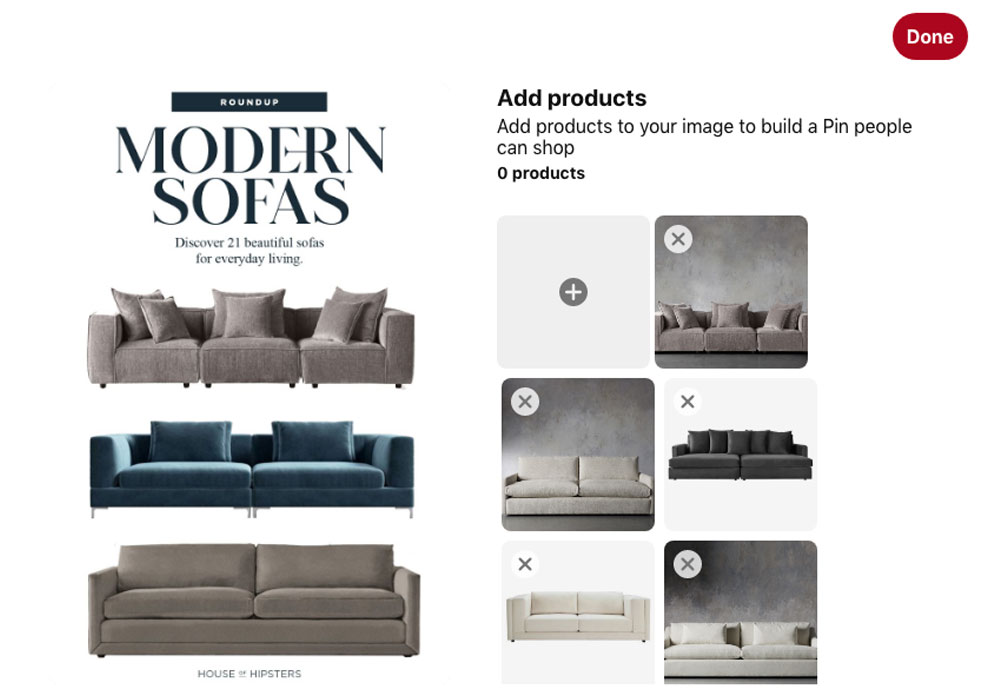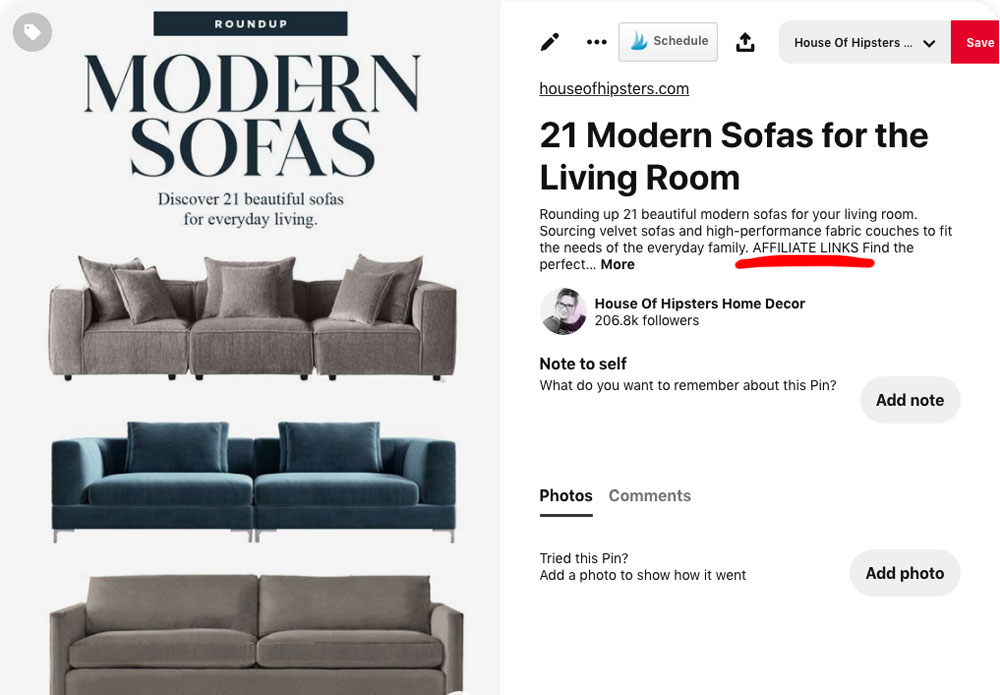 Also, within the last month, Pinterest's customer service is ghosting any requests to remove the Visual Search Dots from their pins.
The pin's format is different from Shop The Look auto-tagging design, but the full image now clearly links to your website. You have successfully removed the brands' auto-tagging ability without having to contact the Help Center…for now…until Pinterest moves the goal post again. Then we raise hell and figure out another workaround LOL.
Pinterest's visual search dots are not going away, and Pinterest most certainly is not going to change its platform back to the way it was. Content creators will forever need to continue discovering ways to protect our work…and share those solutions with each other because Pinterest is certainly not sharing workarounds openly.
As an entrepreneur, you need to look out for yourself and your business. You've worked too hard not to. Creators have DM'd me saying, "well, I'm small potatoes, so I'm not sure what I can do to help". WUUUUUUUUT? A business is a business and a voice is a voice.
If you feel something is wrong, say something cuz you're probably not alone. Don't accept the wrong and think there's nothing you can do to change it. We're so afraid of these social media platforms. We think oh my goodness, what happens if I speak up? What if they shut me down? Think about how many horrible things someone has to post before they're put in Facebook jail. Don't be afraid. Pinterest is probably eye-rolling this little blog right now, and Ben knows I can't continue the daily rants…he's right. I need to get back to business.
But before I do, I want you to know that no matter how small you are, you have influence. Never think of yourself as small potatoes! If Reddit can eff up Wall Street, creators can disrupt Pinterest. (also, yes, I know, we all hate the word influencers…I've recently learned that influencers are called KOLs in the corporate world…Key Opinion Leaders. Has a ring to it, and Imma use that from here on out.) Use your voice.
I hope that Ben and Pinterest have heard the frustrations of those who have spoken out. If content creators truly are the heart and soul, Pinterest needs to be open, honest, and treat us with respect for us to do the same. When we repetitively send messages through the Help Center, Pinterest needs to stop ignoring those questions. We make not like the answer, but at least it's an honest answer.
As I type this paragraph, an article notification popped up on my phone, "Rise In PINS Stock Proves That 'Nice' Social Media Has Value".
I'm sorry, but they're not "nice". Pinterest is as nice as Heather Chandler. In fact, Pinterest might be the red scrunchie of the social media platforms. Beautiful, popular, and everyone wants to be her.
They create things like the Pinterest Business Community forum to "help", but in reality, they are learning from us. @PinterestGabby asks poignant questions like what metrics matter most when measuring the success of your content, and we are right there offering up the answers. Creators share frustrations, wins, strategies, and opinions expecting nothing in return but to be part of the cool kids club.
Meanwhile, the Pinterest Community Managers sit back, listen, and report back with their findings to the engineers. They also dangle a carrot stating Pinterest might feature you if you create and post a Story Pin. (They REALLY want those Story Pins.) Start asking yourself WHY they "help" us so much. Why spend THAT much time, effort, and money?
If you watch this video clip below, these are Ben's words in an interview on CNBC last August, "Advertisers will always want a space where they can inspire their customers, so we're lasered focus on providing just that." There is no mention of creators. Pinterest is in it to win it.
Will I still use Pinterest for business? Heck yes. Pinterest is my jam, but I WILL be more strategic about how I pin here on out. More promotional. Less pretty pictures. More my blog is awesome you should come to visit. Enticing. Most importantly, I'll only be pinning my pins.
Before I sign off, Silvia did contact me once last time, and in the second email, she shared this page on the Pinterest website. As of last night, it's a URL that no matter how many different ways I googled it, I can't find it. BUT, if you'd like to turn the visual search dots off on your Pinterest account, there is a page on their website that claims it to be possible.
Yes, I'm referring to the same Help Center that answers your questions with responses like:
I completely understand your concern and I would feel the same in this situation. As you have mentioned users have written to us having issues with products of different websites getting tagged to their pin that leads to their claimed website but in your case the pin is from your claimed social account (Instagram) which I have mentioned as a rare instance.
At this point in time, we do not have an option to track the sale of STL products attached to your pin. Our team will ensure this issue does not happen in the future and I apologize for the inconvenience this has caused.
OR
Our team is working to remove products tagged on your pin that open door for a potential sale of their items from your pin. As stated this is the first time we have come across a user reporting issue of this kind.
I appreciate your patience as our team has set a timeline of a maximum of eight weeks for the issue to be fixed and ensure it does not occur again.
OR
I understand that you do not want shop the look tags on your Pins. In order for you to remove these tags, you need to claim the website and I see that you have claimed the website. However, these tags are on the pins which you do not own. Hence, the Pins are showing shop the look tags. But, I'm passing this as feedback to my internal team. The best ideas come from partners like you and we're always trying to improve our product to make it easier for you
OR
This is one of the rarest issues reported and we have not encountered users writing to us on a similar issue. I appreciate your efforts in bringing this to our notice, Our team is already working on this and it is taking a little longer than expected and they have provided a maximum timeline of 8 weeks. I understand that 8 weeks is a long time but this is the maximum time and it can be fixed within the said time however be assured that we will not only deliver a fix but also make sure this issue does not happen in the future. I'm going to close out this ticket in the meanwhile.
I apologize for any inconvenience this has caused. Feel free to reach back out if you see the issue persist after 8 weeks, and we'll be happy to investigate further.
I'm no longer interested in turning off my visual search dots Pinterest feature. Instead, I'll be tagging affiliate links manually…am I as bad as Pinterest for doing that? Ya, probably, but at least I'm being upfront about my capitalistic ways. My commissions earn me a fraction of a penny on the dollar, but at least I'm not buried in auto-tagged products and a user can click on my image to visit my website.
I know that last giphy was a bit snarky, but please know I'm NOT upset or angry or disgruntled — rather shocked by how many creators were oblivious to what was happening at Pinterest and amazed that NO ONE had heard of The Studio. I hope my last 3 posts have been informative, eye-opening, and have you rethinking your creative strategies. With that, I think we should get back to our normally scheduled program. Thank you for allowing me to jump on my soapbox and voice my opinion, but let's talk about home decor again, shall we?



Discover More Social Media Tips On House of Hipsters
If you want to know more about me as a home decor influencer, click the link!
So you want to know how to record a TikTok huh? Pull up a chair and let's chat about it.
If you need some basic training before jumping right in, here is an easy TikTok tutorial.
Are those little white dots on Pinterest a copyright infringement?
And open letter to the founders of Pinterest.
Are you a brand looking for social media consultation? Well, you've come to the right spot. I was a "content creator" before content creators existed.