Best Pajamas To Wear – Comfy Loungewear
Last Updated on January 18, 2023
The quest for the best pajamas to wear for all-day comfort began last April at the beginning of the pandemic. Since then comfy, cozy loungewear has become a staple in my daily wardrobe. Printfresh PJs appeared in my Facebook, Instagram, and Pinterest feeds a few times, so when they reached out and asked if I wanted to collaborate, I took it as a sign from the pajama gods. Sign me up! Bold, colorful, whimsical prints…but could they be the best pajamas to wear? Let's add a jammie set to the cart and take them for a test drive, shall we?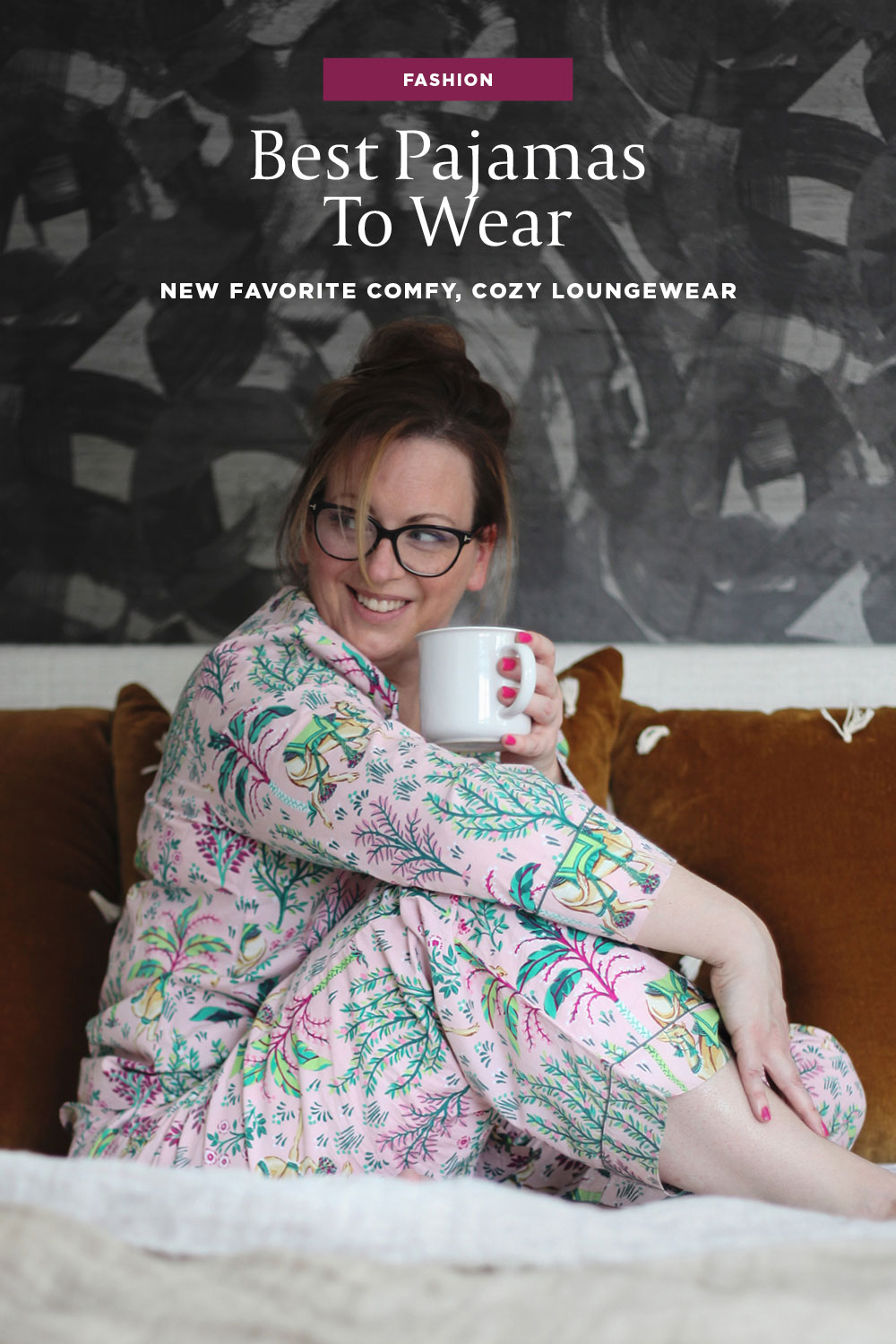 There is one major downside to Printfresh PJs, and that is selection. There are entirely too many adorable prints to choose from. So much so that I was almost tempted to mix and match or buy 7 sets. When the jammies arrived, I opened the box and found them packaged in a super cute printed pink bag. Part of me wanted to carry it around the house for the full-on shopping experience. This new normal really has me missing some of the simpler things in life.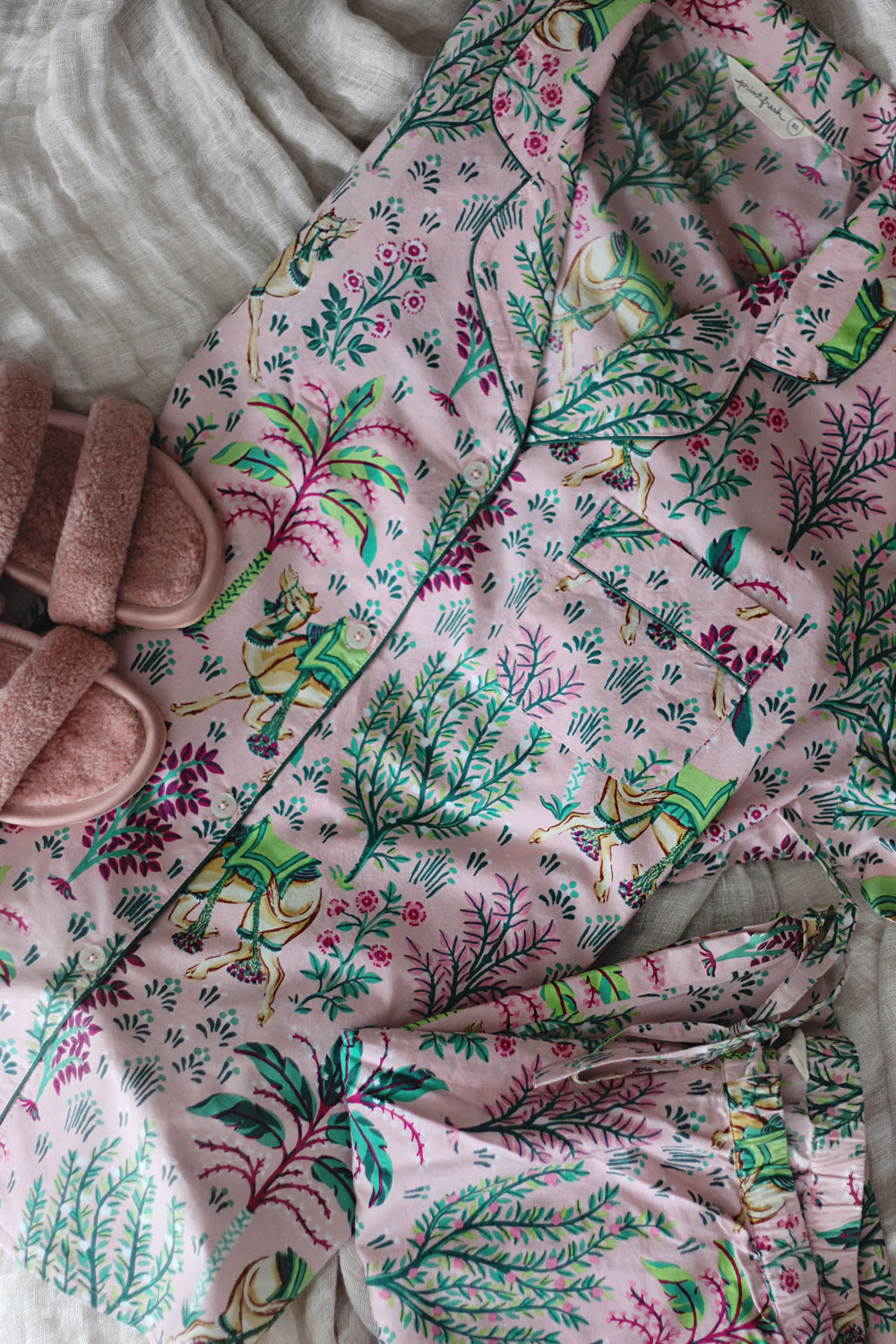 I chose the Camel's Courtyard pajama pants and long sleeve button-down pajama top in Rose…cuz you know #ihavethisthingwithpink. They're 100% cotton and get this…the jammie pants have pockets! POCKETS! Srsly, my life is complete. BTDubs, while I was pursuing the site, the Bagheera robe in blush might have also fallen into my cart as well, but shhhh, let's not tell The Boy about that. I'll share a snap of it momentarily. First, let's shimmy into these pink pretties and take 'em for a spin.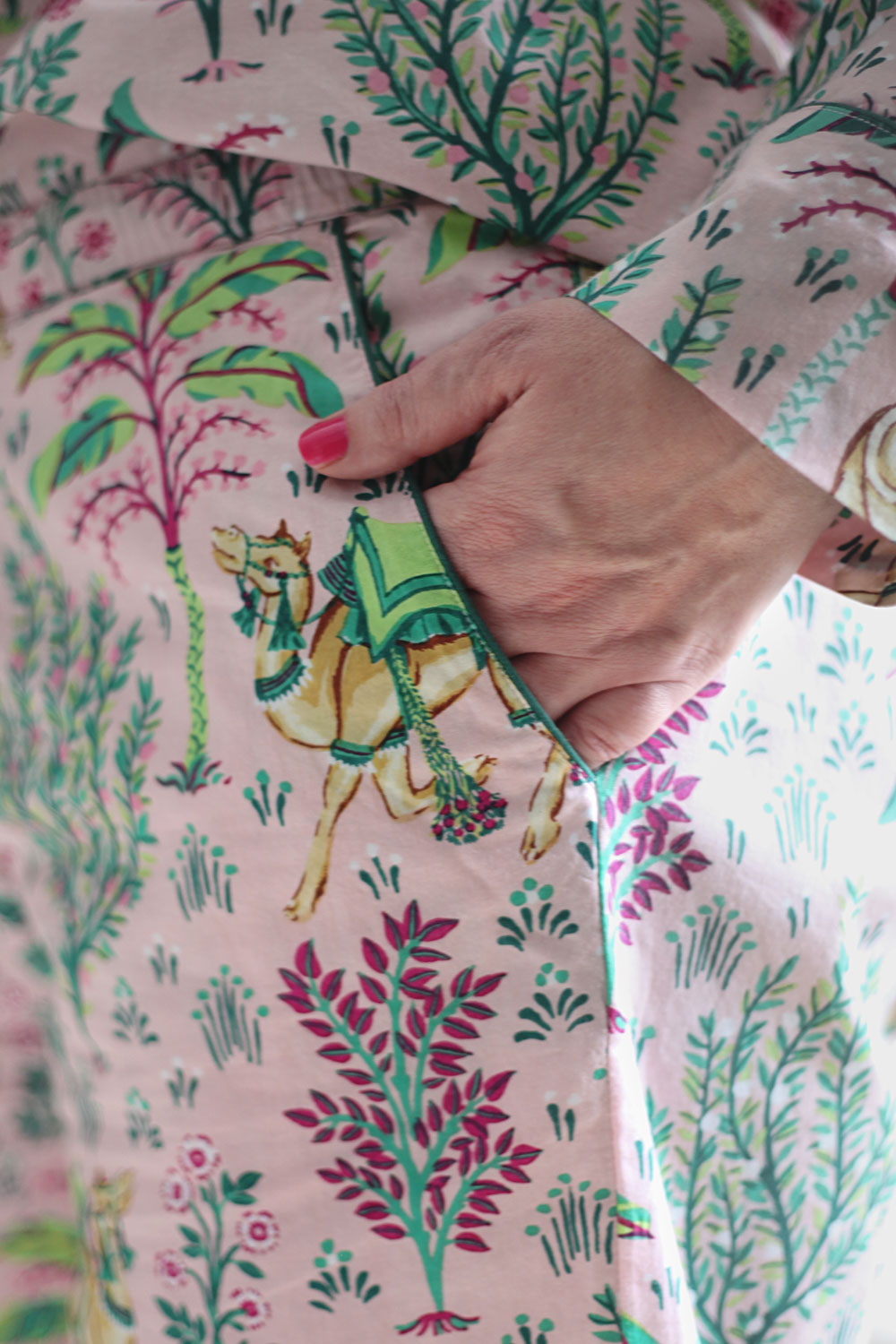 The Printfresh pajama pants have a drawstring tie which I love since my weight tends to fluctuate, so I like to size up. For me, elastic waist pants can be either too tight to too loose. I sound like Goldilocks when I say it, but these pajama pants fit just right. They also have a mid-rise fit and seem true to size.

Isn't the contrasting green piping is super cute?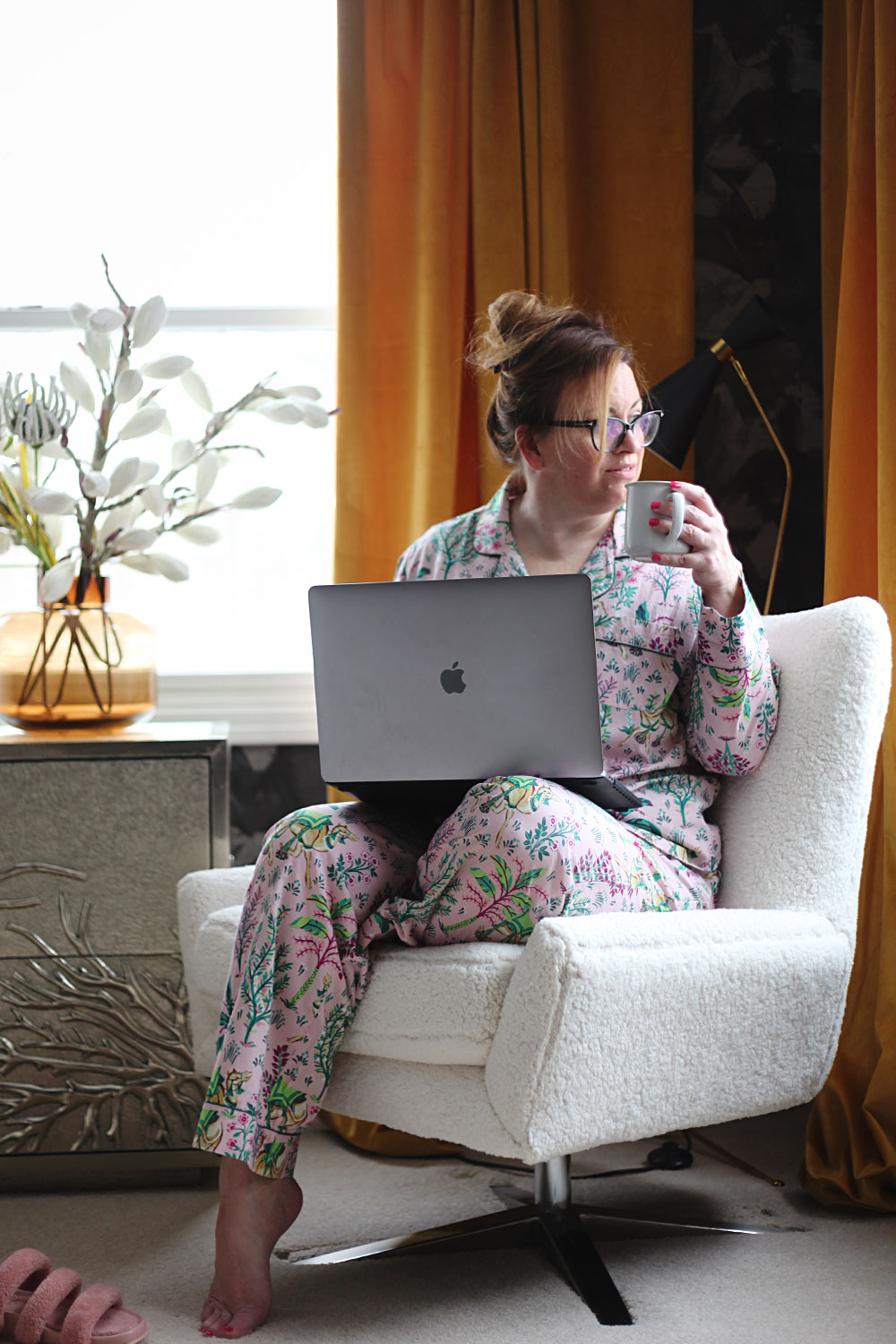 So, are these the best pajamas to wear? Imma say they are right up there. Zoe, my 8-year-old daughter loves them so much that she wants a pair for herself, "so we can be matchy-matchy". Because of Printfresh's wide size range, I might actually be able to make that happen. Their sizes range from XXS/P to 4X which is something I really appreciate. Being an in-between gal isn't easy when it comes to clothes shopping. Side note, 5X and 6X are coming soon.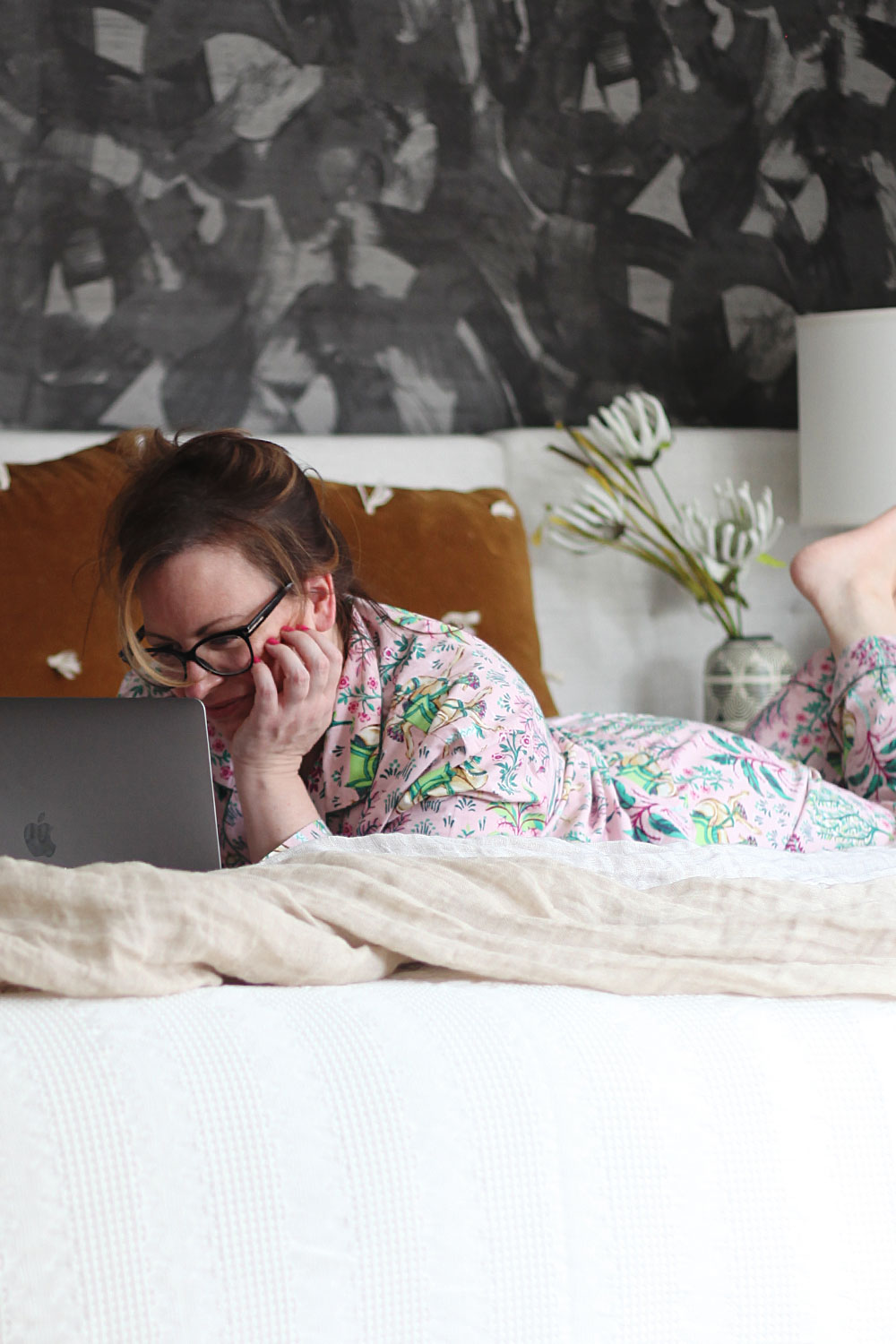 The first day, I gave these jammies a full run from morning coffee to daytime work to sleepy time. The only time I changed out of these pajamas was to pick the kids up from school and grab the puppers from doggie daycare. Tooling around town in my pink pants just seemed a bit too much even if they are the best pajamas to wear. They are definitely a favorite in my current WFH wardrobe.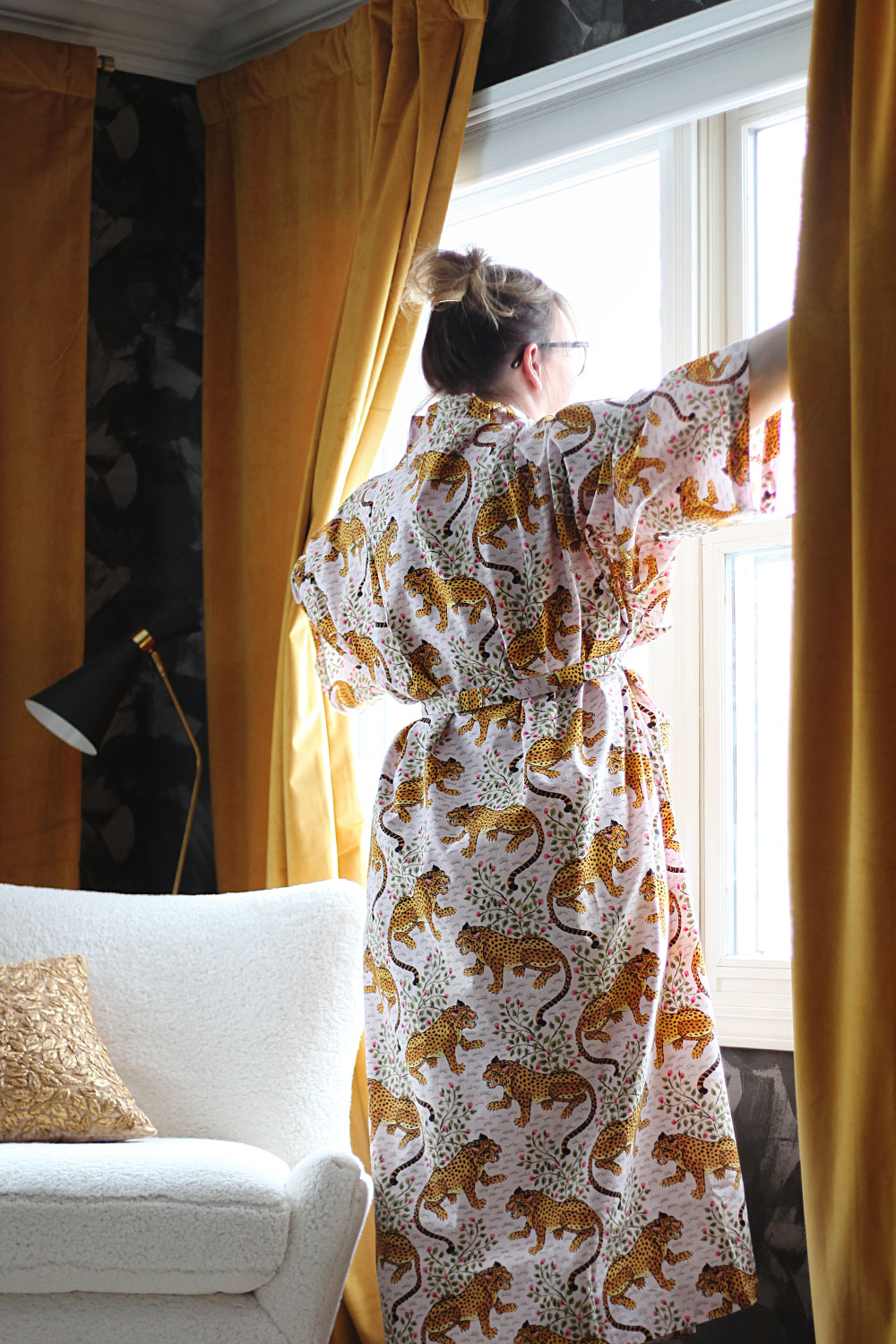 Oh, and here's the Bagheera leopard robe in blush (no longer available) that we're keeping hush-hush from The Boy. Perfect to slip on after the shower. I've been wearing it to blow my hair dry every morning and love it because it's lightweight, and I don't get overheated and sweaty…cuz that totally defeats the purpose of showering in the first place. This robe is available in multiple different colors and prints. I've got my eye on the Tiger Queen robe in cornflower. The other 2 prints I adore are Camel's Courtyard in Cloud, Queen Lotus, and Unicorn's Garden.
No, I did not just wake up like this, but I have been practically living in these jammies for the last couple of days. They get softer after washing and the colors do not fade. Here's one last look at me and the best pajamas to wear thanks to Printfresh!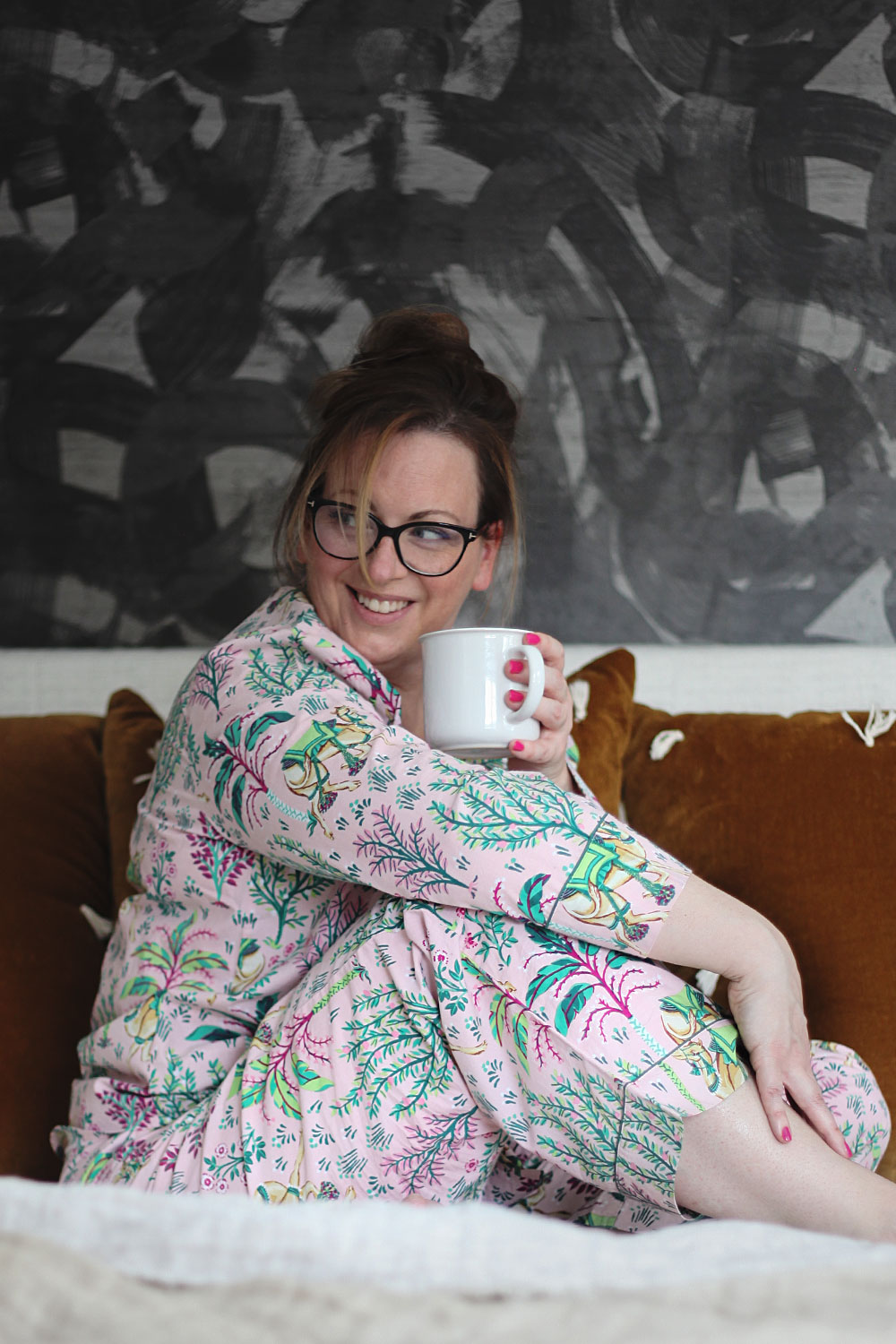 This post is sponsored by Printfresh. All words, thoughts, and photos are my own.



More Affordable Home Decor And Budget-Friendly Ideas
Have you seen those artificial flower arrangements in resin – you know, the clear vase that looks like water, but it's not? This easy tutorial teaches you exactly how to make your own for a fraction of the price.
If you're headed into a home renovation, you definitely need my Free Budget Checklist Download
Looking for modern decor that won't break the bank? Check out this round-up of Home Decor Under $100
Here is the final reveal of the Modern Kitchen Makeover On A Budget that I created with Cambria!
I've rounded up my favorite Amazon home decor deals and Smart Gadget Must-Haves
Shop these Amazon Prime Day deals you must have.
Sharing my 5 Ways To Cut The Cost Of Wallpaper with these clever ideas!
Check out this affordable summer table decor – you won't believe where I got it!
If you're looking for Home Decor On A Budget shop these Affordable Decorating Ideas
If you wanna know how to make your home look expensive but decorate on a budget, check out both of those posts! There's some seriously good advice in both.
If you're looking for organizing tips, check out this round-up of the best storage bins and Organization Ideas and then be sure to hop over and then download this declutter your home checklist.
Discover More Modern Decor Ideas
Have you noticed that mushroom decor is trending? Here's what I'm eyeing.
Want to add a little magic to your room? Try adding some disco ball decor with these sparkly ideas.
Add some texture to your room with this rattan and cane lighting round-up.
Wait, skinny jeans are out of style? Yup, and here are the trending jeans I would wear instead.
Do you have a rug that is too small or too big? Not sure? Here's how to choose the best size rug for a living room.
Cane furniture is trending, and so is rattan and cane lighting. If cane isn't your jam but you want more lighting ideas, check out this round-up of boob lighting alternatives.
I've been playing around with some living room design concepts. Check out the latest mood board I came up with.
Wait, skinny jeans are out of style? Yup, and here are the trending jeans I would wear instead.
Nothing elevates a ceiling light like a ceiling medallion. Check out that round-up to shop for the best of the best, and be sure to check out my how to install a ceiling medallion tutorial for some secret tips!
Storage bins and other organization ideas to keep your home clutter-free. From the pantry to the kitchen to the bathroom to drawers, I've got you covered! And check out the decorative boxes post if you're looking for ways to corral your remotes on your coffee table.
Pairing pendant lighting for the kitchen can be a tough design decision. Here are my favorites.
Love the Primrose mirror but hate the price tag? I got you! Here's a full round-up of affordable Anthropologie mirror dupes.
Spruce up your backyard with this outdoor patio furniture and decor round-up.
12 cute, stylish backpacks that fit a laptop and are perfect for work, travel, and back to school!