Ceiling Lights – Boob Light Alternatives
Last Updated on July 4, 2023
There are 3 boring ceiling lights in our walk-in closet that need to be replaced for the closet makeover I shared yesterday, so today's post is a round-up of replacement light fixtures. All options are, for the most part, modern ceiling lights – both flush mount and semi-flush mount boob light alternatives for your home. Let's dig in!
This FLUSH MOUNT CONVERTER KIT is the perfect alternative for renters looking to elevate their boob lights.
Flush Mount Ceiling Lights – Boob Light Alternatives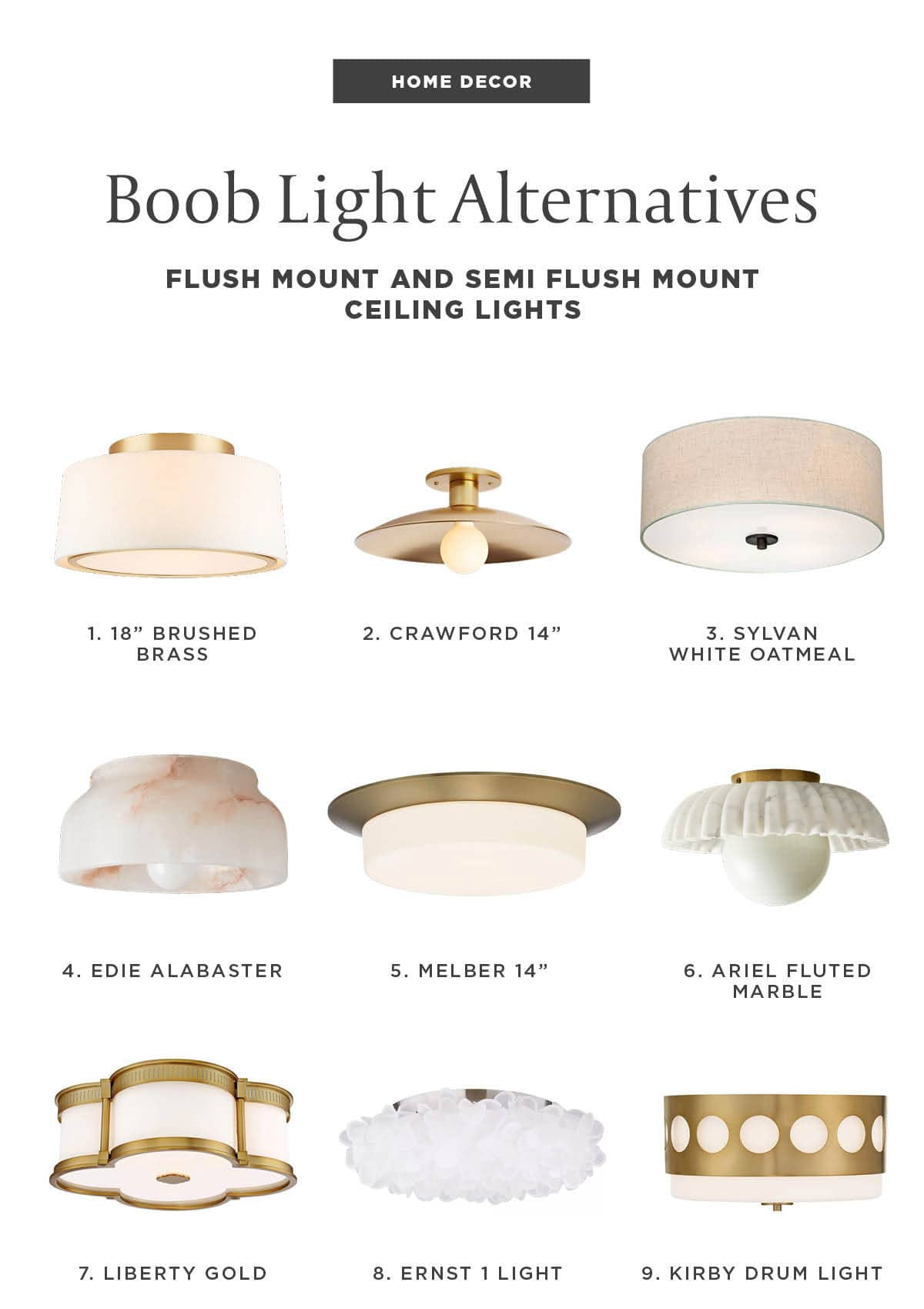 18″ Brushed Brass flush mount ceiling light
Crawford 14″ Flush Mount has that sleek mid-century design
Sylvan White Oatmeal ceiling light – a popular choice and under $150
Edie Alabaster stone flush mount light fixture
Melber 14″ Wide Warm Brass ceiling light
Ariel Fluted Marble light – the reviews on this ceiling light are mixed. The biggest complaint is that it is a dim light, so I would use multiples or use it only as an accent. Do not expect it to light up an entire room.
Flush mount Liberty Gold ceiling light
Ernst 1 Light LED flush mount – this one doesn't look like much here, but she's a beauty!
Kirby Vibrant Gold Drum light


The first thing I update in any room is the lighting; it's the jewelry of any space. And when it comes to ceiling lights, there are so many boob light alternatives out there. I know they are incredibly cheap, but why do builders insist on them? I mean, we even gave them the worst nickname on the planet – boob light – I mean ewe gross. No one wants that on their ceiling.
Even if you're a renter, you can probably replace your builder-grade boob lights. If you have access to the breaker box, turn off the power, remove it, and replace it with something prettier until you move out. Just maybe don't tell your landlord.
DO IT YOURSELF! Learn how to change a light fixture with this easy tutorial.
More Boob Light Replacements – Ceiling Light Fixture Ideas

Goldie Nylon Wrapped ceiling light – NO LONGER AVAILABLE
Wildwood Semi Flush Mount arts and crafts style – globe comes in multiple shapes
16″ Aged Brass Drum semi-flush light fixture
Black and Brass ceiling light – this one is currently unavailable, but this one is similar.
Drake 2 Light Sputnick semi-flush mount ceiling light – definitely having a luxe mid-century moment
Colvin 1 Light semi-flush mount
19″ Lotus pendant light- this is the smaller version of the lighting in my home office
Broche Antique Gold Petal light fixture – this one is a bit smaller with a lower price point.
Latham 9-1/2″ Wide Aged globe light fixture


The only one that looks like a flower at the bottom, by Crystorama, is pricy but worth every penny. It is a showstopper in the guest bedroom. Not sure I'd want 3 of them in my walk-in closet, but it still deserved to be in this boob light alternatives ceiling light round-up.

If you really want to take your ceiling lights to another level, take a peek at my round-up of favorite ceiling medallions. They add a beautiful architectural element to your room. And don't worry, if you wanna learn how to attach ceiling medallion I've got a full tutorial. It is a super easy DIY.
RELATED: If you're looking for more home lighting ideas, click that link to see all the posts!



Discover More Home Decor Inspiration
Add some texture to your room with this rattan and cane lighting round-up.
Pairing pendant lighting for the kitchen can be a tough design decision. Here are my favorites.
Sharing stylish home decor favorites from Serena and Lily.
Spruce up your patio and outdoor decor with this furniture round-up.