Before Closet Makeover Tour
Last Updated on June 28, 2023
When we first looked at this house, I remember walking up the stairs and my realtor said, "Wow, this house just keeps going…", followed by an audible gasp. She had found the primary closet. The addition that the previous owners built included one heck of a closet with his and hers sections, built-ins, and a washer and dryer. Ya, it's a damn good space, but could it be better? Totally. It's time for a closet makeover.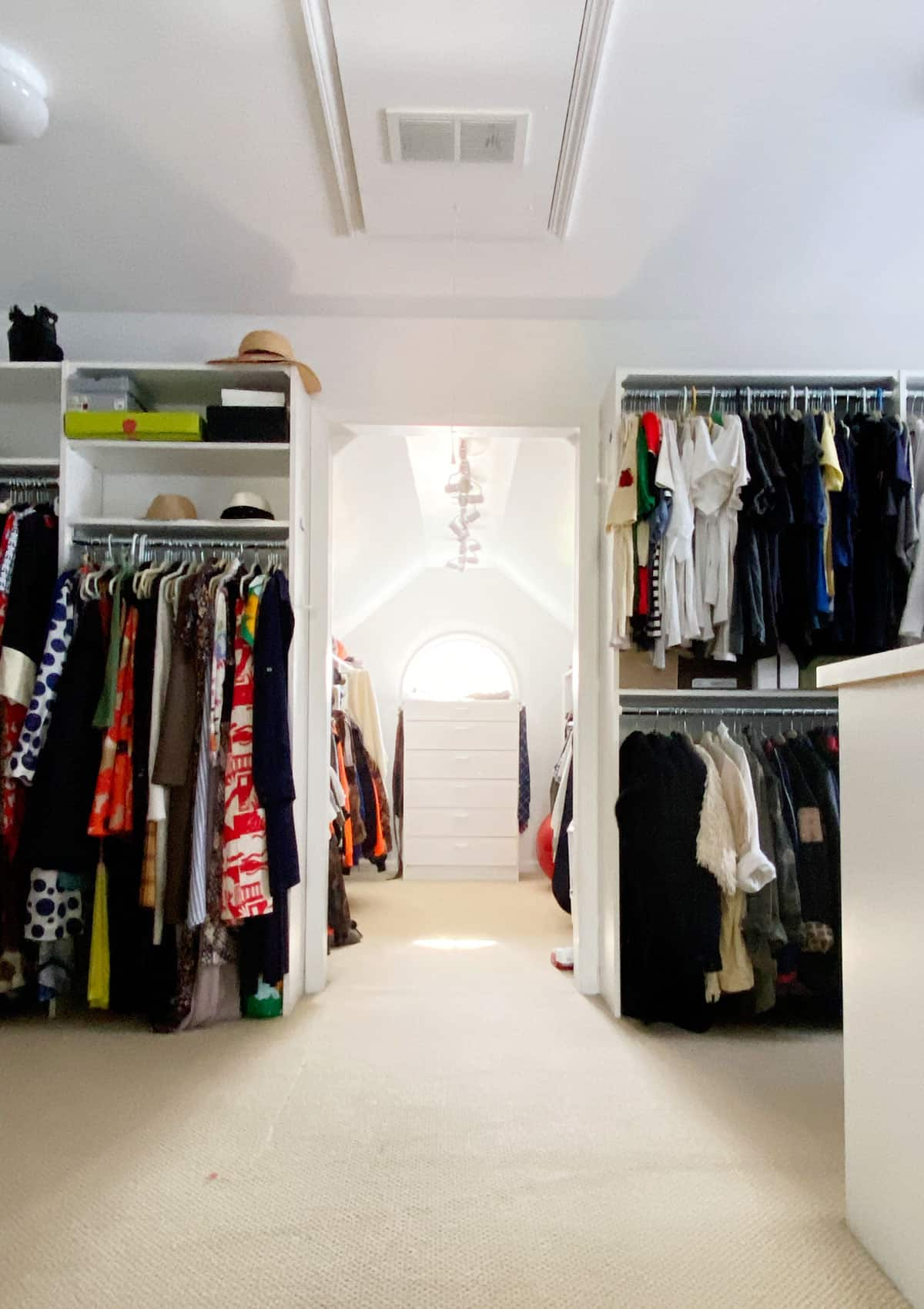 At first glance, I didn't think that closet could get any better. I was just so excited to have a fancy his and hers closet. But after a couple of years, there were obvious details I knew I could improve. First off, the existing flooring was carpet. When you're dealing with lots of fabric, you're gonna have dust. Add a dryer into the mix, and you have a dust factory — especially with our dryer because the lint catcher pulls out at the top causing dust to fly everywhere. It's a horrible design but until it breaks, the dryer stays. However, the carpet's days are limited.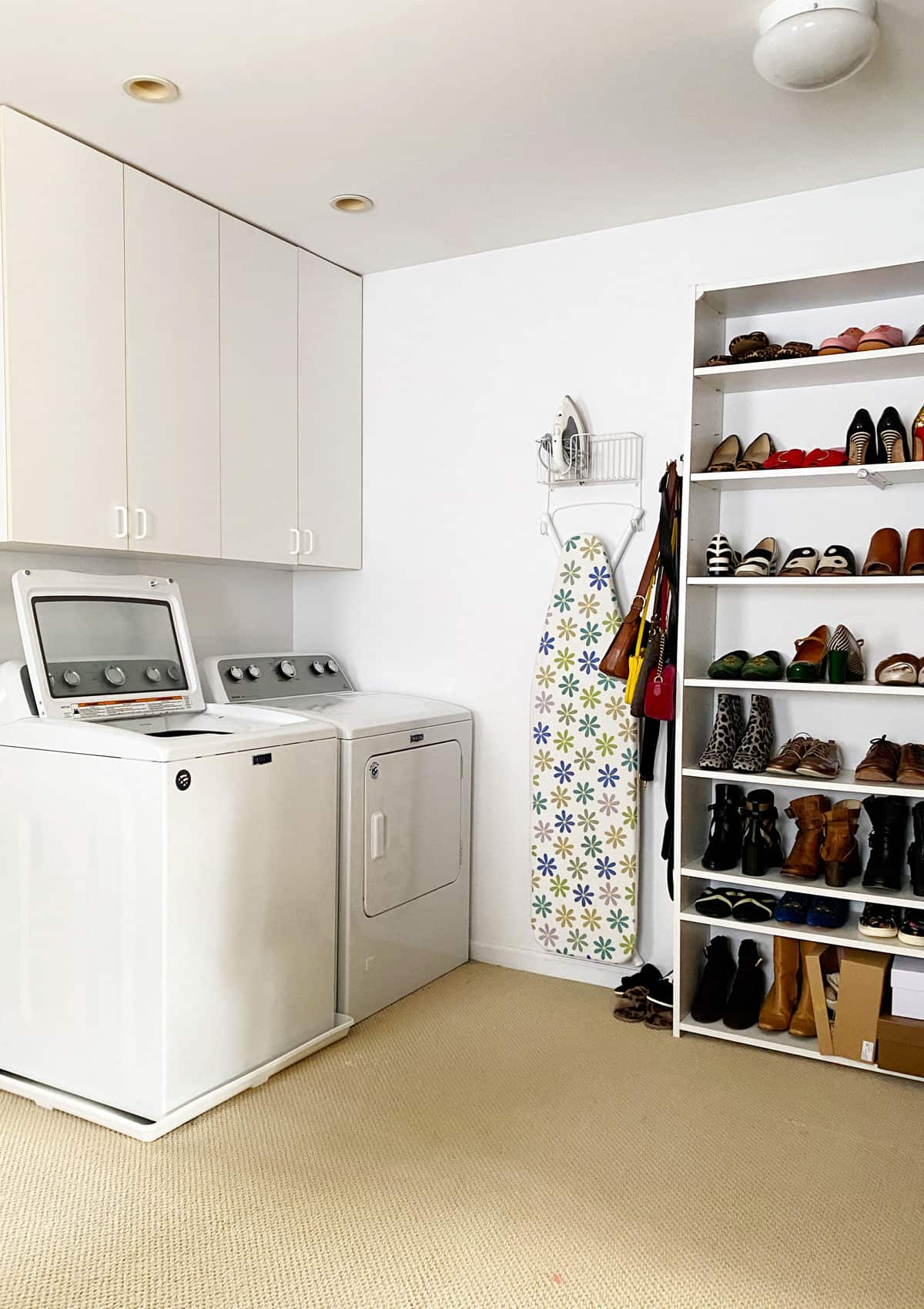 Flooring Ideas For The Closet Makeover
During the 2020 lockdown, I did a closet purge and while doing so, vacuumed every nook and cranny of the primary closet. I had to empty that sucker TWICE! It was on that day that I decided no more carpet. So, will the flooring in the closet be tile or luxury vinyl flooring (LVF)? Good question. Let's discuss. I installed tile in the home office makeover, and although it's beautiful, it's cool to the touch, and I have deep regrets for not installing an electric floor heating system. Since the primary closet sits over the garage, this space, in general, is noticeably cold during the winter months. A warming system is a must-have.
The closet transitions into the bathroom which is tile from the original homeowner. One day it will be renovated, but until then, it stays. Do I want a beautiful new to me tile butting up against a bathroom tile I don't love? That doesn't seem like a smart decision. A luxury vinyl flooring with a wood floor look seems like the smarter choice, but I'll have to do some research for one that works with a radiant heating system. Stay tuned.
Existing Closet System
Does it stay, or does it go? That is a really good question. Would I love for it to look less IKEA and more integrated? Heck yes. Do I have a budget for that? Ummmm, no. No, I do not. So for right now, the existing closet system stays as long as it will hold together. I do feel that replacing the hardware on the pulls and filling in the holes on the side panels will make it look and feel more finished. Hopefully, we can bandaid the existing closet system for now and eventually install a luxury system when I have a budget.

That island cabinetry has me a bit nervous. It was obviously built inside the primary closet, so it must be disassembled carefully. Because it's incredibly convenient for folding clothes, it needs to stay in the room. Replacing it with something new would be in the thousands of dollars, so we need to be extremely careful when we move it out of the space.
Replacing The Existing Lighting
Lighting is a room's jewelry, and this closet has three simple flush mount lights – must find boob light alternatives immediately. The Boy's section of the closet has track lighting, that gives off good light but the look is dated. A solution must be found for that as well.

Attic Door and Vent
In that first crappy iPhone photo, you can see the old vent that has gross dried-up black liquid on it…I don't even want to know. And don't get me started on that janky yellowed pull string. Think Clark Griswald Christmas Vacation. I'd love to figure out a plan for this, but what that plan is, is yet to come. The last time anyone was up there, we were shooting squirrels with an air rifle and a cookie sheet. Stay tuned for more!



Discover More Modern Eclectic Home Decor Ideas
I teamed up with Desenio to give you some gallery wall ideas to try in your home.
When I style my coffee table and bookshelves, I have an abundance of decorative coffee table books on hand. Check out my list of go-to's. 
Let's chat about fake plants that look real. Yup, fake is no longer a faux pas in the design world. Here are my favorites.
If you struggle to arrange your living room layout with fireplace, here are five furniture layout options with expert interior design tips.
Check out these top affordable home decor picks from Amazon, Walmart, and Target to spruce up your room.
If you're on a tight budget, check out these cheap patio furniture to jazz up your backyard. 
I"ve got 8 expert tips on how to make your home look expensive that your wallet will thank you for.
Make your TV look like art with these downloads.
Let's talk about ChatGPT interior design. Is it possible? Heck ya! Check out this modern eclectic living room mood board.