Stylish Home Decor
Last Updated on November 29, 2022
If you're looking to zhush up your house with some irresistible stylish home decor (and I'm talking quality pieces that fit almost any style), grab your favorite beverage and hold on tight. Today I'm sharing my 6 home decor favorites from Serena and Lily. Classic pieces that sometimes move from room to room but never go out of style.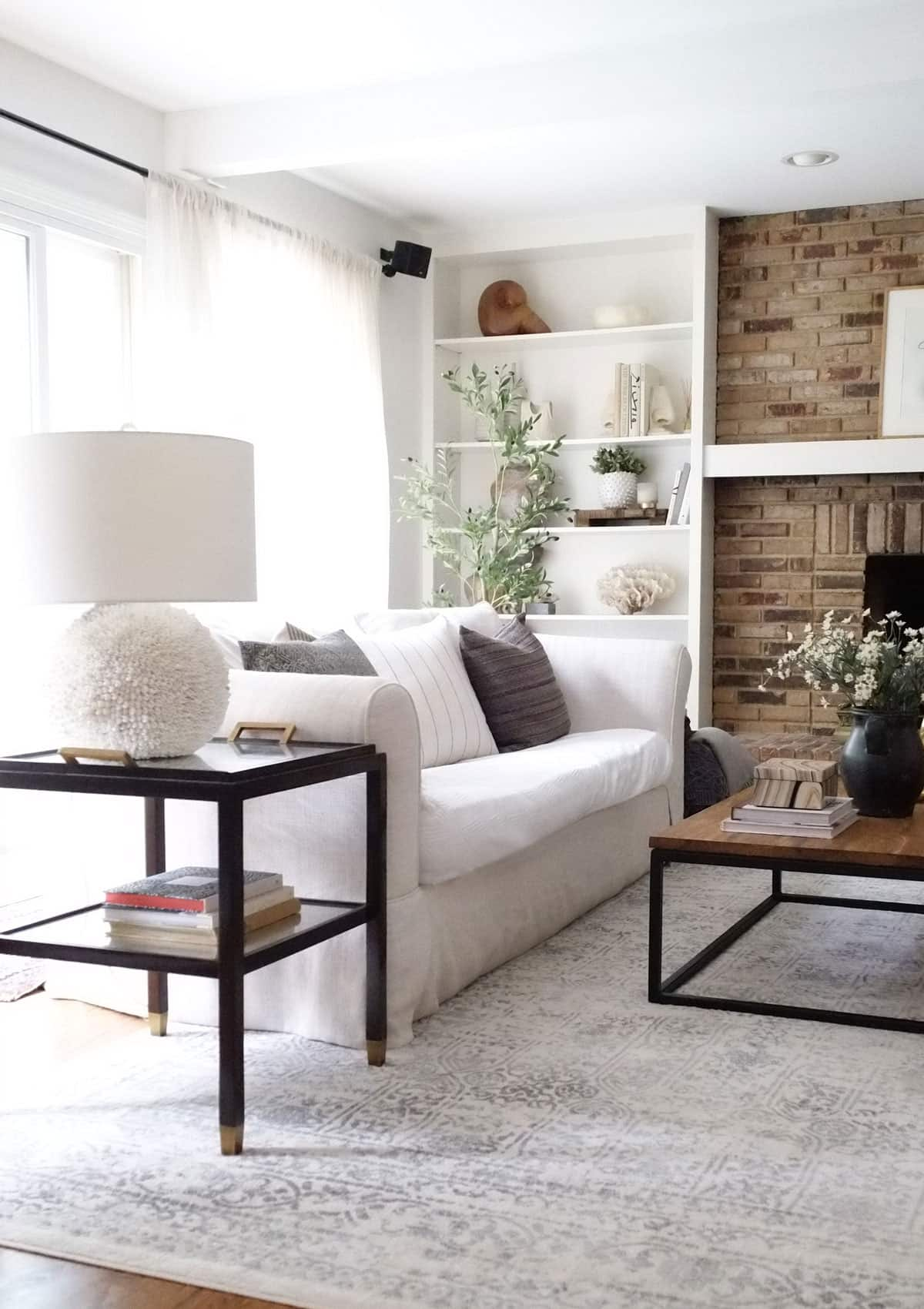 4 Stylish Home Decor Pieces I Own And Can't Live Without
The table lamp above is one of the most stylish home decor pieces I own. Even though the shape itself is simple, the shells add an incredible amount of texture that draws the eye to it. Be prepared for some serious compliments and every guest wanting to know where you purchased this beauty. BTDubs, it's presently on sale!



You know I love rattan lighting, and these wicker sconces might be my favorite. They get bonus points for not only being on sale but also plugging into the wall. Sconces that do not need to be hardwired into the wall are so much more versatile. These were installed during the guest room makeover, but I kinda want to move them to a high-traffic room because I want to enjoy them more.



Speaking of French girl chic, let's chat about the Parisian Side Table. It was originally designed as a bar cart but has since transformed into the prettiest most functional table ever. You can remove the top by pulling up on the 2 brass handles to use it as a tray, and it has a bottom shelf to hold your favorite interior design books.



Before purchasing this brass floor lamp, I owned a dupe that broke in 9 months. This one from Serena and Lily is a heavy-duty lamp that has so far stood the test of time, a dog, and children. It takes some serious force to move it, and the pivot point stays nice and tight. If you're looking for a task lamp or a classic reading lamp, this is it.



I own quite a few throws, but this one has been my favorite for years. Yes, it might be pricey, but let me tell you, the juice is worth the squeeze. This alpaca throw is incredibly soft, has unique striping, and adds so much texture to your sofa or bed. I have zero regrets about this purchase — although my kids and the dog are not allowed to touch this one. This throw is just for momma.


5 Stylish Home Decor Items On My Wishlist


A Breakfast Nook That Dreams Are Made Of
Be sure to check out the inspiring rooms here each one is filled with stylish home decor. In fact, I'd like to transport this entire breakfast nook into my kitchen. From the green check banquette to the cute black chairs to the pillows ( 1, 2, 3 ) to the pendant light. I AM OBSESSED…and presently saving my pennies.



The stylish decor at Serena and Lily might be pricier than the affordable decor I shared last week, but mixing in a couple of investment pieces will really level up your design. Trust me. It's kinda like how French girls can pull off that effortless look. You know what I mean? It might just be a plain white t-shirt and jeans, but it's paired with a silk scarf.
Discover More Inspiring Home Decor On House Of Hipsters
No matter what the experts say, white kitchens are not out; you just need to warm them up. Here are 7 ways to soften that crisp white and bring in a cozy look and feel.

If you're wondering what the interior design trends are, this is the post for you. BTDubs, it's a lot of what I shared above – rattan, fringe, woven fibers, tassels, and texture!
Does your living room need a refresh? Check out these 7 decor ideas for summer.

Sharing my favorite ideas for decorating with rattan.
If you need some interior styling inspiration, check out my 7 tips for styling your bedroom.

Are we really doing another bathroom renovation? Yes, yes we are!