After purchasing a ceiling medallion and this modern Serge Mouille lighting months ago, we finally installed this architectural beauty. You may have caught a few glimpses of this DIY on Instagram Stories, but if you missed it, here is the full tutorial on how to install a ceiling medallion in all its glory including the final reveal, which wound up looking killer.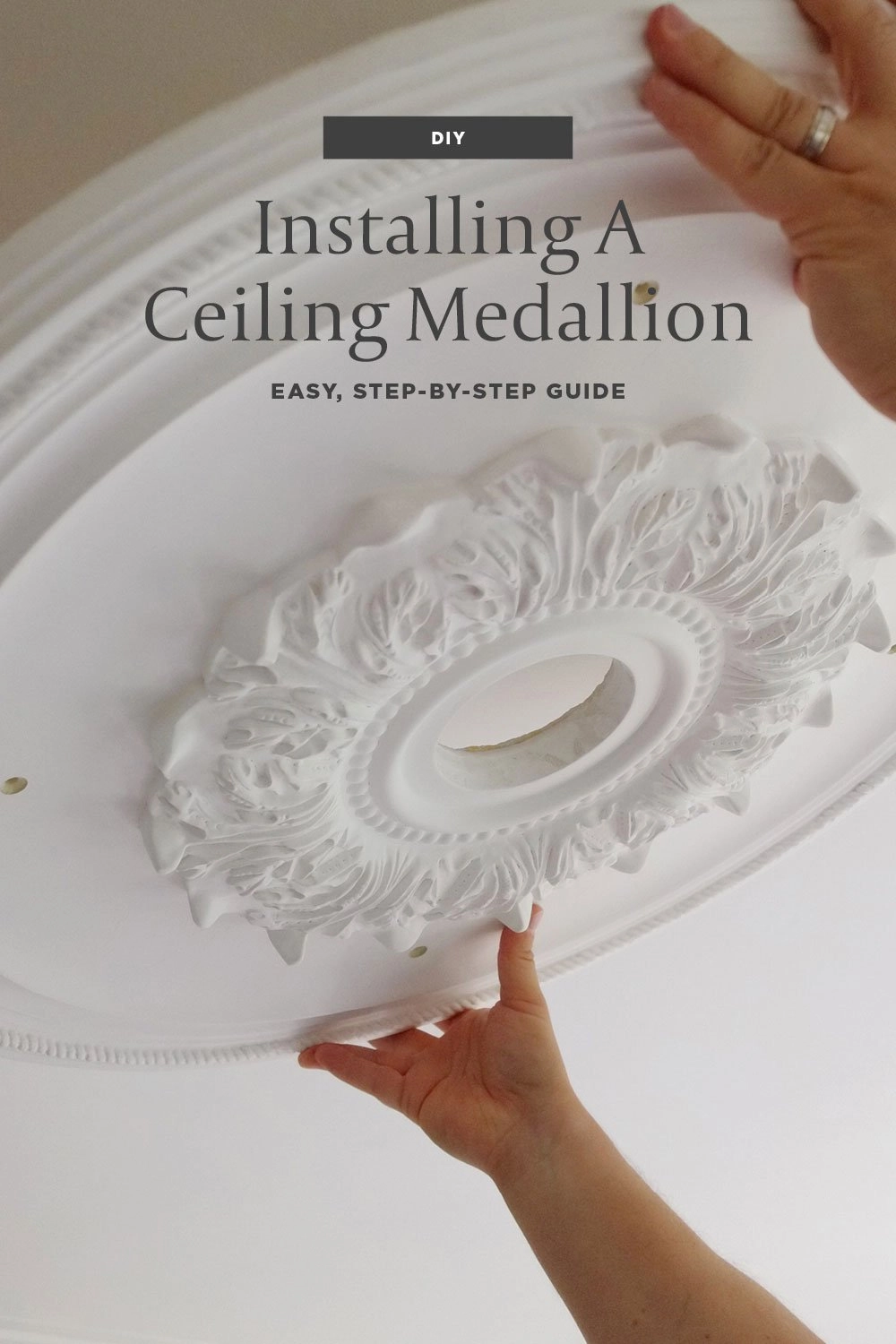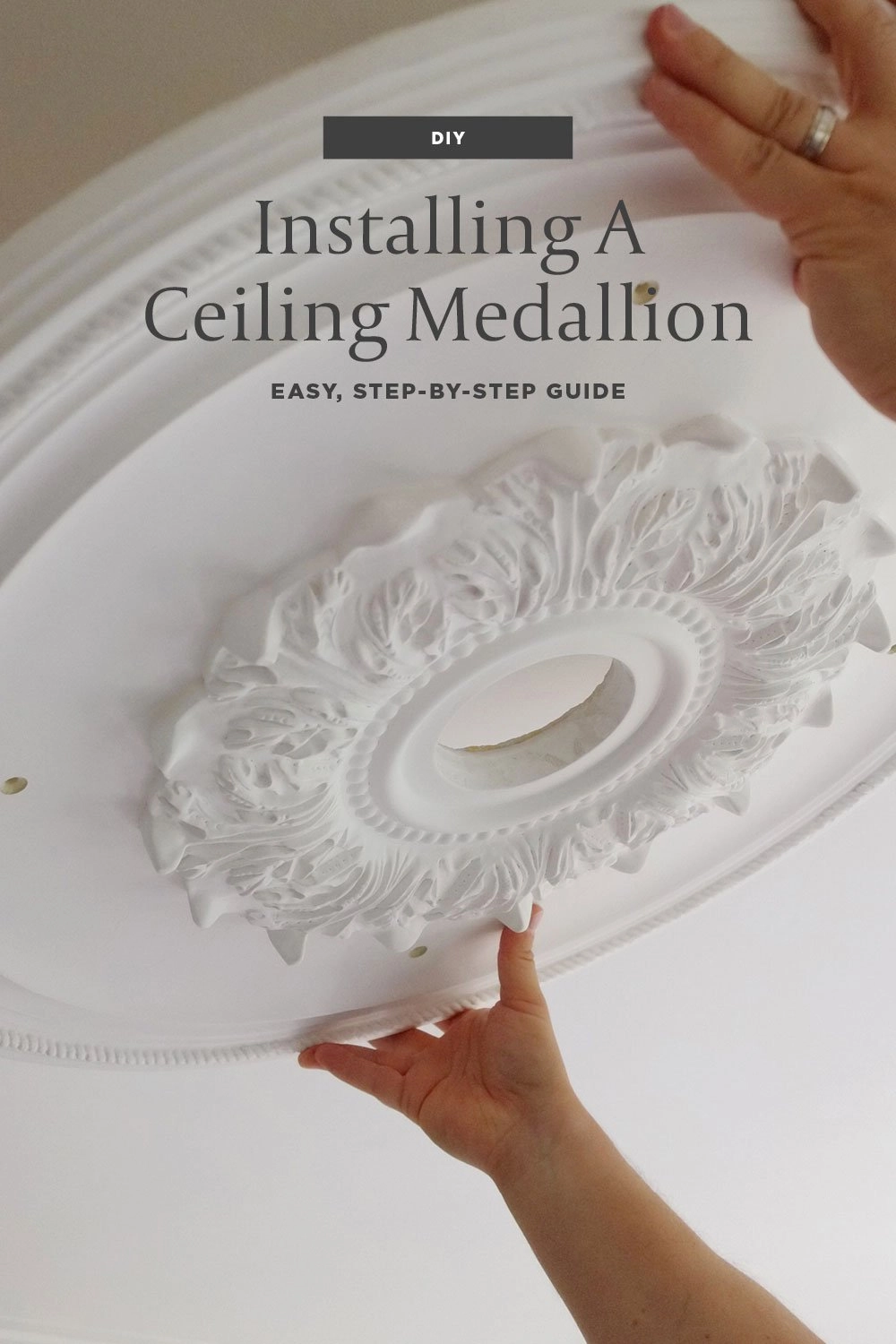 Upon opening the medallion's box, The Boy said…and I quote, "I am loathing this already. I'm envisioning much cursing, sweating, and a trip or 7 to Home Depot in my near future." Not quite. There was 1 trip to Home Depot and some sweat involved. There was also a, "please, please, pretty please with sugar on top" uttered which is how we curse in front of our small children, so one could argue there was foul language. All in all, it was surprisingly easy to hang.
Supplies Needed To Install A Ceiling Medallion
Ceiling Medallion — click for a full round-up of favorites
Cordless Drill with Countersink Bit
4 Construction Screws
Can I just say how relieved we were to find it was made of polyurethane foam and had a plaster-like coating. If you have a real plaster ceiling medallion, this is not the DIY for you. Plaster is entirely too heavy for Liquid Nails, and the medallion will fall and smash into a thousand pieces.
Ours arrived with a pre-made center hole and was large enough to get to the junction box. Phew! If yours needs to be larger, or the hole needs to be cut, use a drywall saw.
Step 1 – Turn off the power. No one needs to be getting zapped.
Step 2 – Remove the old lighting.
Step 3 – Use an electrical tester on the wires to ensure the electricity is off. We have some glitchy electrical, and even though the fuse box says it's off, some junction boxes still have current flowing through them. If you find mysteries like this in your home, be sure to label that in the fuse box for future projects.
Step 4 – Once you are positive the electrical is off, trial fit the ceiling medallion by pressing it against the ceiling. It may not lie perfectly flat, but that is okay, the white caulk will fill in any gaps.
If your medallion is large like mine, you may want to consider drilling 2-4 pilot holes (be sure to drill deep enough to countersink the screw heads as you will be spackling over them later).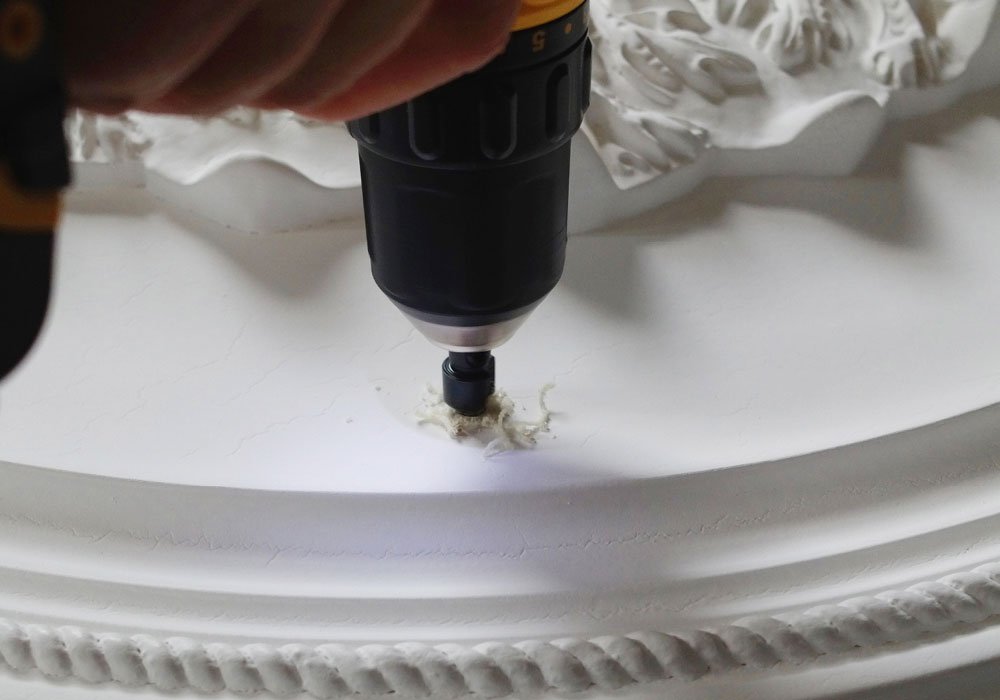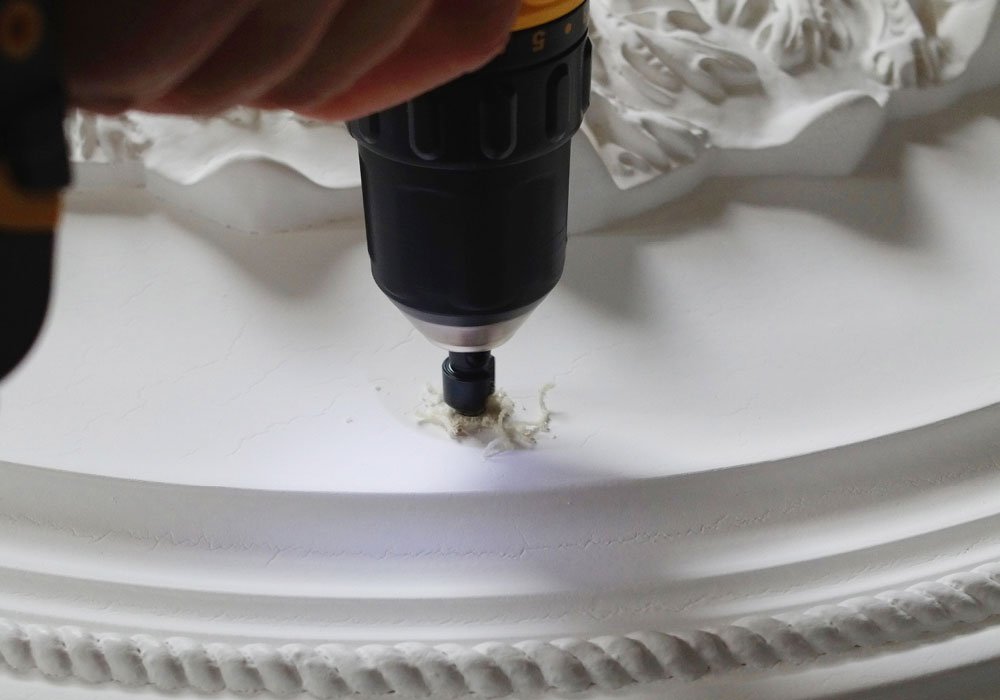 Step 5 – Carefully place the medallion on a flat surface (one that can get dirty), and apply a generous bead of Liquid Nails to the back of the medallion.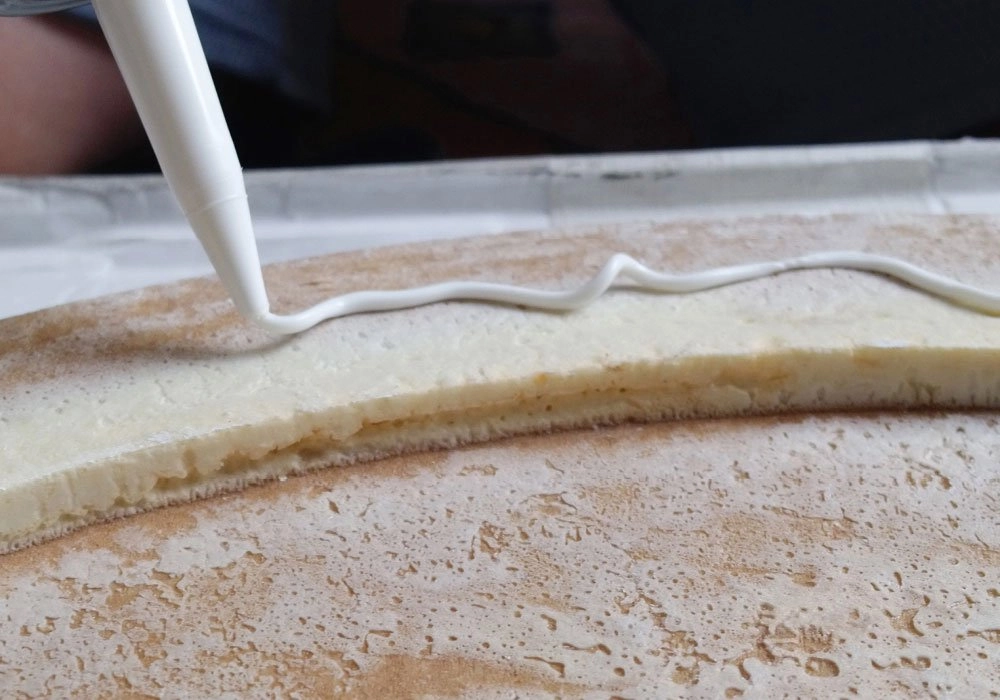 HOT TIP – Have a damp paper towel or three nearby. You'll need them to clean the tip of the tube. Once the Liquid Nails start to flow, it takes a few seconds for it to stop.
Step 6 – Center the hole of the ceiling medallion over the electrical box and press firmly.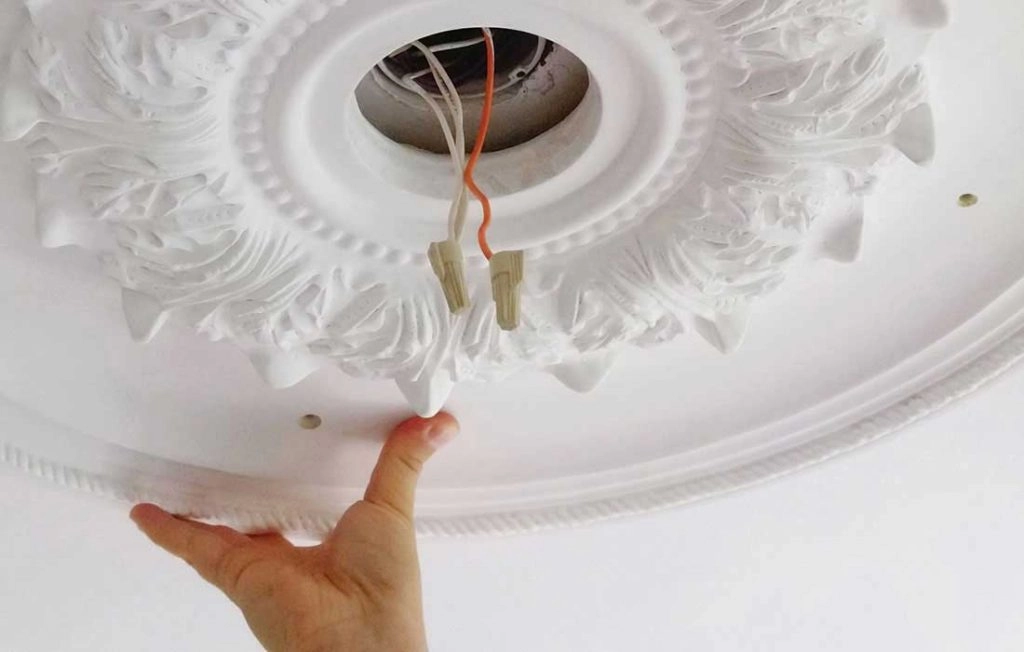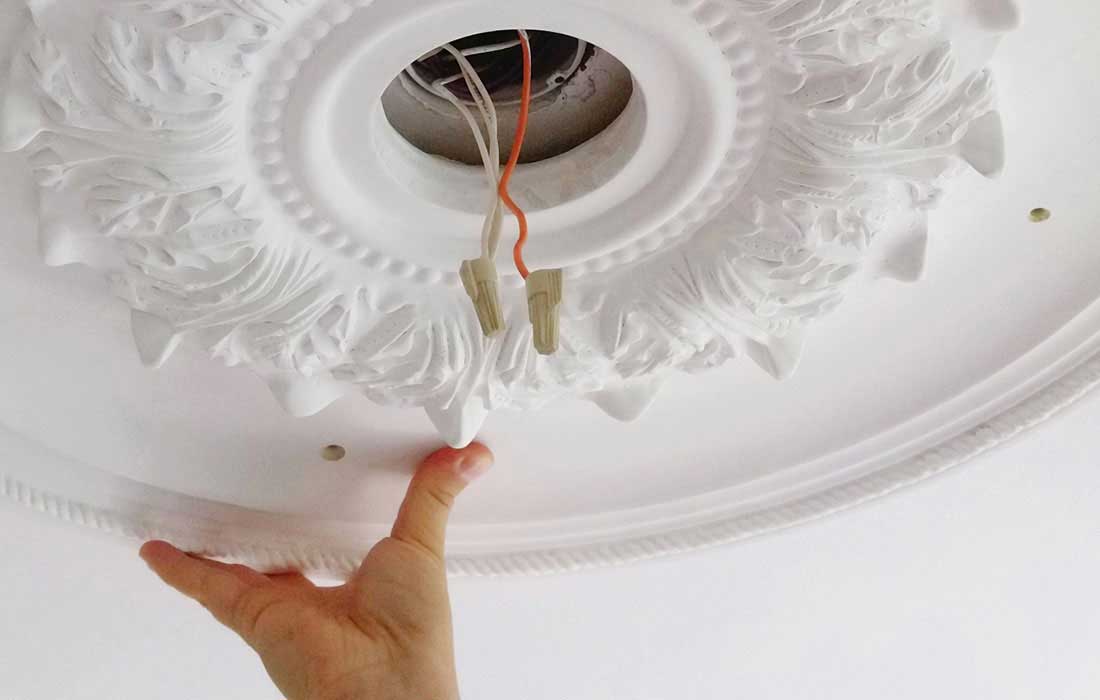 Step 7 – Now, remember those pilot holes? Take your drill and install a construction screw into each hole. See, no holding your arms above your head for hours while waiting for the adhesive to dry. If your medallion is small, this step is probably not needed.
Step 8 – Install your light fixture. For safety's sake, use that electrical tester again on the wires to ensure the electricity is off.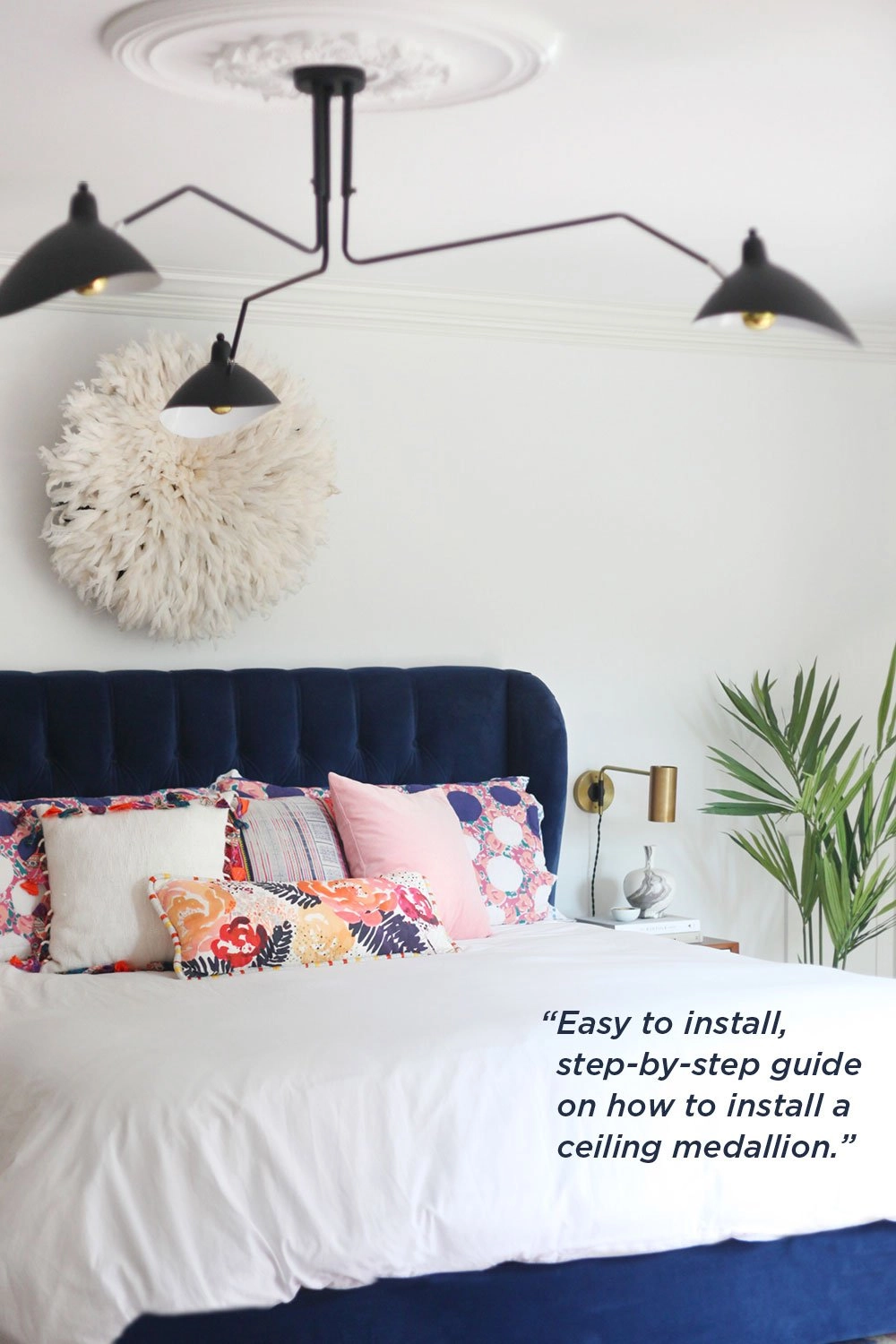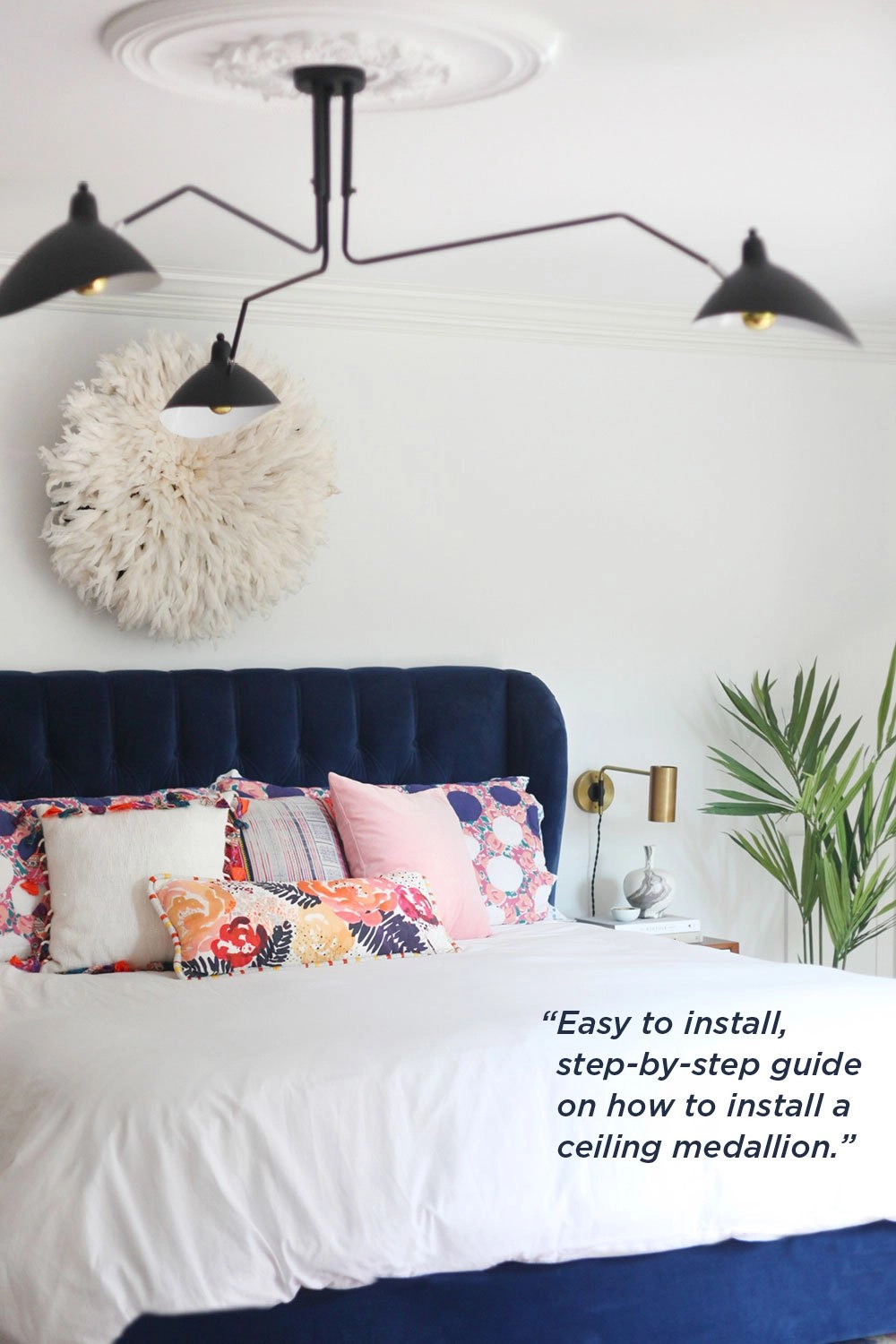 Badda Bing! Badda Boom! Now you're a pro on how to install a ceiling medallion! Once the light is attached, turn the electricity back on and flip that light switch. Also, I've received a few messages about my rug. You can find it here. I no longer have this blue velvet wingback headboard and bed frame, but it is still available.
Hopefully, this is your moment to shine. For us, we had a slight DIY fail. When we stuffed the wires back into the ceiling like a turkey, they came undone. Whomp, whomp. We wound up having to uninstall the lighting, rewire, and reinstall once, twice, three times a lady. So, word to the wise, take your time shoving all that wiring into the junction box. Before we wrap up this install, Imma give one more step.
Our medallion didn't sit completely flush to the ceiling's surface (that's normal), remember that white caulk. Grab the caulk gun (be sure to swap out the tube of Liquid Nails, or your finger will be stuck to the ceiling).
Step 9 – Hold the tube at a 45-degree angle, and pull the caulk gun along the edge of the medallion. Again, you may want some damp paper towels to clean the tip. Use your finger to pass over the entire bead of caulk pushing it into the gap. This should be one smooth, continuous movement.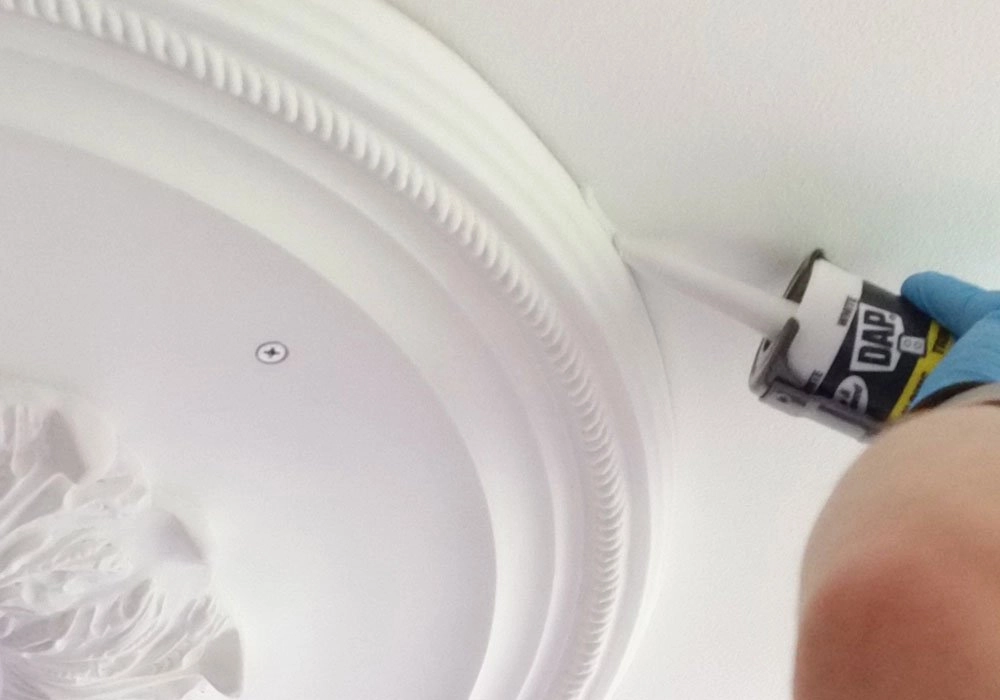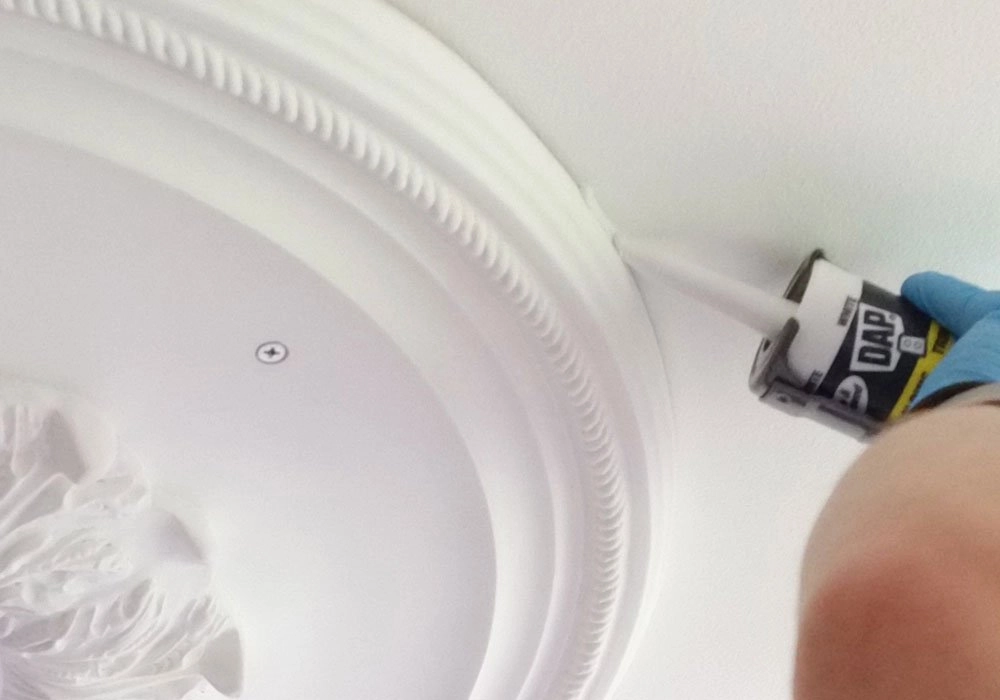 I know I said that was the last step, but details. If you screwed your medallion to the ceiling, you'll want to cover those holes with some spackle. Ta-da! You're done! Why we were so intimidated by this ceiling medallion DIY is beyond me. It was easy and simple. Most importantly, I'm in love with the end result. We're going to keep ours white for now, but I've seen some painted in bold colors that look incredible! If you decide to paint, be sure to wait until the adhesive, caulk, and spackle are completely dry.