Wallpaper A Closet
Last Updated on June 28, 2023
The closet I wallpapered in the foyer was featured on Apartment Therapy and started trending again…the reviews were a mixed bag. After reading through the comments, I felt compelled to revisit How To Wallpaper 101 and the reasoning why I chose to wallpaper a closet and why it was the best idea ever!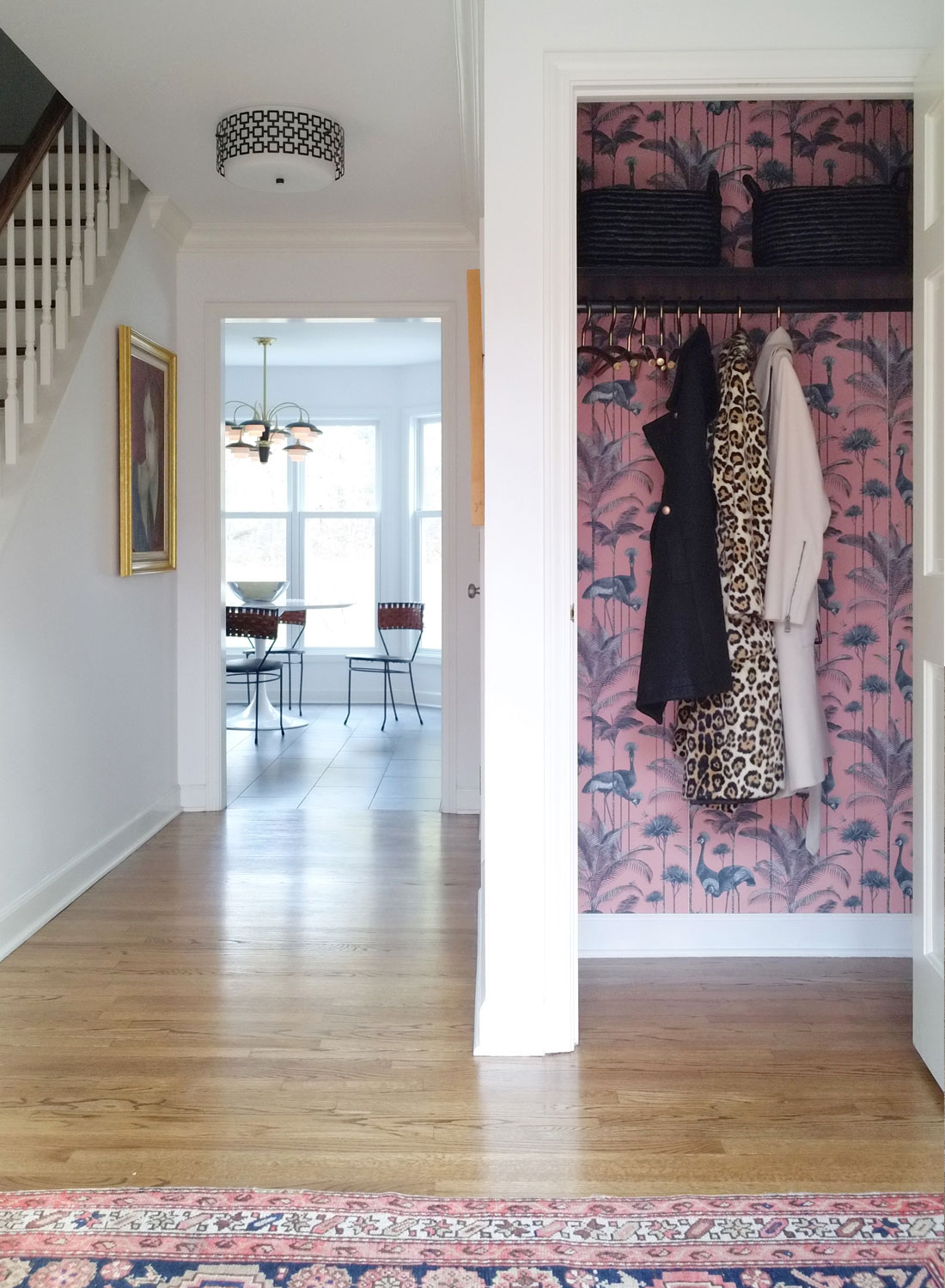 "Guests would never notice any fancy wallpaper in my front closet because I have more than one coat and two small bins in there." and "When you live in Oregon, you need coats and jackets (and rain gear and boots) pretty much year-round, so one is not gonna cut it."
Whoa, feisty! That commenter must have had pepper flakes in their cereal. Unless I'm hosting a party, this closet is rarely used. It's always empty. In fact, as I type this, 2 of the same coat are hanging there with 2 empty bins. We use the closet in our mudroom and go in and out of the house through the door to the garage…only guests go in and out of the front door. The only time I use the front door is to grab an Amazon package.
When I do host guests, they LOVE the closet, and pretty much everyone says, "Kyla, leave it to you to wallpaper a closet." I purposefully leave the closet door open with the bins out so everyone can store their belongings and come on in.
We live in Chicago. We have coats and boots and mittens and hats and gloves and scarves oh my…but we use a different closet for that.
"I both think this is cute and am laughing hysterically imagining the conversation with my husband where I explain that I want to wallpaper the coat closet."
I love you. Yes, this silly idea caught The Boy off guard, and my answer was, "Don't question it. Just do it." My father-in-law still thinks I'm insane. That's okay though. This closet makes me smile…sometimes I just open it to brighten my day.
"Gorgeous! This closet appears to actually be used for guest coats, which means the interior will usually be visible. I love it! Sadly, my own coat closet contains all my outerwear and the vacuum and luggage, so this wouldn't work for me, but this is beautifully styled for a home with a dedicated guest coat closet."
OMG you understand!!!!!!!! No, this completely empty closet will not work for everyone. Some people only have one closet, and yes it probably looks like my mudroom closet. This is the closet where we have anything and everything. Want more of my No Makeup Home Tour? Head on over…cuz I bear it all.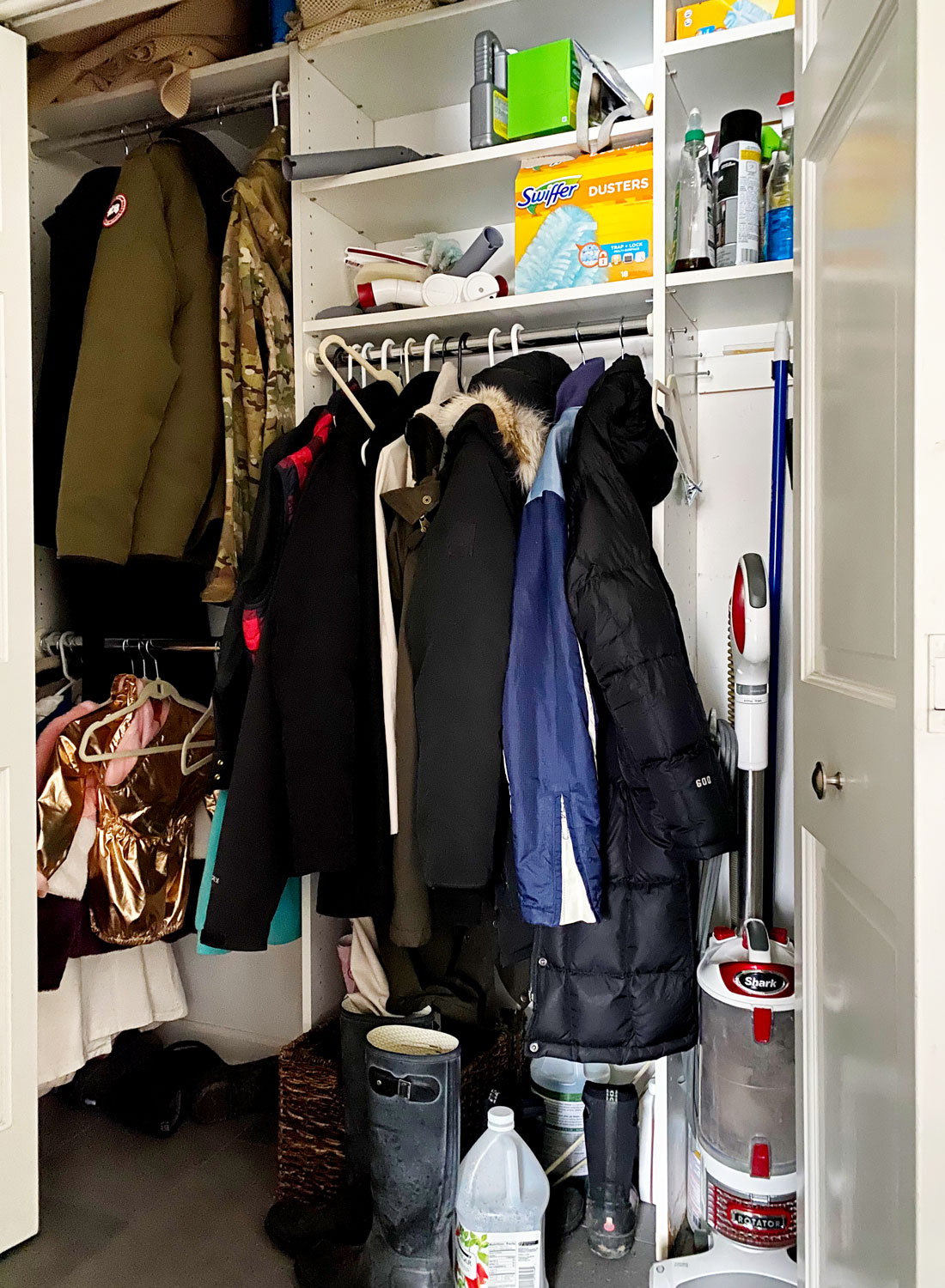 "This one deserves more than a few parodies…
How about 'Top Stylist Gives You a Reason to Stay IN the Closet!'
Or, 'Wallpapering in Small Spaces – Now THAT'S an Anxiety Closet!'
OK, it's cute, but it's not life-altering Ab Fab? You could also get a similar, cheaper, and easier effect by using masking tape guides and paint for a cheeky awning stripe. Pale pink and black for an old school Holly-go-Lightly look, aqua, and pink for a Palm Beach-y feel, or plain old black and white for drama. Anything that could make reaching in for a coat and umbrella for trudging off to work a little more cheerful is probably worth the work."
One thank you for calling me a top stylist…but I have mixed feelings about your parody lines. I can't tell if you're being snarkalicious or not. Is wallpapering a closet life-altering? Oh hell no. Does it brighten your day…ummmm, hell ya. It really does.
With respect to the cost, this coat closet used 1 complete roll of wallpaper. The price of a roll of Divine Savages Crane Fonda wallpaper is $140. If one were to purchase 2 gallons of paint (unless a quart will cut it…mine would not…it soaked up a ton of paste)…one pink and one aqua…you're at about $70. That doesn't count primer, paint brushes, paint tray, chalk line reel, and tape, but I'm offsetting those expenses with the cost of wallpaper glue, tray, and brushes. Cheaper? Not much.
"Back in the days when I seemed to have more time I always papered my closets, linen cupboard & pantry (if I had one). This article reminds me why — so cute! I think this is one trend I need to revisit."
It IS cute! Home decor for me is all about showing off my personality and having a little fun. I love that you get me. Revisit this trend girl!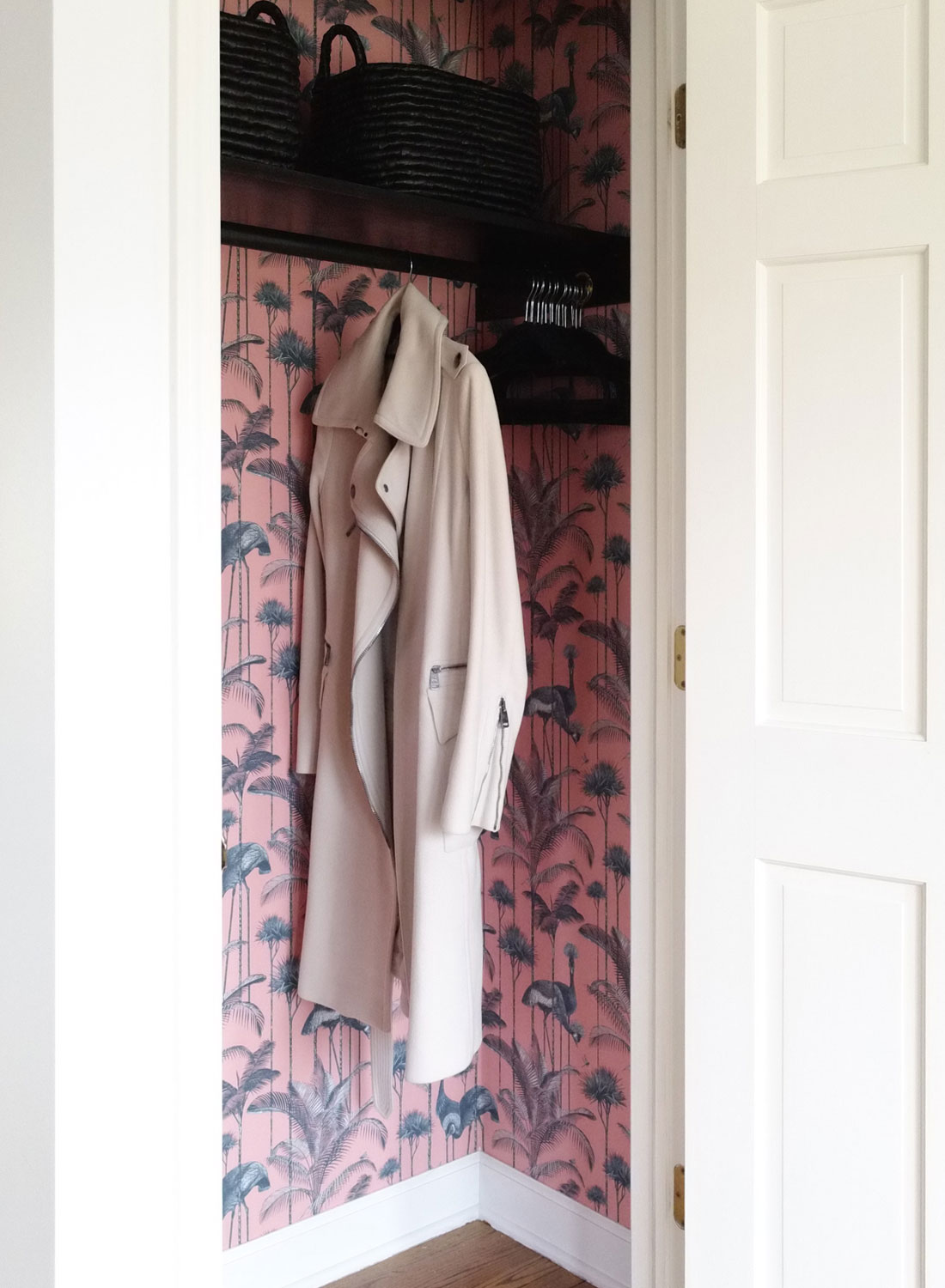 "I did this! And it's not as crazy as you might imagine! It only takes a few hours to wallpaper a closet. I bought fun paper that I would not normally use in a whole room. Purchased the paper during a winter sale at Anthropologie. I added battery-operated lighting from Amazon at the same time. My closets are full to the brim, but the wallpaper makes the chaos look intentional and always cheers me up when I look inside. I'm also more motivated to keep the closets tidy because they are so pretty."
Celia from Sunnyside, you have me nodding my head up and down. Yes, girl yes!
"When my grandparents built their rambler in 1950 they wallpapered both coat closets and I totally remember that from when I was a kid. I thought it was fascinating. Also, now jealous that they each had their own coat closet."
I'm all about making my home memorable for guests. Your grandparents were brilliant, and I wish I could see photos of this!
"I'm standing and applauding. I adore this! I would totally do this (and I might anyway) but my front closet is efficiently packed with coats (because I bought a house with literally no storage. This just makes me happy. Well done." and "I love this. I don't care if no one ever noticed it but me." and "A very cute surprise :)"
I love you guys!!! I don't know you, but I love you. You know how to make a girl with her wallpapered closet feel loved.
The moral of the story, closets don't have to be boring…check out this DIY Closet Reading Nook for even more inspiration. Some folks have more than one closet and that closet might be empty. If you chose to wallpaper a closet, you do you boo! Show off your personality and have fun with your home. And if it brightens your day, who cares what the haters think.