Best Home Organization Products
Last Updated on June 28, 2023
Since being diagnosed with adult ADHD and getting help, I've discovered not only the beauty of storage bins and organizing essentials for every room but I've also found some cheap home organization ideas. My former way to get the house organized was stacking piles of stuff in random corners. To me, they were organized piles, but to The Boy, it was clutter. His solution was to chuck said piles in a drawer or closet, never to be seen again. But after following brands like Neat Method and other professional organizers, I've learned the basics. Today I'm sharing the best home organization products, affordable storage bins, and clever organizing hacks that have really turned my cabinets and closets around.
RELATED: The interior designer's secret weapon is decorative boxes. Check that link for my favorites.
Best Home Organization Products For The Pantry And Kitchen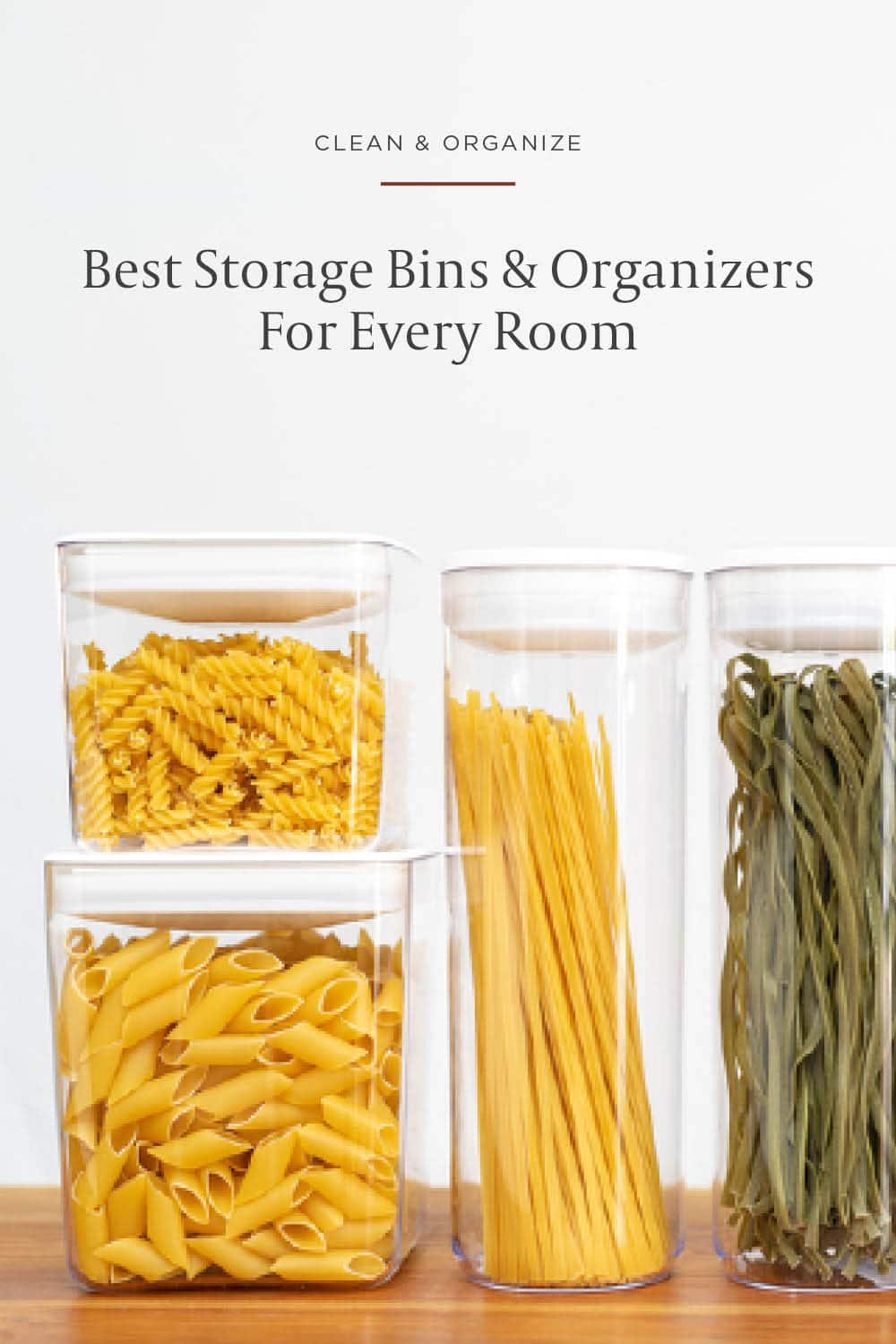 The pantry is where this adventure all began. It was Amazon Prime Day, and I purchased these food storage containers. After they arrived, I filled them up and immediately ordered the 20 piece set. It looked so clean and organized! Everything kind of snowballed from there.
Besides containers, there are a few additional key organizer essentials I can't live without — turntables, this 3 tier can shelf, and these risers. The turntables are perfect for oils or baking essentials. The tiered shelf helps me visually see what canned goods we have on hand, and the risers are great space savers for vertical stacking. Best of all, they are all cheap home organization products.
To make snack time an easy grab and go for the kids, this lazy susan with dividers is perfect for pouches of apple sauce and granola bars. Added bonus, I don't have to worry about the inevitable empty box left in the pantry and not realizing I'm out of snacks.
SHOP THESE KITCHEN AND PANTRY ORGANIZERS



Kitchen organization goes beyond the silverware drawer. This expandable organizer rack is perfect for under the sink. It wraps around the drain pipe and the 2 levels make the most of the small space under the cabinet. This one, in particular, has 4 adjustable height levels, so it's a great space saver in almost any kitchen or bathroom.
Studio Dearborn, kitchen designer extraordinaire, shared a drawer with her pots, pans, and lids organized oh so neatly. I found this adjustable cookware organizer rack that does the same thing. You can either drop it in a deep drawer or slide it into a vertical cabinet. Need something bigger? Here's an expandable pan and pot lid organizer.
Fridge organization is a whole new ballgame. The stackable storage bins are perfect for yogurt cups, produce, cheeses, and more. I also love them for organizing my crafts and bathroom items.
SHOP THESE KITCHEN AND PANTRY ORGANIZERS


Affordable Closet Storage Ideas

In the closet reading nook, I added these cute seagrass baskets, but that works in the guest room. When it comes to the primary closet, I learned I needed more hard-working storage bins and organizers. Clutches are my weakness, but I shoved them in a drawer and never used them. Organizing my clutches was easy with this divided purse organizer. Now I can see all of them at a glance.
This may sound strange, but these simple velvet hangers were a game-changer in the closet…although I've had to purchase them in both black and cream because the black velvet was shedding a bit on my white shirts — not staining, just shedding. Anyhoo, my clothes no longer slip off the hangers, and they're not as bulky as those thick plastic hangers.
My walk-in closet has a bougie island dresser with drawers and these drawer dividers are perfect for separating items like socks, underpants, and bras. When I pull open a drawer, I get all the Marie Kondo vibes. Serious joy sparking. I also used these same dividers in my daughter's toy drawers to separate the Barbies from LOL dolls from the Legos from the crafts. They're basically an organizer's dream, and I can't imagine life without them.
My last storage essential for the closet are these clear plastic bins with handles. Stashed inside are my vintage scarves or winter gear like mittens and hats. Although seagrass baskets are pretty, my knits and scarves get snagged on the rogue fibers, plus at a glance, I have no idea what's inside of that basket. These just make life easier. PS, these stackable storage bins are a great space saver too.
SHOP CLOSET STORAGE BINS AND ORGANIZERS


Storage Bins and Drawer Organizers For The Bathroom

Hands up if you just chuck your toothpaste in a drawer with random pill bottles, brush, and scrunchies. Ya, that was me too until I purchased these individual storage dividers. They have helped me wrangle all the things in my drawers (also perfect for the junk drawer in the kitchen). Just be sure to get the ones with rubber feet to prevent slipping and movement when opening and closing the drawers.
Because I don't have a lot of counter space in the bathroom this 3 tier swivel tray is perfect for storing my everyday jewelry. Also, these stackable drawers also save on space. I use one for lotions and other miracle skincare creams and the other holds bottles of nail polish and manicure accouterments.
Besides all the storage bins and organizers hidden away in my drawers, cabinets, and under the sink, I have a couple of these gold-lidded countertop canisters on my vanity for easy access to cotton balls and my cotton swabs. They're pretty, small, and clear — essentials at my fingertips.
The last storage essential on my vanity is this makeup organizer (no longer available). It's small and holds my daily wear — 1 foundation, 1 blush stick, a couple of brushes, eyebrow pencil, eyeliner, and mascara (a new favorite).
If you're looking for a great under-the-sink organizer, I prefer this one that wraps around the center pipe.
SHOP THESE BATHROOM UNDER SINK BINS AND DRAWER ORGANIZERS


Affordable Bins and Organizers For Your Home Office

My work from home office desk is a hot mess and is in need of a good rogering. My ADHD self tends to leave it on the desk and push it out of the way to make room for more. It's that whole you can lead a horse to water saying. I've already invested in a set of drawer dividers, and that has helped, but the desk surface is in dire straights.
Since I only use special erasable pens with my Rocket Book (a special planner for my fellow ADHDers), this compact pencil holder (no longer available) has helped organize my office items. It's inexpensive and does the job.
To wrangle things like post-its and tape, a little tray does wonders. I found this expensive-looking leather tray while searching for affordable modern home decor — it gives me all the Hermes feels. It also comes in green.
Are you notorious for not charging your phone, watch, and ear pods? Ya, me too. But, I found this 3 in 1 wireless charging stand, and so far, it's working for me. I just have to remember to put the devices away before bed.
Before I wrap, let's take a hot minute to chat cords. Do you have a tower computer, monitor, or internet router? I do. To ensure all those cords don't look like a rat's nest, I'm trying out this outlet cover and power strip on for size. So far, so good. It's meant for childproofing but is perfect for my cord-hiding dilemma and an affordable home organization hack!
SHOP THESE HOME OFFICE BINS AND ORGANIZERS


Storage Bins And Organizers That Are Pretty
If you want to elevate the look of organization in your home, I'm a big fan of the Open Spaces medium storage bins with wooden lids. I got 2 small and 2 medium bins last year and love them for storing my tubes of paint on my crafting table. The bins are stackable and sturdy plus they will give you a modern clean aesthetic. Their little nesting trays are quite beautiful as well.

Open Spaces Bin Trio – an elevated look to the lidded organization bins.


Passing the mic to you! Have any hidden gems and cheap home organization products you'd like to share? Let me know in the comment section below.
Discover More Eclectic Modern Home Decor Ideas
Get my 5 Easy Organization Tips To Tidy Up Your Home the simple way.
Here are the Best Interior Design Books for every decor lover.
Check out the No Makeup Home Tour for a behind-the-scenes look at my home.
Cane furniture is trending, and so is rattan and cane lighting. If cane isn't your jam, but you want more lighting ideas, check out this round-up of boob lighting alternatives.
Now that your home is organized, let's dig into the Best Home Cleaning Products and really make it sparkle.
It's that time of year! Here is my Amazon Prime Day Must Haves that are tried and true favorites.
If you love wallpaper but are afraid of commitment, here's a round-up of the best peel and stick wallpaper. Morden, floral, graphic, it's all here.
Being budget-friendly is always top of mind. Here's a complete round-up of Affordable Modern Home Decor and don't miss this round-up of affordable decor from Amazon, Walmart, and Target.
Try these ideas for DIY home decorating on a budget and make your home look like a million bucks.
Get ideas to spruce your backyard with this round-up of outdoor patio furniture. And if you're looking for affordable outdoor furniture for your patio, I've got that too!
Ever second guess yourself on what rug size to buy for a living room? Here lie the answers you desire.
Melted disco balls are all the rage. Check out the best disco ball decor for your home and tips on decorating with them.
Find affordable curtains for your home and don't miss this affordable velvet curtains round up too.