Where To Buy Affordable Curtains And Drapes Online 2023
Last Updated on July 4, 2023
After purchasing the gold velvet curtains for the bedroom and living room, I've found more secret sources on where to buy affordable curtains and drapes online. And for the record, just because they're cheap doesn't mean they can't look drop-dead gorgeous.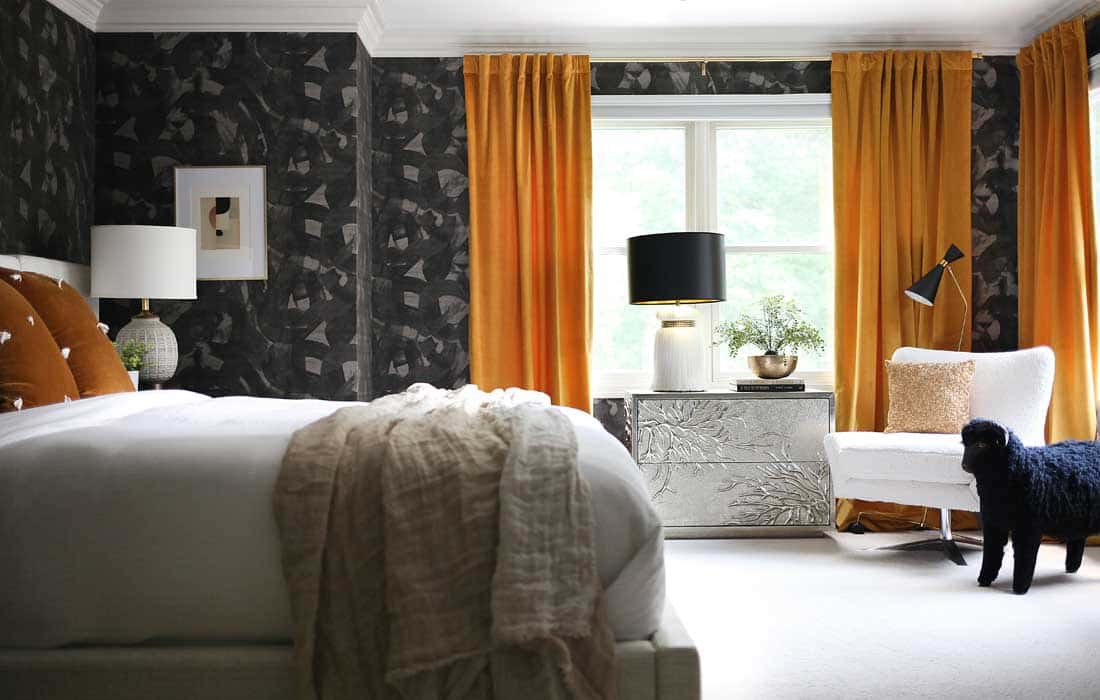 I love all things color in my friends' homes, but I tend not to take risks when it comes to adding color to my room decor. While working on my color courage, reasonably priced window treatments in every color and pattern have helped me step out of my white paint and neutral decor comfort zone. I can explore moody colors without breaking the bank…and if I hate them, they can easily be returned.
Top 8 Secret Sources To Find Affordable Curtains
First and foremost, if you haven't looked at IKEA's window treatment selection, do so now. I was a devoted customer of Lenda tab curtains and all their budget-friendly decor for years. But because we all know IKEA, let's check out some hidden gems you may not have heard of. Before we get into it, if you want to learn all my tips and tricks on how to make your home look expensive, that link talks you through it all.
Half Price Drapes – Best Affordable Curtains
These gold velvet curtains hanging in my bedroom are from Amazon, made by Half Price Drapes — srsly cheap curtains that look expensive (sold as one panel). They're not only a personal favorite because of the quality but are also the best blackout curtains I've tried. If you're not a fan of Amazon (I am because of the free shipping),
What I love about these affordable velvet blackout curtains is the quality. The velvet material doesn't look cheap, and they're incredibly soft to the touch. These window coverings have a heavier material, so they hang perfectly. The only problem I've found is that I don't love the bright white liner on the opposite side of the blackout curtains, but beggars can't be choosers.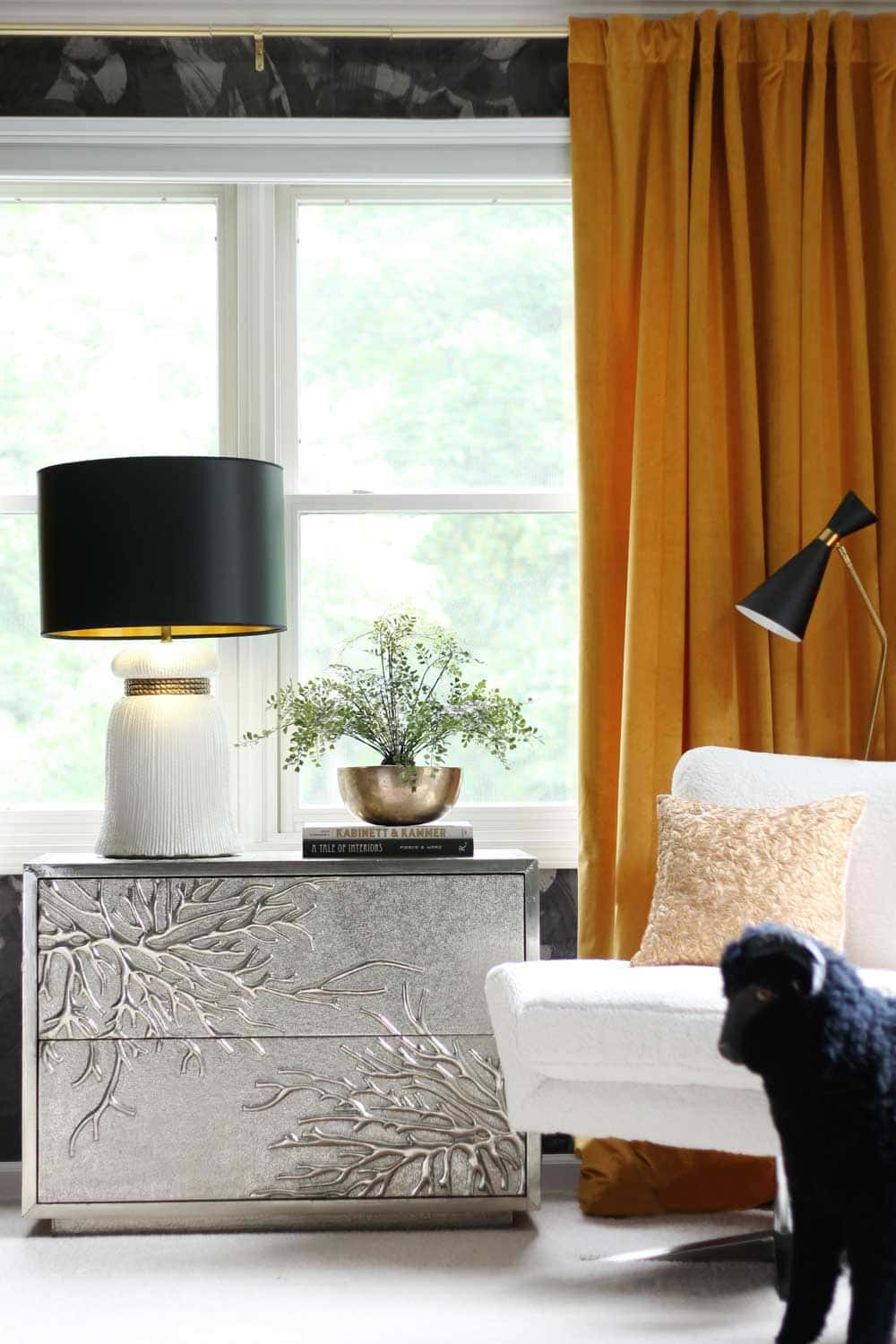 Half Price Drapes Heritage Plush Velvet Curtains – These are the curtains pictures in my bedroom above. I've used these window treatments in both my bedroom and living room — really any living space. They are available in 9 different sizes and 40 different colors. The gold color that I own is Aztec Gold. Curtain panels have rod pockets to slide your curtain rod through for a clean, modern look. The rod pocket will accommodate a 1-1/2″ curtain rod. These also have back tabs if you are looking for that rippled effect.
A FEW OTHER PERSONAL FAVORITES BY HALF PRICE DRAPES NOT PICTURED ABOVE
Half Price Drapes Grommet Room Darkening Curtain – These affordable blackout curtains come in 4 different sizes and 16 different colors. The grommet header slides over your curtain rod for a more casual feel.
HPD Half Price Drapes French Linen Curtains – Light filtering linen curtains are never cheap, but these ready made curtains have a great price for linen. They are available in 4 different sizes and 8 neutral colors for that Pinterest perfect effortless style. If you want more of a textured look, check out the Half Price Drapes Printed Linen Textured Curtains. These have a beautiful print and would make perfect living room curtains. They are on sale right now for $37 per panel. (All the linen patterns can be found here)
YOU CAN ALSO SCROLL THROUGH THE THUMBNAILS BELOW TO SHOP


Jinchan Curtains
Jin Chan is another cheap curtain brand I originally discovered on Amazon. I stumbled over their window treatments while contemplating blue velvet curtains in the living room for the fireplace makeover versus painting the room in DeNimes by Farrow & Ball. The thermal insulation drapery style is perfect for keeping the heat in and the cold out. When you live in Chicago, energy efficiency is an important added benefit.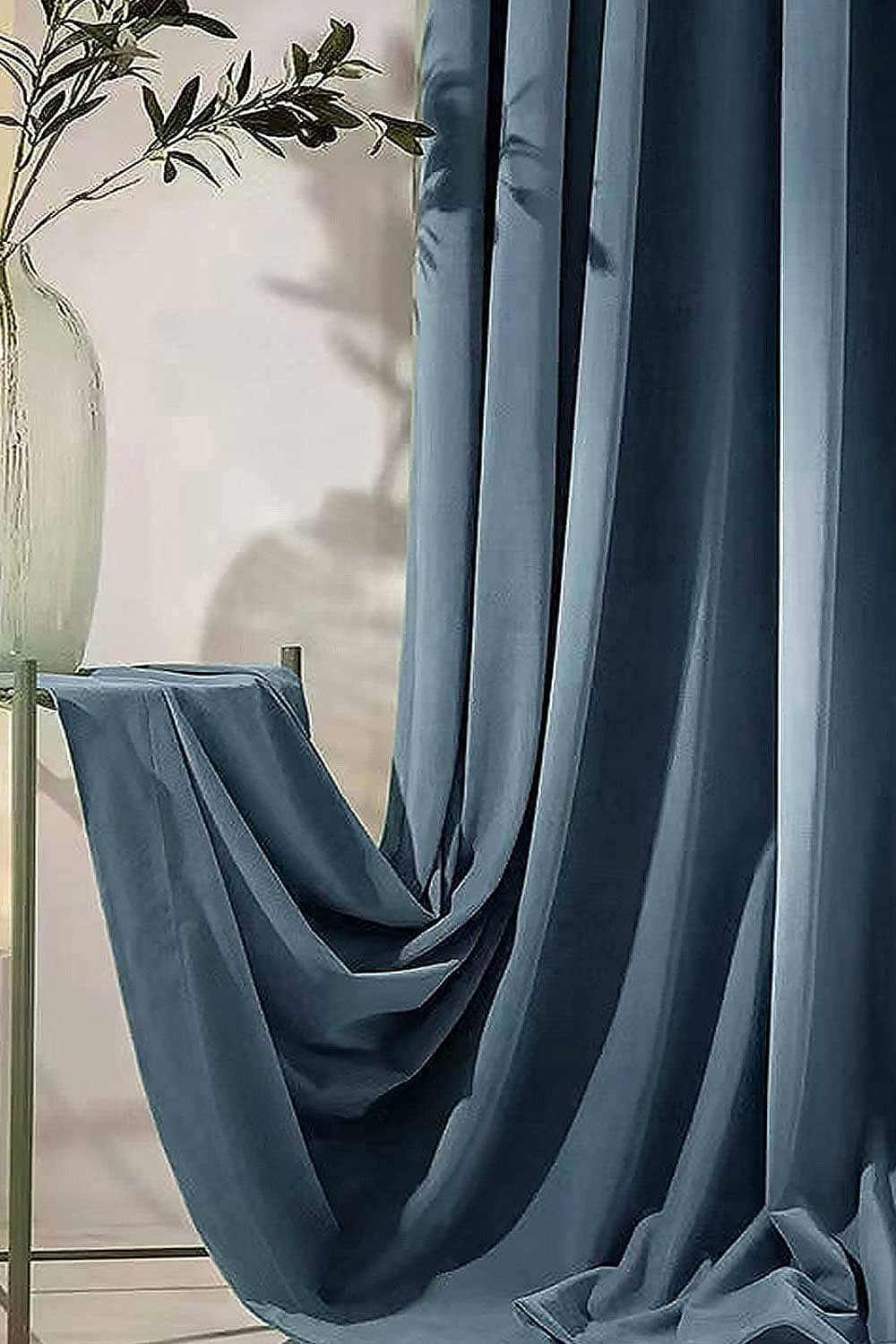 Jinchan Velvet Thermal Insulated Long Curtains – Unlike Half Price Drapes, the Jichan curtains are sold as a 2-panel set, making them the better deal. These cheap curtains are really good quality, ready-made with a luxury look at a great price. What more could you ask for? How about 4 different sizes and 7 different colors?
YOU CAN ALSO CLICK ON THE THUMBNAIL BELOW TO SHOP


Lazzzy Curtains On Amazon Home
Thanks to Chris Loves Julia, I discovered Lazzzy curtains. They used the blue slate drapes in their dining room, the interior designer look I've been searching for. Of course, Lazzzy has an Amazon storefront (Yes, I'm that Amazon Prime member who wants immediate satisfaction with next-day free delivery).

Lazzzy Velvet Thermal Insulated Window Treatments – Because these thermal insulated curtains are sold as a set of two panels, they are one of the best deals in this round-up. BTDubs, blackout drapes not only keep a room extra dark at night, but they are also a great way to keep out the morning sun. They come with a rod pocket that easily slides over your curtain rod, but you can also hang them with curtain rings. They come in 6 different sizes (longer lengths include up to 120″) and 17 color options.
YOU CAN ALSO CLICK ON THE THUMBNAIL BELOW TO SHOP


The Affordable Window Treatments From West Elm
Don't @ me when I tell you that West Elm is a destination for cheap decor. Hear me out on this. Two panels of linen curtains are $150, but that is really only $20 more per panel than the cheap curtains and drapes brands I listed above. I have had these linen curtains hanging in my dining room for years and am constantly asked where they are from. They let in the perfect amount of light yet give the front of the house privacy when needed. They also have a lovely pool if you don't hem them. There's definitely a reason they are a best seller.

Don't @ me when I tell you West Elm is a destination for cheap curtains. Hear me out on this. A set of 2 panels are $150. The Half Price Drapes listed above are $75 for one panel. Ya, the West Elm Belgian Flax linen curtains are the same price. I have had these linen window curtains hanging in my dining room for years and am constantly asked where they are from. They also have a lovely pool if you don't hem them. There's a reason they are a best seller.
YOU CAN ALSO SCROLL THROUGH THE THUMBNAILS BELOW TO SHOP


Yes, You Can Also Find Cheap Curtains At Anthropologie
When I think Anthro, I normally do not think cheap. In fact, in my mind, I can actually envision myself looking at a price tag for any shirt, and it reads $128. But these Amber Lewis sheer curtains for $78 are to die for. I love the delicate pattern and grand millennial vibe.

YOU CAN ALSO CLICK ON THE THUMBNAIL BELOW TO SHOP


Cheap Curtains I Found On Overstock
I cannot tell you how often I have forgotten about the home decor at Overstock – especially curtains. That is until I partnered with them for my home office and home gym makeover during the One Room Challenge. One brand, Exclusive Fabrics, caught my eye, and I'm contemplating swapping out my gold velvet curtains for these velvet beauties…if you haven't noticed, I get bored with color easily, so a curtain swap is easier and cheaper than a paint or wallpaper swap. I'm torn between the green, berry (below), and blue. That funky, dusty smokey blue has been on my mind lately.

YOU CAN ALSO CLICK ON THE THUMBNAIL BELOW TO SHOP


Solino Home Curtains and Drapes On Amazon
For my spring decor swap out, I changed the gold velvet curtains above for these affordable sheer curtains by Solino Home. I chose Doro Natural, which has a subtle stripe that gives them added texture. These hang in our front room, and like the West Elm curtains, they give just the right amount of privacy yet still allow enough light to shine through.

YOU CAN ALSO CLICK ON THE THUMBNAIL BELOW TO SHOP


Affordable Curtains And Drapes I Found On CB2
Ya, I'll bet you didn't know CB2 has some cheap curtains and drapes lurking on their site. These copper linen curtains (no longer available) caught my eye and are on final sale. Run don't walk if those catch your fancy. These pinstripe curtains (no longer available) would look great if you're going for a more farmhouse or preppy look.

NO LONGER AVAILABLE



More Eclectic Home Decor Ideas and Interior Design Tips
Bobby Berk told me he has always invested in quality bedding. Here's the ultimate guide to the best sheets and bedding.
Find affordable velvet curtains to cozy up your space and soften your windows.
If you want to replace your boring ceiling lights, here are a few boob light alternatives.
Are you looking to decorate on a budget? Check out these clever ideas.
If you want to spruce your backyard, check out this round-up of the best outdoor patio furniture, and if you're on a budget, pop over to the affordable outdoor furniture round-up.
Ever second guess yourself on what rug size to buy for a living room? Click on that link for my expert design tips and while you're at it, be sure to peep these 5 ways to arrange a living room with a fireplace and TV on the opposite wall.
Love plants as decor but have a black thumb? No worries! I have a rounds ups of the best faux olive trees and my favorite faux fiddle leaf fig trees.
Here are seven genius ways to hang a picture, including hanging art with two hooks, hanging a gallery wall with no tools, and hanging a picture without damaging wallpaper.
Love shopping for vintage decor? Get my 9 expert tips on how to shop a flea market like a pro.
Amazon is kicking its home collection up a level. Discover the Best Of Amazon Home Decor here.
If Affordable Modern Home Decor is what you desire, this post is a must-read.