Where To Buy Affordable Curtains Online
After purchasing the gold curtains for the bedroom and living room, I've found more sources on where to buy affordable velvet curtains and drapes online. Side note, just because they run on the cheaper side, doesn't mean they can't look drop-dead gorgeous. I'm a lover of all things color, but when it comes to adding color to my room decor, I tend not to take risks.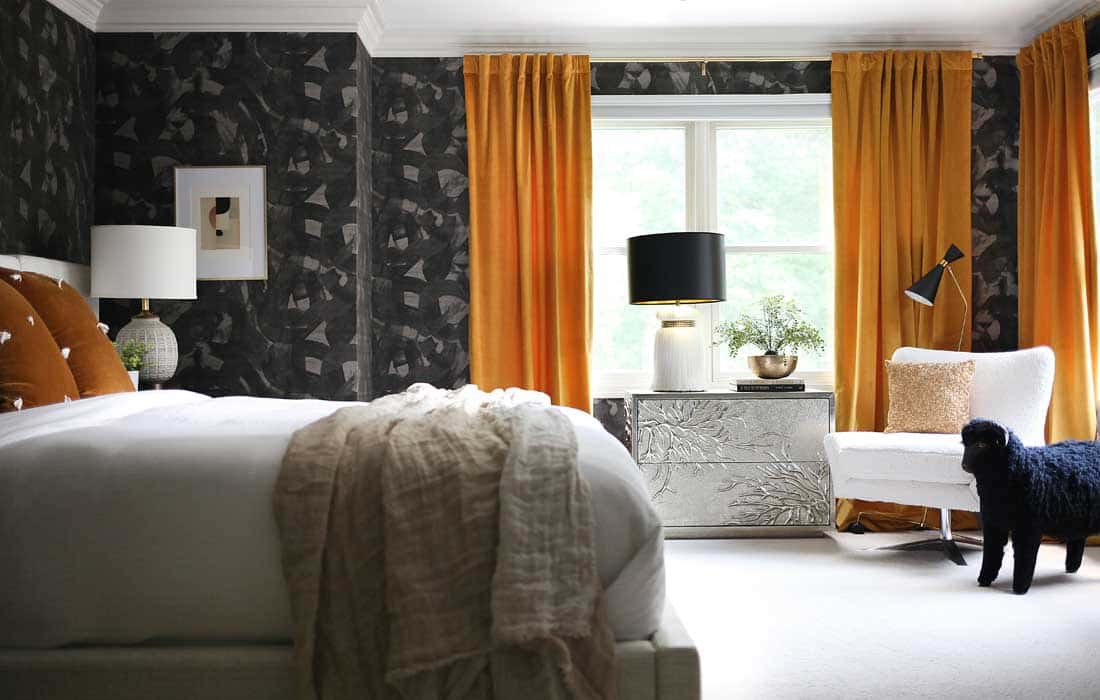 While I'm working on my color courage, reasonably priced curtains and drapes that come in every color and pattern have helped me step out of my Snowbound comfort zone, and buying affordable curtains and drapes online has allowed me to explore moody colors without spending a small fortune…and if I wind up hating them, they can easily be returned.
8 Secret Sources To Find Affordable Curtains
First and foremost, if you haven't looked at IKEA's window treatment selection, do so now. I was a devoted customer of Lenda tab curtains and all their budget-friendly decor for years. But because we all know IKEA, let's check out some hidden gems you may not have heard of. Before we get into it, if you want to learn all my tips and tricks on how to make your home look expensive, that link talks you through it all.
Half Price Drapes – My Personal Favorite Affordable Curtains
I originally found the gold velvet curtains on Amazon for my primary bedroom makeover on Amazon, and they just so happen to be from Half Price Drapes. However, they do have a physical website where every once in a while, they offer a promo code for a better deal than their Amazon storefront or find an out-of-stock color or material. What I love about their velvet blackout curtains is the quality. The velvet doesn't look cheap and is incredibly soft. The weight hangs perfectly, so much so that I didn't need to steam them. I didn't love the white liner on the opposite side and wish it was a bit softer than bright white.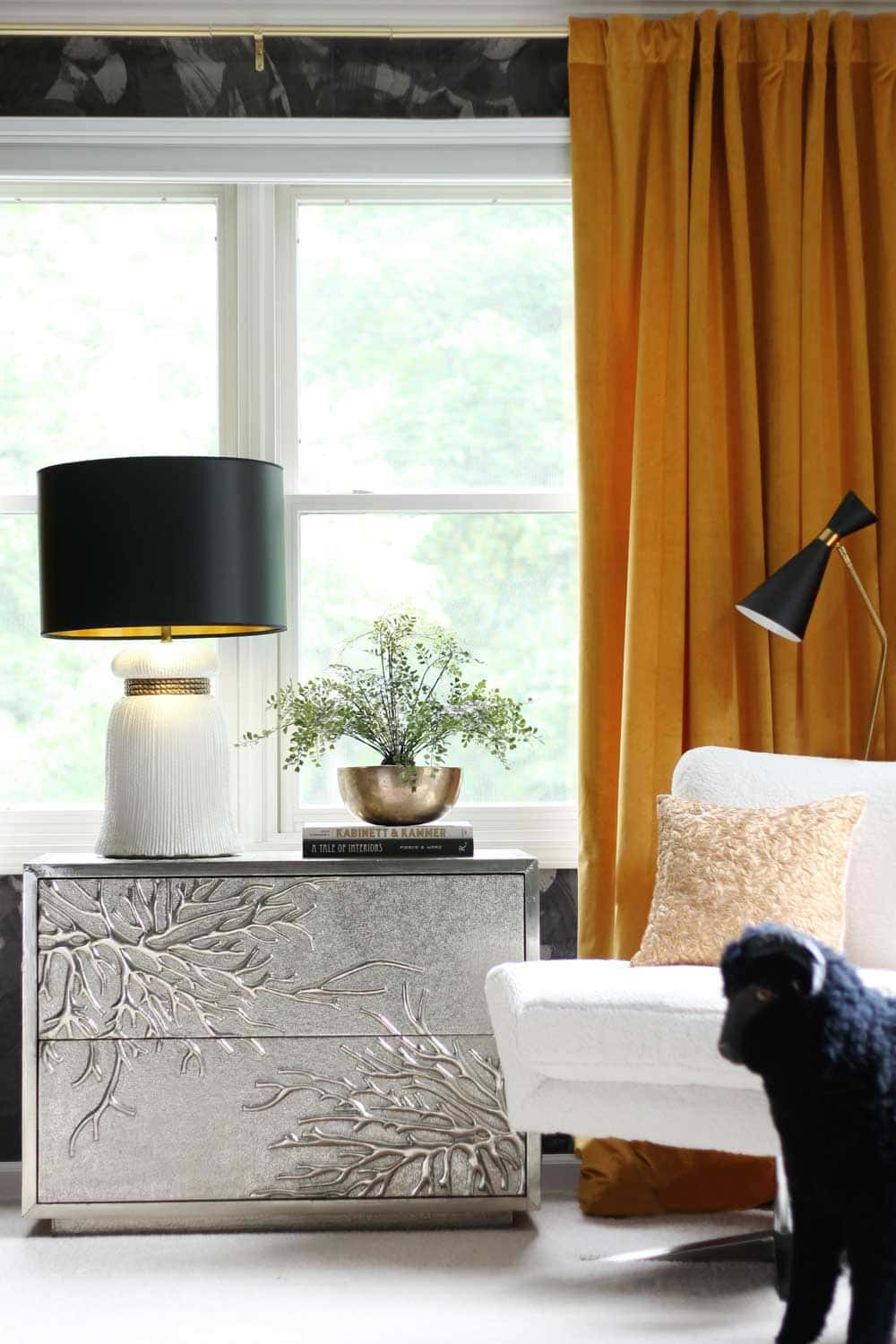 Jin Chan Curtains
Jin Chan is another cheap curtain brand I originally discovered on Amazon. I stumbled over their curtains while contemplating blue velvet curtains in the living room for the fireplace makeover versus painting the room in DeNimes by Farrow & Ball. Just like Half Price Drapes, you can sometimes find them cheaper on their website over their Amazon storefront. Right now, there is a $20 per panel difference between the two sites, but their site is out of stock.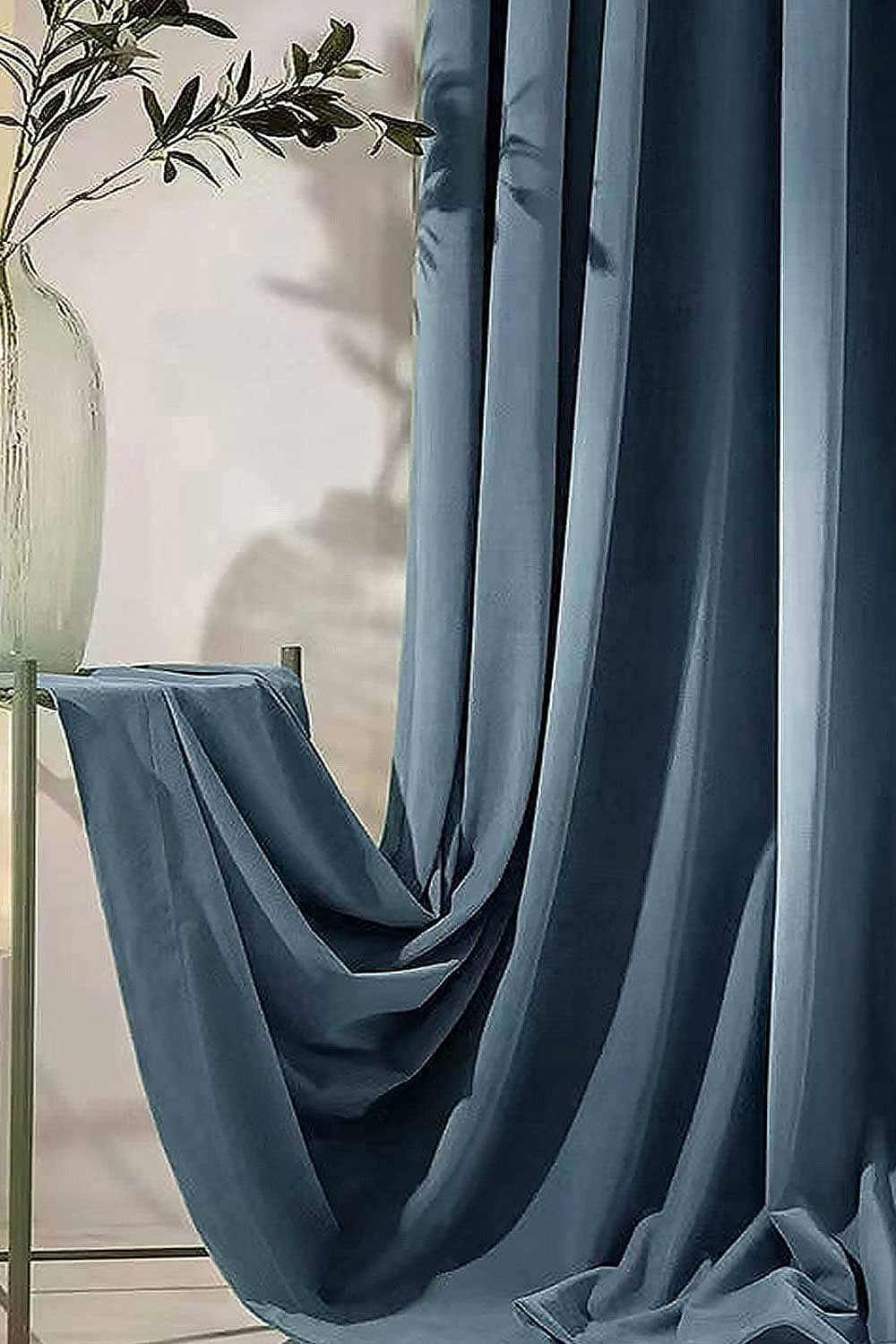 Lazzzy Curtains On Amazon Home
Thanks to Chris Loves Julia; I discovered Lazzzy curtains. They used the blue slate drapes in their dining room which is pretty much exactly what I'm looking for. Of course, Lazzzy has an Amazon storefront (I'm that prime member who wants immediate satisfaction with next-day delivery).

Did You Know West Elm Has Affordable Curtain Options
Don't @ me when I tell you that West Elm is a destination for cheap decor. Hear me out on this. Two panels of linen curtains are $150, but that is really only $20 more per panel than the cheap curtains and drapes brands I listed above. I have had these linen curtains hanging in my dining room for years and am constantly asked where they are from. They let in the perfect amount of light yet give the front of the house privacy when needed. They also have a lovely pool if you don't hem them. There's definitely a reason they are a best seller.

Find Inexpensive Curtains At Anthropologie
When I think Anthro, I normally do not think cheap. In fact, my mind can actually see myself looking at a price tag for any shirt, and it's $128. But these Amber Lewis sheer curtains for $78 are to die for. I love the delicate pattern and grand millennial vibe.

Cheap Curtains I Found On Overstock
I cannot tell you how often I have forgotten about the home decor at Overstock – especially curtains. That is until I partnered with them for my home office and home gym makeover for the One Room Challenge. One brand, in particular, Exclusive Fabrics, caught my eye and I'm contemplating swapping out my gold velvet curtains for these velvet beauties…if you can't tell, I get bored with color easily, so a curtain swap is easier than a paint or wallpaper swap. I'm slightly torn between the green, berry (below), and the blue. That funky dusty smokey blue has been on my mind lately.

Solino Home Curtains and Drapes On Amazon Home
For my spring decor swap out, I changed the gold velvet curtains for these affordable sheer curtains by Solino Home. I chose Doro Natural, which has a subtle stripe that gives them added texture. These hang in our front room, and like the West Elm curtains, they give just the right amount of privacy yet still allow enough light to shine through.

Affordable Curtains And Drapes I Found On Cb2
Ya, I'll bet you didn't know CB2 has some cheap curtains and drapes lurking on their site. These copper linen curtains caught my eye and are on final sale. Run don't walk if those catch your fancy. These pinstripe curtains would look great if you're going for a more farmhouse or preppy look.





Discover more Affordable Home Decor Ideas
Amazon is kicking its home collection up a level. Discover the Best Of Amazon Home Decor here.
If Affordable Modern Home Decor is what you desire, this post is a must-read.
I'm all about decorating with faux plants in my home. Check out this round up of the best faux olive trees.
Check out these 7 easy ways to make your home look expensive without spending much money.
Last Updated on January 26, 2023 by Kyla Herbes