Pinterest Problems – An Open Letter To Ben And Evan
Last Updated on June 28, 2023
OPEN LETTER TO PINTEREST — Dear Pinterest, as one of your biggest fans, I've gotta tell you, I'm having some Pinterest problems. Yes, your platform is a major source of inspiration, and you drive traffic to my website, but can you do me a huge favor? Please stop auto-tagging products from brand partners on my creative work (they are copyrighted). Content creators are the foundation of Pinterest. It's what makes Pinterest, Pinterest. Allow me to show you what I mean.
Problems With Pinterest 2021 Update
After posting, I wrote a tutorial on how to remove the white dots on Pinterest pins. There's also a step-by-step tutorial on how to add affiliate links and tag your pinned products and take back control of your imagery on Pinterest.
Peek behind the curtain. READ and understand exactly how Pinterest makes money with its internal advertising agency…ya, you read that right. Unless you are a preferred brand partner, you are competing against Pinterest for eyeballs in the feed.
Join the Facebook Group to stay up-to-date.
Resuming Open Letter To Pinterest
Here is an image I created and pinned from my website to your platform. It's the living room redesign. Do you see the little white dots?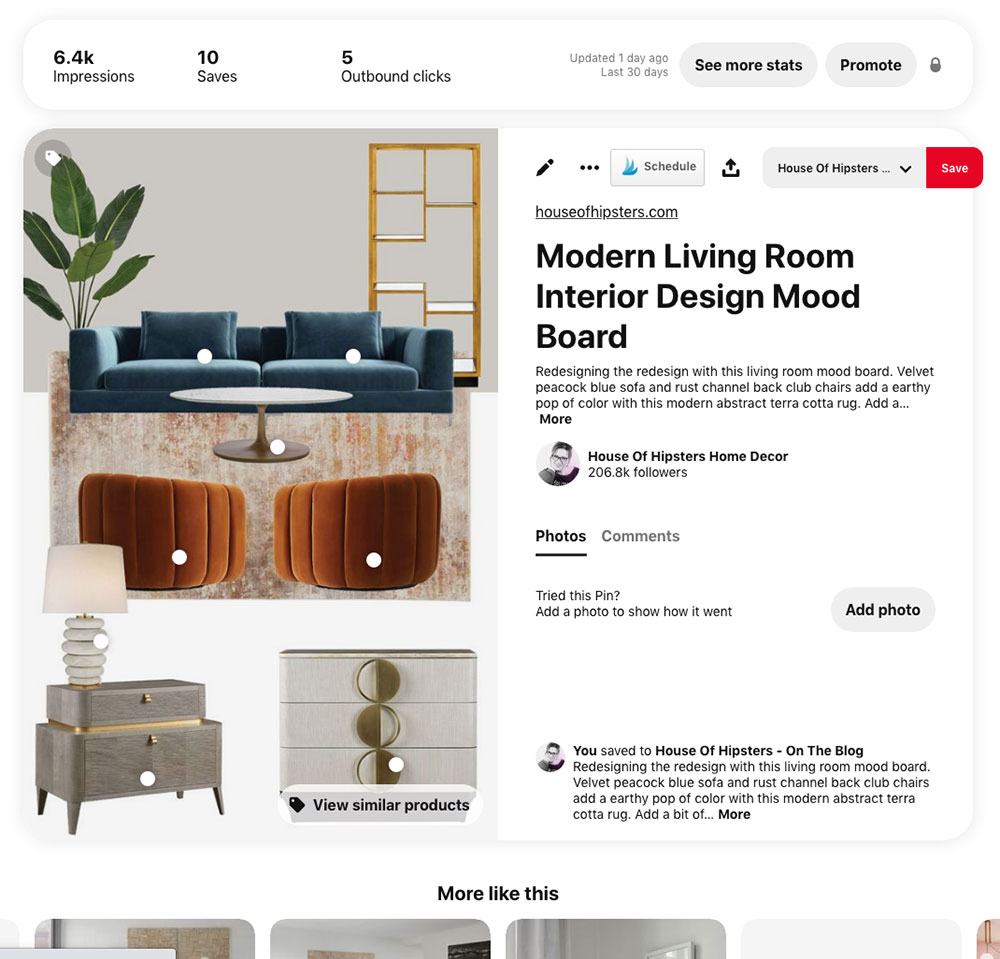 Look what happens when I hover over those white dots. They turn into shopping tags. AI photo recognition software that identifies blue pillows from modern dressers. When those engineers presented Ben and Evan this feature, I'll bet they said, "Dayum, that's some slick technology that our shareholders are going to love!" But there's a troublesome Pinterest problem here. That image wasn't created by Pinterest or the Pinterest Partner (brand).
That image was created by me, and correct me if I'm wrong, but I think that means it's copyright protected. Did I press an "OK" button unknowingly agreeing to updated Terms And Conditions? Could you clarify when content creators approved Pinterest to use our images for commercial marketing?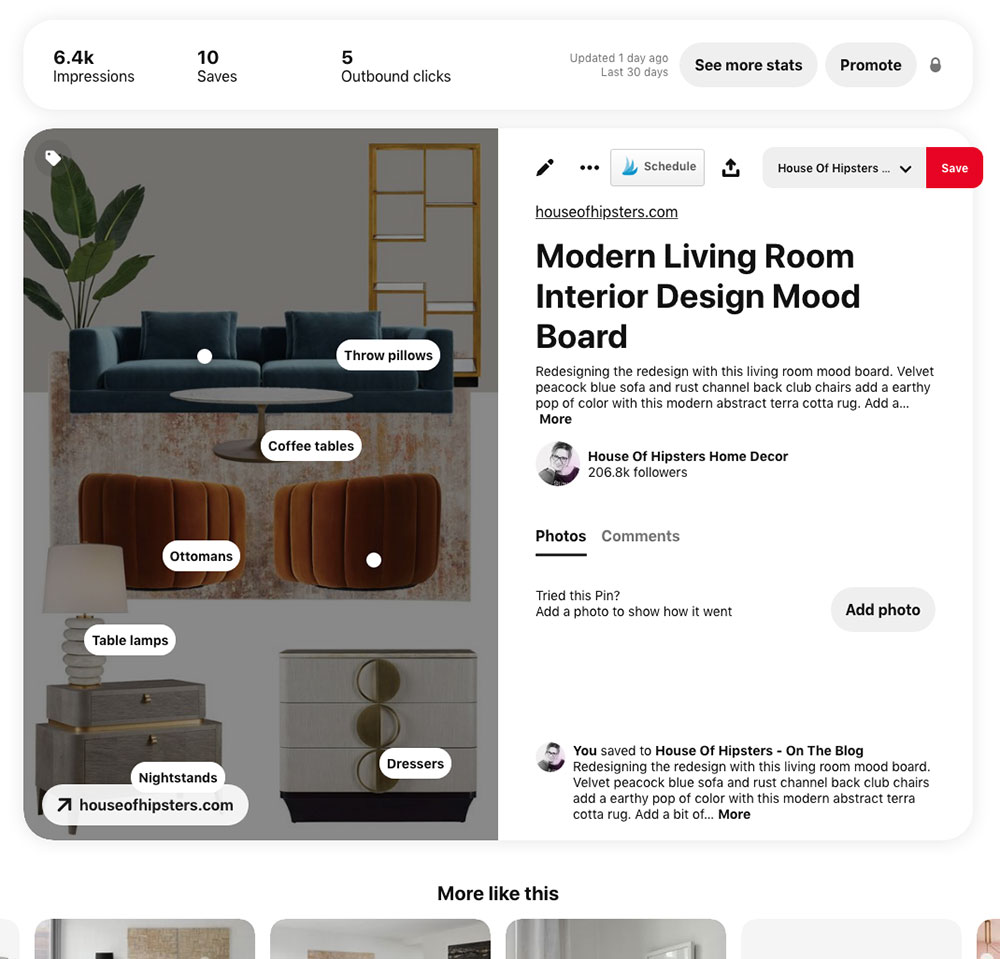 For curiosities sake, let's click on the table lamps tag. Well, I'll be damned. Am I helping all those brands sell their lamps? Wayfair? Lumens? Kelly Wearstler? Burke Decor? Paynes Gray? How is this ethical? How is this not a copyright infringement?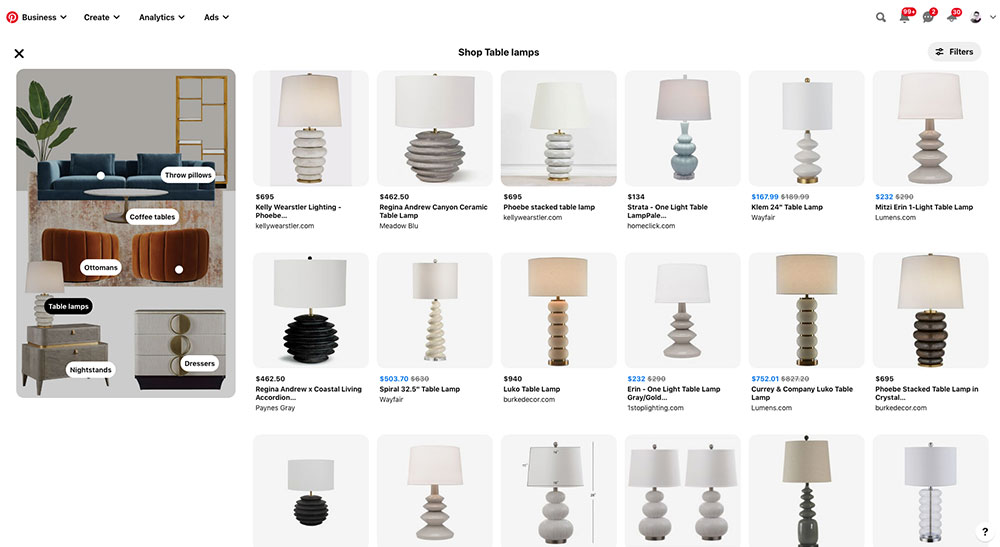 Pinterest, in case you were unaware, designing that living room mood board took me over 72 hours to research, photoshop, and dream up. No one paid me to write that post. It was a room designed by me for my followers. Are you getting paid for my room design? Is Wayfair? Lumens?
More Pinterest Problems With Legalities and Photo Rights
Maybe content creators unknowingly sign their lives away when clicking a button about updated terms and conditions? But, let's examine the many gray areas when it comes to Pinterest's shoppable pins. For example, what happens when a pin is auto-tagged with products on Pinterest, but that image was shot as part of a campaign or sponsored post? Here's an example.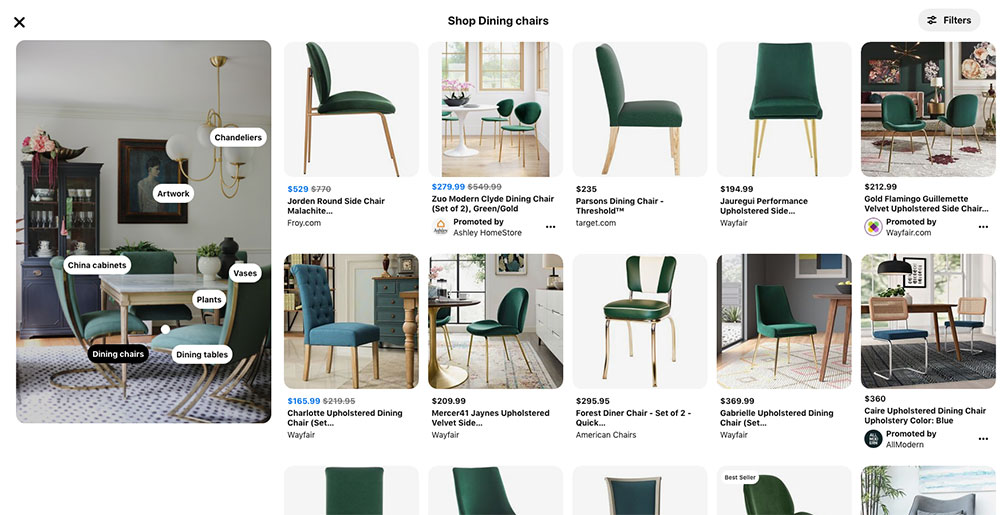 These are the vintage chairs I reupholstered using my client's fabric. Pinterest has tagged the pin with similar green chairs. Pinterest, how is it okay to sell brand partner products on an image shot exclusively for another brand? How do you think Audi would react if Pinterest tagged their images with the same colored Chevy, Ford, and Toyota vehicles?
An analog example of this would be if Good Housekeeping magazine ran a full-page ad for Swiffer, but before the issue was mailed to subscribers, they added a bunch of stickie notes to that Swiffer advertisement telling readers where they can also buy a Shark, Dyson, Roomba, and Bissell vacuum.
In this hypothetical Swiffer example, let's say the magazine didn't charge Shark, Dyson, Roomba, and Bissell a commission but they charged ad space online or in next months issue, and only if a brand was paying for ad space at some point in time could they add a stickie note. In this highly unusual hypothetical situation, would this be a copyright infringement on intellectual property? Again, gray area, but I can tell you one thing's for sure, Swiffer would be really angry if they saw a full-page ad they paid for covered in stickie notes for competitors.
Then there's also a whole new can of worms when you add in professional photoshoots. My kitchen renovation was shot by Stoffer Photography Interiors. I paid for John's time and talent to shoot, but I also paid for usage rights. I cannot publish his images on my site without crediting him. No brand can repost those images without crediting him, PLUS they have to pay additional usage rights to publish his photos of my kitchen. And if a brand wants to sell a product using those photos, they need my permission AND they need to pay Stoffer Photography. The photographer owns the rights to my kitchen photos, not me. I have permission to publish and share them on my social channels. Who is getting paid for the bar stools comfyco.com is selling on John's image? Is he not getting a commission? Nope.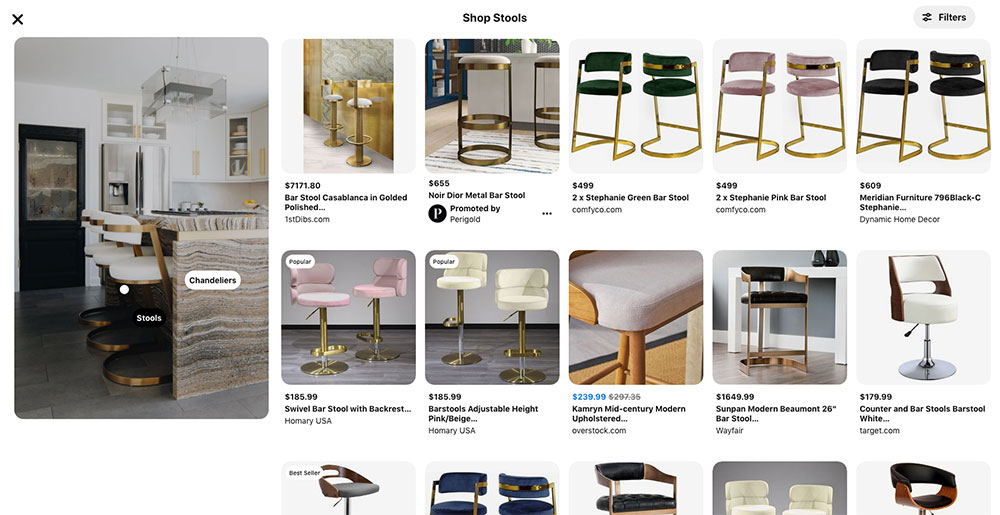 The Pinterest problems get even more complicated when you start looking at sites where content creators and designers have been featured. For example, this is an image I provided to Style Me Pretty Living (SMPL). This pin lives on a Pinterest board that belongs to someone else. That's my home, but who signed the contract for this copyrighted photo? Let's look at the chain of events.
I gave permission to SMPL > SMPL published the photo > an unknown Pinterest user pinned the photo from SMPL

Who is giving Pinterest permission to use content creators' images for advertising? Brands are making money off this photo of my home. Pinterest is making money because the brand is a preferred partner. What are the content creators getting in return for their work? Jack squat.
Creators Want The Shoppable Pins Feature Removed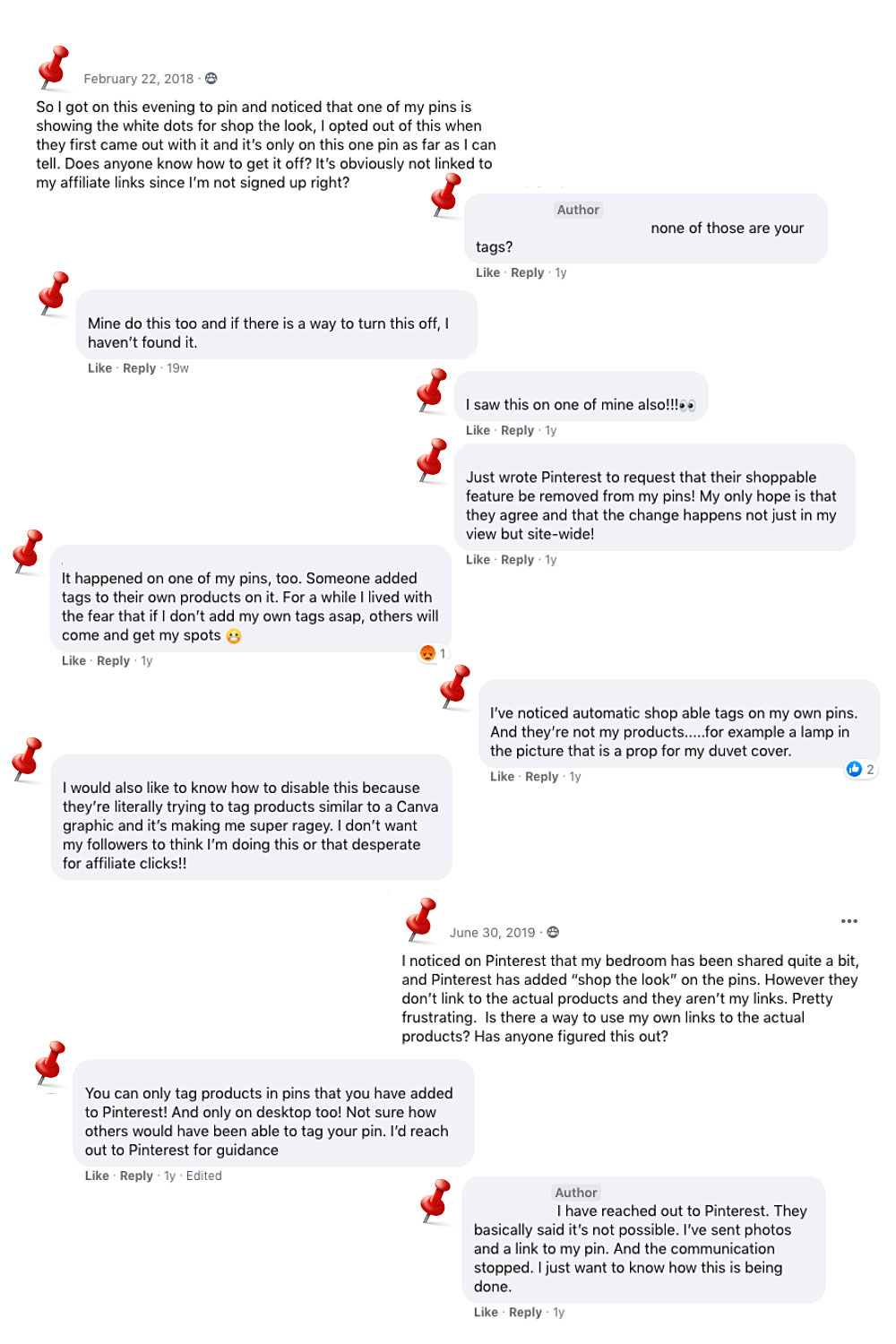 And just one more legality question, what about model releases? Every time a person is shown in an advertisement, a model release must be used. When working on sponsored posts, my client always asks that any person in the photo signs a release form. This release is not needed for news publications or when an unidentifiable person is photographed in a public space for news purposes. However, when you are using a person's face commercially to sell merchandise, legalities surrounding model releases can become quite complex.
Ben Talks Pinterest At Alt Summit
Back in the day, when Pinterest first launched, I was a beta user…ya, I'm an OG Pinterest user (and let it be known, I still love Pinterest). I had to signup and wait to be approved to use Pinterest. Ben Silbermann (Founder and CEO) spoke at one of my favorite blogger conferences Altitude Summit. Ben, you connected with us. Shy, sweet, honest, humble…talking about your first job. You worked soooo hard…way harder than you were getting paid. With incredible sincerity, you shared the story of quitting your dream job at Google. You shared failures, your journey, and how you didn't quit.
Share This Post – Tweet It, Pin It, Talk About It
Ben, you said, "People succeed because they don't stop, and eventually, something breaks." That is why, 2 years later, I'm still asking, "who is getting the money for these products I'm unwillingly selling for you?" I'm not gonna stop. Rather, I'm asking every blogger and content creator I know to reshare this post. If you are reading this, and you value your work, please share this post via Facebook, Twitter, email, and demand answers from Pinterest because this is a problem. This is unethical.
As a child, you were a collector. You reflected on this and rather than building a platform for shopping, you decided to ignore the spreadsheets and build something you loved. You had this idea for Pinterest and shared your out-of-the-box idea with Evan Sharp. Together you painstakingly worked on the look of the grid…the grid that today is filled with content creators' imagery.
Once the design was complete, you shared Pinterest with people in the industry, friends, family, and no one had that AH-HA moment. Your beta testers were confused as to why would anyone collect photos from the internet and display them visually. You were disheartened but refused to go back. That is where I am right now. I (and many other content creators) have been asking Pinterest to stop auto-tagging my images and converting them into shoppable pins.
Back in 2019, after a long email chain with Pinterest customer service about the auto-tagging, I received this response. Can you believe these shoppable pins on my profile were one of the rarest issues reported? Pinterest was working on a fix AND making sure this would never again happen in the future. This email is data back to December 4, 2019. In a previous email, Pinterest said this was an error and apologized.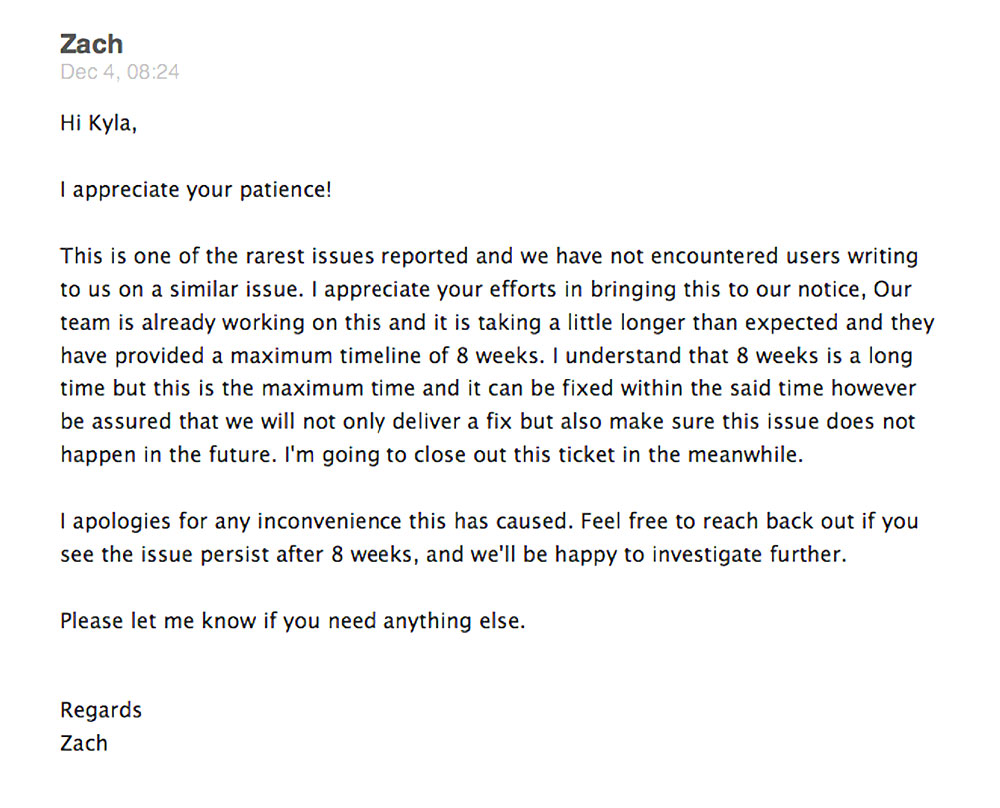 Side note, I have followed up, but sadly no one at Pinterest has responded.
Ben, the first time you spoke at Alt Summit, you met Victoria from SFGirlByBay. Unlike previous beta testers, this blogger grasped the concept of Pinterest immediately. A friendship was made, and Victoria helped you launch Pin It Forward, a campaign designed to introduce Pinterest to bloggers. The idea was simple — a chain letter of emails asking bloggers to share images to a specific pinboard. It was special, personal, and authentic. In turn, these bloggers opened accounts and started using Pinterest exactly the way you hoped.
In that same speech, you shared an endearing story about wearing a Pinterest t-shirt every single day of the week. Finally, a stranger asked, "Do you work for that company?" You exclaimed, "Yes! Yes, I do!" That moment of joy crumbled when you realized that was the one day you weren't wearing your Pinterest shirt. That stranger recognized a different company's logo.
That moment sums up how I feel every day when I see those little white dots all over my images. All that hard work. All that effort. Only to be turned into a shoppable pin. An advertisement for blue pillows for brands I didn't know existed. I'm still nobody.
Back in the day, when people asked you how you felt about building Pinterest, your reply was a visual of a Venn diagram, caught between terror and joy. That sums up my Pinterest problems. But you didn't quit. In fact, your family told you, "If you don't bet on yourself, nobody else will." I'm taking your family's advice and taking it upon myself to speak up. This tiny David going up against Goliath. As a creator, I've got to tell Pinterest this is wrong.
Pinterest Goes Public – The IPO
Last year Pinterest went public. I get it, you need to show a profit to shareholders quarter after quarter. (Disclosure, I am one of those people who bought Pinterest stock at the beginning. I'm thrilled the stock price increased about 250%. I'm not thrilled my copyrighted work was used for capital gains.)
At first, I never understood how Pinterest makes money…that is until Nikki (former employee at Pinterest) hired me as your first freelance graphic designer in The Pin Factory — a department at Pinterest that helped onboard brand partners for promoted pins.
Pinterest users are very particular about what they pin. When a pin looks too professional, it's viewed as a commercial. The user knows she is being sold to. Instead of pinning a brand's shiny perfect ad, she'll save an image that looks more homemade. Yes, the typography might be Comic Sans, and every color of the rainbow is used, but that imperfect pin (and the idea behind that pin) is obtainable. My job at The Pin Factory was to create branded pins that looked perfectly branded but not too perfect. More of a soft sell – perfectly imperfect.
Back then I think 3-5 brands were signed up for pin-making at The Pin Factory. Within a couple of months, you had 25 brands. Pretty soon, it exploded. Now there are thousands upon thousands of brands that use Pinterest for Business. You call them Pinterest Partners.
Pinterest doesn't say much about the auto-tagging feature and shoppable pins online, in fact, they've even changed the name to Collections Ads (sounds less sleazy doesn't it?). But from what I've researched artificial intelligence technology analyzes and recognizes brand products and finds matching products (or similar) in the images that people like me pin. An advertiser can tag up to 25 items to sell per image. It's very interesting that you have press releases on EVERYTHING BUT auto-tagging creators' work.
So wait, Kyla, you're basically telling me that Pinterest is the ultimate marketing tool for e-commerce?
Ummmm, ya.
And a brand does not have to pay content creators to tag beautifully styled images when selling on Pinterest?
Nope, not at all.
You're saying all a brand has to do is pay Pinterest to be a preferred partner and for the most part, that brand has the ability to auto-tag absolutely ANYONE'S creative work on the platform? Beauty bloggers? Fashion bloggers? Home decor bloggers? Interior designers? Online publishers?
Yes, based on my research and personal experience, that is exactly what I'm saying.
Do you think every business owner and shareholder is Snoopy dancing right now? That's a marketing department's dream come true!
Probably costs like a million dollars though, right? Nope, small businesses with small budgets can sign right up! That is why every brand is jumping on board the Preferred Partner Pinterest train and that's also why Ben and Evan are now multibillionaires with stock that presently sits at almost $90 per share. Pinterest is making money hand over fist, and the best part is — they don't produce a product! No wonder The Motley Fool says, "the business model is outstanding". The cost to maintain the Pinterest platform is fixed and the content needed to keep it current is user generated.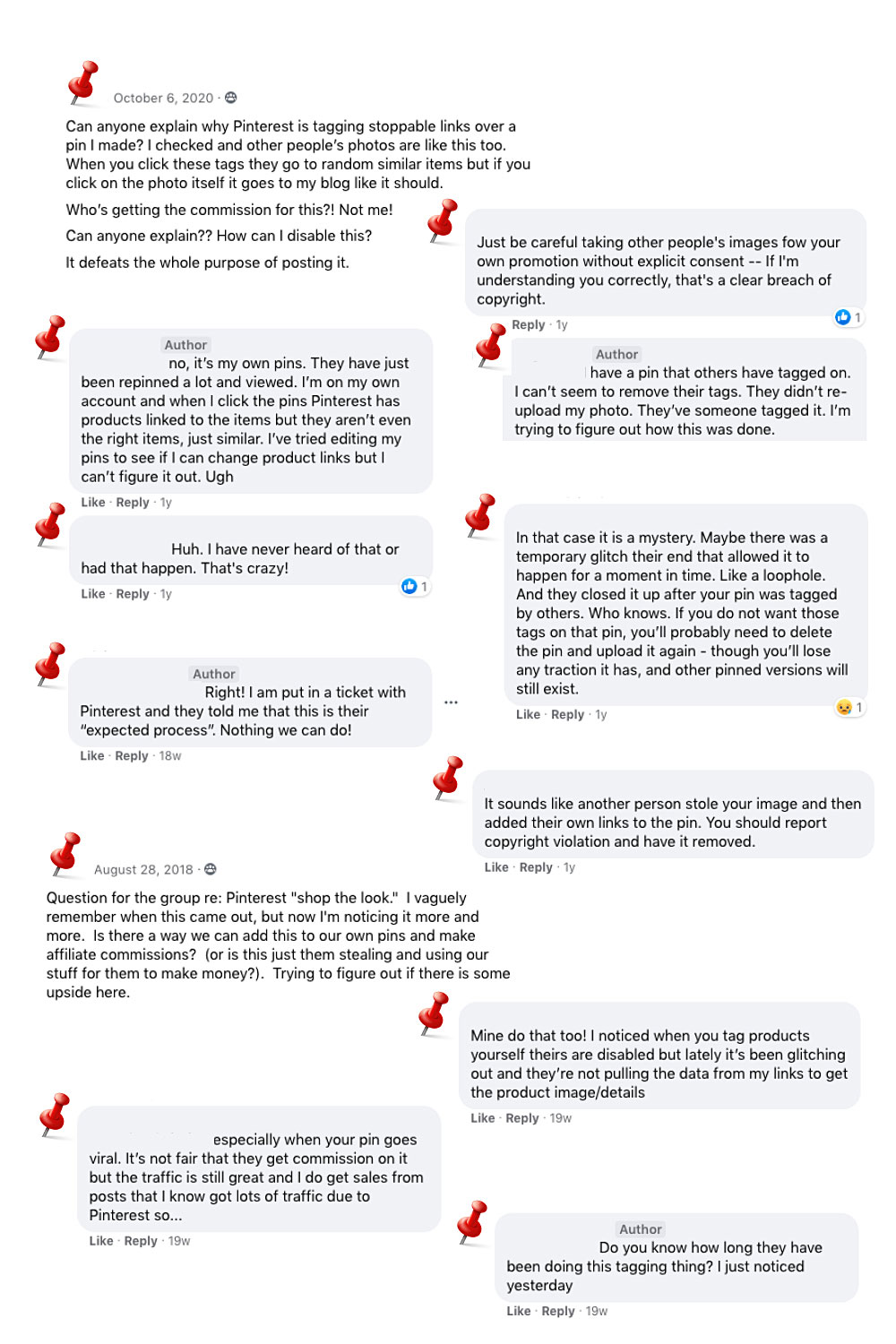 Does Pinterest Care About Creators?


In September 2019, Pinterest launched their Shop The Look Pinterest Pins…5 months after Pinterest IPO hit the New York Stock Exchange. Gotta keep the shareholders happy! Shop The Look pins contain tagged products and are easy to spot. Remember those little white dots that turn into tagged keywords? Let's revisit. When I click on the pillow tag there is a peacock blue pillow explosion!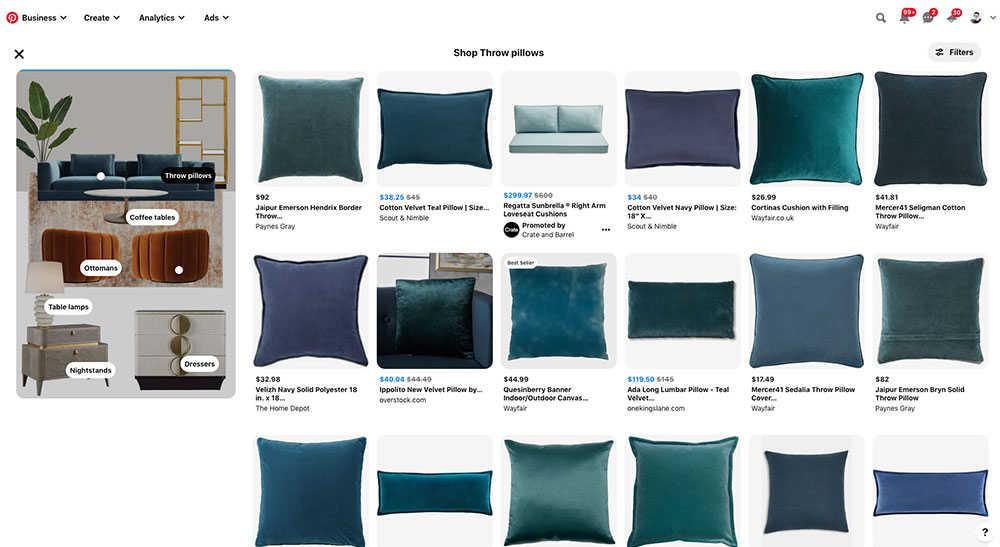 When I click on a product, I'm taken to a new page where I can buy this pillow. Oh, and what happened to my original living room pin? Ya, that's long gone. A few clicks back. I'll betcha it wasn't even pinned. Glad my mood board helped sell a $92 pillow at PaynesGray.com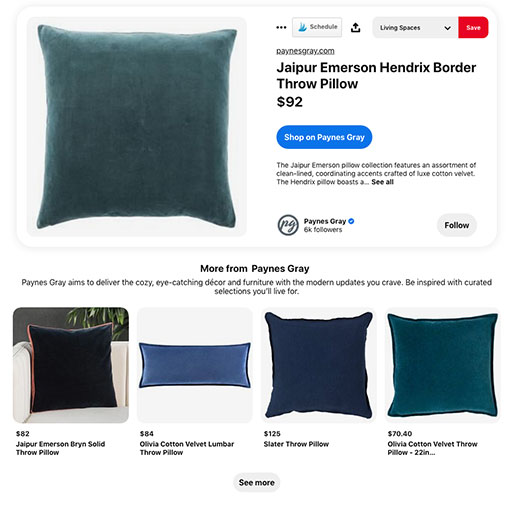 On the surface, Pinterest as a platform is very helpful to bloggers and content creators. Canva (an online design platform that makes just about anyone look like a graphic designer) and Pinterest teamed up to create a Design School Course helping teach online creators how to design engaging content on the platform. Ashley Schroeder, Senior Lead, Global Creator Marketing at Pinterest, says, "users are coming to Pinterest to find ideas, inspiration, and content for big moments, everyday moments, and everything in between. Users are coming with a purpose. Looking for what to do, try, or buy next."
Ashley goes on to say, "Users are looking to authentically connect with creators, like you, who they trust for recommendations and inspiration." Images are based on the users' unique interests and what Pinterest knows the user is searching for. This leads to a highly personalized and curated experience." She explains how the blogger's content is evergreen. Meaning, even if your imagery is 10 years old, if it is relevant to the users' search, your content will keep performing for you over time. The steps are simple, create a Pinterest For Business account (or convert your existing account) and follow Pinterest's best practices steps in the video.
In a live interview with Tailwind (a Pinterest scheduler used by most bloggers and businesses), Pinterest said it will favor new content over old content even if those old pins were top favorites. Lucy Matthews, Partnerships Manager at Pinterest manages brand partners in the Pinterest Partner Program answered questions during this informational talk that was geared directly towards content creators, bloggers, and online influencers like myself. Tailwind specifically asked Ms. Matthews how do I drive more traffic to my blog by using Pinterest?
She explains some best practices as, "showing ideas, not just pretty pictures". Link your content back to the URL where that blog post resides (especially if you have Rich Pins installed). Rich Pins are SEO (search engine optimization) focused pins that sync information from your website to your pins. Wait, Pinterest, are you saying not only do you have photo recognition for products, but you also pull in copy from my blog post that I painstakingly wrote to rank high with keywords on Google?
She also encourages content creators to add a Pin It button to their site so readers can easily save your images to their pinboards for future reference. There is one major problem with that. Say a reader visits House Of Hipsters and sees an image that inspires her. She saves that image to her pinboard. See the example below? If I click on it, my image is tagged with products, but I did not upload it. A reader from my blog pinned it…and yes, I do encourage that…but this example is for sake of legalities in the Pinterest Terms of Service. I'll get to that momentarily.


I'd also like to point out that this pin is technically an advertisement, correct? I mean, it IS selling products for brands. But there is no statement saying this is an ad. As of 2019, all content creators and online influencers HAVE to disclose when we receive payment or gifted products. The FTC states, if you endorse ANYTHING, you have to make it crystal clear that your post is connected to a brand.
Going back to Ms. Matthews's interview, she is asked by Tailwind, "How many new pins should I be sharing every day?" Her answer can be seen at minute 5:30, "We advise you to create new content every week, just to keep your profile fresh and supply your followers with new content they love to save. Saves of existing pins will still receive distribution but ultimately the best way to grow your audience, drive traffic to your site, and extend your total reach on Pinterest is to create fresh content."  But wait, doesn't that contradict what Ashley Schroeder stated about your content being evergreen?
Ms. Matthews also encourages content creators to, "follow the Pinterest Best Practices because as a platform, Pinterest wants to provide its users with the best experience possible, and supplying fresh content is really the best way to do that." Gawd I love that Pinterest explains exactly what goes into making a good pin. From size to text overlay to writing keyword-optimized copy. They lay it all out for bloggers and content creators.
This interview is almost an hour-long, but in less than 10 minutes from the start, I'm told, "lead with a compelling image, use type sparingly, and keep branding subtle. Your image should really be the hero of the pin."
After reviewing Pinterest Best Practices for brands, I see, "Make Your Brand The Focal Point, Use Your Logo, Add Text Overlay," all the things I was told to do when designing branded pins in The Pin Factory. Why is Pinterest telling me to be subtle as a content creator when a brand should make itself a focal point? Could it be because it's difficult to sell tagged products for brands in the Pinterest Partner Program when a pin is branded to another business? Think back to that Audi example. If they were to place their logo on the bottom and type "Audi Rocks" on the pin, it would be odd to auto-tag similar-looking vehicles from Ford, Chevy, and Toyota, right?
Are content creators being blatantly misled by Pinterest during these educational videos? If so, that's a big Pinterest problem.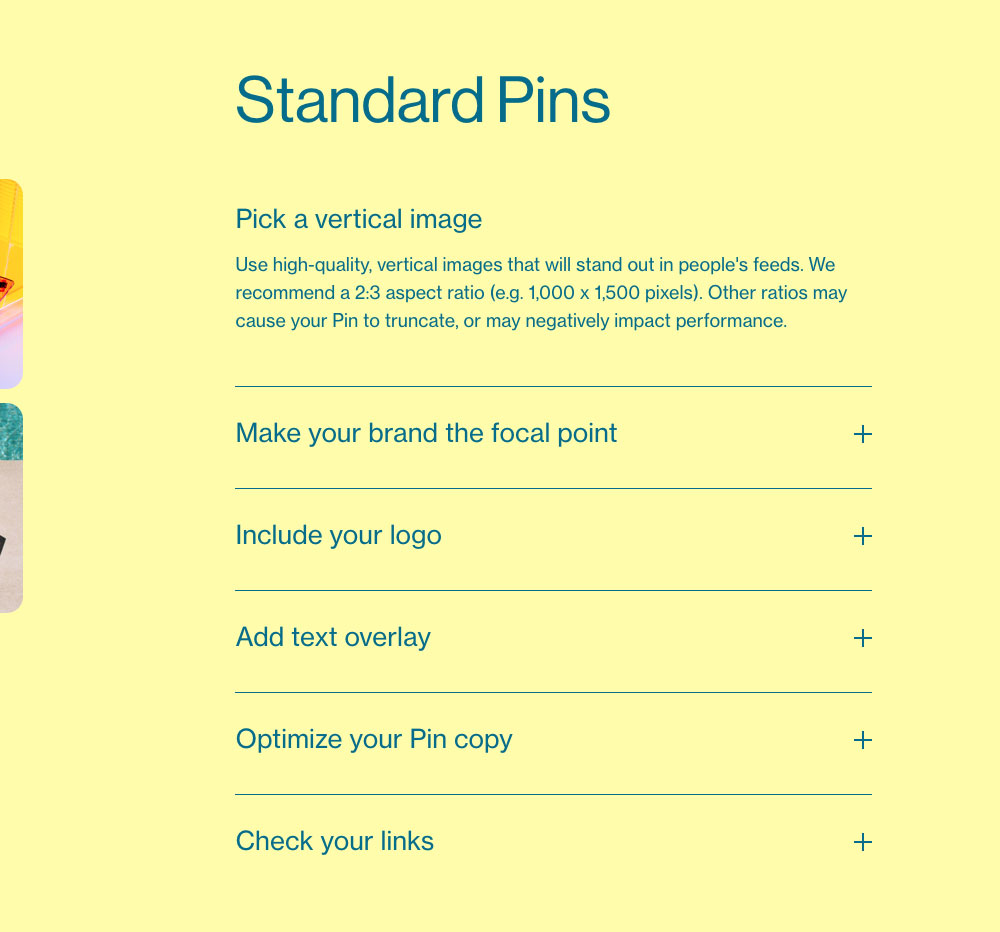 Be Promotional With Your Content
Content creation is a business. House Of Hipsters is an online publication, and I offer ad space on my blog and social channels. HOH is a brand and my Pinterest account is a Pinterest for Business account… just like Better Homes and Garden has a Pinterest for Business account, just like Peloton has a Pinterest for Business account. Why shouldn't I be screaming from the rooftops, "I have awesome stuff on my website that you'll love! Click me! I'm House Of Hipsters!" on my pins? Why is Pinterest telling me to be subtle?
Over the past 15 years, the business of blogging has changed. Instead of chugging out fresh content day after day with nonstop hustle for every platform, We've slowed down. We've become more calculated and strategic with posts. Writing quality over quantity. Researching keywords so my post ranks higher on Google.
Pinterest saw this slowdown with fresh content. Enter the release of Story Pins now called Idea Pins. I was a creator with early access and tested Idea Pins — the organic reach was INSANE! An image pinned from my website might get 100 impressions after a few days. But, when I create an Idea Pin, I'll get 1000 impressions in under 2 minutes. Pinterest you moved the goal post again. You really DO need that fresh sparkly new content.
Once an Idea Pin is published, users can interact with the pin by swiping through the frames and can give it a heart because, Pinterest says, "We believe ideas from creators deserve more than just a double tap."  Oh Ben, staaaaahhhhp! You're making me blush. I was all wrong, you really do love me!
To beta test these Idea Pins, Pinterest handpicked a group of bloggers, many friends of mine. We all came to the same consensus. The reach is outstanding, but there's a Pinterest problem — these pins do not link back to my website. Where's the traffic? Where's the benefit?
Why go through the trouble of creating Idea Pins when they do nothing for me or my business? Of course, you have a carrot to dangle. Pinterest released "following streams". Growing a follower count on Pinterest these days is nearly impossible, and these streams suggest my account to users that may not follow HOH.
If you've made it this far, I'm dubbing you a long hauler! BRAVO! You are in deep with the problems at Pinterest, and you're ready to rumble. Don't worry, Pinterest T&Cs are oddly short, so I'll follow suit and start wrapping up.
The wording is vague lawyer talk but Pinterest does state that anything I post to the platform is referred to as "User Content". I retain the rights and it still belongs to me.
However, the paragraph below states that at some point in time I granted Pinterest non-exclusive, royalty-free, transferable, sublicensable, worldwide license to use, store, display, reproduce, save, modify, create derivative works, perform, and distribute my content on Pinterest solely for the purpose of operating, developing, providing, and using Pinterest.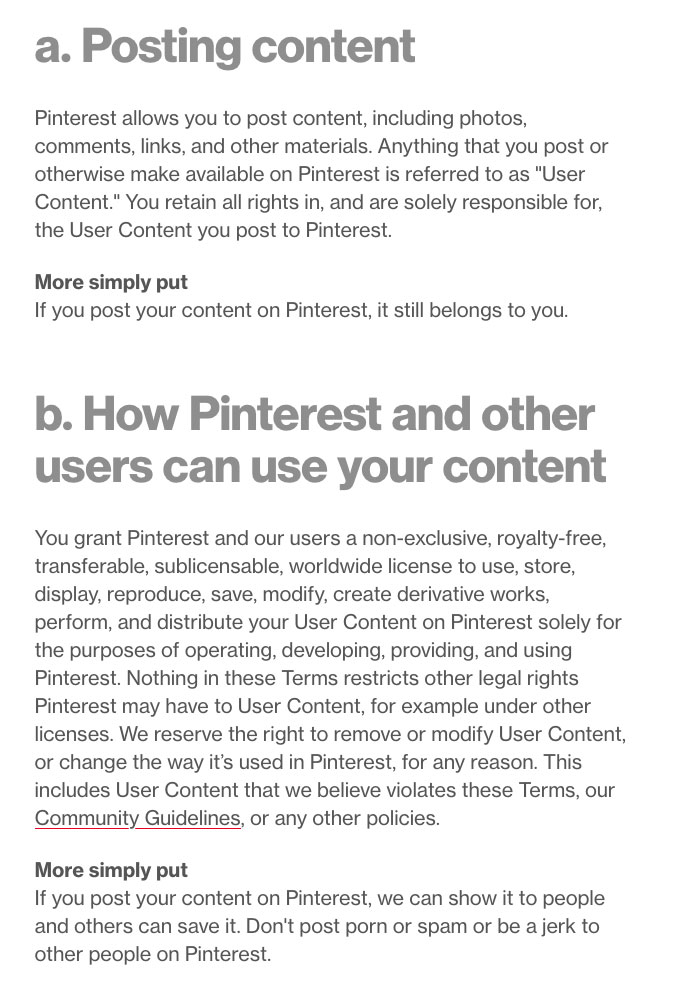 In a nutshell, Pinterest is saying, "Hey Kyla, we love you, and your work still belongs to you; however, we are going to take it and do anything we freaking want to with it, even give it to brands who pay us a lot of money, so they can sell similar products, but again, don't worry, the photo is still yours to keep."
The WTF Moment At Pinterest


Going back to the keynote speech at Alt Summit, Ben shared when Pinterest was in its infancy, the motto in the office was "Move Fast And Break Things" with stickie note addendums.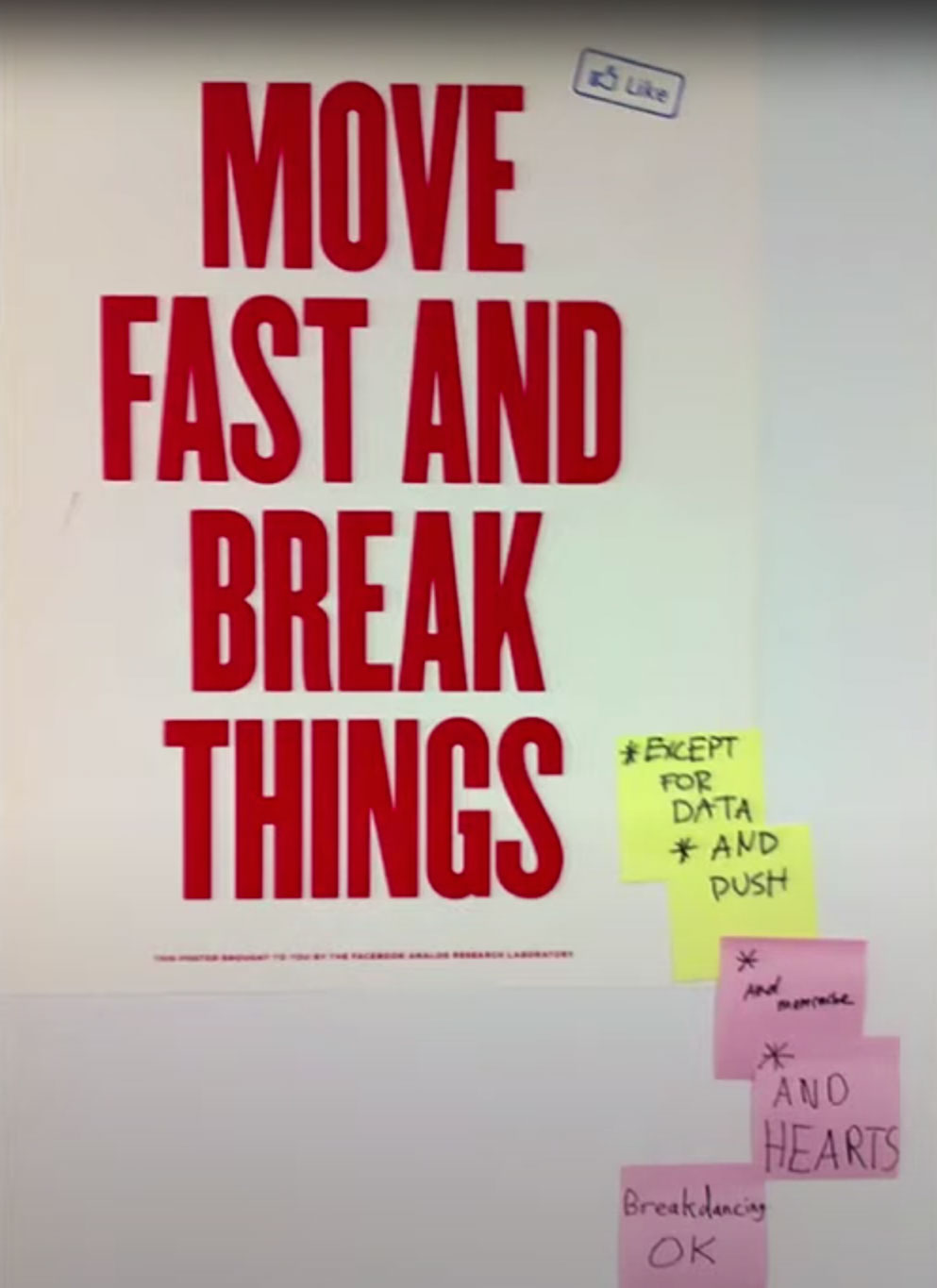 My Pinterest problems are far from over. In fact, if this post gains any traction, I might get myself into some hot water and have even bigger Pinterest problems. However, it'll all be worth it if that trouble helps me "break things" like the auto-tagging and shoppable pinss. Ben and Evan, I hope you see this post as a request to change the platform. Make a big move. Think outside of the box. Do the right thing. There has to be another way to appease shareholders, increase quarterly profits, and really show your creators that they are the heart and soul of Pinterest.