How To TikTok 101 – A Tutorial
Last Updated on June 28, 2023
I discovered TikTok last summer while freelancing and was curious if it could be a platform to sell. But before I could create a marketing plan, I needed to understand it myself. Therein started my newfound obsession with TikTok. Now that the platform is getting more hype and I'm sharing my social media secrets, I figured I'd share a little How To TikTok Tutorial – A Beginner's Guide. You here for this? Let's dig in.
The Complete Guide to Getting Started On TikTok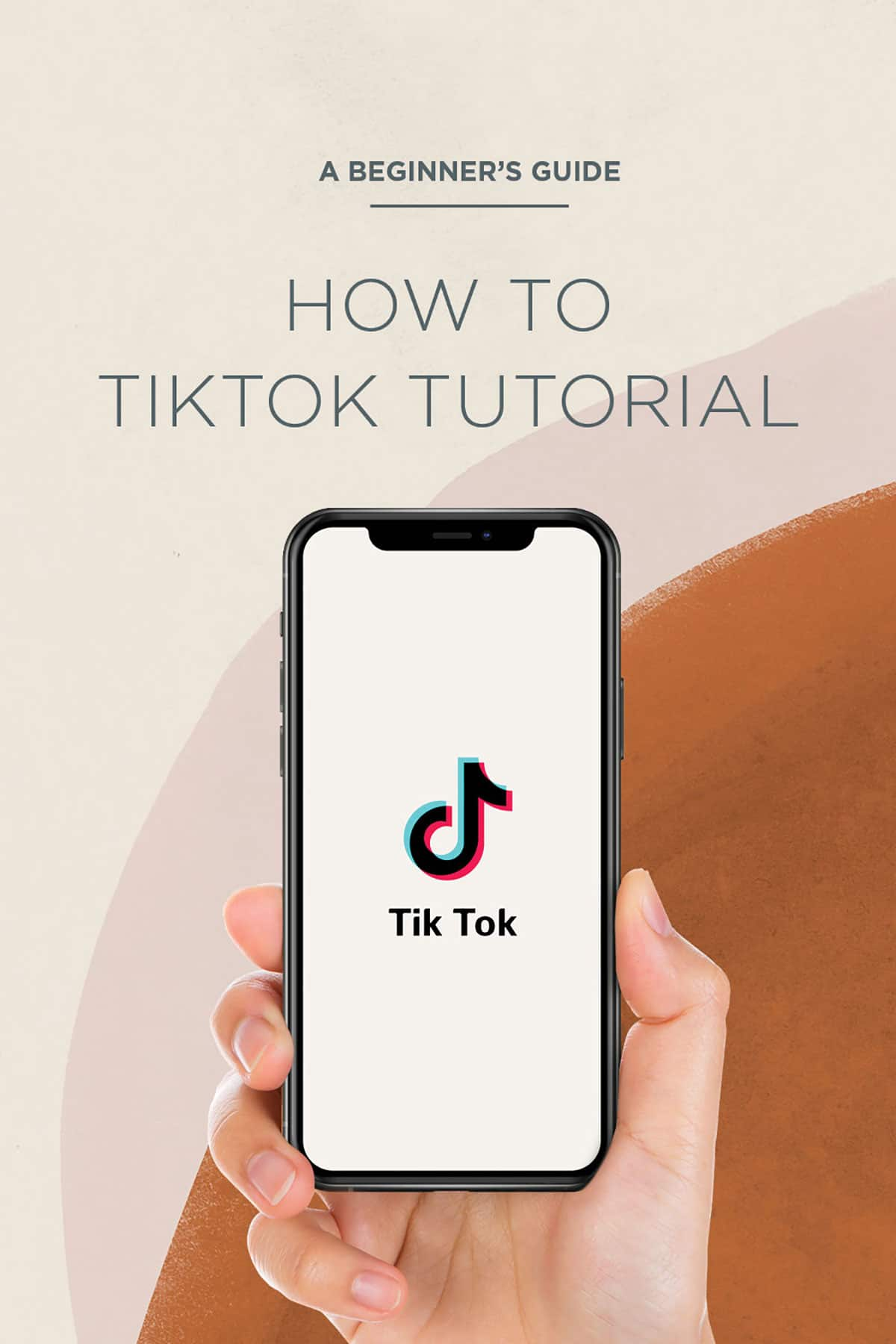 First and foremost, TikTok is not just an app just for kids. @grandadjoe1933 has 1.5 million followers, and he's 87 years old. Yes, you read that right, 1.5 million followers. He posted his first TikTok in January 2020 (3 months ago), and no, he's not an anomaly. Although I have not achieved TikTok clout, I've seen people get TikTok famous over and over again.
In fact, while speaking at the Design Influencers Conference, I suggested each person in my audience start a TikTok account that day (I also made them participate in a TikTok). Nick May from The Chaise Lounge took that advice, and that night, he texted me saying, "This is bananas! I just got 263,000 views on my video!" (UPDATE: Nick has over 900,000 views on that video today.) Whether you're in it for the followers or just wanna have some good old-fashioned fun, here is my How to TikTok tutorial for beginners.
One-On-One How To TikTok Advice From An Expert
Fast forward 2 years, and I've grown my account from 167 followers to over 360,000 followers. Yup, you read that right, and House Of Hipsters' TikTok account has also been featured Fast Company, Cosmopolitan, Southern Living, Architectural Digest, and more! I was also part of TikTok's Creative Learning Fund – helping the platform go beyond silly dances.

If you're looking to take your TikTok to the next level and you want to turn your views into sales, we need to talk. Book your TikTok growth strategies consultation today. I will help you get your business started on TikTok, give you a TikTok account audit, help you create content calendar, and develop a growth strategy. Go ahead, ask me anything you want. BOOK YOUR CONSULT
TikTok 101 — Step 1
Download the app to your phone, signup, and set up your profile.
TikTok 101 — Step 2
The below screen is your profile page. You can navigate to this page by clicking on the person icon in the lower right corner…it says "Me". This is where your drafts and videos live. Also shown is who you're following, who's following you, total likes, and your Instagram account icon.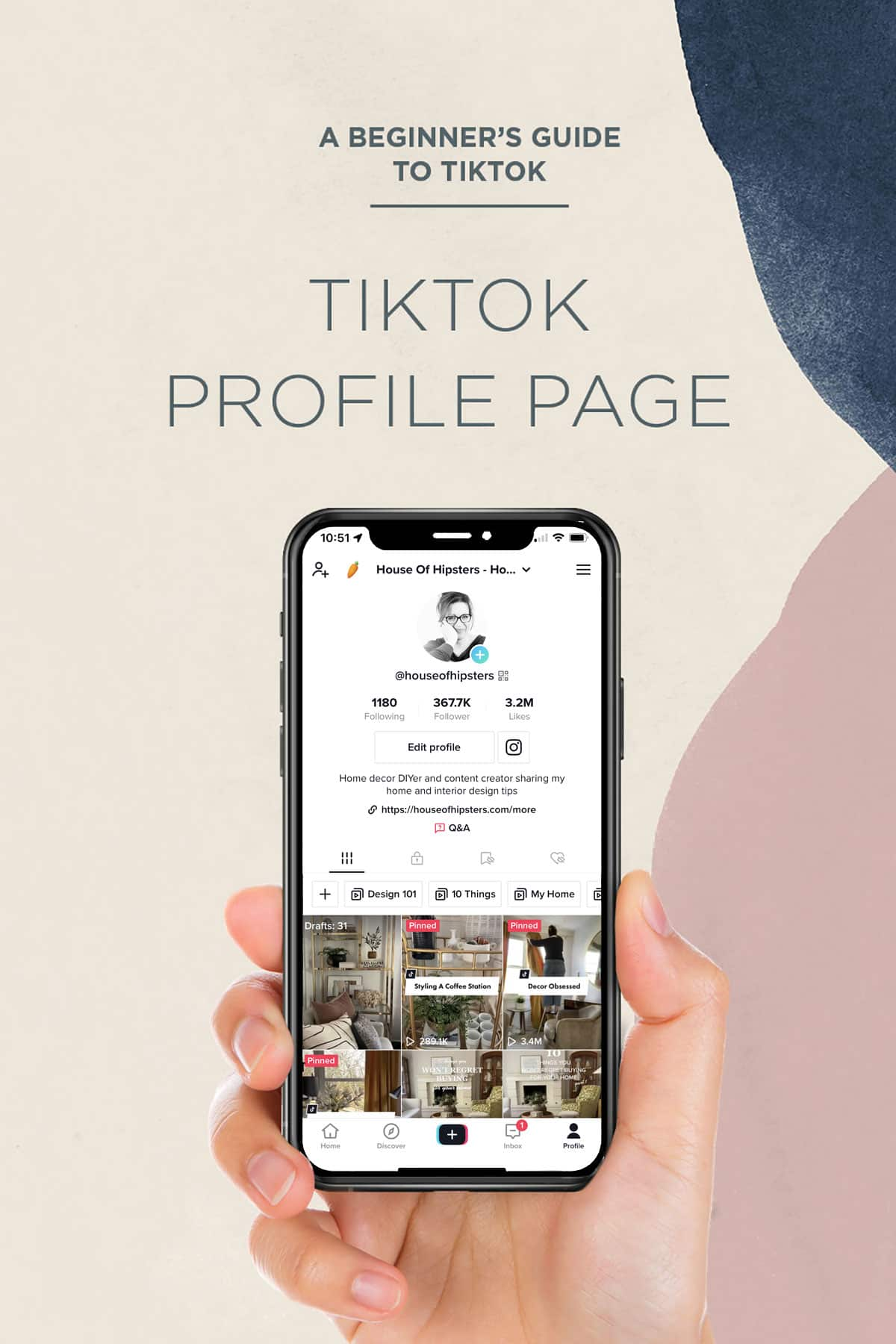 TikTok 101 — Step 3
For You Page — Once you open the app, TikTok suggests content it thinks you might enjoy. Swiping up will load the next video. Until you start liking, commenting, and favoriting videos, the algorithm may serve you content you may deem garbage. Be patient. Once TikTok learns what appeals to you, it will serve you videos more suited to your liking (think of it like the Explore page on Instagram). The initial screen is called the For You Page or #fyp #foryou #foryoupage (you'll see these hashtags in captions). We'll get to hashtags soon enough, but in short, you can toggle between the For You Page and Following content at the top of your screen.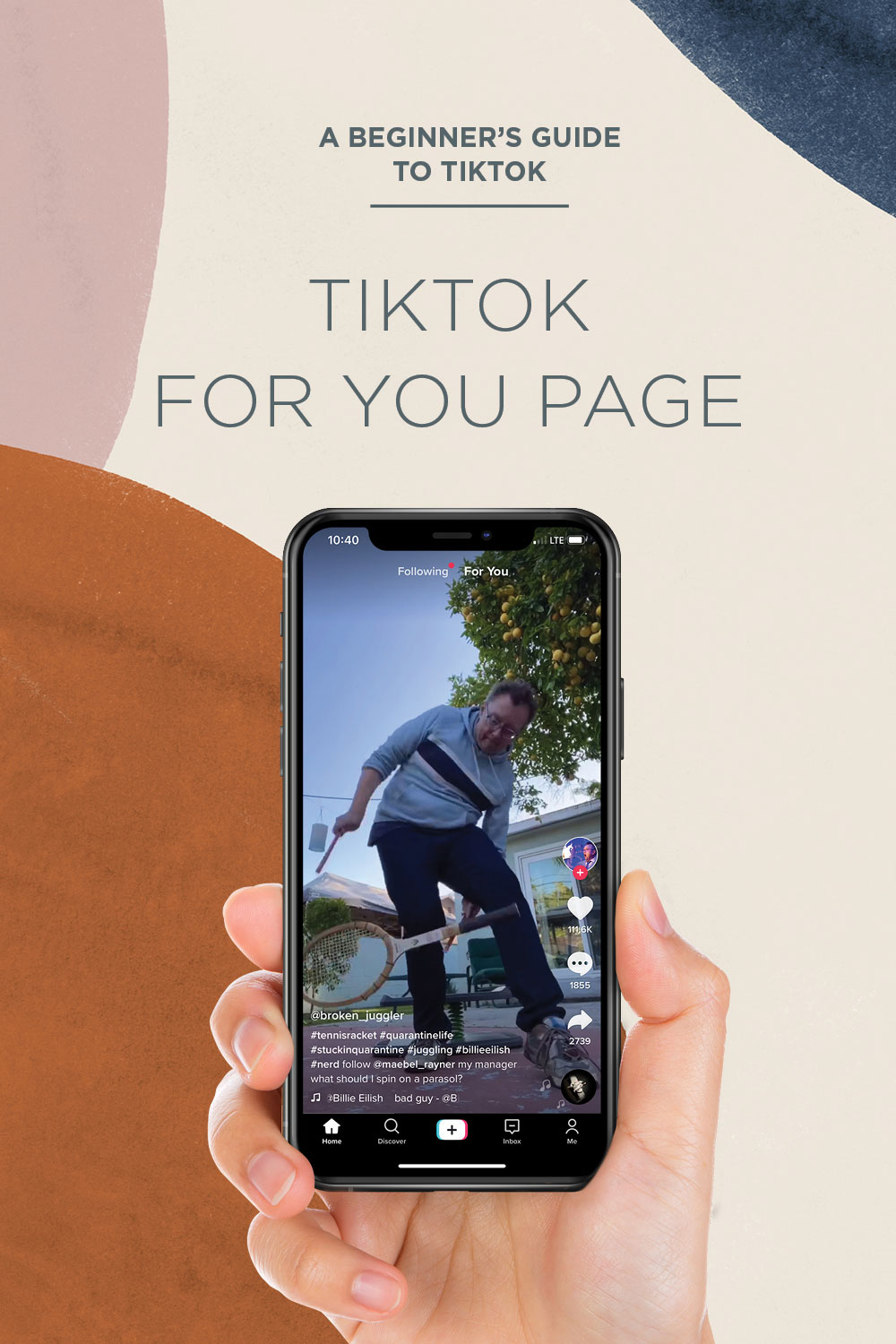 TikTok 101 — Step 4
See someone you like? Click the + sign to follow or click on their profile picture to watch more of this user's content. See, I told you this was a beginner's guide TikTok tutorial. Feel free to skip ahead if you want.
TikTok 101 — Step 5
Double-tap anywhere on your screen to like a video. It took me 7 months to figure out that I didn't have to use the heart button only for liking. Boom, mind blown. You can also comment by clicking on the talk bubble icon with the "…" inside.
TikTok 101 — Step 6
Now here's where things get more interesting. Want to share a video with your friends?  Click the Arrow icon, and you can share that video on Instagram, Facebook, Messages, Stories, etc… You can also hold your finger down on the screen to DM the video to friends.
TikTok 101 — Step 7
Hashtags: TikTok is all about hashtags. Hashtags will not only help you understand what is trending but can also increase growth, engagement, and exposure if you're looking to become TikTok famous. If you want more views, use a couple of hashtags that coincide with your content and a couple that are trending. While creating content for the Creative Learning Fund, TikTok suggested no more than 5 hashtags, but to this day, I kind of ignore that and just use however many I want.
TikTok 101 — Step 8
Participating in challenges is part of the fun with TikTok. Wait wut? Update: Ya, this was 2020, and it's now almost 2023. Things have changed, and challenges are no longer a thing. Performing a dance that 20 million people have already filmed is BORING!
To stand out on TikTok, you must have a strategy and a niche. This goes for brands and individuals. Instead of showing the viewer how awesome you are at the Renegade dance challenge, teach them. Make it fun AND educational, and remember, the longer the viewer watches your TikTok, the more views it will get. Also, think about ways to make your video shareable or saveable. Something the viewer will want to rewatch or refer back to.
TikTok 101 — Step 9
Let's talk SEO and how to be searchable on TikTok. Yes, the rumors are true, TikTok is becoming a larger search engine than Google. Bet you didn't see that coming, bt If Forbes says it's true, it's a fact. Google is beginning to rank TikToks in search, so if you want to be found, you must be searchable. That means using keywords for your niche in captions, post copy, cover titles, text overlay, and hashtags.

There is also a new featured rolling that you may see on your FYP. Instead of just tabs for Following and For You at the top of your feed, your version of TikTok may show "Nearby". These are places near your location that TikTok thinks might be interesting to you. You'll notice that when you post, you can add a geo location. This is incredibly beneficial if you are a small business!
TikTok 101 — Step 10
The compaint I hear most is, "I don't like to be on camera". But let's be real, no one likes the way they look in front of the camera. If this is what is holding you back from short form video, remember this — NO ONE WATCHES YOUR CONTENT MORE THAN YOU. No one is analyzing everything about you except you. Take a shower, do your hair, and maybe add a touch of makeup…do whatever helps you feel most comfortable. You're normal and beautiful just the way you are.
TikTok 101 — Step 11
Like I said earlier, before pressing record, have a plan. Standing in front of your phone like a deer in headlights isn't going to resonate with anyone. I personally like to write a script prior to filming so I know exactly what I need to shoot and say. In the end, this will save you time. Say goodbye to reshoots.
TikTok 101 — Step 13
Another time saver is batching and saving to drafts. Getting camera ready may not be an everyday option. So, the night before, plan out a few TikToks. Write your scripts. Get your shot list ready. Take one day a week to film a few videos when you're lookin' all fancy and save them to drafts. See, I just saved you from showering every single day… TikTok tutorial timesaver!
TikTok 101 — Step 14
How to save a sound — If you like a song or voiceover, click on the spinning record in the lower right corner (above the Me person icon). You have the option to save the song to your favorites or use the song immediately. There's a bookmark icon on your profile page above your videos. That is where your saved favorites reside — saved videos, effects, sounds etc… You can also save content you like to favorites by holding your finger on the screen of the video. Click Save To Favorites and at the bottom you can manage and save in folders to keep them organized.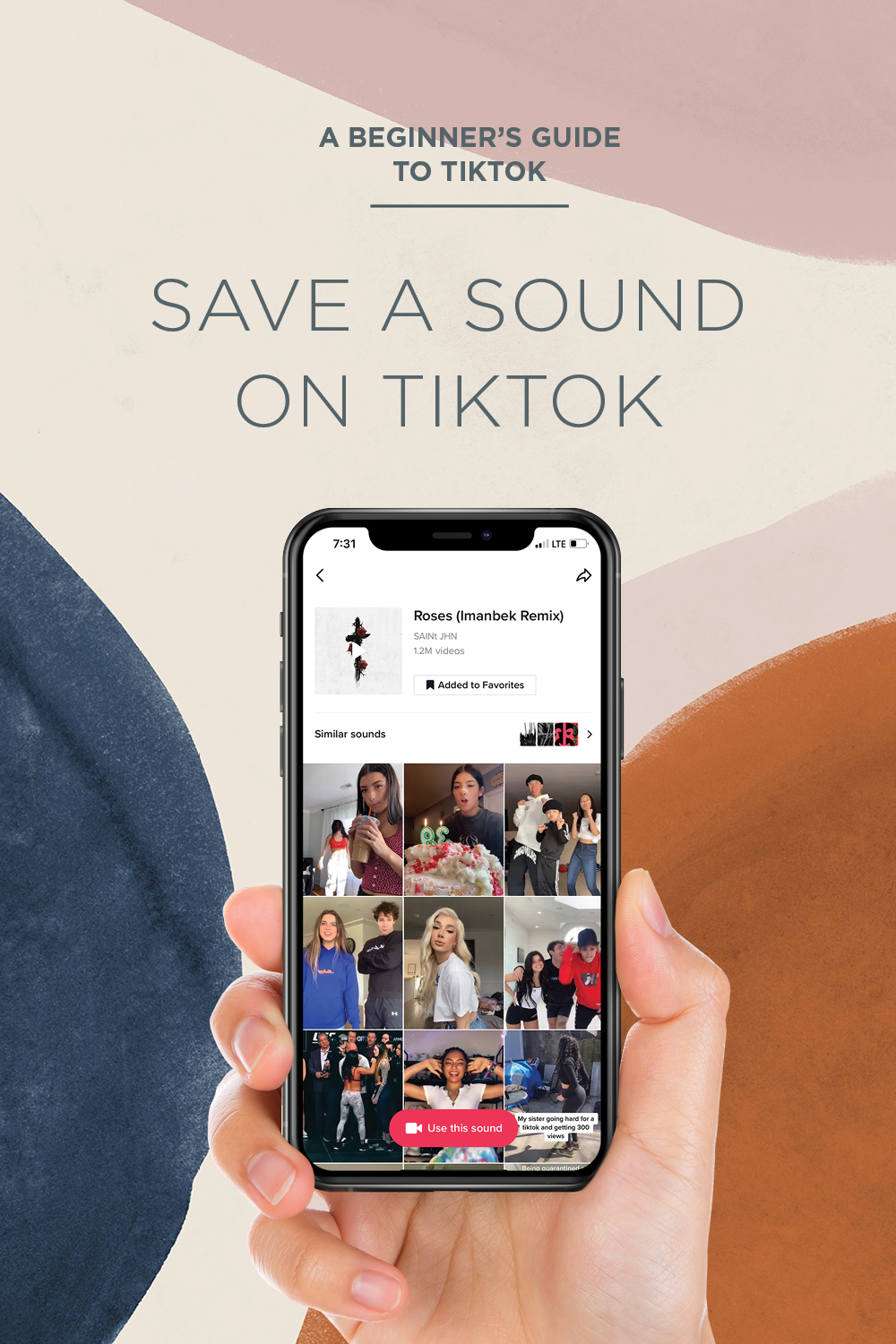 TikTok 101 — Step 15
Use good lighting. Until I hopped aboard the TikTok train, I thought ring lights were only for beauty bloggers…wrong! If you wanna level up, go get yourself a ring light. I purchased this one but quickly figured out why it was the cheapest. It's janky…but if you're just dipping your toes into the TikTok waters, it does the job. This one is in my cart, and I promise to report back on quality.
That's it! You made it through my TikTok 101 Beginner's Guide Tutorial! Relax and have fun! Facebook is for sharing photos of your kids and vacations on the beach. Instagram is highly curated content that is beautiful. Twitter is for news and current events. TikTok is for authentic fun learning.
If you liked this post, check out my TikTok tutorial on how to record multiple clips within the TikTok app for perfect timing.
More Social Media Tips and TikTok Tricks
Have you been sucked into the TikTok Made Me Buy It videos? Ya, me too. These are the products I love. If you're looking for viral TikTok products, check out the Amazon Internet Famous Home Decor I love.
Whoa, TikTok Diagnosed Me With ADHD ya, the algorithm really IS that good.