Patio Renovation and Makeover
Last Updated on May 22, 2022
For the last couple of years, the back patio has been our labor of love (and hate). We've had some frustrating times and tears might have been shed, decks and stairs built, ripped out, and rebuilt again. It was a wild ride, but I'm happy to report, IT'S COMPLETE, and I'm happy as a clam. Well, minus furniture it's complete, but I had to save something for next year.
When we bought the house we had no idea the condition the back patio was in because it was covered in about 2 feet of snow. Note to self, never, ever buy a home in the middle of winter. It's impossible to inspect the roof, yard, and outdoor living areas. The home inspector wouldn't even touch it. Fast forward to closing day and the snow had melted, we went out back, and low and behold the retaining wall was falling over, the drop from the patio to grass really needed a railing (Which upon embarking on this project we were told it was unsafe and also, not to code.), it was covered in moss, and a family of chipmunks had burrowed their way under the pavers and into the foundation. Basically, the entire patio was caving in. Awesome. Ya not so much. (Oh, and it was also not to code.)
Before Patio Renovation Photos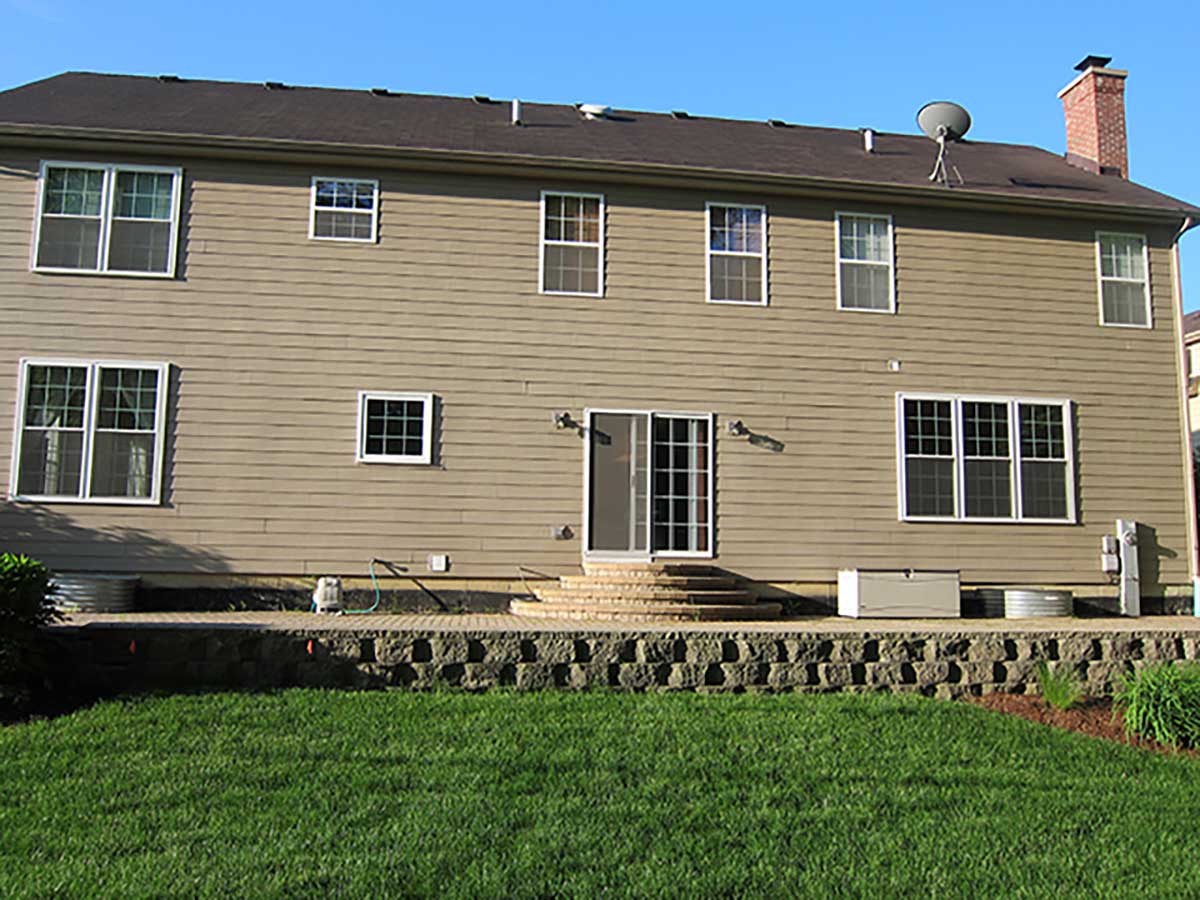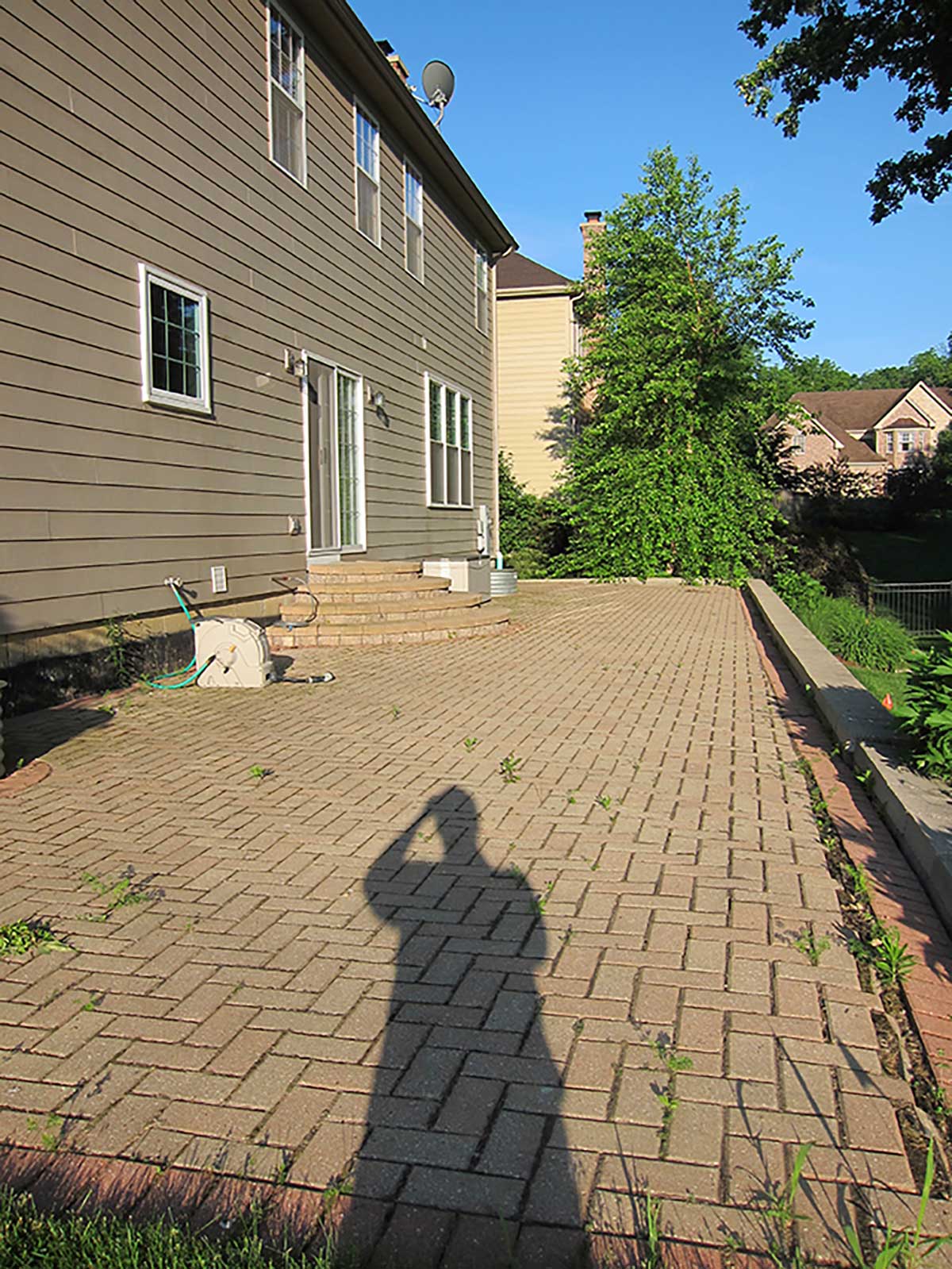 A patio renovation was in order. I put together a Pinterest board and spent a lot of time on Houzz researching exteriors and landscaping. I quickly came to the realization that California Modern was definitely my type. Who knew! I wanted a concrete form fireplace and benches. I wanted wood walls and planters. I wanted desert plants. I wanted cable railings and low wide stairs. Problem was, I didn't live in California. I live in Chicago. If you poured a concrete fireplace here, after one winter, it will crack, rendering itself useless. Ummmm, this posed to be a major design problemo, and I was unsure how to fit my style into my climate. I promptly told The Boy we needed to move.
Obviously, he was not on board with moving, so I enlisted the help of a friend. A friend who just so happened to be an exterior landscape designer. First off, I explained how detailed oriented I was and how I would be art directing every move he made. Right down to how I specifically wanted the edging finished on the stairs. I figured I might as well make my anal-retentive ways quite clear. I know what I want, I know what I like, and I customize EVERYTHING. I can't help myself. I threw it all out on the table. He understood and was still game to work with me. Poor guy, bless his heart, I felt bad for him already.
He listened and took everything I said to heart. He returned with a sketch that blew my mind! Pavers, mixed with wood, mixed with concrete. Two separate living areas, a modern outdoor fireplace, and a built-in grilling area. It was my Eden! Where do I sign? Write the man a check already! Let's get started! How soon can we break ground on this puppy? Out with the old, in with the new! Seriously, it was pretty darn awesome.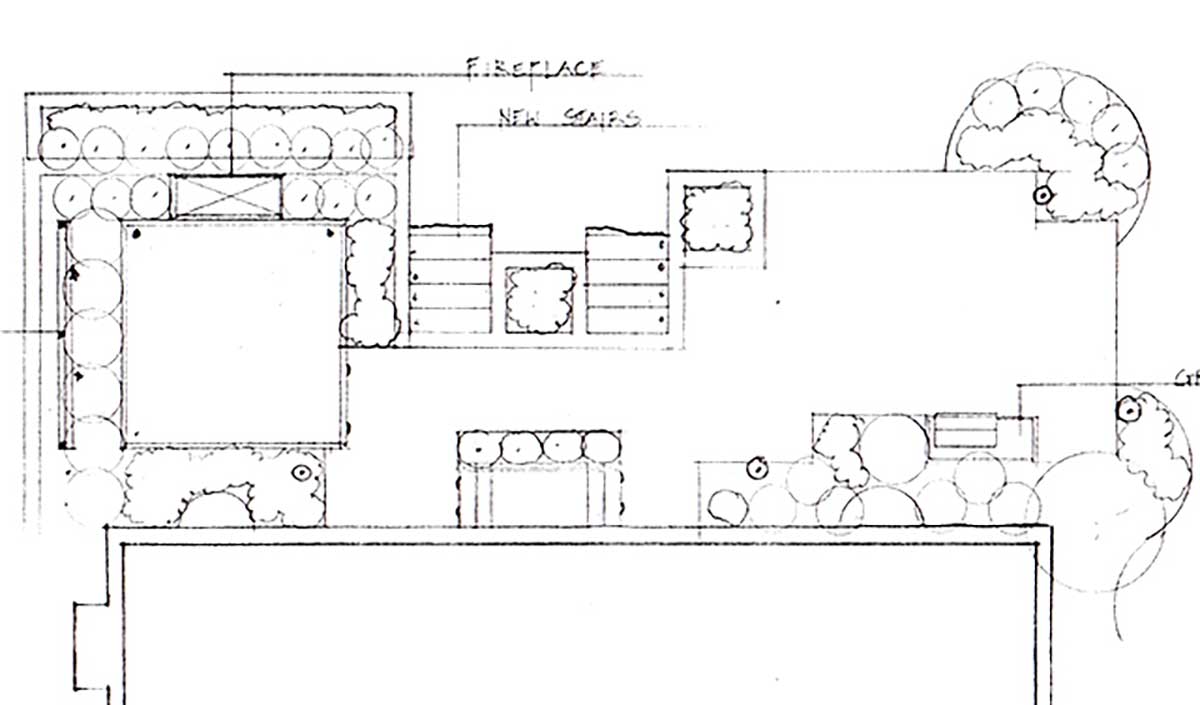 The project began a few months later, and I couldn't wait. It didn't take long for the guys to rip out the old pavers and build up the ground level. (To eliminate the need for a railing along the edge, we trucked in loads of dirt and gravel to raise the deck area. By doing so, we added and small "hill" that the kiddos can sled down in the winter. It actually worked out perfect last winter!) Let me tell you, these guys worked hard. Leveling out everything perfectly.

Before the new pavers from Belgard were installed, I made it known that I didn't want the standard pattern from the catalog (of course). I wanted something a bit more symmetrical. Something more modern. The catalog pattern was laid out as four different-sized squares that made one larger square. Meh. It's nice, but can we lay them in one straight line but with the four different sizes in one pattern. SURE! Yahtzee.

Next was the carpenter. The living area with the fireplace would live on was to be made of wood, but the fireplace itself was still a mystery design. We had no idea how it was going to work nor did we know how we were going to build it. I kept bringing it up, but no one really wanted to discuss it. Come on, guys! That is the most exciting part! Just the thought of it made my heart go pitter-patter. The stairs were built and cable railing was installed (I think that is one of the only items I was allowed to keep on my California modern patio.) At first, there was a bit of swearing during the install, but in the end, it was looking pretty epic.
Modern Patio Renovation

Then came the stain, we aren't really going to talk about this much, but let's just say that everything had to be ripped out and rebuilt the following year. Not awesome. But prior to that snafoo, this is where we left off and took a winter break.

Fast forward to this past spring. The carpenter came back and knocked out the deck and stairs (again) and built a small privacy wall. For HOA purposes we are calling it a decorative artistic feature. It's definitely NOT a fence. Just stating that for the record. NOT a fence. Circle it and mark it in red. I took the dimensions and scaled them down to render a sketch in Illustrator. This enabled me to art direct my exact opening dimensions to my lovely carpenter who was oh so pleased (not really), but since this was so specific, I think he actually appreciated it. And he truly was an awesome sport for dealing with me. I'm a complete pain in the tookus.

The man grilling area was up next. We had purchased the grill itself the summer before, and our contractor built a make-shift paver platform so we could still use it without building the cabinet. There just wasn't enough build time the previous summer since the carpenter was booked. We were just told, "Don't lean against it." Ha! Looking at the 2 living spaces, we had a lot of pavers on one side. It solidified our decision of building the cabinet out of wood. We needed to keep a perfect balance between the two mediums. Wood base with a … wait for it … FORM POURED POLISHED CONCRETE COUNTERTOP! HAPPY DANCE! I've been promised it shouldn't crack, so this winter will be the true test.

Time To Build The Outdoor Fireplace
Finally, it was time. Everyone's least favorite topic suddenly became top of mind, THE FIREPLACE! What on earth were we going to make this sucka out of? I still really wanted a concrete poured form and was determined to find and locate a product similar that was manufactured in sheets and could be fused together. Which I did indeed find! But after building the grill base and talking out the design with the carpenter, we decided on wood.
My contractor ended up finding the most perfect outdoor fireplace insert to wrap. Gas with glass stones. The opening was framed with MORE poured concrete and a piece of reclaimed cedar from an old barn as the hearth. Rock sheet framed the insert to protect the wood from the heat, while the gas would keep the flame temperature lower than wood burning.

Please excuse the landscaping and dead plants. I was really hoping to have the new furniture by now, but sadly, it's just not in the cards this year. Fingers are crossed for next year.
Right before the outdoor lighting install began, there was a knock on the door. Our contractor had spoken with the Belgard paver rep (the company who manufactured our pavers). He asked to send a few pictures of the space to corporate. If they were well received, we might just be included in their 2015 catalog. He wondered if we were interested. I almost hugged him, but after careful consideration decided to respect his personal space. I also remembered that I had just returned from the gym. A couple of days later, we were told a professional photographer would be coming to the house to photograph the deck…but we weren't told when.
We needed furniture immediately and the fireplace was still unfinished. The concrete form was being a jerk, and I was on The Boy to finish this detail like yesterday. It needed to be installed before the photographer arrived. After the second try and two different concretes (who knew that was a thing) and three trips to Home Depot, it was poured and cured. And about two hours later there was a knock at the door. It was the photographer. CRAP. The concrete form was resting on two sawhorses, outback, ON THE PATIO! IN FRONT OF THE BEAUTIFUL FIREPLACE! It couldn't be moved and the photographer, unfortunately, couldn't come back another day. Many cuss words were uttered. I probably made sailors blush. Unbeknownst to us, this dude had been flown in from LA by Belgard, and here he was, standing on my porch, camera, lights, and props in hand, ready to shoot my unfinished patio for one day and one day only.
We walked around back and he kinda cocked his head to the side, looked at The Boy, and said, "Mind if I move those sawhorses?" Flames shot out of my eyeballs and steam poured from my ears. In a voice from The Exorcist, I said, "Move the damn concrete form." But The Boy stood his ground. The form itself was on its last legs and it had taken a day to build AND it fit the frame perfectly. Those sawhorses were staying put. The photographer shrugged and said he'd work around it…meaning, your beautiful fireplace will not be in the 2015 catalog, my dear. Such is life.
So alas, here is one side of my patio looking beautiful. Missing is the gorgeous teak table I scored from Crate & Barrel as a floor sample and the crazy amazing outdoor Herman Miller type shell chairs I still need to buy. Because let's face it, do I really need to buy brand new chairs just to sit in the snow for 6 months? Probably not. I'm just going to make a promise to you right now, next summer when everything is set up, I'm photographing it and posting its awesomeness. Don't get me wrong, I'm so not complaining, I absolutely love the space and wouldn't trade it for the world.

More Home Improvement and Renovation Projects
Before and After Affordable Patio Makeover
Patio and Garden Decor – What's Trending Outside