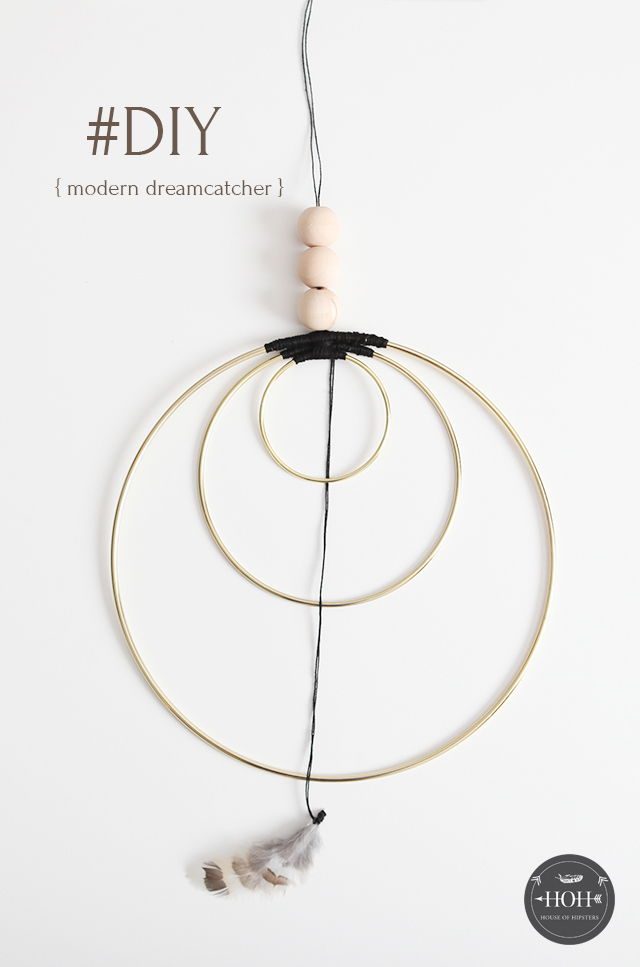 I've always loved dreamcatchers, but the style itself doesn't exactly fit my decor. It's more funky bohemian which I love that style, but my house is more mid-century modern (trapped inside a cookie cutter house in the land of suburbia…but that is another story). This DIY by Grace caught my eye last summer and has always stuck in my head. IT's so beautiful and I love all the colors she incorporated. I wanteda dreamcatcher for myself, but I wanted one with a twist. Something a bit more modern, but I couldn't quite put my finger on it. I started to search Etsy. Now if you've read my DIY Blog Tour, you already know that this is the jump off to my DIY creative process. I look for some rando item for the house, Google it, get sticker shock and think, "Hmmm, can I make that?" and then I share it with you guys if it's not an epic fail. Because that's how I roll.
MORE AFTER THE JUMP
So my Google and Etsy searches landed me on these images for inspiration. Found here     1   ///   2   ///   3   ///    4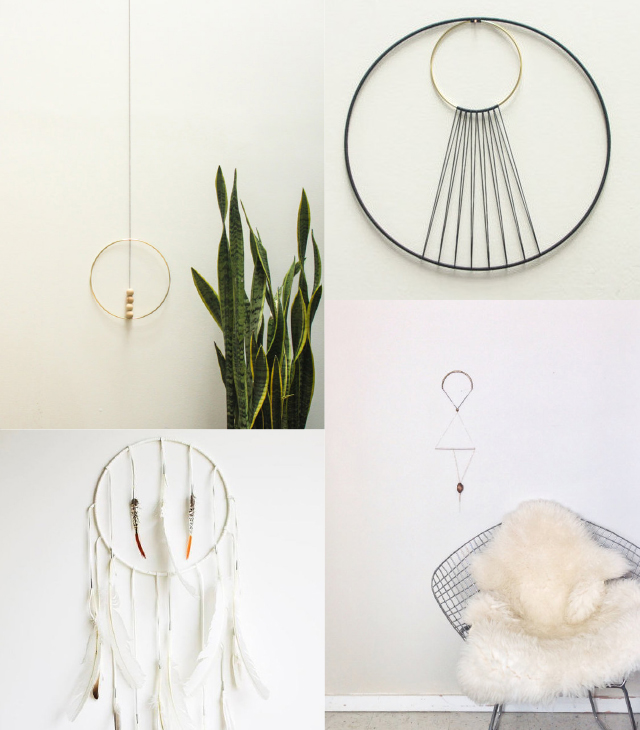 Cool huh? Yes, but I'm on a budget. I needed to stay under $20. And here is where the DIY inspiration always kicks in. I began my search for brass hoops. Oddly, that turned out to be the hardest part. Blick's website told me they stocked it, but after a long search through the store, I could only find them online. I needed these now. I was off to Michaels, but I could only find silver. I bought them anyway and added a can of gold metallic spray paint to my cart.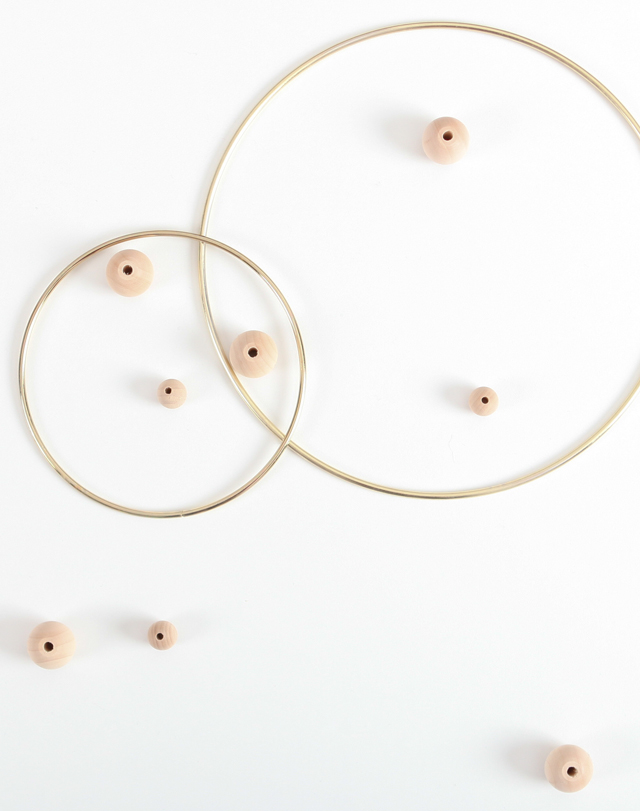 I got home and hemmed and hawed about spray painting the hoops. Maybe it was because it was windy, maybe it was because I just had a manicure and I'm snobby like that…ya, it was the manicure…I'm just be honest here. So I did another search and foundbrass hoops at Factory Direct Craft. As long as I was ordering supplies and paying for shipping, I threw in a few wooden beads and black string. Yep, that's really all you need for this project…well, a couple more items, but you might already have them on hand.
WHAT YOU'RE GOING TO NEED (for the image above)
1 – 12″ Brass Hoop
1 – 6″ Brass Hoop
1 – 3″ Brass Hoop
Black Crochet Thread
3 – 3/4″ Diameter Wooden Beads
1 – 1/4″ Diameter Wooden Bead
Tacky Adhesive Dots or a glue gun will work
2 Small Feathers
INSTRUCTIONS
Take each hoop and place the adhesive dots across the top. It doesn't have to be perfect. Just have the smaller hoop have a shorter length then the next biggest hoop. See above.
Cut a piece of string longer than you think you'll need.
Wrap the string around the entire length of tacky dots. Wrap as tight/close as possible. I laid the string across the dots and wrap over the top of it. I never knotted it.
Once you've made one pass across, go back over if necessary to fill in any gaps. making your way back to the middle and knot off the string. Do not cut.
Do the same thing to the other 2 brass hoops.
Place the three hoops together take the string from the 2 smaller hoops and wrap around all three securing them vertically. Tie the string off, but don't cut.
Now do the same thing with the string from the largest hoop. Secure, knot and cut.
Cut a new piece of string (longer then you think you'll need) and secure horizontally between the two largest hoops. Wrapping around the vertical string you just tied. Tie off the string, but don't cut.
At this point you should have 4 pieces of string.
Take 2 pieces of string and secure a couple feathers.
Take the 2 remaining pieces of string and add three 3/4″ diameter wooden beads.
Now grab your 1/4″ wooden bead and secure in a knot like this.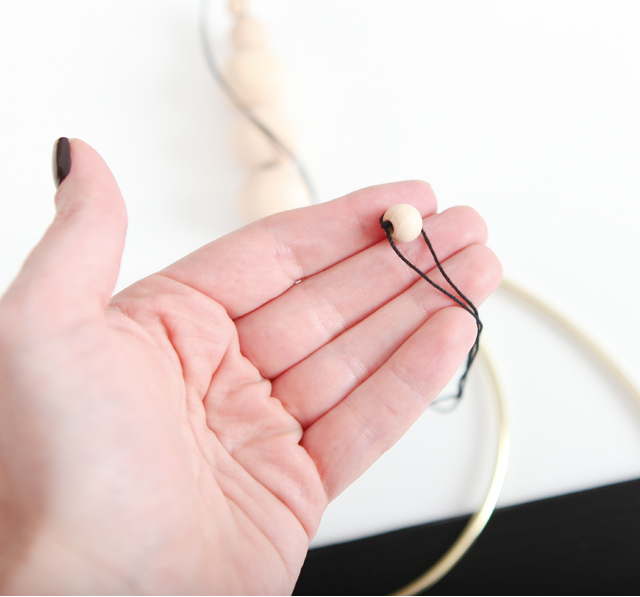 That's it! Now go hang that puppy on a wall and pretty up your room! Easy peasy, am I right? And can you believe for under $20?
I then got really ambitious and made another variation. Grabbing a 12″ hoop and a 6″ hoop, I wrapped the tops same as the above. But I also wrapped the middle area of the 12″ hoop creating a large band across the center.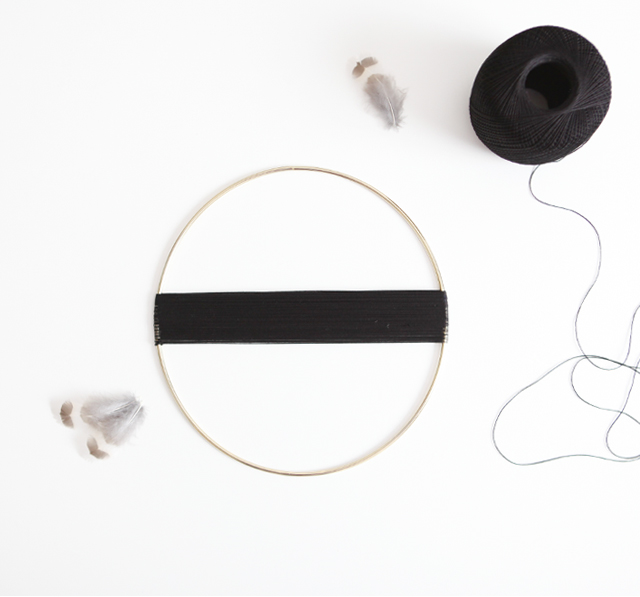 I secured the hoops the same as above and added beads and secured the end with a small bead (pictured above). I think it turned out pretty cool! Sadly, after I ordered my supplies, Foxtail and Moss nominated me for the DIY Blog Tour (well, that is not the sad part..that is the really cool part). But after drooling over their entire site, I was excited yet so sad to discover this lovely lady who sells something pretty much exactly the same dreamcatcher. So bummer on that, but  if you don't want to make your own, go buy it from her. She could have saved me a lot of time and effort if I would have found her first.