Favorite Things Gift Ideas 2023: Party Gifts Under $25
Last Updated on November 28, 2023
Ever attended a Favorite Things party? The concept is similar to a white elephant gift exchange or a Dirty Santa party, but guests only bring their affordable favorite things as gifts to share. Today, I'm bringing you an updated 2023 gift guide filled with unique favorite things gift ideas under $25 that are not only my favorite things, but I also asked a few friends for their favorite items.
Even my son's friend, Kyle, joined in the fun —scroll to the bottom to meet his "must-have favorite thing," Kevin. Oh, and one more thing: if you somehow miraculously scroll through this list and nothing catches your eye, pop on over to the 2022 Favorite Things Gift Guide for more fun ideas. Happy shopping!
45 Favorite Things Gift Ideas Under $25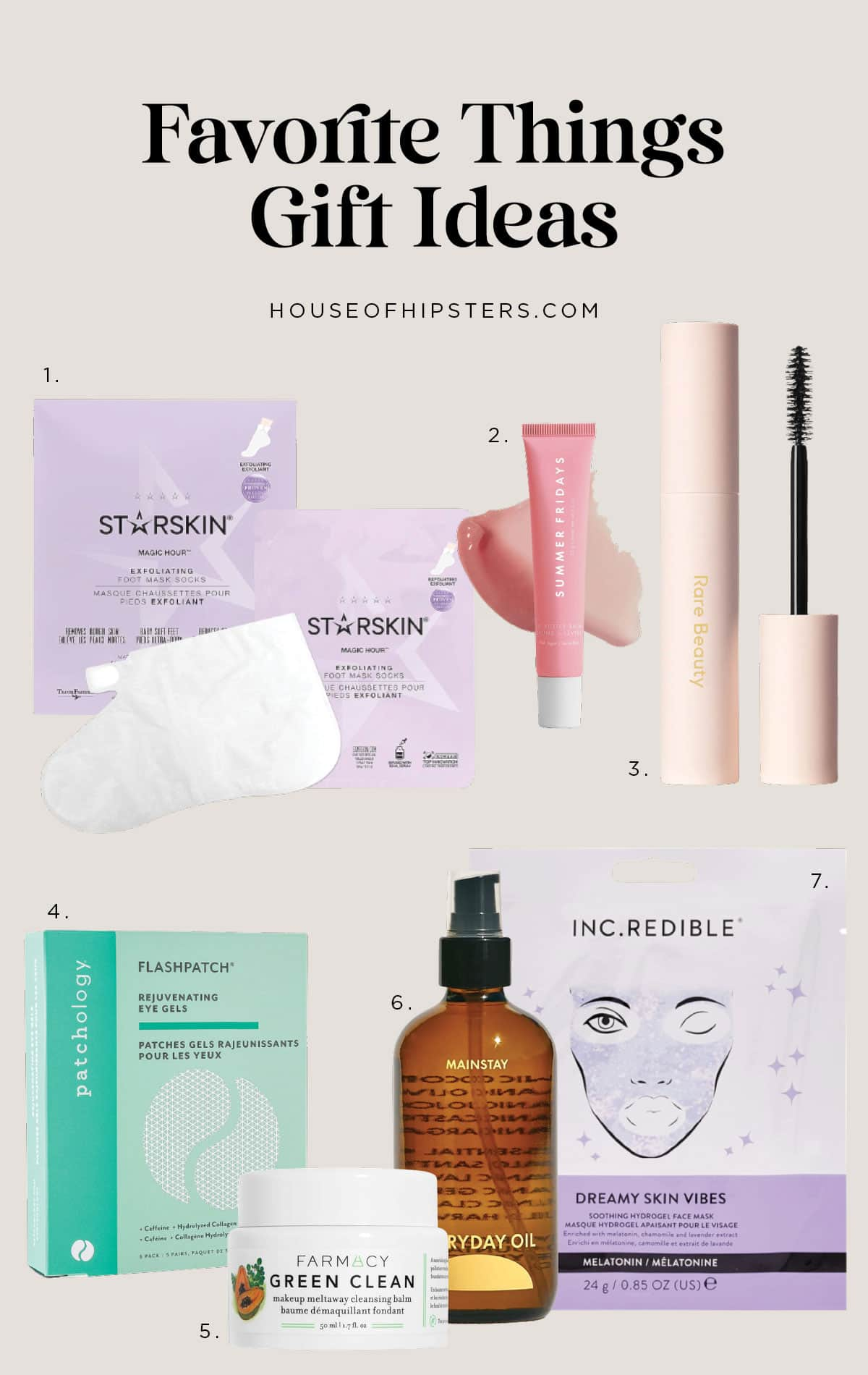 RELATED: Check out my full AM Skincare Routine For Women Over 40.
Favorite Things Gift Ideas — Household Items
Here are a few of my hands-down favorite things for the home—we're talking ride-or-die household items. I have purchased all of these items and tested them in my home.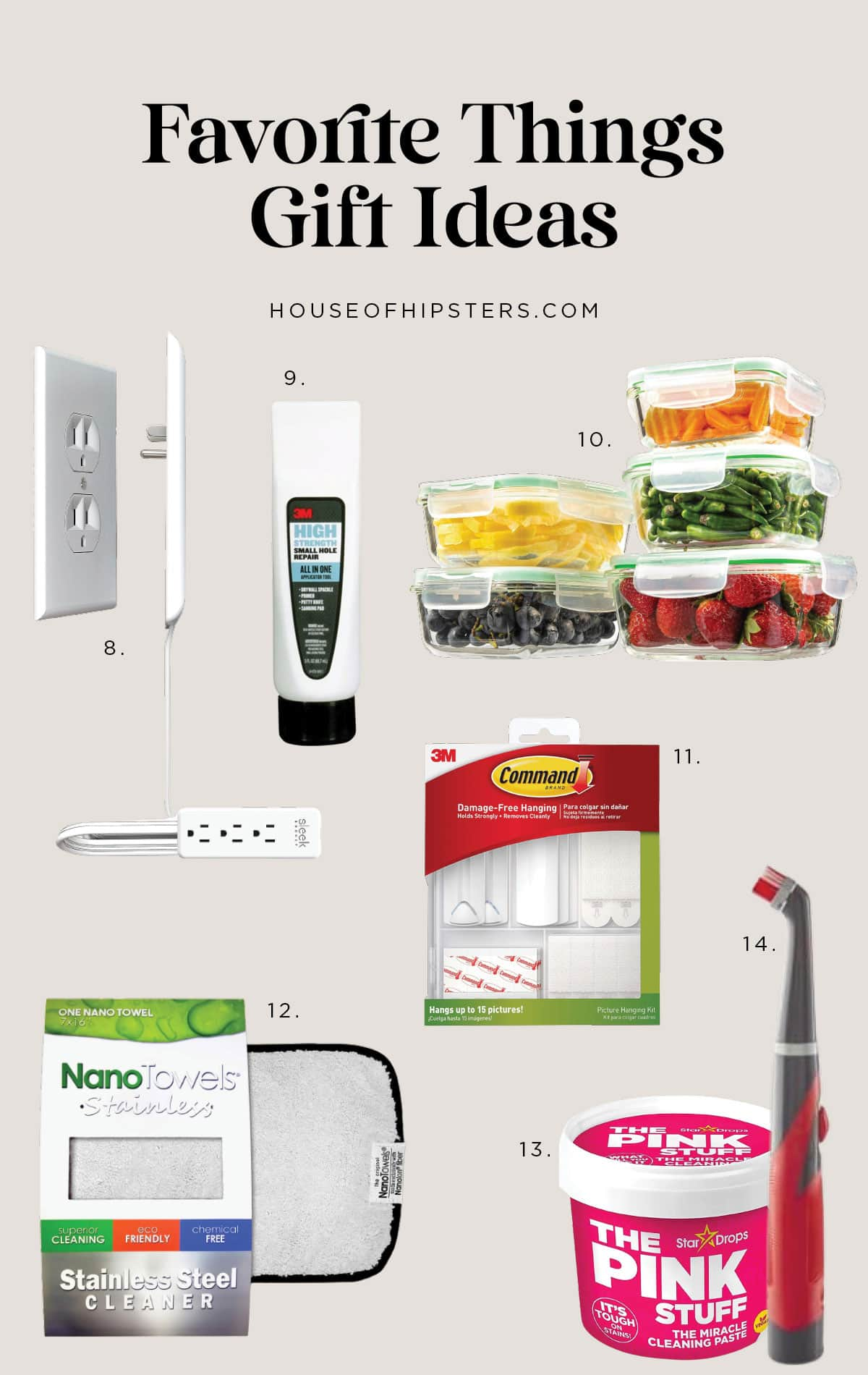 8. Sleek Socket Ultra Slim Outlet Cover With Extention Cord – This outlet cover was originally a great way to baby-proof your home, but I love using these behind heavy cabinets that are pushed up against the wall. It's seriously genius!
9. Small Hole Repair All-In-One Spackle Kit – The Boy hasn't caught onto this yet, but I saw it on TikTok and was immediately influenced. Hold the tube against the hole to fill it, scrape it with the end of the tube, and sand with the top. It's no mess and a great price point at under $10.
10. Glass Food Containers – These glass food containers come in a 5-pack and have airtight snap-locking lids to keep my food fresh. They are BPA-free, plus they are oven, microwave, dishwasher-safe, and under $20. I bought these during the last Amazon Prime Day Sale and absolutely love them.
11. Command Picture Hanging Kit – I use these for damage-free decorating, and yes, I have tested them out, and so far, none of my artwork has fallen off the walls, so yes, they do stick. Be sure to get the kit; otherwise, you're only getting the refills…the packaging is a bit confusing. This kit has sawtooth hangers, wire-back hangers, and hanging strips and is under $20.
12. NanoTowel Stainless Steel Cleaner – I have no idea what type of sorcery is inside this reusable towel, but it magically cleans your stainless steel appliances chemical-free! Yup, all you need is water, and your stainless looks as good as new. The best part is that it is under $20.
13. The Pink Stuff – Combining this miracle cleaner with the Rubbermaid Reveal Scrubber (listed below) would be a great idea because, together, they are under the $25 budget. This viral multi-purpose cleaner works on almost any surface and will remove almost anything, even rust, ink, and permanent marker.
14. Rubbermaid Reveal Cordless Power Scrubber – I love this thing so much that I bought two—one for upstairs and another for downstairs. This hardworking scrubber gets into all the nooks and crannies, speeding up the cleaning process. More often than not, I use mine with The Pink Stuff—it's great on tile, grout, and getting behind the faucet.
RELATED: With Amazon's Deal Days right around the corner, don't miss my round-up of Amazon Must Haves! These are my tried and true favorites that I cannot live without.
Unique Favorite Things Gift Ideas — HOH Faves

15. Shut The Front Door – This book is technically a smidge outside the $25 budget, coming in at $35, but here me out. My friend Chelsey wrote it and featured MY HOME in the book! EEEK! I'm so excited! It's a brand-spankin' new release, hot off the presses interior design book, so you can be almost positive, no one owns it. If you want to stay within the budget, check out her debut book, Rental Style.
16. Gold Tube Hoop Earrings – If you read my viral Fall Fashion Trends 2023 post, you already know that gold hoops are trending, but these beauties are only $20. Under budget and stylin'!
17. Oribe Dry Texturizing Spray – This is another of my favorites. To stay under $25, purchase the travel size (which is a great size for your purse). This spray gives me perfect hold without feeling sticky or hard, and it doesn't hurt that it smells fabulous!
18. Voluspa Baltic Amber Candle – This is my go-to gift-giving idea for any occasion. I know a candle is not the most unique gift, but this scent is heaven in a jar. If you want your home to smell like a bougie hotel, this is the ticket. To stay under $25, purchase the smaller size.
19. OSEA Vagus Nerve Pillow Spray – When I published last year's Favorite Things Gift Ideas, this was the overall best seller, and I think it's because it is one of the most unique gifts on the list. This bedtime mist helps you settle into a relaxed, meditative state and helps regulate stress. The scent is barely there, so it's not overpowering, but I do spray this generously.
20. Glowscreen SPF 40 from Supergoop! – I wear this sunscreen when I know I'll be outside all day long, and it keeps my skin hydrated and looking dewy. It's lightly tinted but doesn't stain your clothes and leaves a light shimmer on my skin, but not in a let's go clubbing sort of way.
21. Henry Rose "Fresh" Discovery Kit – If we've met in person and you wondered what perfume I was wearing, it was Henry Rose Fog, my go-to scent. I'm all about perfume discovery sets because it's a great way to try something different without purchasing an entire bottle. The best part of this favorite thing gift is that it comes with a $20 off code to apply towards your first full-size fragrance—I'm not saying keep it for yourself, but I won't tell.
RELATED: Don't miss this ultimate guide to the Amazon Prime Big Deal Days full of over 39 items you need to know.
More Favorite Things Party Gift Ideas

22. Herbivore Calm Soaking Salt – Himalayan pink salt to infuse your bath water with vitamins and minerals. This limited edition mini is the perfect size for gifting and is under $25.
23. Smith's Rosebud Salve Lip Balm – This is one of those classics your great-grandmother may have used, and my old standby lip balm that I always pull out during the cold Chicago winters. Best part is this comes in under $10.
24. Maybelline Baby Lips – This is another favorite thing gift idea from Angie. She said this is cheaper at Walgreens and Walmart than Amazon, so just be aware. It should be in the $5 range.
25. Summer Fridays Body Lotion – Speaking of Angie, remember how she clued us in on the "pure yum" lip balm? I had to include this non-greasy, deep moisturizer from the same company. This is $3 over budget, but the rave reviews made me keep it in this round-up. It smells divine and doesn't leave your skin feeling sticky. It's one of my new favorite things.
26. Nemat Amber Oil Roll On – Srsly, Angie is popping off in this gift guide! She wore this while we sat outside one evening next to a pond in Wisconsin—mosquito central. While I was dripping in DEET, she was smelling amazing. You can also use it as a perfume.
27. Bling Brite Jewelry Cleaning Pen – This is an easy and convenient way to make your ring look shiny and new—which I love because I rarely take my wedding ring off, so it gets grimy and gross. I also use it on vintage jewelry.
28. She's Birdie Personal Alarm – this is not your ordinary flashlight keychain, no ma'am. If you feel threatened, activate the siren and flashing strobe light to create a diversion from a would-be attacker. It's the perfect gift for any age, from little girls to elderly family members.
RELATED: With the holiday season right around the corner, all of my favorite items listed below make great gift ideas for her and for the home decor lover, so be sure to bookmark or save this post to Pinterest.
More Beauty Favorite Things Gift Ideas

29. KISS Acrylic French Press-On Nails – I really need to write a full review on these because I also love the sticker nails, but certain colors fall off quickly. These are short press-on nails with glue, and it's legit a professional manicure in a box for under $10. They're so easy to put on that even my 11-year-old daughter can pop them on.
30. Cocofloss Confetti Cake – My friend Stephanie, possibly the best dentist in Barrington, IL, said this was hands down her favorite thing, and this particular flavor is a limited edition. It's infused with coconut oil, vegan wax, scents of vanilla, and happiness.
31. Lothantique Hand Soap – This is from my friend Sarah's shop, Tuesday Made; since she has epic style, I trust her curated top picks. This is the Linen scent, and it has a clean, fresh, powdery fragrance and is perfect for the guest bathroom.
32. Archipelago Botanicals Soy Milk Hand Crème – My friend Lauren says this is the hand lotion for you if you want velvet-soft hands without the grease. Plus, it smells amazing (and nothing like soy).
33. Olaplex No. 7 Bonding Oil – This lightweight hair oil doesn't make my thin, fine hair look greasy and gives me heat protection. Yes, this is $5 over budget, but I use this ride-or-die beauty product daily. I couldn't help myself. Sorry, not sorry.
34. Calm The Chaos Cards – You've probably seen these cards in other gift guides I've curated because I use mine every morning. They're a great way to set an intention each day and bring a bit of self-care into your life.
35. Thrive Causemetics Liquid Lash Extensions Mascara – This favorite thing comes from my friend Meagan, who swears this is THE BEST mascara. It has over 35,000 5-star reviews, so I'm wholeheartedly trusting her. This stuff creates the look of lash extensions and won't clump or flake; plus, it is water-resistant. I'm 100% on board.
36. Derma-E Essentials Microdermabrasion Scrub – Angie sent this to me a couple of weeks ago and told me I HAD to buy it. It's a dermatologist-recommended scrub that buffs away fine lines, wrinkles, and acne scars. It contains Vitamin E, Sweet Almond Oil, and Grape Seed Oil. Yup, that's a winner, winner, chicken dinner for me!
Favorite Things Gift Ideas For Entertaining

37. Let's Get Fizzical: Cocktail Recipes with Prosecco, Champagne, and Other Sparkling Wines – The Boy gave this book to me for Christmas last year, and it's chocked full of inspiring cocktail recipes made with my drink of choice, bubbles. You'll also learn shaking techniques, presentation ideas, and more.
38. Champagne Stopper – I like to combine this with the Fizzical book because the stoppers are under $10, and the book is under $15.
39. Glass Cocktail Shaker – this bougie cocktail shaker comes in right on the nuts at $25 bucks and makes for the perfect addition to any bar cart. I first spied it on TikTok and was immediately influenced.
40. 5-Pack Quick Dry Gel Pens – Angie again for the win! These gel pens come in a gorgeous color palette and quick drying, so they don't smudge.
41. Scrub Daddy Color Sponge – My friend Donna says, "Girl, I love my Scrub Daddy sponges!" Cleaning up is a breeze after the party because these sponges won't scratch and are odor-resistant. (Donna's son Kyle suggested gift idea #45 below.)
42. John Derian Vintage Designed Playing Cards – I'm originally from Wisconsin and was brought up playing cards with my family, so when someone asks to play Euchre, I'm all in, especially when the playing cards are as pretty as these!
43. Hero Clip – My friend Colleen suggested this 3-in-1 clip and hook and said it also makes a great gift for him. She camps and travels a lot and says this is THE carabiner to own because it can hang just about anything, anywhere. She also uses it to hang her purse off a table or chair…ummm that's brilliant!
44. Amber Reading Light – Lauren says you need this blue light blocker if you read at night. BTDubs, it's also the only reading light that doesn't disrupt her husband's sleep…ya, this night owl needs to invest in one! It has three variable brightness settings and clips right onto your device. (FYI, Lauren's son gave Kyle gift #45 below.)
My Son's Friend Kyle Has An Epic Favorite Thing
Without further adieu, I present to you Kevin. Kyle says this blowup zebra is the perfect gift for anyone attending a favorite things party and also claims the world would be a better place if we all had a Kevin in our lives. Give it up to Kyle for suggesting one of the best favorite things gift ideas! Kevin was given to Kyle by Lauren's son…also one of Cooper's friends. Gotta love 13-year-old boys!

Kyle loves Kevin so much that he made his grandmother sign a waiver when she borrowed him. Kevin was secured to the front seat and brought some serious joy to the world. Now, that is what I call a favorite item.
FAQs On How To Throw A Favorite Things Party
What Exactly Is A Favorite Things Party?
If you're unfamiliar with favorite things parties, the concept is simple. Guests are invited to bring their favorite thing; usually, there's a price limit under $15 – $25. Sometimes, the host asks their group of friends to bring a certain number of gifts of the same favorite things but lowers the price limit to under $10 – this way, guests go home with multiple favorite things gifts, and the party stays affordable.
How Does A Favorite Things Party Work?
When each guest arrives, they will write their name on a slip of paper and place them in bowls — if they bring 3 gift bags, they write their name on 3 slips of paper and have 3 separate bowls. The number of slips of paper and bowls should be equal to the number of favorite things gifts the guest is required to bring. Once it's gift-giving time, each guest will pull a name out of the bowl — if they pull the same name or their own name, replace and pull a new name.
As the gifts are passed out, your gift giver will explain why the item is their favorite thing—like show and tell. This is a great way to keep the conversation going in a large group and get party guests to mingle. Again, it's very similar to a white elephant party, but it's literally filled with the best gifts ever!
That wraps up my favorite things gift ideas under $25 gift guide! I hope it helped you find the perfect present to give or maybe inspired you to host your own favorite things party! But before I bid you adieu, I must state for the record, if you're going to host a favorite things party, will you please invite me? For more holiday gift ideas, check out my best board games gift guide.
Like This Post? Pin it for later and share it with others!




Discover More Fun Ideas On House Of Hipsters
If you're looking for an Anthropologie mirror dupe that won't break the bank, this is the round-up for you!
I've got the best 2023 fashion trends to refresh your closet for the season. You don't want to miss this one!
The olive tree is still trending in the interior design world, and I've rounded up the best faux olive tree to fit your budget!
Don't get frustrated with your fireplace mantel decor. These simple steps will help guide you through the process.
The arched cabinet is trending hard in modern home furnishings. Check out my top 22 picks here.
Looking for cool things to buy on Amazon? Here are my ride or die must haves that I can't live without.