Holiday Gift Guide For Him
Last Updated on September 13, 2023
T-minus 10 days until Christmas, and the most challenging person to buy a gift for is weighing heavily on your mind. Don't stress! The Holiday Gift Guide for Him is here to save your bacon. This post will help you find the best holiday gift ideas for your husband, boyfriend, or that special guy in your life. Also, be sure to check out the best Holiday Gift Guide for Her, the Holiday Guide for the Self Care Lover, the Holiday Gift Guide for the Fitness Guru, and the list of my Favorite Interior Design Books.
Unique Gift-Giving Ideas For Him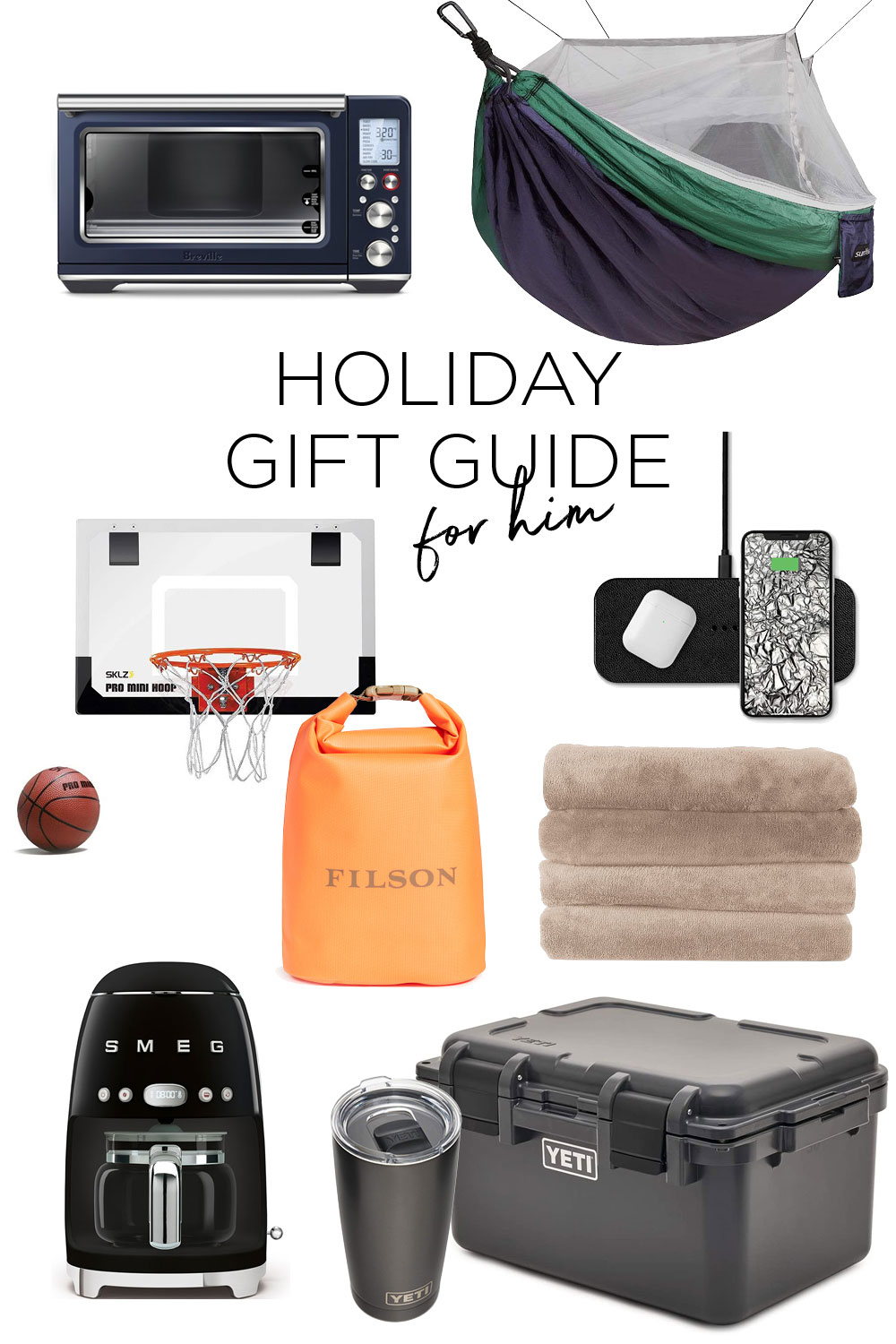 BREVILLE SMART OVEN AIR FRYER – Air fryers are all the rage right now. Your special guy can whip up fries, wings, bacon…even chocolate chip cookies. Instead of using oil to deep fry, this genius kitchen gadget makes food crispy with a fraction of the calories! The perfect gift for the guy who likes to cook.
CAMPING HAMMOCK WITH MOSQUITO NETTING – If your boy loves the great outdoors, this camping hammock is sure to please.
INDOOR MINI BASKETBALL HOOP – Pro Tip – If you buy this, get a few extra balls and check out the glow-in-the-dark option.
CATCH:2 MULTI-DEVICE WIRELESS CHARGER BY COURANT – Okay, let's be real. This one is on my list as well. Not only does it come in black and charcoal, but it also comes in blush, bone, and saddle leather! I'm obsessed with all of their phone accessories. Check out this sleek charger with the accessory tray that you can monogram.
FILSON DRYBAG – The Boy might be a rugged hunter, but he loves his hoity-toity Filson gear. This dry bag is a winner. Plus it's orange for deer season.
HEATED THROW BLANKETS – A high school classmate posted that she bought heated throws so she can be outside in the cold mid-west weather for a driveway drink with friends and yet stay toasty warm. If your boy smokes cigars or likes to partake in a whiskey with friends, these are a no brainer. Just don't forget the outdoor extension cord.
SMEG COFFEE MAKER – The best holiday gift for that coffee connoisseur who loves the vintage look and feel. If you really want to treat your guy right, pick him up a bag of hand-roasted coffee beans.
YETI TUMBLER – Keep that coffee warm all day long with this stainless steel, double-wall insulated tumbler. It also works the reverse way and keeps cold beverages cold.
YETI COOLER – Behold the best cooler on the planet. Period.
RELATED: Check out all the unique gift guides on the blog!
More Unique Holiday Gift Ideas For Him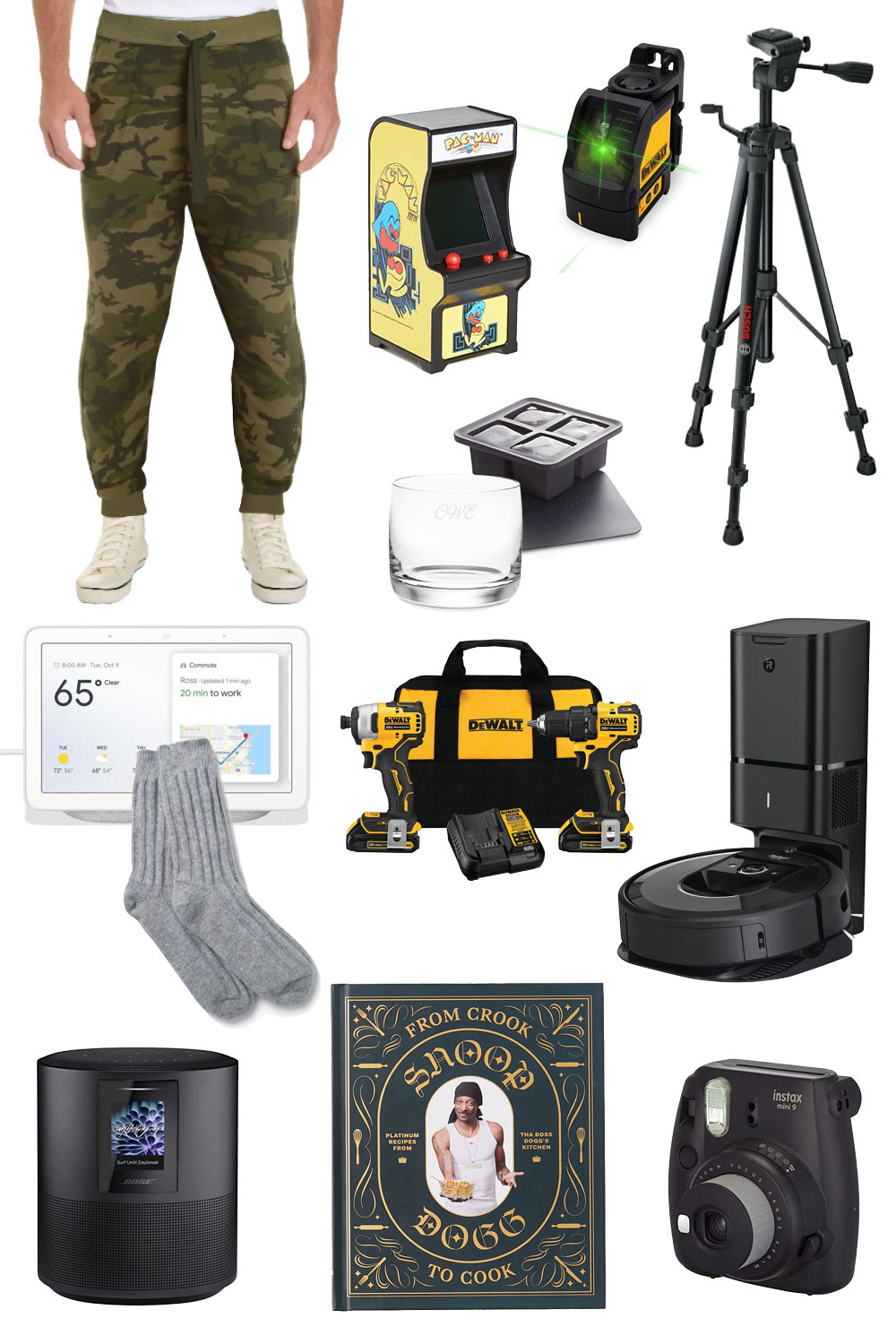 COMFY CAMO SWEATPANTS – When you work from home, you might as well be comfy on the bottom half.
MINI PAC-MAN GAME – Your boy can entertain himself on an off-camera Zoom sesh.
LASER LEVEL AND TRIPOD – This setup will get your boy to hang your gallery walls straight.
MONOGRAMMED WHISKEY GLASSES AND LARGE CUBE ICE – All he needs is the heated throws!
GOOGLE NEST HUB – Both The Boy and I have a hub sitting on our desks. It syncs with everything, keeps us both on schedule, plays music, controls our smart home, and even makes Zoom calls.
CASHMERE SOCKS – Need I say more?
CORDLESS DRILL – Ya, this is probably more for him than me, but that's okay.
ROOMBA – This little robot vacuum is the best invention on the planet. We love ours, but we really wish it had the self-emptying bin feature.
BOSE HOME SPEAKER – We got one of these for the front room last year and love it! We control it via the app on our phones and the sound is fantastic!
FROM COOK TO CROOK – Thank you Martha Stewart! Snoop Doggy Dogg has a cookbook, and it's more than fantastic.
INSTAX MINI POLAROID – These little instant cameras are so much fun. Don't forget to stock up on extra film. Oh, and if you just want to print polaroids from your phone pics, this handy dandy little printer is all you need!
Phew! That's all she wrote for the ultimate holiday gift guide for him roundup. Did I forget anything? Got some secret Santa gift? Share it in the comments!



Be Sure To Peek At These Unique Gift Guides
I've got all your gift-buying needs covered with the Ultimate Holiday Gift Guide for him, her, and everyone in between.
Are you shopping for someone bougie AF? Check out the Luxury Gift Guide if you're looking to spend some dough on a really special someone.
If he's difficult to buy for, shop the Holiday Gift Guide For Him for unique gift giving ideas for him.
If that special someone is hard to buy for, check out these unique Valentine's Day gift ideas for her.
If you're looking for Favorite Things party gift ideas, I've got a full round-up of goodies under $25.
A carefully curated gift guide full of unique gifts for her! You don't want to miss it.
A new fashion line is shaking up Chicago. Check out the latest collection of bags by Neon Fringey.
If skinny jeans are out, what jeans are trending? Here is the latest in denim.
I found the best pajamas that are comfy, colorful, and come in bold patterns.
Here is some carefully curated summer to fall outfits that are definitely for the trendy mom style without breaking the bank.
Holiday Gift Guide For The Pink Lover
Holiday Gift Guide – Self Care Ideas
Holiday Decorating Ideas For Your Home