Trending Heart Sweater For Fall 2023
Last Updated on September 24, 2023
One of my favorite clothing shops, FELT Chicago, popped up while scrolling through Instagram and the most adorable heart sweater. When I say it kickstarted my heart, OMG. Last weekend I walked into Evereve and noticed a striped shirt with a heart. Coincidence? I think not. Listen up, ladies; heart sweaters are no longer for little kids. They're trending for fall! Here are my favorites to add to your closet — BTDubs, I can't heart-ly wait.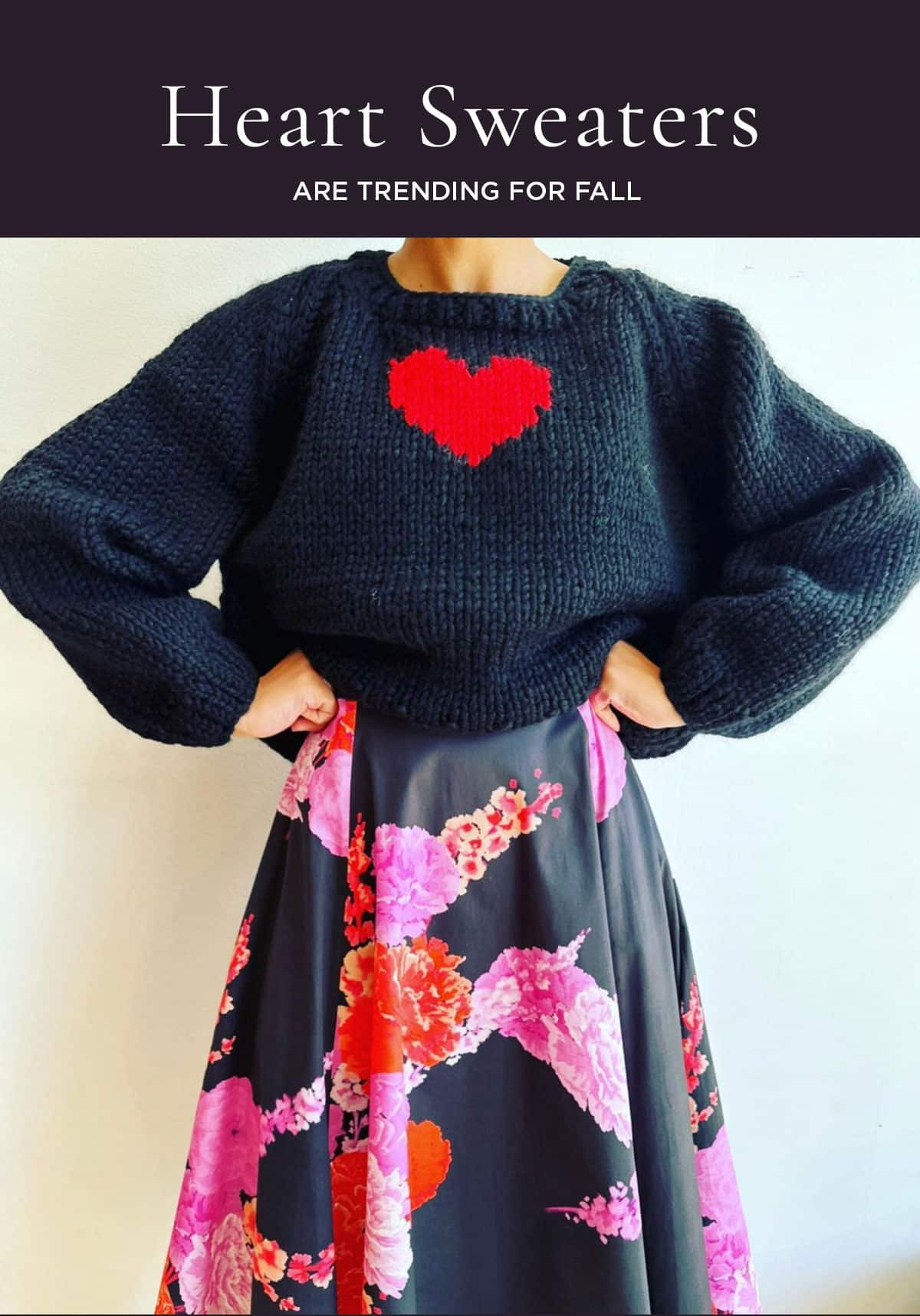 Heart Sweater Weather Is Here
Believe me when I say the irony is not lost on me when I decided to write about sweater weather, and it's legit 100º outside today. But when you live in Chicago, you know one day it can be hotter than the surface of the sun, and the next it can snow. So keep scrolling and check out these heart print sweaters.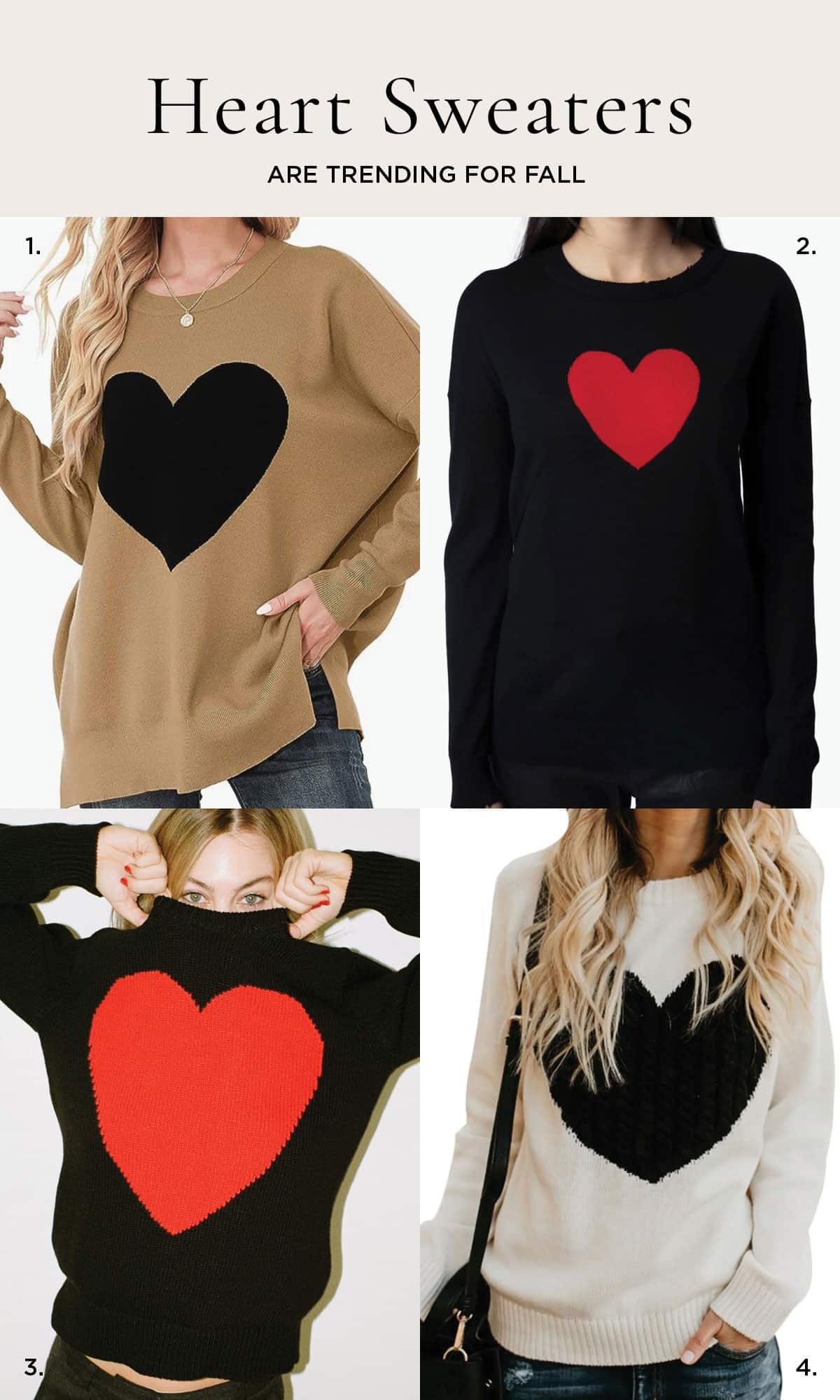 RELATED: Another fashion trend you don't want to miss is the denim maxi skirt – and the midi and mini too, but the maxi is perfect for cooler temps.
Stripes And Hearts On Sweaters Together!

Twin With Your BFF With This Heart Sweater
OMG! Your little furry heart thief might get placed under cardiac arrest when wearing his little heart sweater. Shop this Dog Heart Sweater.

Playing Heart To Get
I love these heart-covered cardigans with their loose fit and cozy feel. Side note, can you tell I'm having fun with all these heart puns?

Black And White Heart Cardigan – Marni is coming in hot with this adorable cardigan. When I see high-end design brands debuting heart sweaters for FW23, I know this trend is not just for Valentine's Day. This is probably the most expensive heart sweater coming in at $1450. These cardigans are the closest I found to a v-neck sweater.
Hearts Cardigan Sweater in Tan – this cardigan is the perfect addition to leveling up a basic tee and jeans outfit. It's available in navy and pink (next) and yellow and white.
Hearts Cardigan Sweater – same sweater as #2 but in blue color. I heart it so much.
Cropped Cashmere Hearts Sweater – leave it to J Crew to make one of the cutest heart sweaters. I'm obsessed with the navy and fuchsia color combo.
RELATED: Don't miss this Valentine's Day gift guide full of unique items for that special someone.
The Queen Of Heart Sweaters

RELATED: Did you know there is a double heart free printable that you can download? Yup, click the link!
Doubling Down On All Things Hearts Trending For Fall
Remember when I said when I know hearts will be trending this fall when I see high-end designers coming out with the same design? Here's more evidence in case you didn't believe me.
Carolina Herrera Heart-Print Gown – if you have a holiday event this winter and have the means, grab this dress.

Saint Laurent's Graphic Heart White Cotton T-Shirt – Rock this with a black leather jack and charcoal jeans.

Saint Laurent Bianca Heart Mules – these mules wrapped in a heart print are named after supermodel Bianca Jagger, one of Yves Saint Laurent's muses in the 1970s.

What do you think of this hearts trend? Have you noticed it out in the wild like I did? Do you love it?



Find More On House Of Hipsters
It's that time of year! Find the best favorite things gift ideas for your next party. All items are under $25!
Wait, are skinny jeans out? Well, according to Gen Z and TikTok, yep, they are. Here are some new styles to spruce up your closet.
The easiest way to add a bit of magic to your room decor is with a disco ball. Yup! You read that right. Here are a few of my favorite disco ball decor ideas, and be sure to hop on over to the round-up of the best faux olive trees. It's a banger and recently updated!
I've got some ingenious dorm room decor ideas that will keep you organized and stylish, and don't miss this round-up of cute backpacks that will fit a laptop!
Don't miss my favorite Amazon finds where I break down the best items I own and love.
Check out the fireplace remodel that recently went viral!