Carla Rockmore's Home, Solange's Glassware, and Sale Alerts
Last Updated on September 18, 2023
I don't know about you, but it has already been a week, and it's only Tuesday. The kids are finally back in school, and summer is dunzo, although someone needs to tell Mother Nature because last week was hotter than the surface of the sun here in Chicago. I'm not quite ready for fall, but I am here for 73° temperatures. Let's get into another Beautiful Distractions, shall we? Here's what caught my eye.
What's New In The Interior Design World
Solange Knowles dropped a glassware line called Saint Heron that sold out within minutes, but lucky for you, a second edition just dropped. Impressively, the glasses do not cost a million dollars. In fact, they start at $37.
Warning. The site itself is not intuitive, but here's the cheat sheet. There are only four different types of glasses for sale. Click on an individual glass to shop it or click one of the top 4 links: PRODUCT NO. 001-004.
Do you follow Carla Rockmore? I found this fashion icon on TikTok when she went viral and fell in love with her videos. She's been called the real-life Carrie Bradshaw, and if you look in her closet, you'll immediately understand why. Her style is off the hook. Anyhoo, her home was recently featured in House Beautiful, and OMG, it's beyond gorgeous! Does this surprise me? Nope, not at all. Here's a sneaky peek at the kitchen. Click over to see the home tour and the velvet sofa that is so beautiful it almost made me pass out.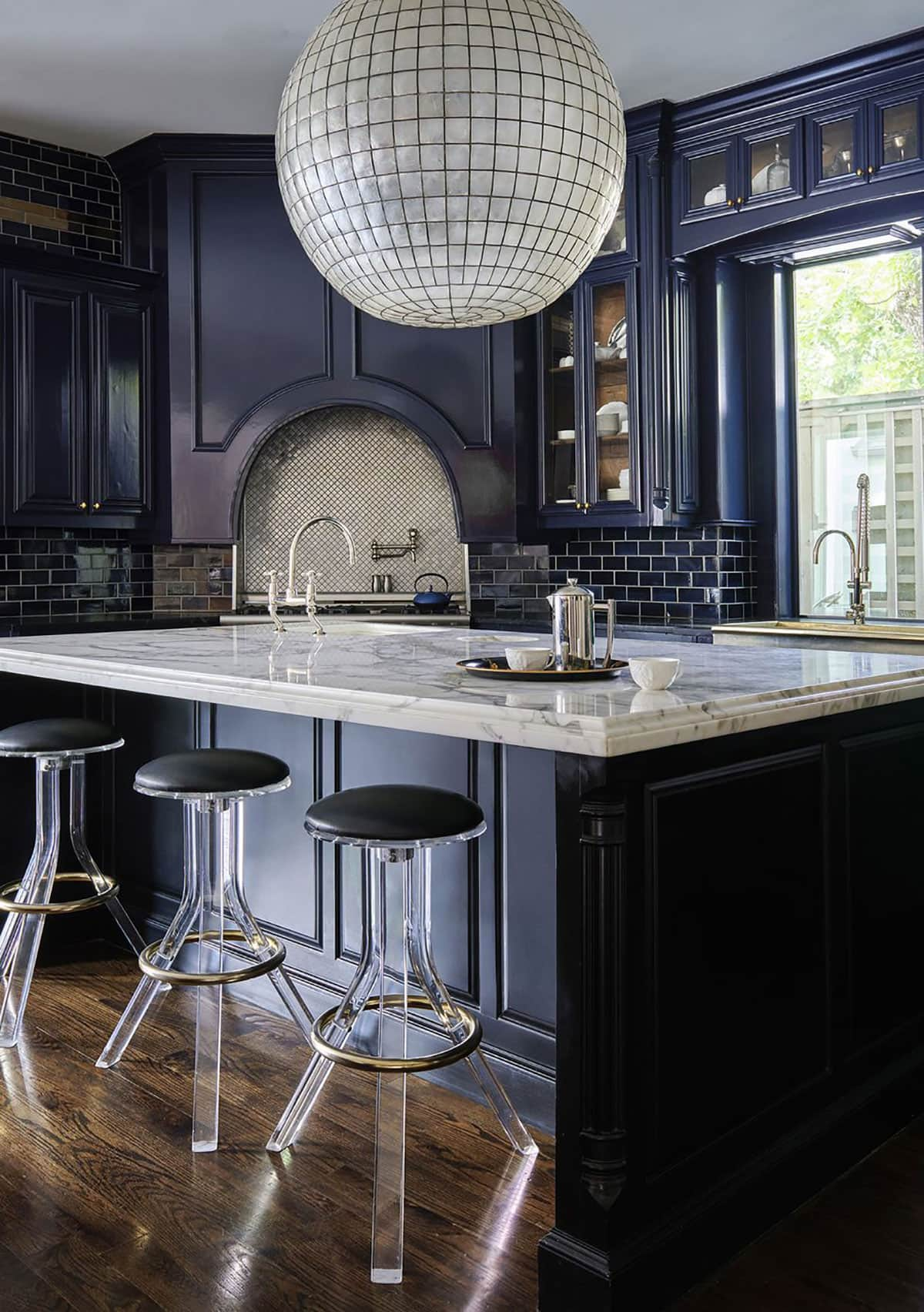 Breaking Design News
If you recently purchased furniture from Mitchell Gold + Bob Williams, you might wanna call your credit card company. Over the weekend, MGBW dropped a bomb and closed their factory doors abruptly with only a note pinned to the gate, asking employees not to return to work. Yikes! Not sure what will happen in the storefronts this week. This comes only months after furniture brands like Interior Define, Lane (United Furniture Industries), and Klaussner shut down, and experts say this is just the beginning.
Labor Day Sales Alert!
Boll and Branch is having a 20% off sale on their bedding bundles, and if you read my Best Sheets and Bedding round-up, you know they are at the top of the list. While you're over there, check out this blanket (not on sale) that Oma was going to smuggle back home with her to Germany. Use the code DREAMBUNDLE.

Madewell has 30% off their pre-fall items and an additional 30% off their sale items. I'm eying these wide-leg jeans. Use code COOLDOWN.

RELATED: Did you hear the news? According to TikTok, skinny jeans are out. See what's in.
What's New In Fashion?
Is it a skirt? Are they pants? Skirants? Not sure, but these skirt/pants are freaking blowing my mind, and they need to get in my closet immediately. It's a pair of fitted leggings wrapped by an open skirt. Talk about possibly the most comfy skirants in the universe.

RELATED: Don't miss my round-up of heart sweaters for fall.
Do you follow Amy Smilovic? She is the founder and creative director at Tibi. I discovered her on TikTok and fell in love with her relaxed, chill, yet modern fashion style, immediately. The other day, she paired these white and green sneakers with a pair of Tibi track pants that you can totally dress up to look like trousers. Now, if you're unfamiliar with the brand Tibi, just know trousers cost $450, so I assumed the sneakers were another quiet luxury. I guessed wrong. They're $30 and come in different colors!

What Caught My Eye In Organization
I don't normally chat about my obsession with old jewelry, but I have one, and since closing the vintage shop, my collection has exploded. I mean, I was also grounded from chairs and lamps, so jewelry was obviously the next best thing to hoard. Anyhoo, while scrolling through TikTok, I found these expandable jewelry storage trays lined in velvet. They are perfect for storing my necklaces, bracelets, and earrings in my built-in closet drawers.

I love that you don't have to buy 10 individual trays that you puzzle piece together. Instead, you just pull to expand to create the perfect fit. Plus, it has deep compartments.
Plain Ol' Weird Stuff
So, for some reason, this video showed up in my IG feed, and I feel like a mom told her daughters, "Go find something for your brother to do", and this happened.
Introducing the stupidest product I've ever heard of — Vitality Air. It's air in a can that you can buy starting at $32 a bottle. Vice TV series, "Most Expensivist", featured the rapper, 2 Chainz, trying air in a can from Banff, the Rocky Mountains, and canned air infused with extra oxygen. It's literally the strangest product I've ever heard of, and I beg of you do NOT buy it.
And finally, have you heard of the sport hobby horsing? There is a championship match held annually in Finland, and competitors participate in show jumping and dressage disciplines. It's all quite fascinating. Check it out.



Discover More On House Of Hipsters Interior Design Blog
If you're looking for affordable drapes and curtains, this round-up of window treatments is for you!
Check out this list of Amazon Must Haves that I own, love, and can't live without — want more, check out all my Amazon Finds here.
Everyone is searching for the best Anthropologie mirror dupe, so I searched high and low for the cream of the crop. Here are my top picks.
If you have an awkward living room layout with a fireplace, try these 5 floor plan options out today.
Faux olive trees are trending hard, so I updated this popular post with my top picks that are available and in stock.
Get all my tips on how to declutter your home plus a downloadable checklist to help keep you on track.