22 Stunning Arched Cabinets 2023 (Trending Room Decor)
Last Updated on November 30, 2023
I get a lot of questions about the arched cabinets flanking my fireplace in the living room, and I understand why. These display cabinets are a classic, and the glass doors are perfect for showing off my vintage decor. The bottom drawers have ample space for children's toys, throw blankets, board games, you name it. Gotta love it when furniture is stylish and functional. Mine are vintage, but since the arched cabinet is one of the latest trends in the furniture world, I thought I'd do you a solid and round-up of the best arched cabinets for 2023 that fit every budget. Let's get into it!
Best Arched Cabinets With Glass Doors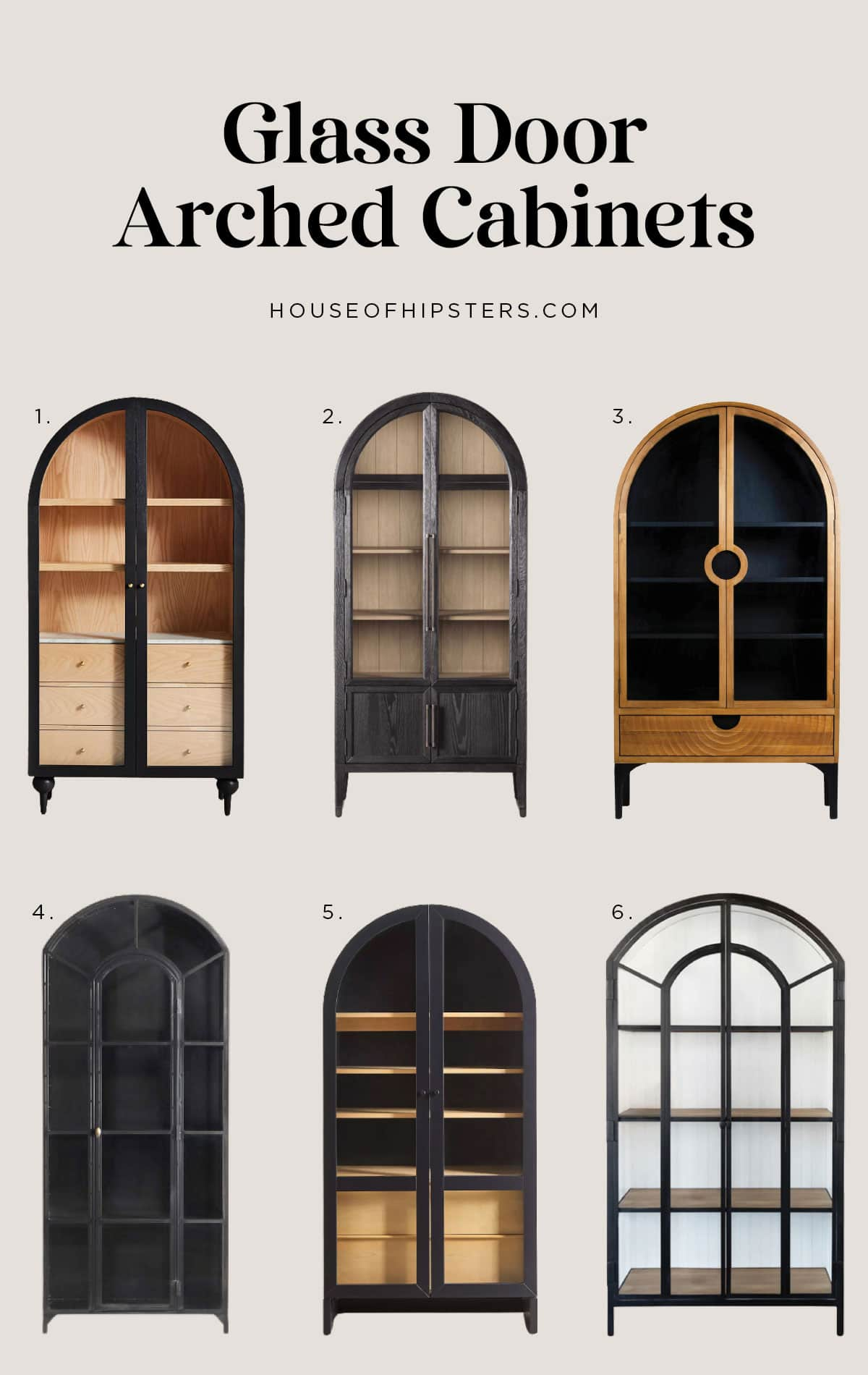 1. The Fern Storage Cabinet From Anthropologie
Out of all the arched cabinets on the market today, the Fern Storage Cabinet from Anthro popped off. It is available in multiple sizes and different colors. The black exterior paired with the raw wood interior is the one that caught my eye (ya, I'm a neutral decor gal) but is a great option for any home decor style from farmhouse to modern.
The drawer fronts have a natural Ash wood finish and sit behind glass panes. The tiny details, like the balloon feet and Carrera marble shelf, set this arched cabinet apart from the others. It's a unique cabinet and a beautiful statement piece that will stand the test of time. I'd style this piece in a living room or dining room.
RELATED: Find the best Anthropologie mirror dupe to fit any budget with this epic round-up.
2. Hattie Glass Cabinet From Arhaus
The ceruse finish on this wood cabinet from Arhaus sets it apart from the rest of the black cabinets in this round-up. It's similar in shape and style to the Anthro Fern cabinet and the Mason Cabinet from Urban Outfitters, but has a more elevated look and feel with the ceruse finish. This piece is presently on sale and is a steal of a deal, considering it is made of solid oak wood and oak veneers. The bottom doors are perfect for hiding clutter and this cabinet also has cord management holes in the back for your electronics. Definitely a hard-working storage cabinet.
3. Wood Curio Cabinet From Lulu And Georgia
This arched cabinet is a winner, winner, chicken dinner for me, and I think it's because it's more unique than the others. The architectural lines of this acacia wood cabinet create a profile that feels timeless, but the matte black interior gives it a punch of modern. It has adjustable shelves and glass-pane doors, perfect for displaying a collection.
4. Black Glass Display Storage Cabinet From Crate & Barrel
This glass, black arched cabinet was in the original mood board I designed for the brick fireplace makeover in the living room, but the black cabinets flanking both sides felt very heavy, so I opted for wood. As a designer, I advise you to use only one of these iron frame cabinets because it will dominate your room and style it with white vases and light-colored decor pieces. Anything else will start to get lost in a matte black cabinet. It is, however, beautiful when styled properly and has plenty of storage space. I guess what I'm trying to say is all black can be tricky.
5. Mason Storage Cabinet From Urban Outfitters
The Mason Storage Cabinet looks similar to the arched cabinet from Anthropologie, but it's a bit more affordable because it has MDF cabinet doors. It, too, is available in multiple color options, including the black exterior, arched doors, birch wood veneer drawer fronts, and spacious shelves.
6. Iron Frame Glass Display Cabinet from McGee & Co.
If you like the look of the arched cabinet above but less heavy, check out this iron frame glass display cabinet (similar). It's basically the same look, but the back panel is a white beadboard. This instantly gives it a lighter look and feel, and you can style your shelves more freely. This is giving hardcore modern farmhouse vibes, so if that's not your thing, keep scrolling.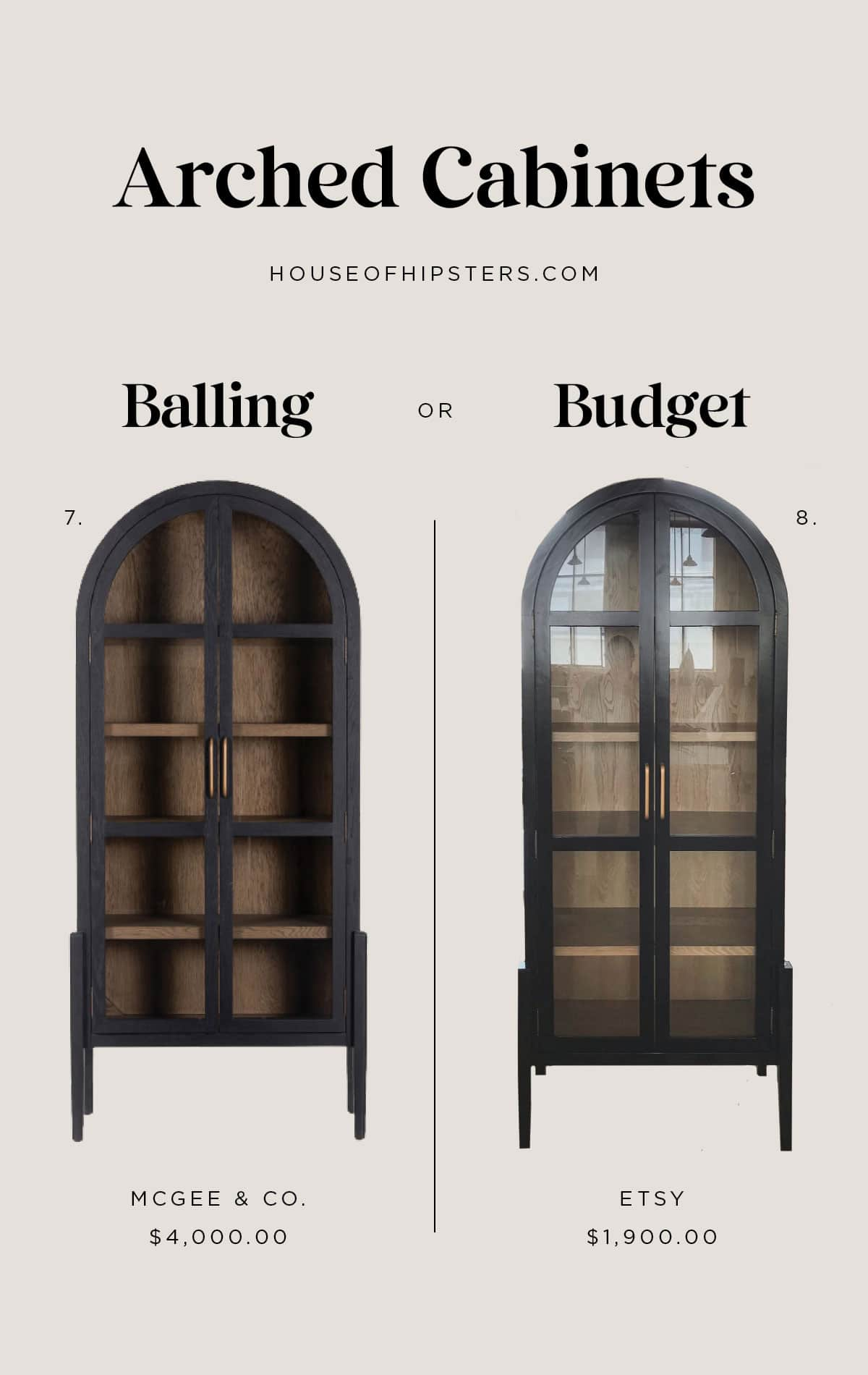 7-8. Ballin' On A Budget With Etsy
I belong to a McGee & Co. Buy, Sell, Trade group on Facebook, and the Emilia Arched Display Cabinet (8.)on Etsy is a dead ringer for the McGee & Co. Providence cabinet (7.). You can choose from brown, black, or natural wood, and this Etsy shop has a 5-star review. I would definitely take a chance on this stunning cabinet if you want the look for less. I mean, even the brass hardware is the same! The commenters on her post gave her a hard time, but with over a $2000 savings, Imma give her a pass.
9. Small Space Narrow Arched Cabinet
The Mason Curio Cabinet has all the same features as above, but it is the perfect size for a small space with its narrow design. If you're living in an apartment or maybe looking for a guest bathroom display cabinet, this is the one for you.

10. Metal With Arched Cabinet Doors On Amazon
When I say I scoured Amazon for an arched cabinet, I mean I SCOURED it, but the only cabinet I deemed worthy of including in this round-up with this metal storage piece with arched cabinet doors. The fluted glass is the best part because it hides the clutter yet doesn't feel heavy. This cabinet would be a great option for a bathroom or home office, especially with the reviews stating, "She's cute, but she's shorter than expected," so measure before you buy. But with a price tag under $200, you'll be hard-pressed to find a better option.

11. Vintage Style Arch Cabinet From World Market
This wood storage cabinet has a warm walnut-finished front and charcoal-black sides. It rests on an exposed metal base, giving it a hint of vintage industrial. BTDubs, that raw industrial decor style, has started to trend again.

Give Your Cabinet A Pop Of Color

12. Teal Livia Hutch For A Pop Of Color
Add a bright punch of color to your dining room with this modern take on a more traditional arched cabinet. This hutch is peak granny chic, comes with brass hardware (which sings with that teal), and has four adjustable shelves. Wouldn't grandma's china look purdy in here?
13. House Of Hackney Arched Cabinet From Anthropologie
This wallpaper-lined curio cabinet by House of Hackney is exactly how I want to DIY my dining room hutch, but not with green paint…but now that I see it in green, OMG! It's gorgeous! If you have seen Potty Paradise, you know I'm a fan of House Of Hackney wallpaper, and I actually own two rolls of Artemis with a white background. I also love that they lined the drawers as well. The price tag is a bit hefty, so if you want the look for less, go to the thrift shop, grab some paint, and DIY it over the weekend. There is also a narrow bar hutch option if you're looking for a small space option.

14. Gorgeous Arched Cabinet From McGee & Co.
Shea McGee is famous for decorating homes with stunning storage solutions that are utterly charming, but if you shop outside her Target collection, her furniture can cost a pretty penny. All of her storage cabinets and bookshelves can be found here, but this arch cabinet, in particular, I love.
15. Find The Look For Less At Crate & Barrel
If you want the look for less (well, a little bit less), check out the Lana Burnished Wood Storage Display Cabinet at Crate & Barrel. It's identical to McGee & Co. for $400 less; however, it is on backorder until April 2024. If you can wait it out, think of it as shipping savings.
Best Arched Bookcase With Storage

16. Coastal Beach Rattan Closed Back Curved Bookcase
This is one of my favorite pieces, and when I look at the price tag, I tell myself, of course it is, LOL. What can I say? I have champagne taste. Anyhoo, this arched bookcase is from Kathy Kuo Home, and the lower cabinet doors are rattan, making this the perfect piece to display interior design books with its open shelving and hide unnecessary clutter.
Best Arched Cabinets With Solid Doors

17. Cane Arches Cabinet From West Elm
(NO LONGER AVAILABLE) If you're looking for coastal vibes, this cane cabinet with arch cut-outs (SOLD OUT) is the one for you! It will add texture to any room, and the mango wood adds a rustic, beachy touch. 
18. Annie Natural Arched Cabinet by Leanne Ford
In my book, Leanne Ford can do no wrong, and Crate & Barrel hit a home run with their collaboration with her. This arched cabinet with solid doors is the perfect piece when it comes to hidden storage. The raised panels on the cabinet doors act as hardware and design detail, as does the extra wood band wrapping the cabinet. Minimal in the most maximal way. This traditional curio cabinet is available in 3 different finishes and is made of white oak and white oak veneers. One thing to note: you'll want to keep this beautiful cabinet away from direct sunlight to prevent fading.
19. Mason Cane Storage Cabinet From Urban Outfitters
If you're looking for an arched cabinet that completely hides the clutter, there is also the Mason Cane Storage Cabinet. The cane doors make it a great option if you're looking to hide your television and electronics because there is an opening in the back for cords, and the middle shelving is adjustable. Simply close the woven doors to tuck away your less photogenic goods and clutter.
20. Anders Cane Arched Cabinet from Pottery Barn
This arched cabinet from Pottery Barn is another great option if you're looking to hide the clutter with its solid rattan doors. It's available in two different wood finishes: driftwood has a bit of a whitewash, and Cliffside is a medium-tone wood finish. If your bedroom is short on closet space, it can be used as an armoire, but the clothing rod is removable.
21. Double Arch Entryway Shoe Organizer On Amazon
I've seen the IKEA shoe organizer, but this slim double-arch cabinet is new to me. Because I have a family of four, there are shoes all over our mudroom, and two of these sitting side by side would be the perfect solution to clean up the clutter.
22. Affordable Woven Arched Wood Cabinet From Target
The cane detail on the doors gives this cabinet a stylish vintage look. The arched top is open and creates a great focal point for displaying a unique vase, a favorite keepsake, and a faux plant. Since the interior shelves are adjustable, you could use this arched cabinet to store your television and electronics because it has plenty of storage, or use it in a home office to store books and a printer. You would have to cut a small hole in the back for cords.
Phew! Don't say I never gave you at least 110%. Now, after that epic shopping spree, I'm ready for a nap. I'm wiped, but I hope this round-up helped you narrow down the search for the perfect arched cabinet for your space. Don't forget to tag me on Instagram once you have it styled!



Discover More On House Of Hipsters
I've rounded up my ride or die Amazon must haves! These are the items I've bought, tested, and can't live without. Don't miss this post.
Give your closet a refresh and check out the latest fall fashion trends 2023 including my favorite olive green quilted bomber jacket.
Learn how to design a living room with a fireplace with these five no-fail layout options.
Find the best faux olive tree to fill that empty closet with this epic round-up of favorites.