Eclectic Bathroom Makeover – Potty Paradise
Last Updated on September 27, 2023
It's Week 6 of the One Room Challenge which means ding, ding, ding, times up! Words can't even express how excited I am about the bathroom makeover. I mean wow! The transformation is crazy, and I honestly can't believe I live here. It's wacky and crazy and out there and pretty much describes exactly what happens in my brain. Like if you were a really tiny person and crawled into my ear to have a look around, I would imagine this is exactly what you'd see. Are you prepared for this? Put yo' pinky rings up to the moon. Whoop, whoop!
Meet Potty Paradise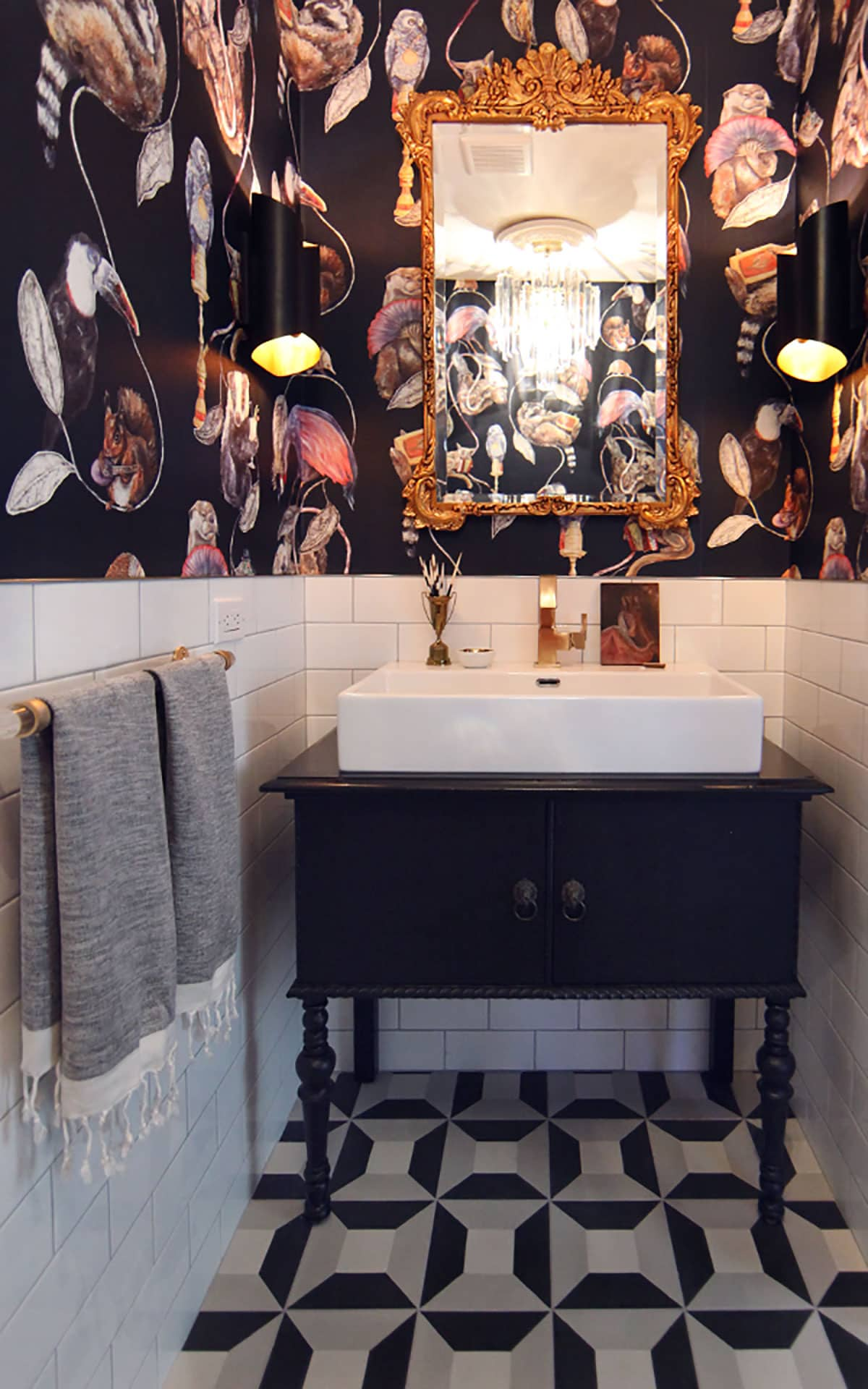 The goal for this bathroom was if you are a guest in my house and in the need of the lavatory, you will walk in here and forget to pee. Wow, my contractor did one hell of a job. Seriously, you brought everything that was in my head to life. If you live in the Chicago area and need an amazing contractor, give this guy a buzz…and no, he's not paying me to say this. He did an amazing job for one of the toughest clients on the planet…me.
This Bold, Eclectic Bathroom Is a Tiny Jewelry Box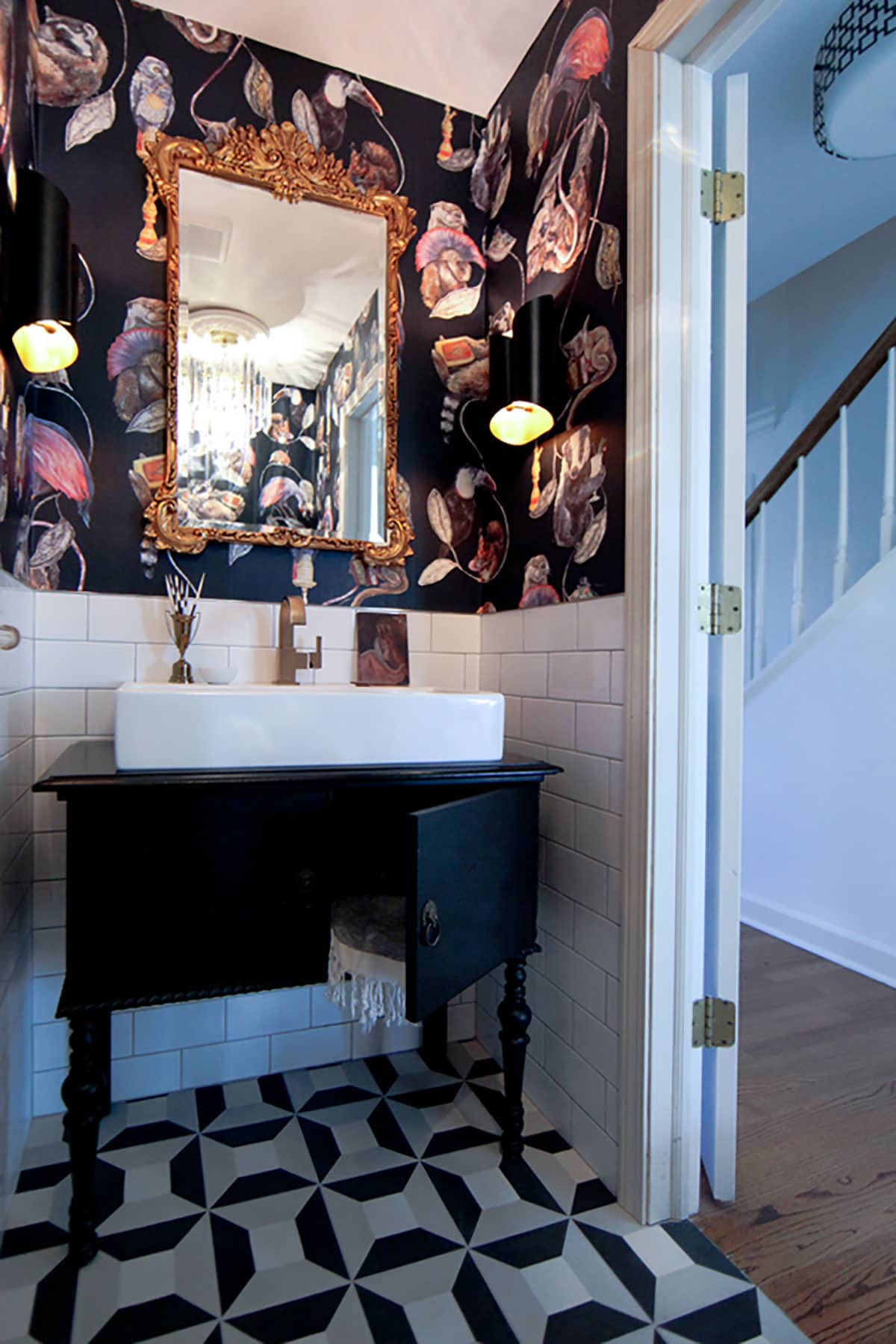 Bold Pattern Black And White Tile Flooring
I'm just gonna start from the ground up with this bathroom renovation because that's where this space all started. The flooring is from Clé Tile, and this is their encaustic cement tile Cubicon. There were so many designs to choose from, and I mulled many choices, but ultimately I picked a bold graphic. It isn't easy to stand out. So many talented bloggers and interior designers participate. I knew I had to step out of the expected to stand out. Wanting something that wasn't necessarily on-trend but rather just fly AF.

The subway tile in this bathroom is from the Essentials Collection also by Clé Tile. Per their online suggestion, I went with a natural gray grout which I'm totally digging. Not too harsh, but still pops the tile. A piece of brass was used to cap off the subway on the wall, and then came the second layer…the eclectic and totally whack-a-doo awesome wallpaper. This is where the transformation of ERMERGERD I CAN'T BELIEVE I LIVE HERE happened.

Lighting In Makes It Pop
The sconce backorder debacle was one of the happiest accidents ever. I never realized something could be so understated yet so shazam at the same time. The foldover, along with the brass? I mean, so good, am I right? My mom said she thinks it looks like a folded-up Pringle chip. Insert monkey covering its eyes emoji here.

I managed to pick up this mirror at Elkhorn Flea Market a month ago. At first, I thought the gold finish was too harsh, but it's being embraced for the time being. I'll live with it a bit before deciding to dull it down. Also, in case you're wondering where on earth that vanity is from up top, it's actually an antique cabinet. Learn how to turn an antique dresser into a vanity.

Porcupine needles in a vintage brass trophy are totally normal…right? Actually, I have a whole collection that made it into the toilet tank.

Funky Artwork In The Bathroom
I struggled with art in this room. To hang or not to hang. Ultimately, I chose not to hang. Mainly because the wallpaper already makes enough of a statement. Can anything compete? I don't think so. Believe me; I've looked. But if you know of anything, send it my way; I'd love to see it.

This small portrait was picked up at a recent estate sale and is the only piece of art in the space. If you like this piece, I bought a ton of paintings from the artist's estate and have posted quite a bit for sale on my Chairish shop.
The rocks were to be featured in my One Room Challenge last year but never made it from Turkey in time for the final reveal. The shop owner collects sea pottery on her daily beach walks. I fell in love with them immediately and have been dying to show them off. Although it looks like the shop may no longer be selling. Sadsies.

Can we just take a minute to gaze at this lucite chandelier from The Savoy Flea? One late-night texting spree rolled into a "Hey! I need lighting for my bathroom makeover. Got anything?" This beauty was sold within 2 point 5 seconds. I mean, clutch the pearls, she's a beaute! Do you think she should have a name? I'm looking for suggestions?

If you're looking for affordable turkish hand towels, look here (no longer available). They come in a few colors and are the cheapest I've found. I bought a set of 4 for $28…ummm, ya, don't walk, run. Just pass go and run. Normally these bad boys will run you $50 bucks a pop.
Before Photo Of The Bathroom
Before I give you one final looksy, wanna see the before one more time?

RELATED: If you think this before and after is dramatic, don't miss the black and white bathroom makeover!
AHHHH! Crazy! This picture really illustrates just how tiny the bathroom is. The footprint might be a smidge larger than my dining room table…maybe.  Hooray for finally getting to use the #smallspacesquad hashtag on Instagram. It was tiny and beige and boring. Now it might still be tiny, but every time I open the door, I forget I have to pee and just think yahtzee.




Discover More On House Of Hipsters Interior Design Blog
I'm so honored to have been asked to be a featured designer in the One Room Challenge — check the mood boards for this year's home office and gym makeover.
I've rounded up 31 ride or die Amazon Must Haves 2023 that I own and can't imagine living without.
The brick fireplace makeover before and after has received way more attention that expected. Some love it, others hate it. Checkout the reveal and tell me what you think in the comments.
Don't miss these affordable home decor top picks from Amazon, Walmart, and Target.