Bathroom Renovation
Last Updated on July 25, 2023
Someone call for help because I'm certifiably insane. Yep, you read that right. Potty Paradise looked so incredible we decided to renovate another bathroom in the new house. Eeeeep! But I swear I have a really good excuse for the added destruction. You already know we are in the process of fixing the basement after The Great Flood of 2016, but there was one small problem. The bathroom down there wasn't destroyed by water. Well, that is disappointing.
Basement Bathroom Renovation Before
UPDATE: The complete before and after black and white bathroom makeover is complete! See how this boring bathroom went from blah to shazam and on a tight budget to boot!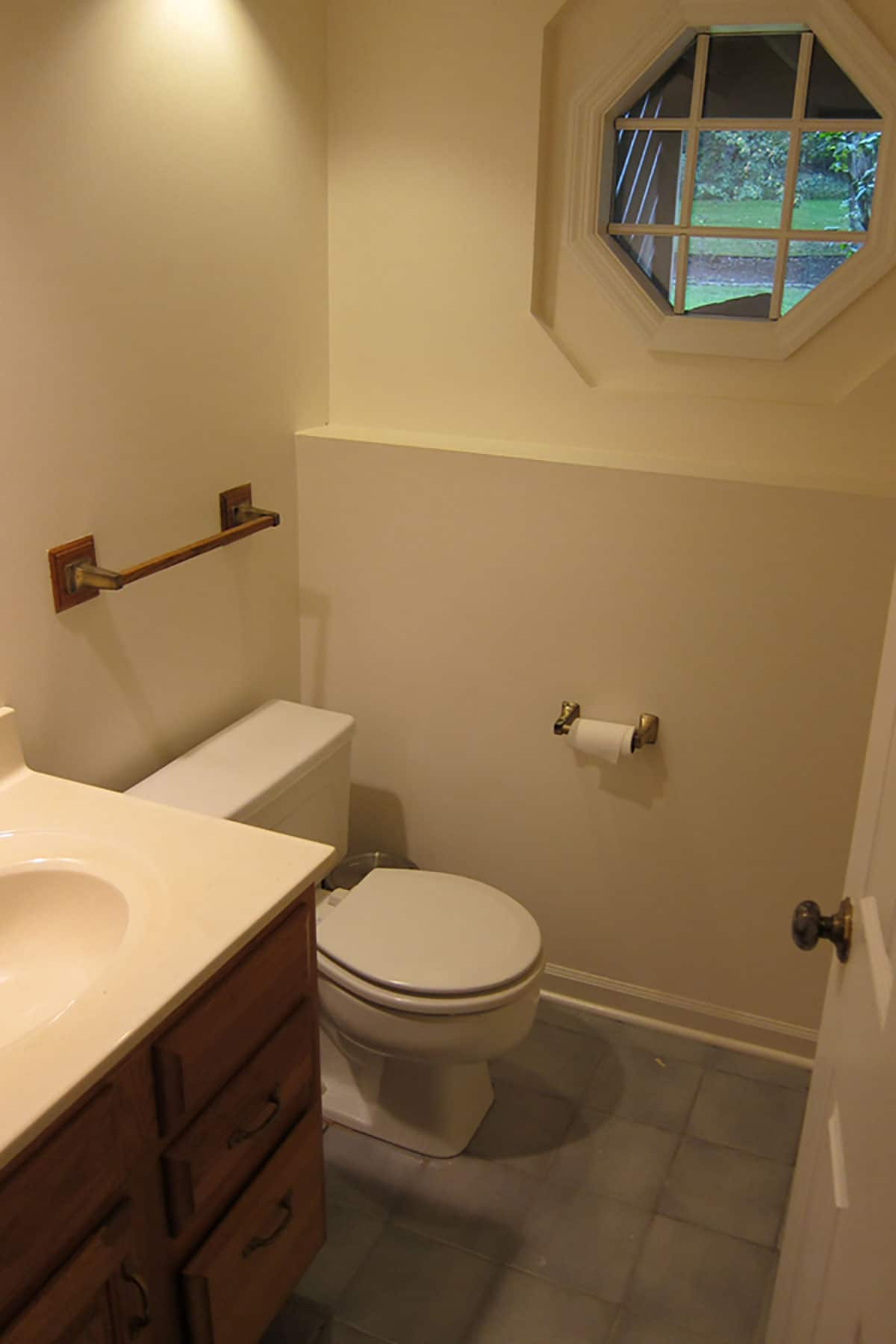 Gerry was going to be at the house anyway, I thought very silently to myself, "why not rip up a tiny bit more flooring? And add some paint. And a new potty. And let's throw in a new sink while we're at it, right?" I mean, I can't have this amazing-looking basement with a grungy, old potty, can I? What would the neighbors think? Besides, this space was gross, and on the honey-do, please fix it checklist, to begin with…see, that's an insight into how I talk The Boy into these crazy ideas. Gerry's here already, and you don't have to lift a finger. I mean, it's totally and completely logical. He begrudgingly agreed with a handshake of no more after this. And ya, I crossed my fingers on that promise. So without further ado, let's get into this bathroom renovation already.
Bathroom Renovation Questions
Will it look anything like Potty Paradise? Nope! Well, there will be some white subway tile from Clé because I heart it so, but that is the only resemblance. Oh, and that brass trim is used as edging.
Will there be wallpaper? Yes! Ever since putting wallpaper in the One Room Challenge bathroom, I'm pretty much obsessed with the stuff. It adds so much drama to a space.
Will it be impossible for anyone to recreate? Nope! Because of The Great Flood of 2016, I'm on a super tight budget. We are talking easy but drop-dead gorgeous. Simply beautiful…the Audrey Hepburn of bathrooms. Although I might splurge on a faucet.
First off, let's talk tile. I went back to Clé for white subway tile on the walls. I've become completely obsessed with their Essentials Collection. The clean, white, classic look of subway has a hold of my heart and won't let go. I also have a little boy who isn't always on his A-game with aim. Remember Question #2 up above and I said yes to wallpaper? Well, with premonitions of yuck to clean, I decided, let's protect that pretty paper with a bit with subway tile.
So now that we all know what's similar to Potty Paradise, let's talk about what's different. I so badly wanted to use penny round tile on the floor for the One Room Challenge but changed my mind to go crazy, whackadoo, bold with the Cubicon encaustic cement tile. Being that I talked The Boy into a second bathroom reno, why not get the best of both worlds and put penny rounds in the basement? Yesssa! Brilliant! Now, to go with white or black? Decisions. Decisions. Let's marinate on that and come back a bit.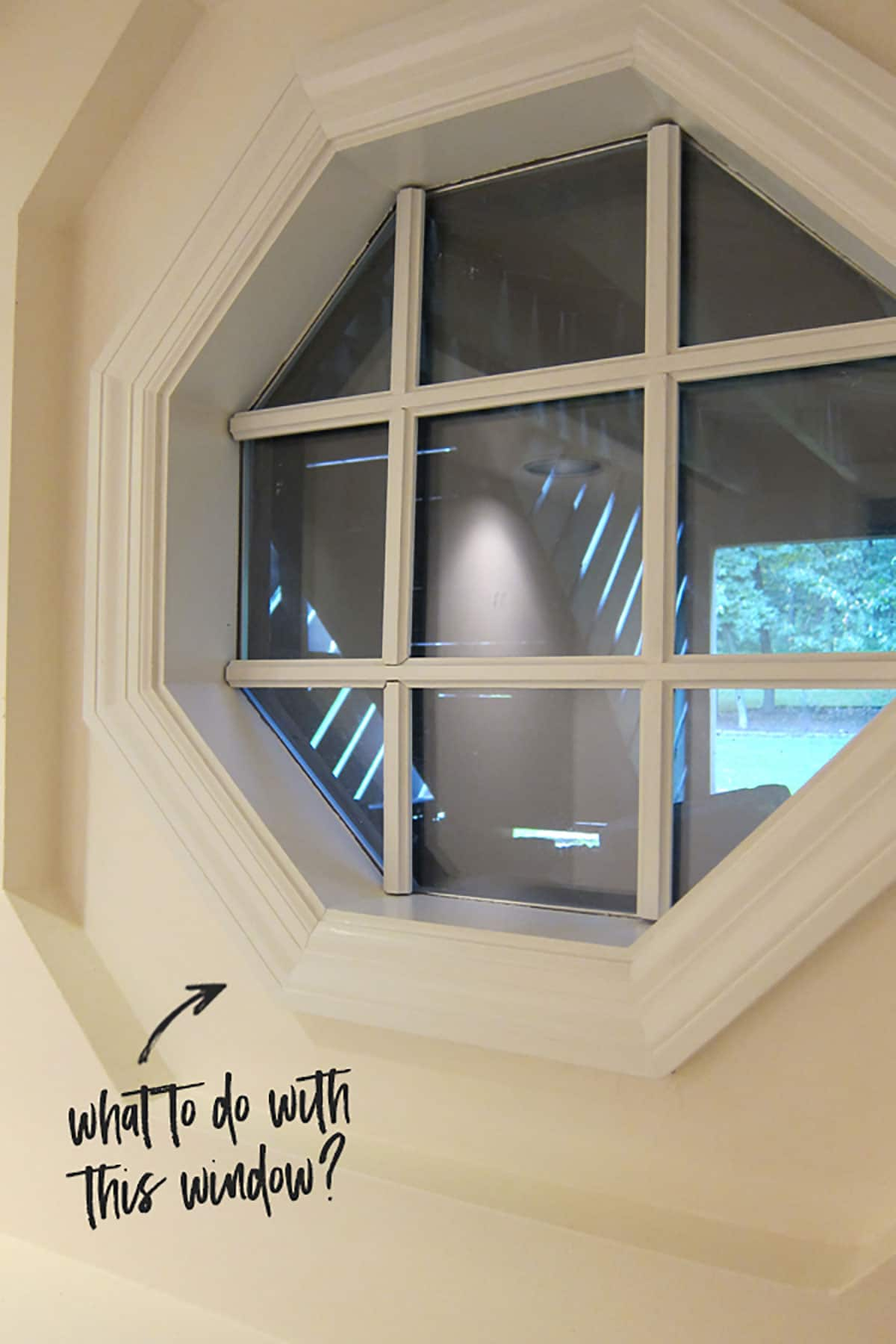 Bathroom Renovation Inspirational Mood Board
Wallpaper shopping can be a daunting task. So many patterns and colors and textures! Since I have such a problem decorating with pillows, one might think wallpaper would be too much of a commitment for me…but no. I just wish I knew how to hang it myself. As Yoda would say, "Learning you are." Anyhoo, I ran across this babe of a pattern in my One Room Challenge search and pinned it. I looked at it day after day and even ordered it for the ORC. But those sloths smoking hookahs were just too good to be ignored. I dragged my feet on the return long enough to think shazam…let's use the palm fronds in the basement. There's this hit of brass in the pattern that will give that WOW factor.
The nice thing about this particular paper is that if you're a renter or afraid of commitment. Yup, it's peel and stick wallpaper. I didn't even know such a thing existed. Also, this paper…unlike the House Of Hackney wallpaper, is WAAAAAAAAAY more affordable. See, keepin' it budget-friendly. The Boy would be so proud…and if he's reading this, he just totally rolled his eyes. Ya, I caught you. Don't think I don't know.

I'm planning on going with the same toilet as the bathroom upstairs, but instead of the hassle of an antique vanity, I'm keeping it simple with a classic, white pedestal sink. Remember how I said the Audrey Hepburn of powder rooms? You know how she could make black pants, and a plain white tee look insanely chic? That's the look we are going for here. I found the perfect black faucet…which I'll have you know is one of the hardest things to source. And if you find one, good luck finding one in stock. After striking out twice with Graff (they wanted me to have Polished Chrome even though I ordered Architectural Black), I found this lovely little number.
I haven't decided on lighting, but I'm leaning toward these classic modern beauties (no longer available). You know my love of brass; these beauties make such an elegant statement. Simple yet posh.
Mirror shopping is a must, and I'm surprised I haven't done it already since the former owners took ALL the bathroom mirrors not attached to cabinetry with them. Seriously? Who does that? Still contemplating if I should go super sleek and modern or add a bit of glam with the mirror. Got any suggestions?
Well, there you have it. One basement is full of possibilities and a whole lotta adventure. Will the stress of this renovation finally put The Boy over the edge? Will Gerry finally say, "Lady you're an insane nut job. Stop asking to photograph my boots in a shoefie because they are so Instagrammable."? Find out next year!



Discover More On House Of Hipsters Interior Design Blog
Download the declutter your home checklist and get my expert decluttering tips.
Sharing the best home organization products to keep your bathroom, kitchen, pantry, and closet tidy.
The palm frond black and white bathroom wallpaper turned out better than I could imagine! Take a look at the final reveal.
Ever wonder how high should a tv be mounted? Learn how to nail the right height every time!