Styling Pillows With Unison Home
Last Updated on December 8, 2022
Dear Emily, You'll be happy to know I've finally received some pillow help from the gals at Unison Home. I stopped into the store for a visit and pillow lesson last week and just to make sure I had mastered the art of mixing and matching, they were kind enough to stop over to the house. I also might have bribed them with good coffee.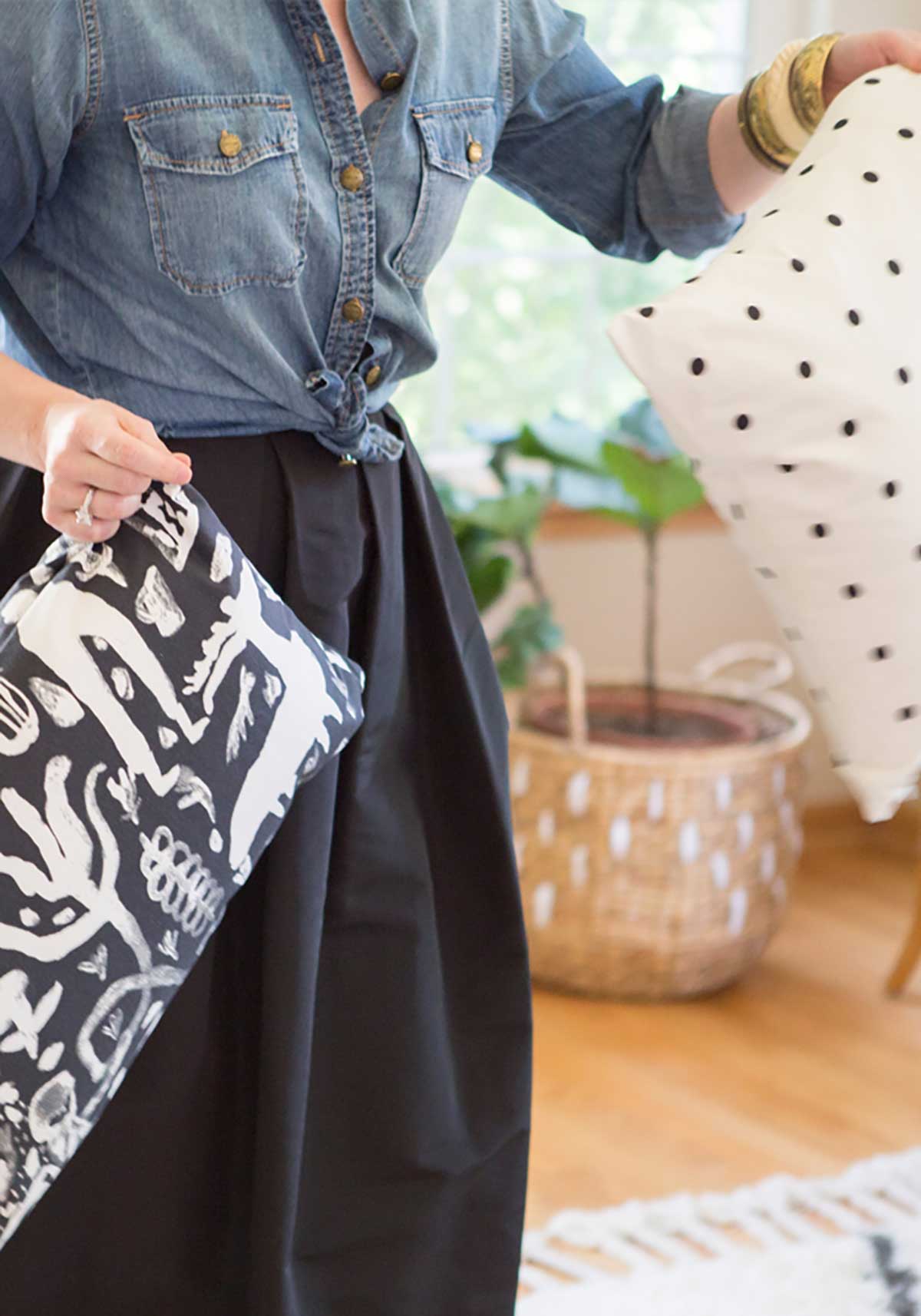 Photo by Laura Rose Davis from Everyday Charming
I know kitten, I really needed some hand holding on this one. Maybe you called them and gave them a heads up. If you did, for that I thank you. So wipe those tears from your sweet cheeks and turn that frown upside down because my pillows have been styled in a perfect palette and pattern family. Hip hip hooray! Pull up a seat, sit that cutie patootie down, and check out what the Unison girls had up their sleeve.
Mirror, mirror on the wall, who has the prettiest pillows of them all? ME! THAT'S RIGHT! I SAID ME! On my train ride home from Unison Home last week, I had a lot of thinking to do. I lugged a few different pillows home with me, but until I got them into the space, I wasn't sure if I should go for the muted color blocking or the white and charcoal striping. If you haven't checked out the Fall Pillow Collection, you need to. Seriously, go now…don't worry, I'll be right here waiting.
So Many Pillows To Choose From
If you missed my first Unison Home store visit post, you probably have no idea what I'm talking about. Quick recap — Unison is an insanely gorgeous store in Chicago (now closed) that sells beautiful, modern, timeless home goods specializing in textiles and soft goods. Don't live in Chicago? No sweat. They have a beautiful online store and gorgeous snail mail catalog with incredible inspiration.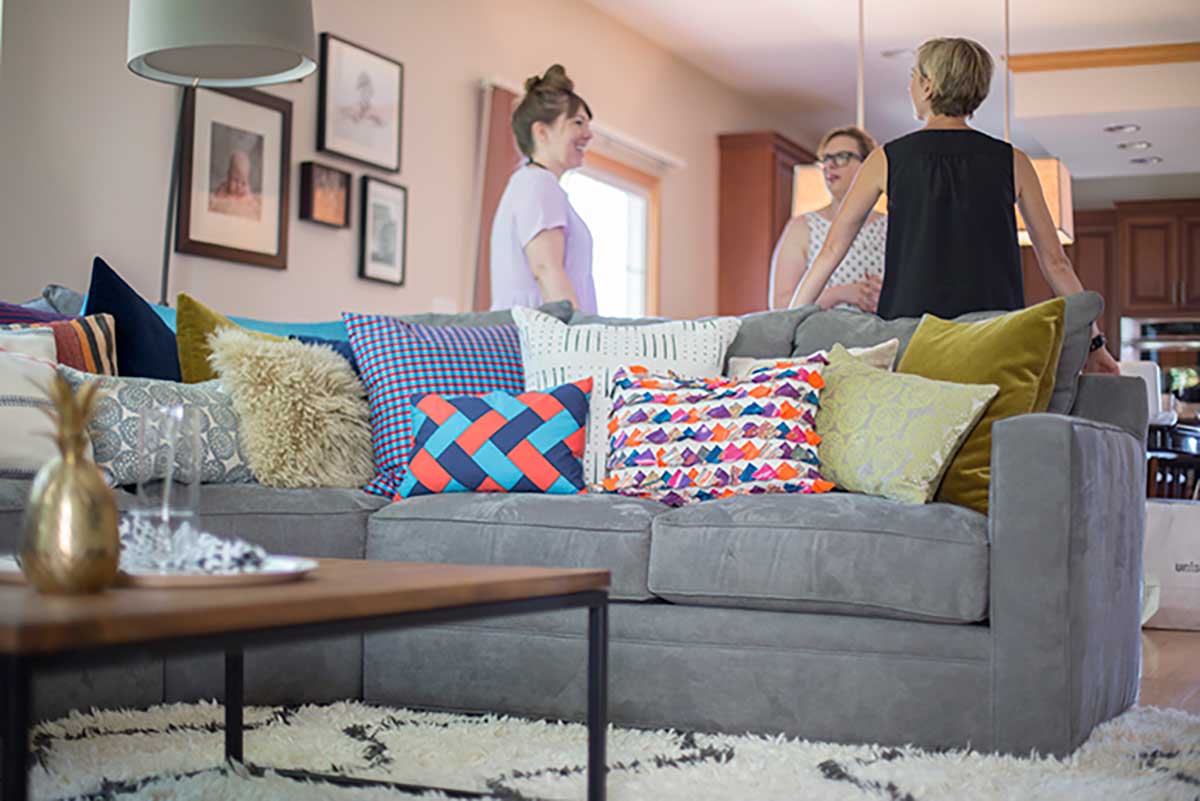 Photo by Laura Rose Davis from Everyday Charming
Yep, that's a boatload of crazy pillows, huh? My life up until last week was mixing and matching this mess that I've collected over the years. These girls had their work cut out for them. At 9 AM sharp, Lisa and Erin were on my doorstep. I handed them both a cup of coffee, and we stood around the kitchen table chatting about our weekends. A few good belly laughs later, they took a closer look at what was existing in the room and started styling around it.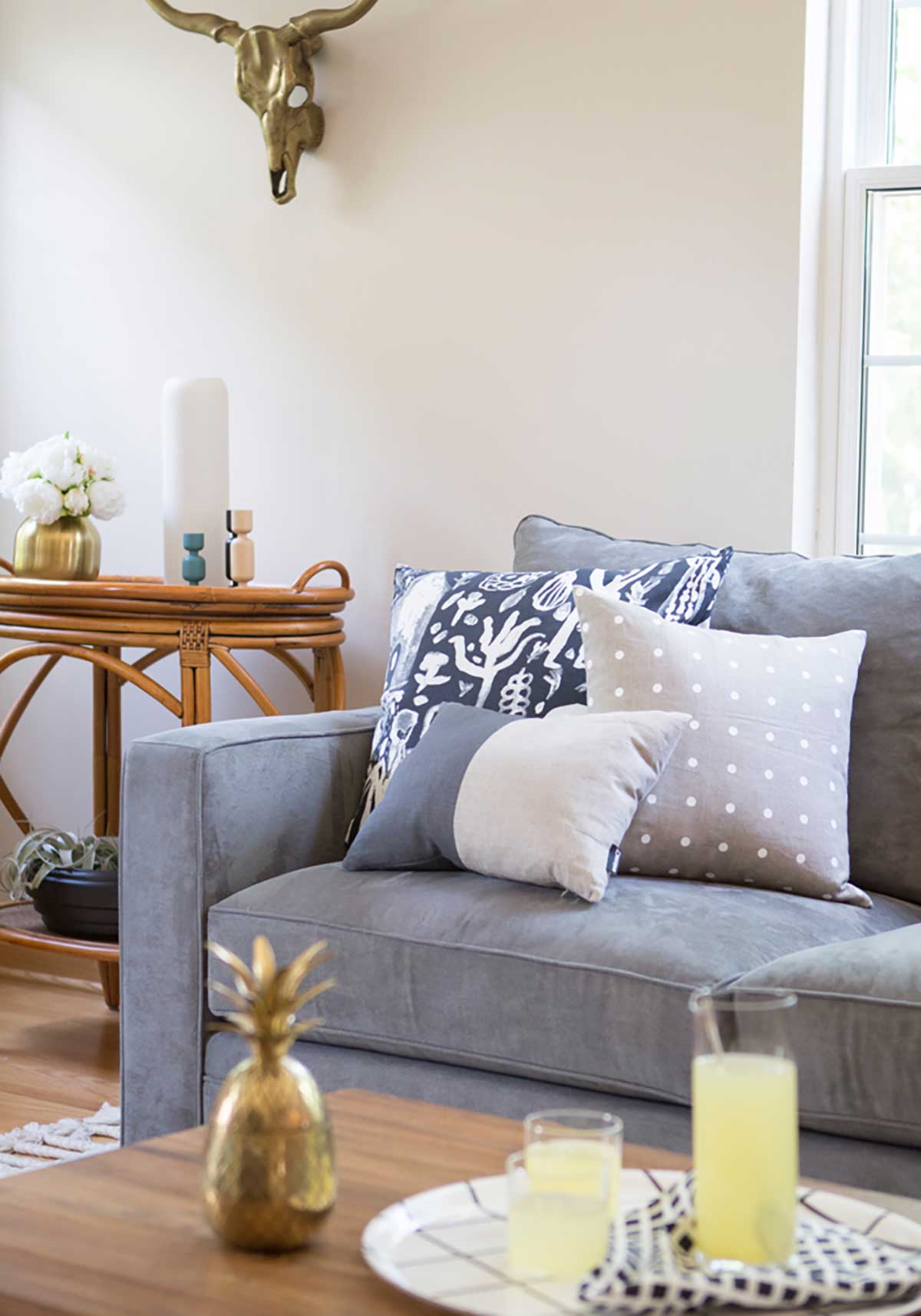 Photo by Laura Rose Davis from Everyday Charming
Look #1: I really loved the Black Linen Color Block next to the Dots White Linen. The girls tossed the Harvest Black Throw Pillow into the mix to break up the clean lines. It's more of an abstract print with a folksy flair. I was loving this combo. I swear I probably looked like one of those little emoji guys with the hearts in its eyes.

Photo by Laura Rose Davis from Everyday Charming
And can we just take a moment to talk about that tall white vase, black bowl, and candlestick holders? The black bowl looks killer with those air plants, am I right? And I especially love the white glaze on the inside. It just gives it that extra pop. And that tall white vase might just be my new favorite piece in the house. If a vase can be sophisticated, that is what this vase is…sophisticated. OK, timeout over, as you were…back to our pillow talk.
Pillows With Neutral Color Pallet And Minimal Pattern
Since my sofa is couchzilla, we needed to add in a few more pillows to the mix, but rather than repeating the same set from the corner in the middle, Lisa and Erin played with the sizes. I told you they were styling gurus! Smart! Smart! Smart!

Photo by Laura Rose Davis from Everyday Charming
They swapped out the dots linen pillow with the dots canvas pillow. Similar, but a couple of shades lighter. They added back in the black harvest pillow and the color block only in different shapes and sizes. Shapes and sizes you guys! Such a simple and easy concept that I've totally missed the boat on. And how about that cozy blanket. Remember, that's the one I curled up in at the store? But shhhh, that's a secret.

Photo by Laura Rose Davis from Everyday Charming
The sofa was looking sharp! Yep sold. Take my money already. But, it wasn't that easy. Nope. Remember, I was in between two choices. It was time for a restyle. I suddenly felt like I was on an old episode of Secrets From A Stylist. Bring it on ladies! I can't wait to see Look #2.

Photo by Laura Rose Davis from Everyday Charming
I know it was a cliffhanger post that I left you with last week, but here is the answer you've all been dying to know. Yep, I was still crushing hard on the Harvest Denim Pillow. It was love at first sight. The blue just popped off my gray sofa, and combining it with the Sailor Charcol and Dots pillows? It's like the heavens opened up and sang, "Hallelujah!"

Photo by Laura Rose Davis from Everyday Charming
Finally, my pillow problems were solved. Unison is sharing a bit more of my story today on their blog as well. So go check out what they had to say. If you don't, I might hunt you down and beat you with a pillow, as I did to Lisa.

Photo by Laura Rose Davis from Everyday Charming
More Home Decor Inspiration
Bar Cart Styling With Unison Home
Styling A Desk In An Awkward Space