Pillow Problems
Last Updated on December 8, 2022
I've got 99 problems and pillows might just be #1 on that list. Yep, that's right. I've got major pillow problems. So who do I turn to? Ding, ding, ding, that's right. Pillow guru of style extraordinaire, Emily Henderson.
While putting this post together, I started looking around the house for all the pillows that I've purchased since our move 4 years ago. The pillows I've stuffed in closets, in the basement, in the corner, on sofas, chairs, and beds…all waiting to be perfected in the perfect palette and pattern family…all orphaned and sad right now. What you're seeing here is not even half of them. Insert laughing so hard I'm crying emoji here.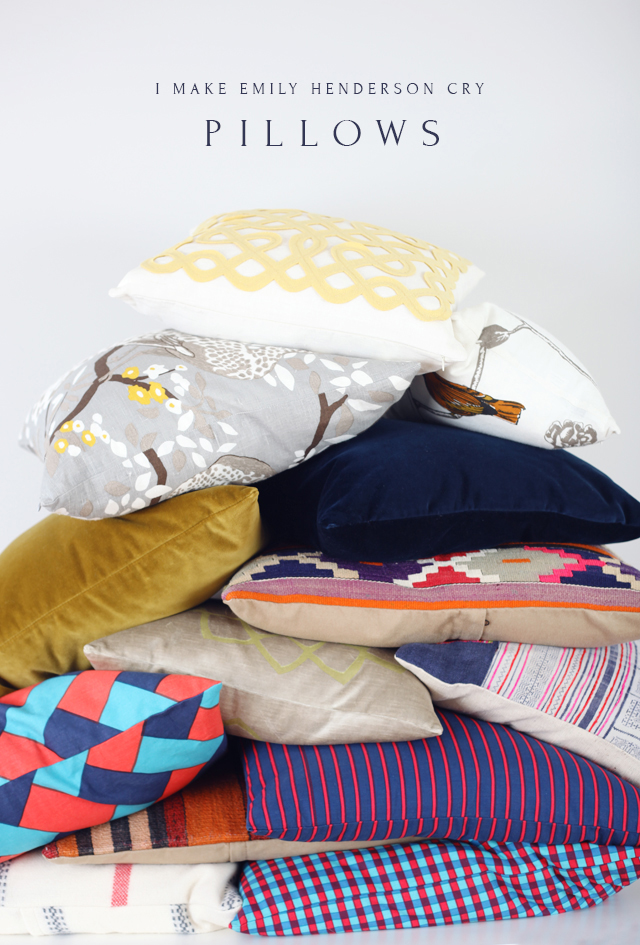 Welcome Back To Another Edition Of I Make Emily Henderson Cry
Oh, Emily, you make it look so easy my love. I watch your videos, read your blog, follow your rules, but I still wind up having pillow problems. In fact, they look like, as The Boy would say, the hot chick with crazy eyes. The one you want to date in high school so badly, but you know she's all sorts of bad news.
See, I purchase a bunch of these "hot chick" pillows with crazy floral patterns and subdued stripes and bring them home because I love them individually. But then I start to mix and match. They sit next to each other on the sofa and start talking their crazy pattern talk. I think I can handle them. I got this. I deny the truth only to be met with an overwhelming punch to the face when I step back to admire my efforts. Chic? Elegant? Effortless? Ya, I think not. So I turn to my girl Emily. She always has the right answers.
Each has a pretty pattern and looks lovely on its own, but mix them up, spin them around, have a cocktail or two and you got a whole lotta crazy happening. Just call me Aunt Fossi with the coordination of a T-Rex…this will make sense when you watch the video. Anyhoo, I watch the video again and edit some more. Argh, she makes it looks so easy.
And I know what you're doing in this video little stinker, now you're just showing off. You and your adorable floral patterned shirt and your fancy polka dot pants. Me, I'd looked like a scary psychotic clown if I tried to pull this look off. But not you, my sweet. You're just effortlessly chic as always. Lookin' all cute and adorable. Telling me how easy it is to mix and match patterns while standing over the most perfect vintage Persian rug you probably bought at The Rose Bowl flea market for $27 because you have decor skillz that are beyond superhuman.
So I listen again to the rules. I edit my color palette and patterns. I add in texture along with a touch of masculine and feminine. I squint my eyes. But here I am again, dancing drunk on the table with hot pink lipstick because, remember, Crazy Aunt Fossi…look at me….jazz hands. Large-scale floral. Medium-scale floral. Large-scale polka dot. Small scale stripe. A little furry quiet guy to add depth. A solid or two. Even Charlie Hendo is frightened by my efforts. Please, someone, shield that child's eyes from the horror. Poor thing.
I refuse to go to a big box store and buy the perfect group of pillows that everyone in my neighborhood has procured. Mainly because that would be too easy. I so badly want that beautiful, collected, unique and effortless look. But how do I accomplish this? How do I just decide that my color palette will be blue and hot pink with hits of yellow? Do I buy every single pillow on the planet and edit it down on the perfect navy Mid-Century Modern velvet tufted sofa? Here's what I'm trying to achieve. Pure perfection, am I right?
So, for inspiration, here are a few more pillow combos where Emily just decides to show off her super-human powers of perfectly styled pillows. As for me, I will keep on keepin' on. I will continue my quest for the perfect pillow combination. The perfect color palette and pattern mixture. Hopefully, stuff will start happening around here. Wish me luck!
Emily Henderson Does Not Have Pillow Problems
Discover More Interior Styling And Home Decor Inspiration
Living Room Makeover Mood Board