I Heart Chairish Instagram Sales
Last Updated on May 18, 2023
Today is not just Tuesday; it's one of those super exciting, special days for me. Today I'm being interviewed on Chairish. They asked me questions about the items I purchased on one of their Chairish Instagram Sales and how I styled the pieces in my home. Woah! Slow down. How did this happen, you ask? Well, here's the back story, but be sure to hop on over to Chairish to read the interview and view all the styled items to get the real vintage fix. I swear, I've been so excited to show them off. So please, go check it out.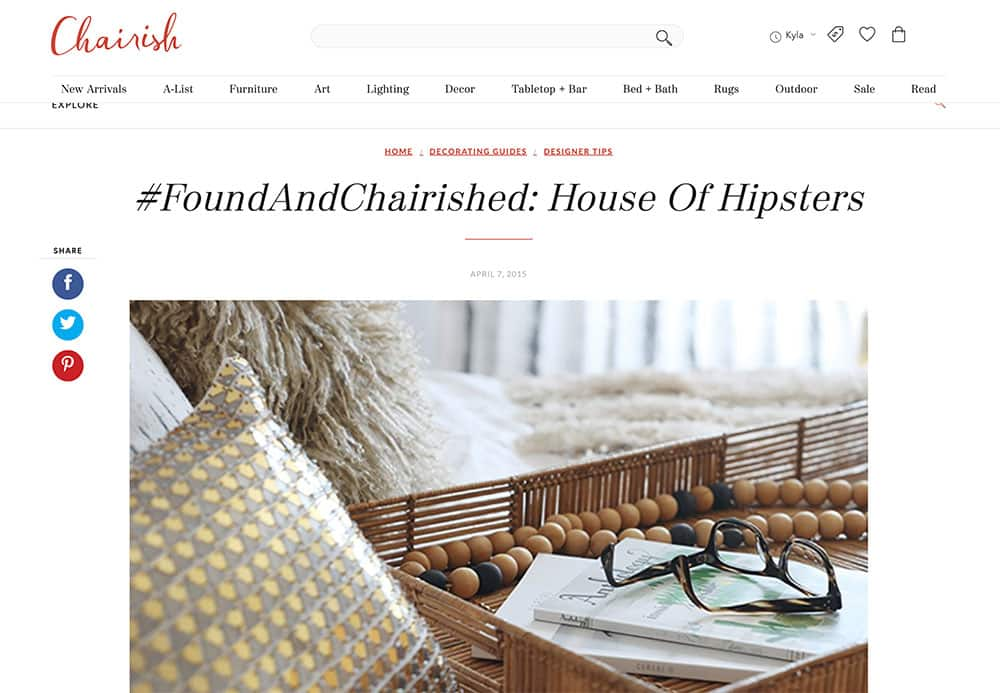 Back in January, you might remember I was talking about Alt Summit. And while Grace and I stood in line at the airport, waiting for a taxi to the hotel, a woman behind us asked if she could share a ride. (I want to say it's because I looked like a fancy blogger, but it's probably because she heard us say Grand America Hotel, where all the bloggers were staying. I'm going with the whole fancy blogger bit for now.) Anyhoo, I wanted to say yes, but I glanced at my luggage and then at Grace's, and then at hers, oh boy. We didn't travel light that particular week. I said, "For sure! That is if we can all fit." Yikes!
We managed to snag a minivan, and the three of us were off to the hotel. She politely asked us if we were bloggers and we gave her a, "Ya, how'd you guess", kinda ho-hum reply. She laughed. Turned out she worked for Chairish  – only like my favorite online shopping resource for vintage goods! OMG! I squealed on the inside but tried to remain calm on the outside.

But, like a complete nerd, I gushed on and on about her company and then brought up the Chairish Instagram Sales they have been hosting. If you're unfamiliar, they take an amazing blogger or interior design guru to a flea market. Let her (or him) pick out a bunch of completely rad items, and then post them for sale on Instagram at a really amazing price. Well, this woman remembered my blog name and every single item I purchased. Now that's impressive! Especially since it had been a couple of months since that particular sale. Or maybe it's just because I purchased a lot of stuff?
She asked how I found the sale, and to be honest, it was completely random. While scrolling through Instagram, I stumbled upon a picture of Victoria Smith's Chairish Instagram Sale. If you're unfamiliar, she writes an amazing blog called SFGIRLBYBAY and has and a serious eye for style. She likes that same mix of vintage and new that makes my heart go pitter-patter. Boho chic with a Mid-Century Modern flair. I kinda have a teeny tiny blog crush on her.

How Chairish runs the Instagram sale is pretty impressive. At 5 AM they arrive at a flea market and spend the morning procuring vintage goods. They then photograph the items in the parking lot, gather dimensions and a few details about each item. Finally, it's go time. The sale lasts only a couple of hours so you must be on your tippy-toes.
That morning The Boy was out duck hunting, and I was watching the kids. Hmmm, predicting slightly bad parenting skills with possibly a lot of Scooby-Doo in the near future. Lucky for me, naptime was near. I had a bit of time before the sale started. I wanted the magnifying glass, a book, a pink blanket, and a blue textile. I set my intention. Challenge accepted.

I made sure the kids were well fed and had gone potty. Everyone was snug as a bug in a rug. iPhone was fully charged. This momma was ready. Let's roll! The first item up was not on my list. I restrained myself from typing in #sold. BTDubs, that's how you win the item. First person to type in #sold in the comments wins. You have to be quick, and I knew it. This wasn't my first rodeo.
I kept refreshing. My heart was pounding. They posted a few more items and then there it was. The magnifying glass. Boom! I pounced! #sold!!! It was mine! I clapped it up a bit in my kitchen, tapped my feet, did the Snoopy dance, and paid for my item.
Next was the pink blanket. I wanted it for Little Maus's room makeover. Gotcha! #sold! Now for the book. It had this hand-drawn bee on the outer cover and would be perfect in my guest room (I have a little bee theme happening in there). I had to have it. I waited and waited and waited. The blue textile was up, but I wasn't fast enough. Missed it. Whomp. Whomp.

However, something cool happened. There were more textiles at the flea, and since everyone was super jazzed about them, they actually walked back to the vendor and posted two more for sale…BUUUUUUT, I missed those too. You've seriously got to pay attention. There's no time for checking Facebook or email. I learned the hard way. Focus people!
Refreshed my screen again. There it was—the bee book. The item I wanted more than anything…and I got it. ERMERGERD! Success! I leaped for joy! And what made this sale even more spectacular was that I got to interact with Victoria. She told me the book was even more beautiful in person, and she was right. It's truly gorgeous
So, how do you find these fancy sales? All you have to do is go on Instagram, follow Chcairish, and post their upcoming events. Just don't you guys go buying the treasures I want. That's rule numero uno. Those are off-limits. Everything else is fair game. Cool?



Discover More Eclectic Home Decor Ideas
Get some ceiling medallion ideas with this epic guide.
If your fireplace has you confused, here's some mantel decor inspiration.
If you're looking to buy vintage home decor, here's what to look for.
I teamed up with my friends Sarah and Chloe to share my favorite vintage decor.
One of my favorite summer cocktails is The Lime In The Coconut drink, Get the recipe.
The best tutorial on how to record a TikTok.
If you're on a budget and looking for some cheap curtains, here's a guide to my favorites. I also have a round-up of affordable velvet curtains that are perfect for fall.
How to calculate a rug size for a living room like a pro and never return a rug again!
Add a bit of sparkle to your room with this disco ball decor.
Looking to update your closet with the best denim skirt? I've got a whole round-up that fits every budget.
Behold, the most epic guide to vintage shops in Chicago.
Add a bit of texture to your decor with cane furniture.
It's a wrap! The closet remodel final reveal is live!
Wrangle the everyday clutter with these modern decorative boxes.
Gearing up to renovate the 80s brick fireplace in our living room.
Zhush up your bookshelf with a modern vase or two.
Find ideas and inspiration for 70s glam interior design. Also, check out this round-up of trending mushroom decor.
Obsessed with this Bunny Williams shopping bag waste bin.
Check out this post for comfy outdoor furniture.
Lilac is trending, so here is a full round-up of purple home decor. And if you love shopping by color, don't miss green decor.