Long Denim Skirts Are Trending
Last Updated on October 19, 2023
In case you haven't noticed, denim skirts are trending hard for spring. Over the years, mini jean skirts have always hung in there, but when the longer denim midi skirts and maxi skirts made their appearance, this 90s kid took notice. In college, I had this fabulous denim mid-length dress from Maurices that I was obsessed with — couldn't walk in it for shit because it was a pencil cut with no slit, but damn, that dress was a favorite.
RELATED: Don't be mad that skinny jeans are out of style. Instead, click on that link to see what's trending instead.
17 Best Midi And Maxi Denim Skirts
This season, the longer midi and maxi denim skirts are everywhere, and with 90s fashion trending hard, this look will be sticking around for quite a while. If you want to hop on the bandwagon, check out the round-up below of the best denim skirts to refresh your closet – some of them are budget-friendly, and others are on the pricier side.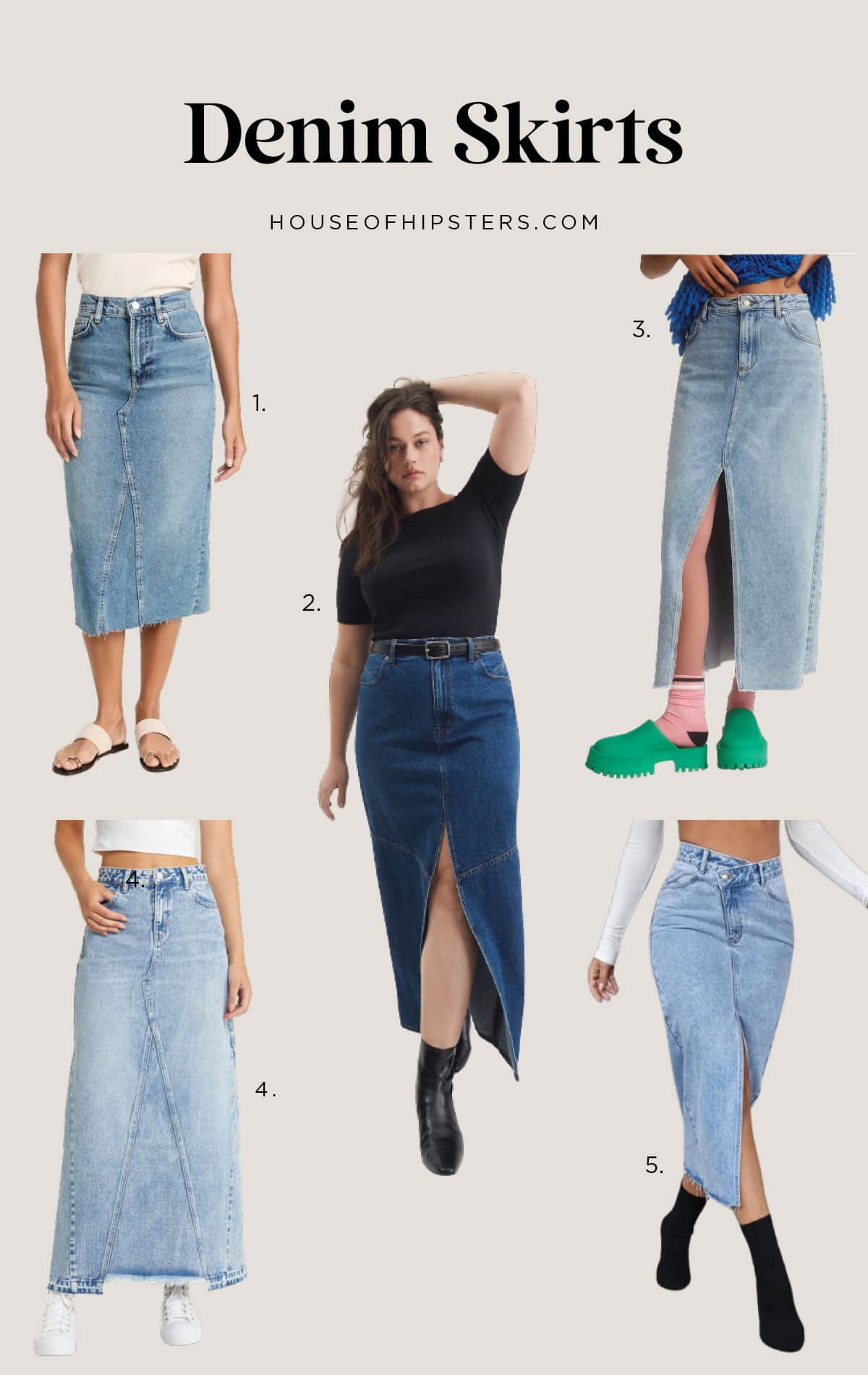 1. Rails Midi Denim Skirt
This denim skirt by Rails has a 90s vintage look and feel with its lighter wash, raw hem, and slit up the back. I'd rock this with a black leather jacket or cozy sweater. If you can't find your size in the button below, try this link here at Revolve.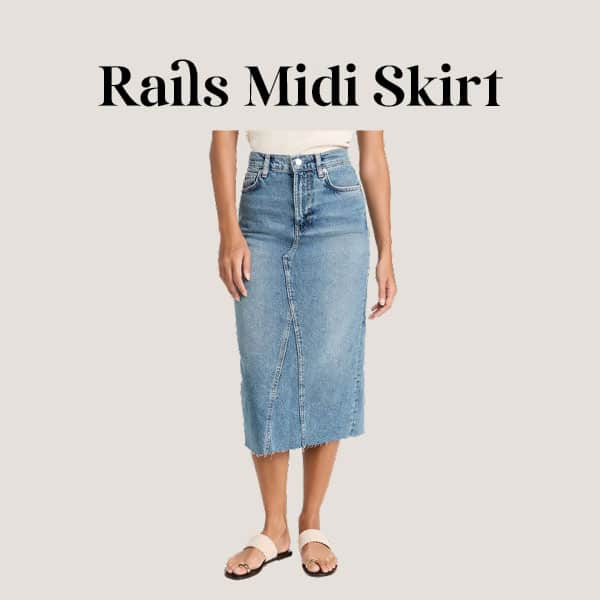 2. Madewell Mid-Rise Maxi Skirt
This classic denim maxi skirt has the 90s written all over it, and I'm here for it. I love the darker wash of this skirt, and the front slit makes this skirt much easier to walk in. However, according to the reviews, the slit is a bit higher than shown in the photos. So even with its ankle length, maybe it's not the most modest of denim skirts. Just something to think about. If you can't find your size on Madewell, you can shop this mid-rise maxi skirt on Shopbop.

3. Pilcro Front-Slit Light Wash Maxi Denim Skirt
This skirt is cute AF, and I love everything about the look and cut, but keep in mind that it runs small, and because it has zero stretch, I had to size up to get the proper fit. What I love about it is that its size-inclusive for many body types, from plus size to petite, and it comes in three different colors: a light wash, a darker indigo wash, and black.

4. Nordstrom Release Hem Denim Maxi Skirt
We are only four skirts in, and I'm already singing Avril Lavigne's Sk8er Boi and having a 90s flashback in the best way possible. Anyhoo, the A-shaped panels on this denim skirt are incredibly flattering on almost any body type. Love the extra distressing in that center hem with the raw edge fringe. Shop It On Nordstrom

5. Shein High Waist Split Hem Denim Skirt
I usually don't shop fast fashion or overly support Shein and its ethics, but when it comes to buying a trend and staying under budget, sometimes this is the way to go. You may not want to make a denim skirt an investment piece in your closet. That's a-okay in my book! This midi jean skirt is under $25. (BTDubs, I love it styled with those black boots.) Shop It On Shein


6. AGOLDE Leif Skirt
This timeless-looking skirt by AGOLDE has a classic column silhouette with a mid-rise and slit up the front. It's forever cool and flattering piece you'll hold onto for seasons to come. Shop It On Free People

7. Tory Burch Deconstructed Denim Skirt
This skirt is from Tory Burch's Fall/Winter 2023 runway collection and has a vintage vibe with its classic A-line cut and reimagined look of two jeans deconstructed and sewn together with patch pockets. Since Tory is a higher-end designer piece, it does come with a heftier price tag, pushing the $400 mark. If you can't find your size on the TB site, you can shop it on Shopbop as well.

8. Pilcro Cargo Denim Midi Skirt
This Pilcro skirt from Anthro has the perfect fit for all seasons, and it's easy to dress up or down, although the cargo pockets do give it a slightly more casual look and feel. Because this is a pencil skirt, it looks especially flattering on an hourglass figure. I can see this styled with a sparkly top and furry jacket for a night out on the town or running errands in sneakers and a sweatshirt.

RELATED: I'm refreshing my closet with these top 9 fall fashion trends. Metallics? Yes please! A pop od red? Don't mind if I do! Hop on over to seeing what else caught my eye.
9. Shopbop DL1961 Asra Maxi Skirt
This faded blue denim maxi skirt runs a bit on the pricier side. It's not out of reach, but it's pushing the $250 price tag. It has a great casual weekend-ready look that is easy to dress up or down because of its polished style. Shop It On Shopbop

10. Walmart High Waist Back Vent Knee Length Denim Skirt
If the maxi length is too long and the denim mini skirt is too short for your liking, this knee-length denim skirt might hit just right. I love that you can wear it year-round and dress it up with a white button-down shirt or dress it down with a fun graphic tee. The best part is this classic A-line's price tag — under $40. Shop On Walmart

Trending Long Denim Skirts To Wear All Year Long

11. Nordstrom Chevron Denim Maxi Skirt
This A-line cut makes this maxi skirt much easier to walk in (unlike my pencil dress from college). Plus, the chevron panels will give you a slimming look and feel, while the raw edges give it a nice casual look. Shop It On Nordstrom

12. Reformation Tazz Maxi Denim Skirt
I love this style because the slit makes this feel less heavy, and, again, it is much easier to walk in with that split front. Can you tell I have PTSD from that pencil dress I wore in college? Can't find your size on Reformation? You can also find the Tazz Maxi Skirt on Shopbop.

13. Abercrombie & Fitch Denim Column Maxi Skirt
Classic column maxi denim skirt with a slit up the back and a nice midway price, under $100. Comes in petite and regular. The reviews say this is the perfect fit, even for a curvy hourglass gal. Shop It On Abercrombie

14. Shopbop Denim Pencil Skirt
This pencil skirt by Staud is a hardworking, year-round casual piece. Rock it with a tank top during the summer months, and throw on a cardigan or blazer for a cozy fall jeans skirt outfit. Shop It On Shopbop

15. Reformation Nila Long Denim Skirt
I love everything about this one. The crisscross front for the snatched waist will give you extra shaping, and that slit up the front makes it easier to walk in. I'd rock this in sandals for summer and black boots during fall. The Reformation Nila Skirt is also available on Shopbop.

Get The Look For Less!

16. Driftwood Katie Midi Skirt
I'm digging the vintage look of the asymmetrical seaming patchwork panels on this skirt by Driftwood. And the high-rise relaxed a-line silhouette will be flattering on almost every body type. If you're looking for a style that embodies a bohemian, free spirit, this is the skirt for you.

17. Amazon Long Denim A Line Jeans Skirt
This cutie denim skirt comes in under $35, which is a great price, and it gets a lot of 5-star reviews. However, one said it shrank, so I would pop it in the wash, cold on cold, and hang it to dry just in case. Shop It On Amazon

So what do you think? Are you here for the return of 90s fashion and the longer lengths of the maxi skirts? I'm saving the stretchy chokers and platform shoes for my daughter Zoe, but I'm all in on the denim skirt craze.



RELATED: I found the cutest pants for spring and summer. Check out my post things I bought this week and loved!
Discover More Trending And Stylish Fashion Ideas
A round-up of cute backpacks I'd wear for commuting to work, back to school, and travel backpacks, and most will fit a laptop.
A new fashion line is shaking up Chicago. Check out the latest collection of bags by Neon Fringey.
If skinny jeans are out, what jeans are trending? Here is the latest in denim.
I found the best pajamas that are comfy, colorful, and come in bold patterns.
Here is some carefully curated summer to fall outfits that are definitely for the trendy mom style without breaking the bank.
If you're looking for Favorite Things gift ideas, I've got a full round-up of goodies under $25 for your next party.
Ms. Maisel has 50s fashion trending. Here are a few outfits I'm loving.
Holy moly! Skinny jeans are out of style! Here are 9 alternative styles to try this season.
Here's my trendy mom style outfit of the day!
Last Springs Picks