Amazon Big Deal Days 2023 – Prime Deals
Last Updated on November 30, 2023
Today's post is the ultimate guide to helping you make the most of the Amazon Big Deal Days 2023 event! This two-day shopping event is the perfect time to stock up on Amazon's best deals at the lowest price. Last October was the first time Amazon offered its second Prime Day event of the year. Like July's Amazon Prime Day, this time around, it's full of exclusive deals on popular brands like Dyson, Bissell, Samsung, iRobot, and more. There's no time to dilly-dally; get a head start on the holiday shopping season!
Best Amazon Big Deal Days Overall Top Picks
You've only got 48 hours to shop the best Amazon Prime Big Day Deals, and since this sale is so huge, it can be challenging to navigate, so I've been combing through tens of thousands of SKUs over the last couple of weeks to find the biggest bang for your buck.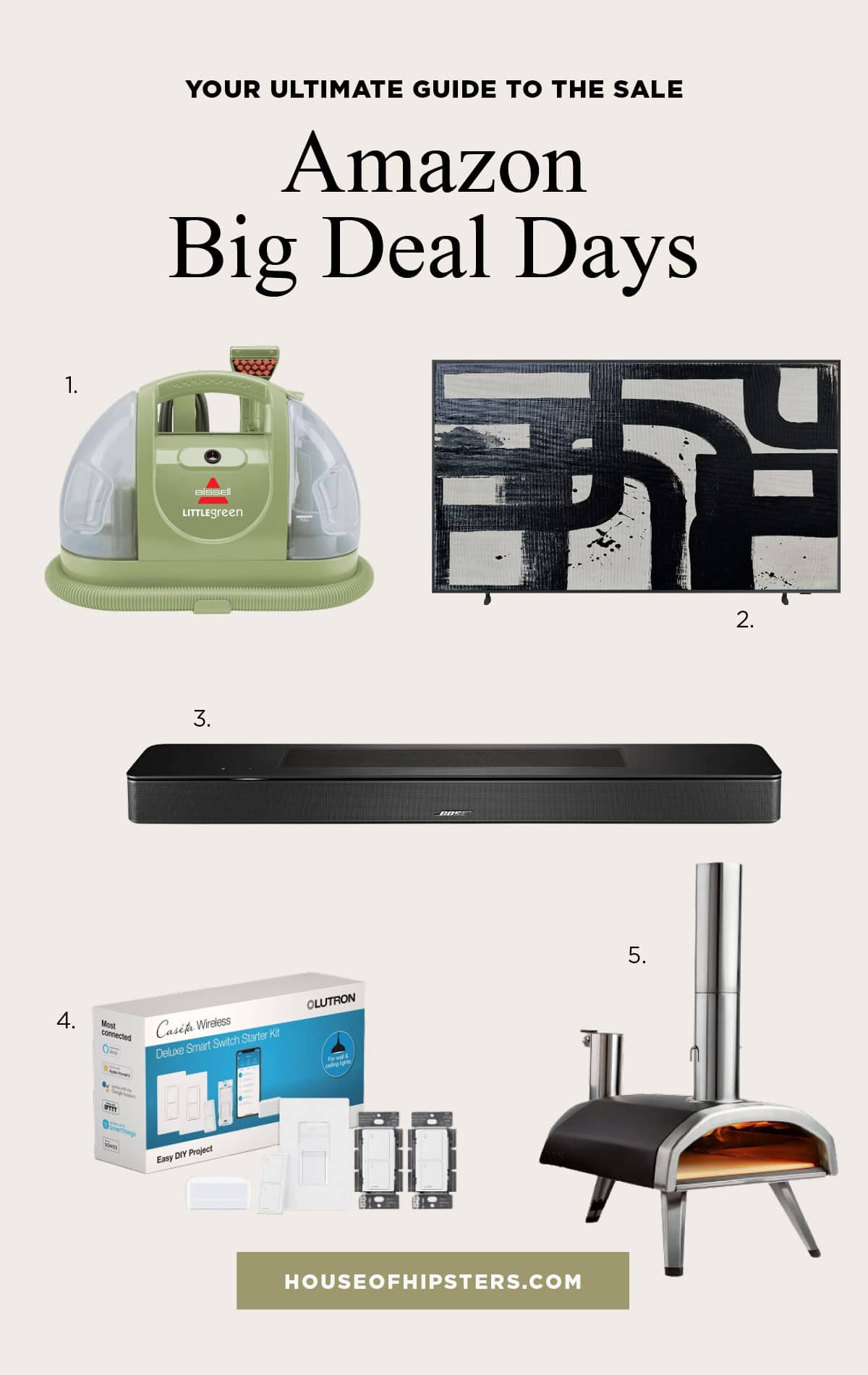 1. Bissell Little Green Portable Deep Cleaner
If you ask me, "What is the one thing I should buy during the October Prime Day?" I would answer, hands down, the Bissell Little Green Machine (also one of the best-selling items in the home goods category). It might be the best buy of the entire Prime Day event. I bought my first one almost 20 years ago, and it has cleaned up so many pet accidents and little kid barf it would make your head spin. I have used mine on carpet and upholstery. The best part is that it is small and compact, so it's easy to store in a small closet. If you don't own one, there's no better time to buy it than now because of its deep discount today. HOH Approved!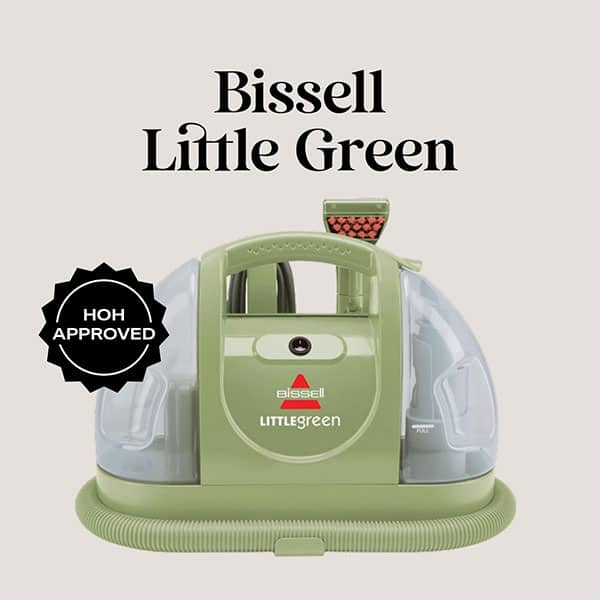 2. Samsung Frame TV
It's no secret that I'm obsessed with the Samsung Frame TV, and this year, every size has deep discounts! Out of all the smart TVs on today's market, this OLED TV is the interior designer's secret weapon for styling a living room because it disguises itself as artwork when it's not in use. You should have seen the look on my kitchen remodel guy's face when he walked into the living room, and the TV went from black to abstract art when it detected movement. It was sorcery that he'd never seen! This smart TV is HOH Approved!

3. Bose Smart Soundbar 600
We bought the Bose Smart Soundbar a few years ago for our living room TV and love it so much! They squeeze five speakers into this sleek design, spreading the sound across your space and practically giving you surround sound. BTDubs, it's also Alexa voice-controlled, so if you're out of earshot from your Amazon Alexa device, the soundbar has you covered. If you have more than one Bose smart speaker, you can link them up using the Bose app. HOH Approved!
4. Caseta Smart Switch Kit By Lutron
How many times have I declared my love for the Caseta Wireless Switch System in my home? This is the first time I've seen it included in the annual Prime Day sale, and let me tell you, it is the gift that keeps on giving! "Alexa, turn on kitchen lights." Alexa, dim the kitchen table." "Alexa, turn on the patio lights." Oh, and speaking of outdoor lights, you can schedule them to track with the sunset even when the seasons change, and it also has geofencing—meaning it knows if you've left the house and automatically turns off your lights. Frickin' genius! Wish you had a light switch near an entrance? You can add a remote that looks just like a hardwired switch. HOH Approved over and over and over again!

5. Ooni Portable Pizza Oven
When our friends busted out their Ooni pizza oven at their lake house, we bought one immediately. This portable outdoor oven cooks the most delicious personal-size pizzas in as little as 60 seconds because it gets up to 950°F in 15 minutes. After it's cooled, fold up the legs and pop it in its carrying case. I will say that the pizza peel is an essential component because the oven is WAY too hot to use anything else. PRO TIP: Make a double batch of dough and freeze the extra to save time. Also, it takes a few attempts to perfect the technique, but once you have it down, you won't want to have any other pizza…and that is saying a lot for someone who lives in Chicago! This reminds me that I must write up a full review post with some of my favorite recipes. HOH Approved!


6. Luxury Towel Warmer
There's nothing better than getting out of the shower and wrapping yourself in a warm towel, so if you're looking to get bougie on a budget, the Keenray towel warmer is just the ticket. It heats up in a minute and holds up to 2 oversized bath towels for the ultimate at-home spa experience. If you really want to pamper yourself, pop your PJs in it before jumping into bed!

7. Candle Warmer
So this candle warmer might seem odd pick, but it's one of my favorites Amazon home items, and of course TikTok Made Me Buy It. So what exactly does this thing do and why on earth should you purchase one? Well, I have ADHD and I tend to forget things. Yes I have been known to walk away from a burning candle…overnight. My mother just audibly gasped. Don't worry though because the last time I did that, I banned myself from lighting another.

But I can still enjoy my favorite candles with this handy dandy wamer. It melts the wax and the fragrance fills my room without the chance of burning my house down. HOH Approved!
8. Pura Smart Home Fragrance Device – Lightning Deal
DAY 1 OF THE BIG SALE ONLY! If you're unfamiliar with Lightning Deals, just know, there's a limited quality, and these deals tend to go fast. Grab this deal right now and come back after you've checked out.
I've had my eye on the Pura Smart Home Fragrance Device for quite some time, and this is the first time I've seen it included in Amazon's Prime Big Deal Days sale and at a pretty deep discount! You can schedule the fragrance with your phone, and it also has geofencing so it knows to stop dispensing if you're away from home.

9. Dyson Cool Tower Fan And Air Purifier
For the record, I'm kicking myself for not snapping up the Dyson Hot+Cool heater fan combo during the Prime Day Sale last July? If I'm looking at the list sale list correctly, it's not included in Amazon's second Prime Day, but the Dyson Cool Tower Fan is! We have this fan/air purifier combo running in our bedroom 24/7. It keeps me cool at night and doesn't leave our room with that sleep-funk smell. I love it! HOH Approved!

10. Electric Spin Scrubber For The Bathroom
If you hate cleaning the shower like I hate cleaning the shower, then this handy dandy cordless electric spin scrubber gadget is for you! Say goodbye to scrubbing the shower and bathtub floor on your knees because this bad boy has an extension arm with adjustable angles and 8 different brush heads. Think of it as the Rubbermaid Reveal scrubber, only bigger! Is it necessary? Nope, but I will say I'm impressed with mine. HOH Approved!

RELATED: You can find all of my best Amazon Finds here, and don't miss my Amazon Must Haves round-up. These are the ride-or-die favorites I own, love, and can't live without.
Amazon Devices And Other Tech I Love

11. Amazon Eero WiFi System
Over 5 years ago, I was gifted an Eero WiFi System to test and review, and it is one of those items that I can't imagine living without. (You can read my full eero review here.) This high-speed WiFi system blankets our entire home with undisrupted internet and has enough bandwidth for over 75 devices. Highly recommend and HOH Approved!

12. Amazon Fire TV Stick
When The Boy and I figured out we could stream our local news channels with the Amazon Fire TV stick, we immediately canceled our subscription to Direct TV with zero regrets. So far, it has saved us hundreds of dollars. We have only used it for a couple of months, but so far, so good.

13. Amazon Echo Show
I know, I know, Alexa is probably always listening, but we love our Echo Show. This smart display sits in our kitchen, and we use it for everything from listening to Spotify music playlists to setting cooking timers. We have also set up all of our smart home commands, so all we have to say is, "Alexa, open the blinds" or "Alexa, turn on evening lights," and our house comes to life.

We like the Echo Show because you can sync your camera roll to it, and we get news articles, but if the display isn't something you need, try the Echo Dot or the even more affordable Echo Pop.
14. Apple Noise Canceling Airpods
Everyday my kiddos use their Apple Airpods Pro at school with their iPads, and Cooper just told me his left earbud is no working sporatically. These noise-canceling wireless earbuds come with four pairs of silicone tips to fit different ear sizes, making them way more comfortable. Yup, a pair is headed our way.

Big Discounts On Vacuums And Kitchen Appliances
15. Robot Vacuums I Own And Love
I've tested almost every robotic vacuum on the market, and my two favorites are the Roborock Vacuum and Mop Combo and iRobot's Roomba self-emptying vacuum. These are both self-emptying, and I think that is a HUGE sell point when it comes to robotic vacuums because when it's full, it clears its bin and continues working without bothering you. We rarely use the mop feature on the Roborock, and I honestly do not think it's necessary, but to each his own. Check out the J5 if you want a Roomba mop and vacuum combo.

If you're looking for a robotic vacuum, but these two are out of your budget, there is Yeedi. It has one of the lowest prices in the robotic vacuum market, but you get what you pay for. My first one died after 2 years, and after speaking with Yeedi's customer service, they confirmed that the lifespan is about 18 months (and for the record, I told them I was an Amazon influencer when they put that statement in writing.)
I purchased my first Roomba robot vacuum almost 10 years ago, and it recently stopped holding its charge. Today, I'm replacing it with yet another Roomba. Yes, the initial cost is higher than Yeedi, but it was the smarter purchase in the long run. If I had only one to put the HOH stamp of approval on, it would be Roomba.

16. Shark WANDVAC System
Last July, the new Shark WANDVAC system with the self-emptying base was not on sale, but this time around, it is! Our WANDVAC lives in the kitchen, and we use it daily to pick up the crumbs under the dinner table and pet hair on the main floor. It's not meant for deep cleaning, but it's perfect if you have hardwood flooring and want an always-ready grab-and-go vacuum. It also converts to a handheld vacuum for stairs, upholstery, and cars. Side note: be sure to pick up a few replacement filters. HOH Approved!

17. Ninja Air Fryer
If you're looking for air fryers, Amazon Prime Day is the time to pick one up. We use our Ninja Air Fryer every week and cook everything from potatoes to fish to chicken to brussels spouts to cookies. However, I highly suggest purchasing a couple of silicone liner baskets (didn't look to see if these are on sale) because it makes the clean-up process so much easier. There's also a larger air fryer with dual zones if you really want to get busy in the kitchen family style.

18. Vitamix Blender
DAY 2 ONLY! Yes, I am fully aware that the Vitamix blender is expensive AF (sadly, The Boy does, too), but it can make a smoothie faster than you can say Jamba Juice—and I'm talking super smooth with zero chunks. I use this thing every morning to make an acai bowl with frozen fruit, and after upgrading from a regular plain jane blender to this bad mamma jamma, I have zero regrets. Plus, this one is on super deep discount today only! HOH Approved!

19. GE Profile Opal Nugget Ice Maker
The bougie nugget ice maker that I have zero regrets purchasing. If you love Sonic ice, you need this thing in your life. I've included this thing in every Amazon Prime Day sale because I love it that much, so if you didn't purchase it last July, you get a second chance today!

Yes, it's a fussy appliance. Yes, you need to clean it once a month (or, if you're me, every other). Yes, you can only use distilled water. Yes, you need the side tank, or it will make a horrible grinding noise. Yes, it can be loud. But guess what, it's still 100% WORTH IT! HOH Approved!
20. Dyson Cordless Vacuum Cleaner
If you're looking for the creme de la creme cordless vacuum cleaner for deep cleaning, the Dyson V15 Detect Complete is what you need. It intelligently adapts its power based on the floor debris it detects, and it also converts to a handheld vacuum for stairs, upholstery, and cars. It costs a pretty penny, but this is the vacuum for you if you're looking for a workhorse.

Fashion And Beauty Products With Big Discounts

21. Foreo Bear Microcurrent Device
I've been searching for a new microcurrent device since my NuFace stopped charging, so the Foreo Bear just fell into my cart. The sale price on this one is just too good to pass up. (Although the Foreo Bear 2 Go in the color pistachio has an even better price tag. It's just a small size.) This little miracle worker is like a mini facelift. It improves sagging, reduces wrinkles and puffiness, and gives you a more lifted appearance. At almost 50 years old, I'm all in, and I don't think there will be a better price on Cyber Monday.

The NuFace Microcurrent Device is also on sale today, but after mine stopped holding its charge after 2 years, I'm hesitant about purchasing another one. Especially since it was a known issue, maybe they've fixed it? Either way, one of these will be coming home with me today. I'm just not sure which one. Decisions. Decisions.
22. Women's Long Sleeve Cardigan
The fashion bloggers cannot get enough of this long sleeve cardigan, and with the chilly weather, it's perfect for fall. The reviews are awesome, and it comes in different colors. Might be taking this one for a spin.

23. Skincare Fridge – Lightning Deal
All the beauty influencers have the Easy-Take skincare fridge, and I'm kinda obsessed with it. Is it necessary? Heck no. Is it bougie and pampering? Heck ya! Apparently, chilling your beauty products extends their lifespan, plus it feels divine when you apply moisturizer. And, if you put your makeup on in a low-lit area, the door has a mirrored surface and an LED light. My daughter is getting this as a Christmas present…and I might just grab one for me.

24. Oribe Dry Texturizing Spray
The Oribe Dry Texturizing Spray has been a staple in my morning hair routine for years. (You may have caught the travel size in my Favorite Things Gift Ideas under $25 round-up.) It's not as sticky as hairspray and gives more texture to your hair than dry shampoo (without the mess). Plus it smells AHHHHHMAZING! HOH Approved!

25. Obagi Medical Nu-Derm Fx System
A few years back, I regularly went to the dermatologist for laser hair removal and IPL treatments. Their esthetician recommended the Obagi Nu-Derm Fx System. It's less expensive than SkinCeuticals and, in my opinion, just as good. I especially like it for brightening and evening out my complexion and reducing the brown spots on my face.

26. Babe Lash Eyelash Growth Serum
The smaller size of the Babe Lash Eyelash Growth Serum, when on sale, squeaks in under $25, so if you've been wanting to try a lash serum, this is the perfect time. When I took a break from my lash extensions, I realized my lashes had become short and stubby. I tried this and the RevitaLash serum, which is a bit pricier but just as good (also on sale today). Both gave me great results! HOH Approved!

Best Amazon Prime Day Deals Under $25!

27. Trending Crossbody Belt Bag – Lightning Sale
This crossbody belt bag is everywhere, and for Day 1 of the Amazon Prime Big Deal Days, there is a LIGHTNING SALE on this belt bag / fanny pack. If you love it, jump on it immediately because lightning deals don't last long. There is only a limited number available.

28. Fuzzy Cross Band Slippers
If you sprung for that towel warmer, I really hope you indulge in these fuzzy cross-band slippers. They're made of faux rabbit fur, comfy, soft, warm, and, best of all, under $25!

29. Silver And Gold Stainless Steel Apple Watch Band
If you've been looking for a gold and silver metal Apple Watch band, now is the time to snap one up! This one is easy to adjust and doesn't look as chunky as the men's version. If you want that hefty, chunkier look, try this silver and gold watch band instead. It's not technically included in the Amazon Prime Day sales SKU list, BUT I'm looking at the listing a couple of days early, and a $3 coupon is available to click on. Maybe it's still there today? There's also this listing for additional colors like rose gold, solid gold, solid silver, or black.

30. Laneige Lip Glowy Balm
The viral favorite beauty product, Laneige Lip Sleeping Mask, is on sale again, but there is also a good deal on the Lip Glowy Balm that you can wear throughout the day…perfect for those dry winter months. HOH Approved!

31. DERMA-E Microdermabrasion Scrub
If you checked out my round-up of Favorite Things Gift Ideas, you may have seen this microdermabrasion scrub by DERMA-E that my friend Angie suggested. It's a facial scrub that smooths and revitalizes skin with dead sea salt and citrus essential oils. You can get it at a deep discount during this 48-hour event!

32. Cladrea Sea Salt Neroli Dish Soap
When I say Caldrea's Sea Salt Neroli is the best-smelling soap on the market, believe me. I would bath in this stuff if I could…I mean, it IS soap, but I have a feeling it would dry out my skin. Anyhoo, they compare the smell to drinking lemonade on a scooter near the ocean. I don't know; I can't explain the smell, so I'll just say it's AHHHHMAZING! Hands down, anything better than what you find at Bath and Body Works. HOH Approved!

33. Command Strips
The 3M Command Strips are my go-to when hanging anything on my walls. I was initially skeptical, but all of my artwork and that gallery wall of framed inkblots are still holding strong! And as long as you install them properly, they will not damage drywall when removing them—making it perfect for renters. This refill pack is a steal of a deal during the big sale! You can find the picture hanging hooks here. HOH Approved!

34. Rubbermaid Reveal Cordless Scrubber
The SKU list isn't saying the Rubbermaid Reveal Scrubber is included in the October sale, but I'm including it because I see it IS on sale! I swear I talk about this thing at least once a month, and I now own two. One for upstairs and one for the main floor. It's perfect for cleaning the sink, behind the faucet, and all the nooks and crannies that collect gunk. The best part is that it's under $25! HOH Approved!

RELATED: Wanna know how high to hang a picture frame? Check thes guide and nail the perfect height every single time.
New Amazon Big Day Deals For Your Home Gym

35. Echelon Rowing Machine
With everything else I have in my Amazon cart, this probably won't come home with me today, but it is on my wish list and has been for a while now. A few of my blogger friends own the Echelon Rowing Machine, and they love it because it folds up to a compact size for easy storage, and the fitness classes are similar to playing a video game. When I worked out regularly with a trainer, he had me on the rowing machine for HIIT workouts, and it was a great way to keep my heart rate up.

36. LifePro Rumblex Whole Body Vibration Plate
I use the LifePro Rumblex during my resistance band workouts. It adds that extra oomph because you're engaging muscles to keep your balance, and if you're having one of those days where your muscles are feeling stiff and achy, this thing will vibrate your entire body and calm your nervous system. HOH Approved!

37. Chirp Foam Roller – Lightning Deal
DAY 1 OF THE BIG SALE ONLY! This is another Lightning Deal, so if you want the 4 pack of Chirp Foam Rollers, go grab them now, checkout, and come back. I'll be right here waiting for you. I've been eyeing these for a couple of years, and the 5-star ratings tell me today is the day to buy them. If you want to purchase a single Chirp Foam Roller, go here.

38. Peloton Bike
This is the deepest discount I've ever seen on the Peloton Bike, so if you've been eyeing one for the holiday season, today is the day! I have owned my Peloton for years, and even though I take breaks from it, I always return. The monthly membership includes many different on-demand workouts like yoga, strength training, barre, running, and more. HOH Approved!

39. FLYBIRD Weight Bench – Lightning Deal
DAY 2 OF THE BIG SALE ONLY! I bought the FLYBIRD weight bench during July's Prime Day Event and have zero regrets. We all use it in the home gym and love it. This folds up for easy storage and works perfectly for any dumbbell routine workout.

I hope this guide helped you navigate the second annual Amazon Prime Big Deal Days Sale event. It's a doozy to pick through everything and find the best of the best deals and steals. If you've found a deal I missed and should check out, let me know in the comments below. I'd love to hear about your favorites too!
Like This Post? Pin it for later and share it with others!




Discover More On House Of Hipsters Interior Design Blog
The brick fireplace makeover before and after is finally live. You won't believe the transformation!
Looking for a gift for a home decor lover? Check out the best interior design books that I own and love.
Get inspired by these mantel decor ideas and styling tips.
Don't miss this viral round-up of the best Fall Fashion Trends for 2023.
The bedroom closet remodel went viral on social media. You've gotta check out this transformation.