Bedroom Closet Remodel
Last Updated on September 22, 2023
You deserve a progress report on the bedroom closet remodel project. After we installed the heated floor system and laid the luxury vinyl flooring from NovaFloor, I waited for my ceiling lights to be delivered. And I waited and waited and waited. Srsly, these supply chain issues are killing me. Anyhoo, they finally arrived, and I shared a quick tutorial on how to install a ceiling light, but I still owe you a final reveal. I needed to zhush, but today is that day! If you forgot, here is a look at the before closet makeover.
Bedroom Closet Remodel Before Photos
The previous owners built an addition to the home about 10 years before putting it on the market, and the bedroom closet was a major selling point. I walked in and was like heck ya; I need a closet like this. Not only was it huge, but there was also a washer and dryer in the space, but the major downfall to that was the carpet. Dryers and clothes, in general, create a lot of dust, and carpet is a dust magnet. Here are a couple of before pics, but feel free to check out the closet makeover progress report post if you want more details.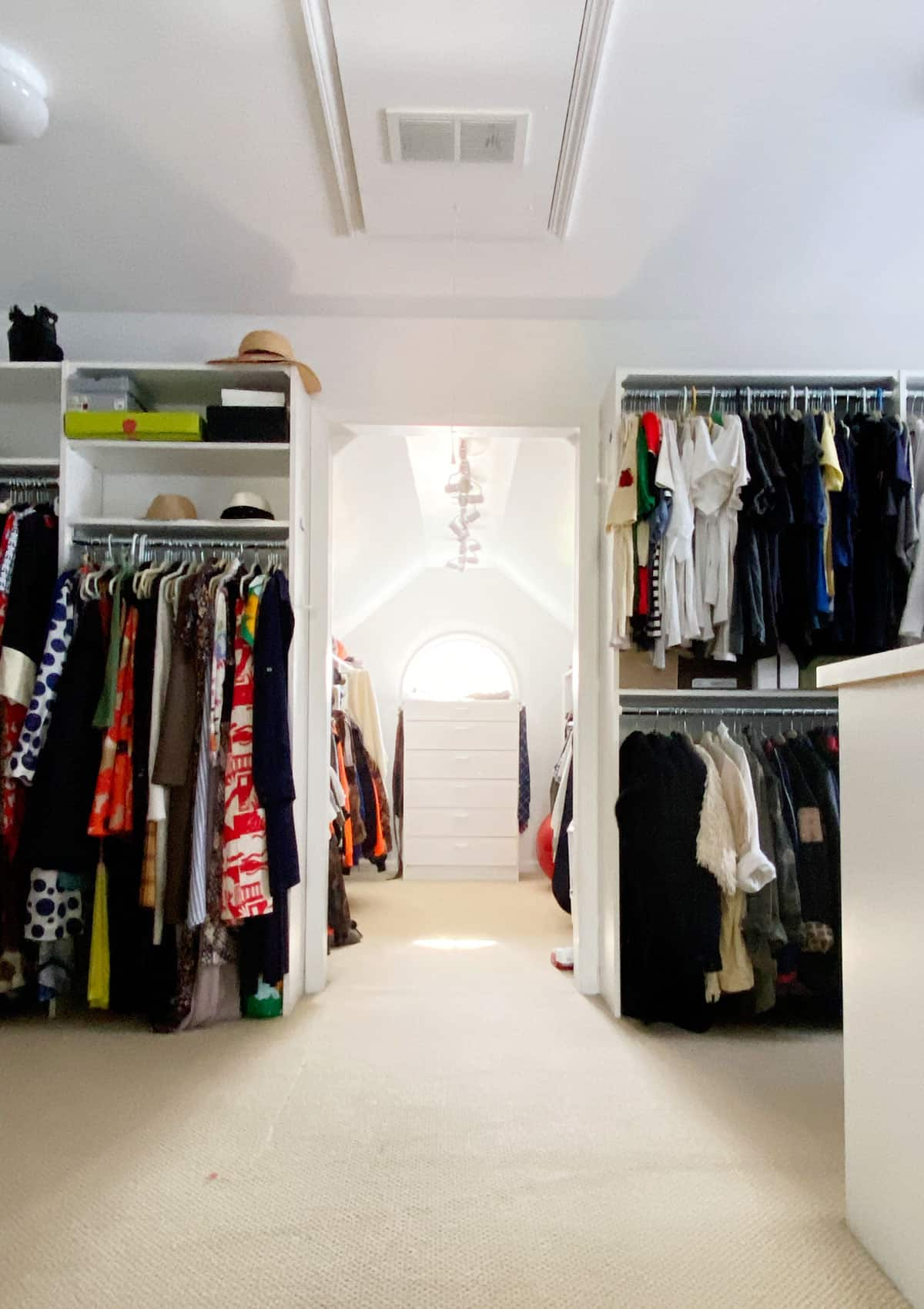 Nothing wrong with it but definitely room for improvement. Since the closet sits over the garage, it gets extremely cold in here during the winter. Hence why, we installed a radiant heating system from WarmlyYours. In my head, it seemed way more complicated to lay the wiring, but it was easy peasy. However, we hired an electrician to run 240 volt into the closet and a tile guy to pour the self-leveler over the heating system. Neither The Boy nor I wanted to haul seventy 10 lbs bags of cement up the stairs and make a complete and utter mess.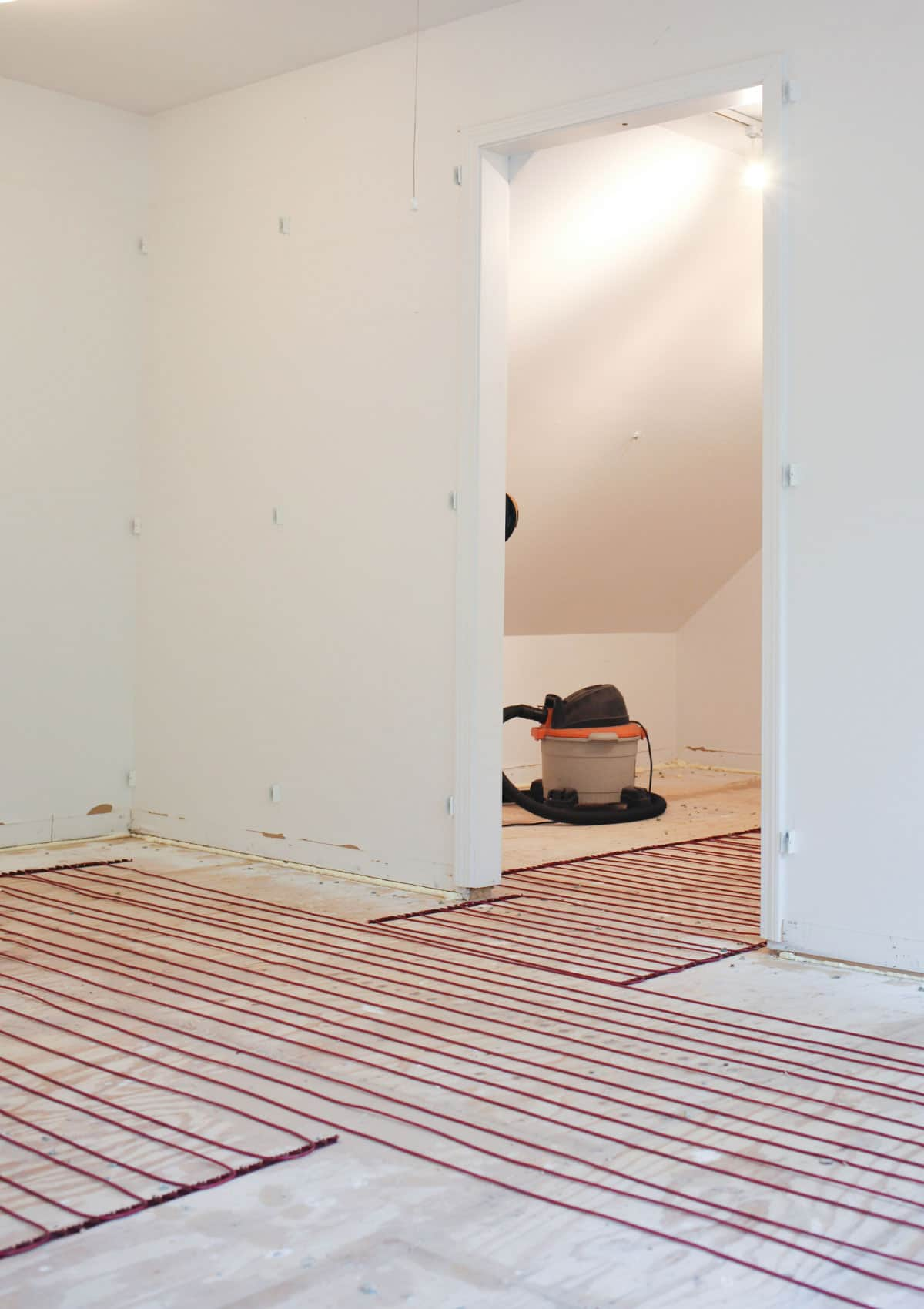 During this time, the adjacent rooms in my home looked like this.

But after purging an enormous amount of clothes (you should definitely check out my Poshmark shop and bookmark it because I'm continuously updating it), here is the current state of the bedroom closet remodel.
After Bedroom Closet Remodel
Now that you've seen the not-so-pretty before, here are the after photos!


See that hydrangea bouquet? That's a faux flower arrangement in resin, and I made it! Click on the link for the easy DIY instructions.
Staying On Budget During The Closet Remodel
We left the walls painted white – a decision which I hemmed and hawed over. Part of me wanted wallpaper. Another part of me said wallpaper on the inside of the cabinets. Another part said to paint it a fun color. But in the end, I kept it plain old white. Hear me out. The cabinets may be replaced when we have a budget. I'd love them to have more of a custom built-in look, but that wasn't in the cards.
SHOP THIS POST




As I'm sure you're aware, the cost of goods is so high. The self-leveling cement alone was $4k. The quarter round was around $150, which pre-covid should have been $50. Overspending on cabinets just to have shiny new cabinets seemed silly. I did swap out the hardware on the island, though. I found these black and brass pulls for a steal of a deal, and they really elevated the design. I have a free renovation budget checklist available for download if you're looking to renovate anytime soon. It totally helped me see where I could save money.
I'm still unsure what to do about that track lighting in the photo above. It definitely needs replacing, but I haven't found anything I love…yet. However, I have a strong feeling that track lighting will be making a comeback in 2023.
SHOP THIS POST



The lighting, which is in stock and no longer on backorder, can be found here. I looked everywhere for a boob light replacement that was a semi-flush mount slash almost pendant and kept coming back to these. I love the vintage look of the milk glass, and the price fit the budget.
Washer and Dryer Stayed The Same In The Bedroom Closet Remodel
We also kept the same washer and dryer. Again, there was no need to replace appliances that worked perfectly. Side note, I'm a top-load gal when it comes to a washing machine. Yes, those front-load washers look pretty, but I've had 2 in the past, and no matter what I do, they end up stinking after a few years. I don't care what cleaning products you use and how many times you wipe down the inside rubber lining. They get smelly.

SHOP THIS POST



With winter comes cold air, so we have had the radiant heat on. It's THE BEST! In fact, we love it so much I've vowed that every single room we reno with new flooring with be heated. The room is warmer all around, and it feels so cozy underfoot And no issues with the luxury vinyl flooring being heated – that is with one exception. We have it set below 80°. Technically I think we can go a smidge higher if memory serves me right, but if you're looking to add a radiant heating system to your luxury vinyl plank, please check with your manufacturer. NovaFloor okayed ours, but each company is a bit different. So what do you think of the bedroom closet remodel? Let me know in the comments below!


Find More Eclectic Home Decor Ideas and Inspiration
Find decorative storage boxes for all your decluttering and organizing needs.
Sharing where I find affordable velvet curtains, but if you don't want velvet, I have another round-up of where to buy affordable curtains online that includes linen, sheer, and cotton.
There's also a round-up of how to choose the best bedroom lighting where I also share ideas on how to layer lighting to achieve the perfect atmosphere for reading and an evening wind down.
The kitchen remodel was one of those projects that kept me on my toes. And in case you're wondering, white kitchens are not out of style. You just need to warm them up.
Make this artificial flower arrangement in resin DIY with this easy tutorial.
Getting rid of the brick fireplace in our living room and jumping into a Modern Fireplace Makeover. Check out the progress and then hop over for some mantel decor ideas.
Looking for something out of the ordinary? Check out these unique modern vases that add a touch of artistry and elegance to your home decor.
Cane and rattan are trending hard in the interior design world. Find the Best Cane Furniture online shopping sources.
Discover the best outdoor rugs for your patio and deck that are also washable. Looking for an indoor rug? Before you buy, get my tips on calculating the right rug size for a living room.
Have you noticed the cute mushroom decor that is popping up everywhere? Jump on this trend with my top decor picks!
Learn my genius ways on how to hang art and nail the height like a pro.
Add a bit of sparkle to your room with this disco ball decor.