Living Room Progress
Last Updated on December 8, 2022
Oh sweet Emily, you recently wrote about the kind of disaster that is your family room. And I gotta tell ya, I really needed to read this. Yes, you might have been sitting on the most perfect vintage blue Persian rug that you bought for $12 that alludes me and wearing the most perfect plaid shirt with the most perfect brown boots not tucked into straight-leg jeans that I can never seem to pull off without feeling like I'm stomping around like a tyrannosaurus rex cowgirl…sorry, rambling, I digress, focus…but you taught me that it's ok to have a room that's not completely perfect and still showcase it on House Of Hipsters…even if it makes you cry a tiny bit.
Many of you have asked for a house tour. A wider look at the nook of disaster in the living room. I've had some emails asking which coffee table I wound up purchasing. Did I add curtains to the living room? Well, this living room makeover even if not quite perfected will answer a few of those unanswered questions.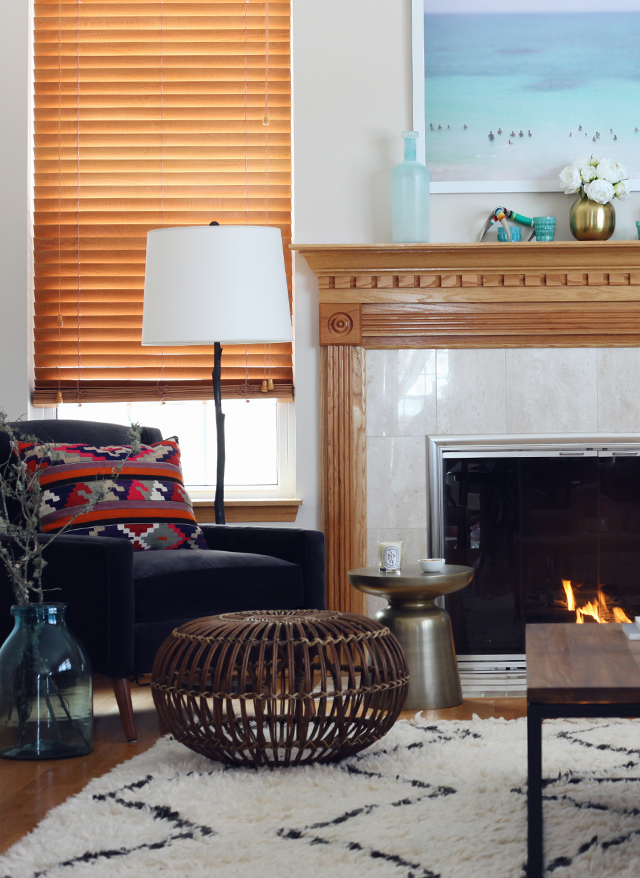 Dear Emily, I worried my choice of sectional might make you fall to the floor in sheer and utter disappointment, especially after your post about buying a generic sofa. I still find myself scratching my head, but I think I came close to nailing it? Are the back cushions too poufy? Too slouchy? Too oversized? Oh, I don't know; however, I looked at your sectional in your family room and breath a small sigh of relief. There's a similarity there. Kind of? Sort of? Yes? Sometimes I wish just a tiny, little version of you could live in my head. Not in a creepy way. Just when I'm making major room decisions. Then you can be on your merry way; off playing with little Charlie Hendo in your perfectly redesigned slice of MCM heaven.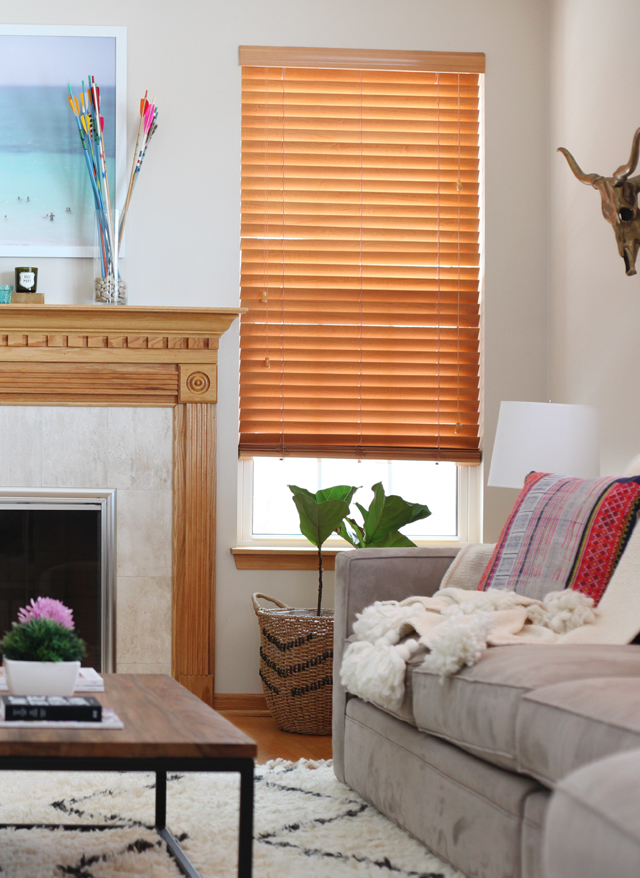 I've come to realize that no matter how many times I think I've completely styled a room, it's still not quite right. Sometimes I haven't a clue as to how to fix it no matter how many brass miniatures are added. Yes, I might have just made you lock yourself in the bathroom of your beautiful new office space and you have since wrapped yourself in Rifle wallpaper just to uplift your spirit, but that's okay. (Besides, Rifle wallpaper is beautiful. It would cheer up anyone's day really.)
After I posted my reading nook of disaster, everyone resounded in unison, "Add curtains!" For which I need to make happen, but as you can see, my magic money tree has yet to deliver. Yes, you and Charlie might have to binge on strawberries and toast to be able to even function and make it through the day. Trust me, the window treatments will happen. I promise. Just know, I would never want for you to eat your feelings because of my lack of drapes.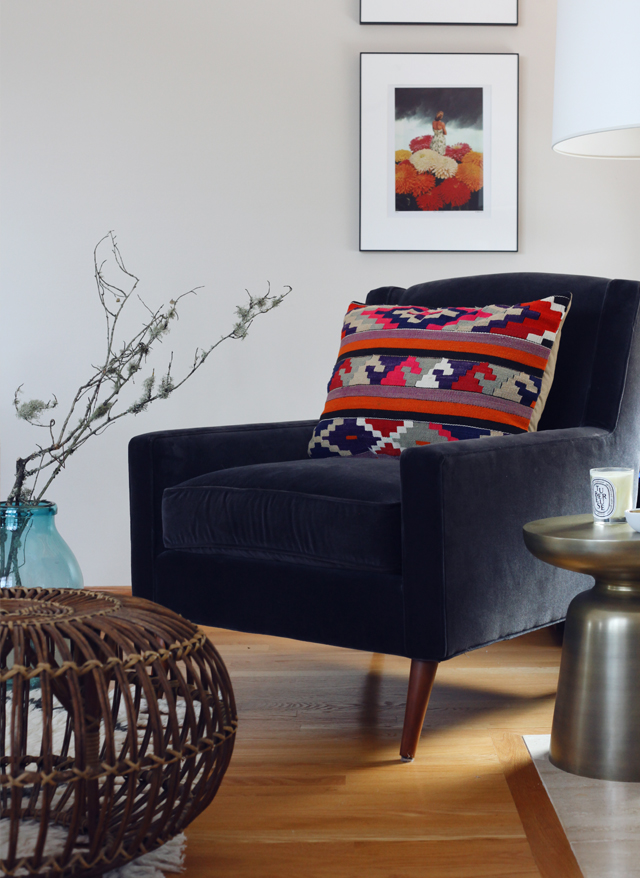 No, I might not have nailed the pillows…yet…but that's another story for another time. Yes, I'll admit, I have 99 problems, and mixing pillows and patterns might be number 1. And I still want to take a sledgehammer to my mantle, but I haven't the budget with the Mid-Century Modern bedroom makeover in progress. Nor do I think we can survive another reno after the patio. Not now anyway. I'm sorry sweet kitten. You're probably blaming these feelings of sadness on a world decorating with rugs that are way too small. For which I have to thank you for this advice. Virtual hug.
Had it not been for you, that West Elm Souk rug might have just made you clutch your chest and gasp for air. Alas, my love, that crisis was averted thanks to you. I heard your voice loud and clear. 9′ X 12′ was procured much to my credit card's dismay. Tough love was necessary, and ever since its arrival, my living room feels much more put together, cozy, grounded, and proportioned. Holy bananas, it's a beautiful thing when I listen to you!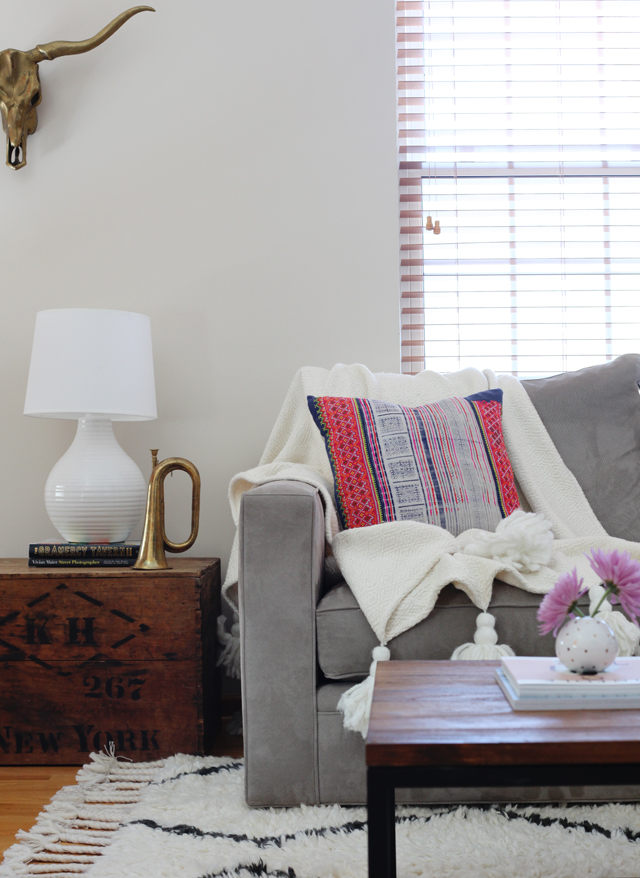 That lamp makes me cry sweet tears of sadness as well. I know it's just all sorts of wrong. No matter how many polka dot shirts I could possibly buy you, it just will not make up for this lamp. A brass task lamp is in the works. I promise. It really is. I'm going to make it happen one of these next paychecks. This one is uninspiring and stale. It just doesn't work. Wait a second, was that a tiny smile I just saw? Are you finally realizing that I'm learning? I promise I am. Slowly, but surely, for realzies I am. But these things take time…and money. Yes, I know, you could do this makeover in 2 days with your eyes closed and Brady just standing there lookin' all pretty, and I know this makeover hasn't gone from OK to OMG quite yet, but it's on its way. I can promise you that.

You might remember I was shopping for a coffee table. Did you notice I finally decided on the ABC Carpet and Home little number? It's more proportionate to the room and doesn't completely cover the rug as the last one did. However, this credenza might have to go.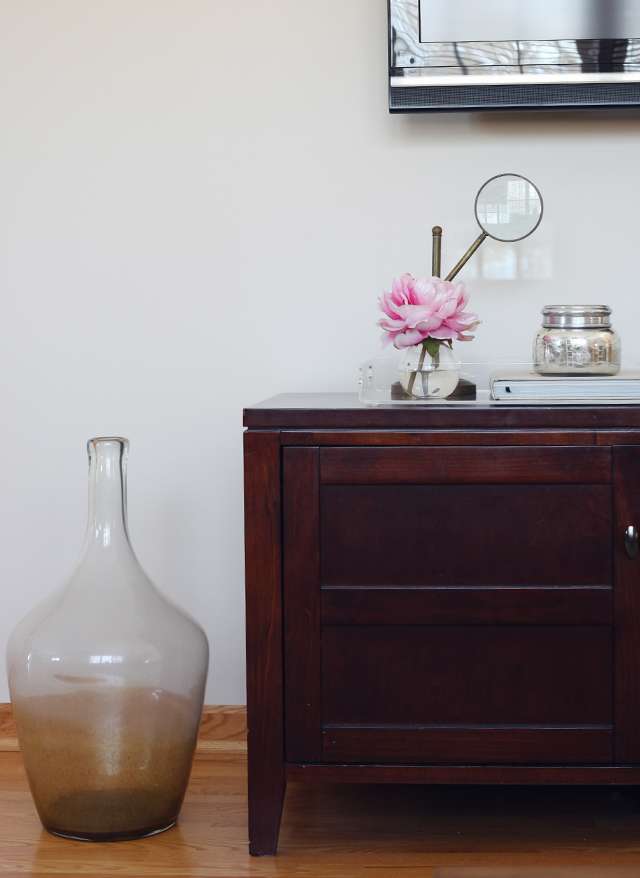 I've got most of the big pieces in place, but it's the styling that gets me every time. You make it look so easy while I fidget around with vessels and frames. Moving miniatures from here to there; driving my poor Type-A husband to a level of insanity you cannot even imagine. Playing with pillow patterns until I'm blue in the face. It's in the details my love, the details that trip me up.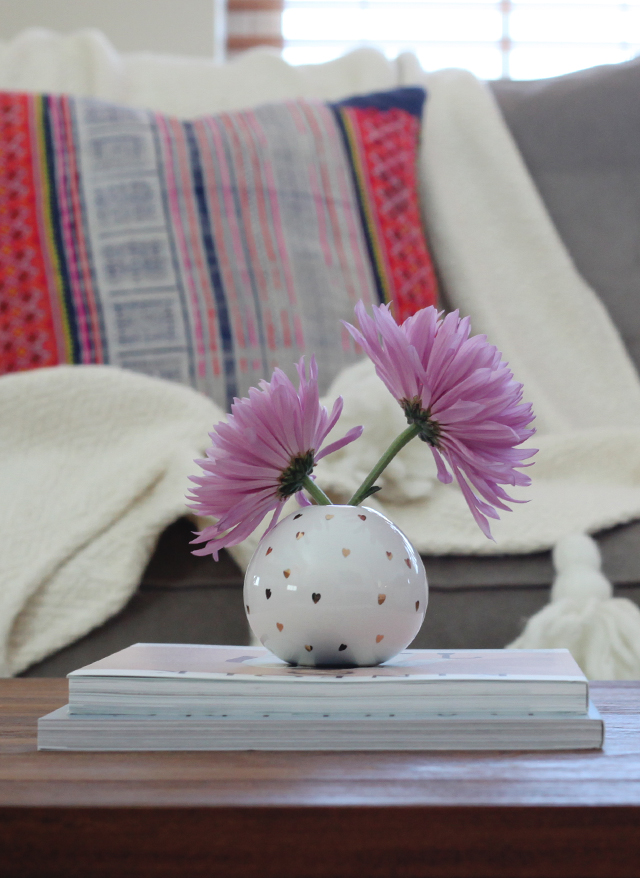 Like the mantle styling that I thought I saved, but possibly used too many pretty things. It was a bit overkill. As you can see I've since pared it down, but I do have a couple more vases awaiting arrival. Damn you backorder! But I swear to you, I'm trying. Just know it's me, not you, or the fact that you might have missed out on the most perfect wall art from the Rose Bowl Flea. And it wasn't because you forgot the booth number to where you purchased that white vessel for your oh-so-perfect floral arrangement. It's me sweetness, but slowly, but surely, this WILL come together. You can make bet on that. Just know, I don't mean to bring you down.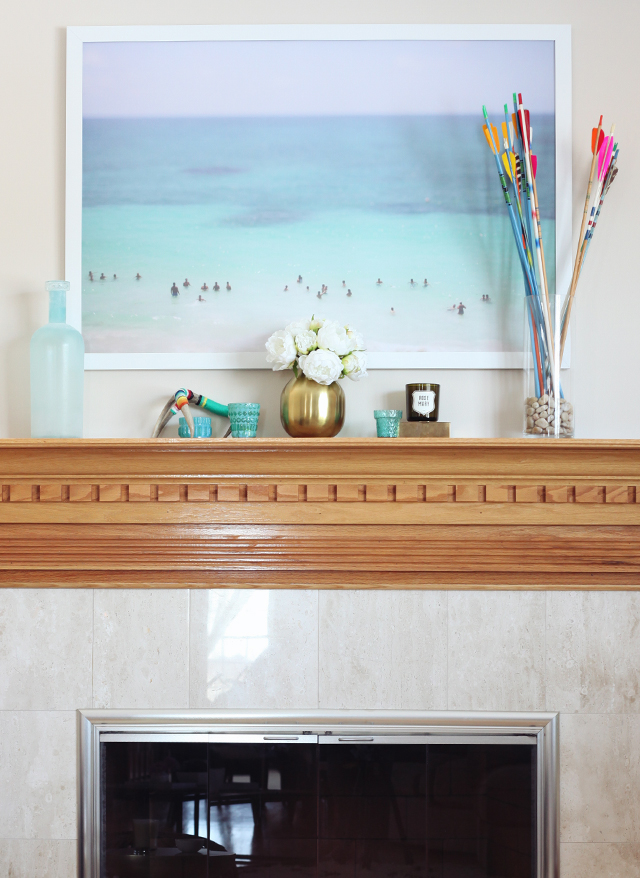 And just so you all know where I started from about 6 months ago, it looked like this. And even though I might sound a bit harsh on myself in this post, I really do like where it's at right now. Is it still a work in progress? Ya sure. But for now, it's good enough.