Shopping for a Coffee Table
Last Updated on January 13, 2022
Hey guys! I hope y'all have recovered from your food comas and paid off your credit cards from Black Friday because we're not done shopping. Not quite yet anyway. I need a new coffee table, and I need your input. Well, to be honest, I've needed a new coffee table for quite some time (since we moved into the house, I knew the existing one wasn't quite right), but Thanksgiving evening it all came to a head when this little gem was finally unrolled and loved on. Ya, have to admit, I kinda caressed its awesomeness for a few minutes an hour or two or three or four (let's be real). I've been lusting over it for years. Ever since my girl Emily Henderson rolled it out for the first time, I kinda went bonkers over it.
Coffee Table Round Up
Now, don't get me wrong, I loved (past tense) my present coffee table in our old place, but it just doesn't fit in the space in this new house. It's a 48″ x 48″ monstrosity that has overtaken the TV room. It's enormous! The Boy and I can roll out a full sushi meal on it and have room to spare. It's crazy huge (and for sale BTDubs). I loved it at the time because of its size, and it's from Room and Board so you really can't go wrong. However, in this new space, it must go.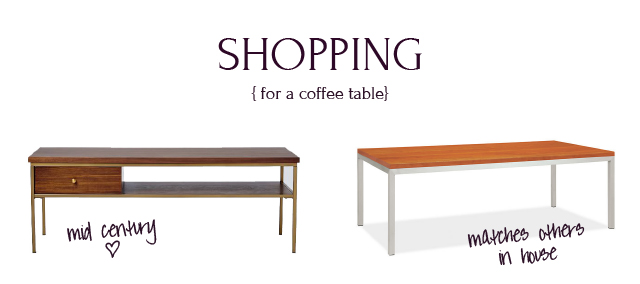 But the almost 4-year long question has been, "What are we to replace it with?" I don't think I've ever been so indecisive. Covering up the beautiful Souk rug from West Elm cannot happen though, so a decision has got to be made.
My love for Mid-Century Modern is not a secret, but trying to find a vintage piece that I immediately fall in love with that doesn't cost an arm and a leg has eluded me. Believe me, I've looked. Everywhere. I just can't seem to find the perfect piece to commit to. I've shopped every store in the city I know, but nothing has caught my fancy. So I've turned to the big box stores, and even those seem to all have a very similar look.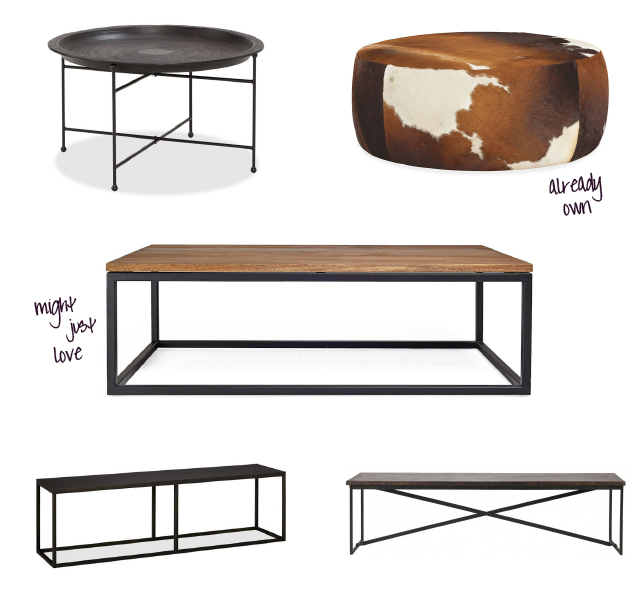 1. Mid-Century awesomeness from West Elm. So I have to first begin by stating for the record that West Elm is killin' it in the Mid-Century department. I am crushing on this piece so hard, but it has a problem. A big problem. It's just too darn small. The width is there at 47″, but only 17″ deep, I'm afraid I'll have the complete opposite problem that I'm having now. Must find a happy medium, but those brass accents are pulling at my heartstrings.
2. Room and Board Portica Cocktail Table with cherry top. So I've loved this table for a while now, and it's obvious because I have 3 matching end tables to prove it. It's simple and it's perfect…except the top is quite soft, and I've unfortunately scratched all 3 a few times. Insert sad face here. And that scares me since I just busted Little Maus banging a car against the square monster that exists now.
3. The Moroccan Tray Table by Pottery Barn. I've always loved these, but PB pictured them all outside, something that has me second-guessing my choice. It's amazing how a picture can sway your decision. Plus, the West Elm Souk Rug already has a very Moroccan look and feel, do I really want all of the Tangiers up in my living space? Maybe? Maybe not? Although I do love the look. I also have a Franco Albini Rattan Ottoman sitting in the same room (and in no way shape or form should you pay more than $300 for one of these ottomans). Should you have 2 round pieces so close to each other?
4. Room and Board Lind Cowhide Round Table. This here is kind of a no-brainer. I already have this piece and yes, being on a budget restraint, I should really be shopping for my own house. It's easy. I don't have to pay for delivery. There's no waiting. Immediate fix. Hmmm, but I'll still have to find a coffee table for the basement. It's an immediate fix for upstairs, but it still does not fix my coffee table woes. Also, I'm so protective of this table, and I swear every child wants to ride this puppy cow. At least I can kinda protect it in the basement. Also, see the Franco Albini dilemma above.
5. ABC Carpet and Home. I love this store, but everything seems to be priced just out of range for me and my pocketbook. However, this guy here surprised me! IT'S ON SALE!!!! And the depth is perfection! 47″ x 27″! I gain almost 2 feet of my living space back! It's a very simple piece and I like how open it is. I won't feel like I'm covering the new rug. Interesting, very interesting. My problem with this piece is that I can't actually see it in person unless I want to fly to NYC. Roadtrip anyone?
6. This little guy from Pottery Barn is very similar to the piece by ABC Carpet and Home, but it's got a blacktop. This one is on sale as well AND I found almost an identical one at Crate and Barrel for almost 3 times the price! YIKES! I question if it will be too dark, but then again, it will be sitting near a TV console that is wood, so maybe the contrast will be a good thing. However, its downfall is being only 13.75″ in depth.
7.  This table by Jayson Home and Garden is technically a bench, but by now I'm thinking outside the box. The reclaimed wood and old railroad ties sing its lovely industrial song in my head, but again, only 13″ in depth. It does make up for it in width though with its 65″ of awesome.
So, is 13″ depth a deal-breaker? The Boy seems to think so, but I can usually sway him. What do you guys think? Do you have a favorite? I'm leaning towards #5 from ABC Carpet and Home. It's pretty, it has the depth I want. Each table is so lovely, but each has a small drawback. Decisions. Decisions.
Discover More Home Decor Ideas
Where To Buy Affordable Curtains