If you've been watching my Instagram, you've probably seen a couple sneak peeks of the guest bedroom design project. I moved towards a look that was out of my comfort zone. Right before teaming up with Decorist, I noticed I was obsessing over white and neutral spaces.  Pinning them like I was on fire. Maybe it was because I was also on color overload while redecorating the master bedroom in navy and pink? I don't know, but flipped the switch, crossed my fingers and hoped for the best. Decorist hooked me up with Ashley Redmond, interior designer extraordinaire. I was psyched!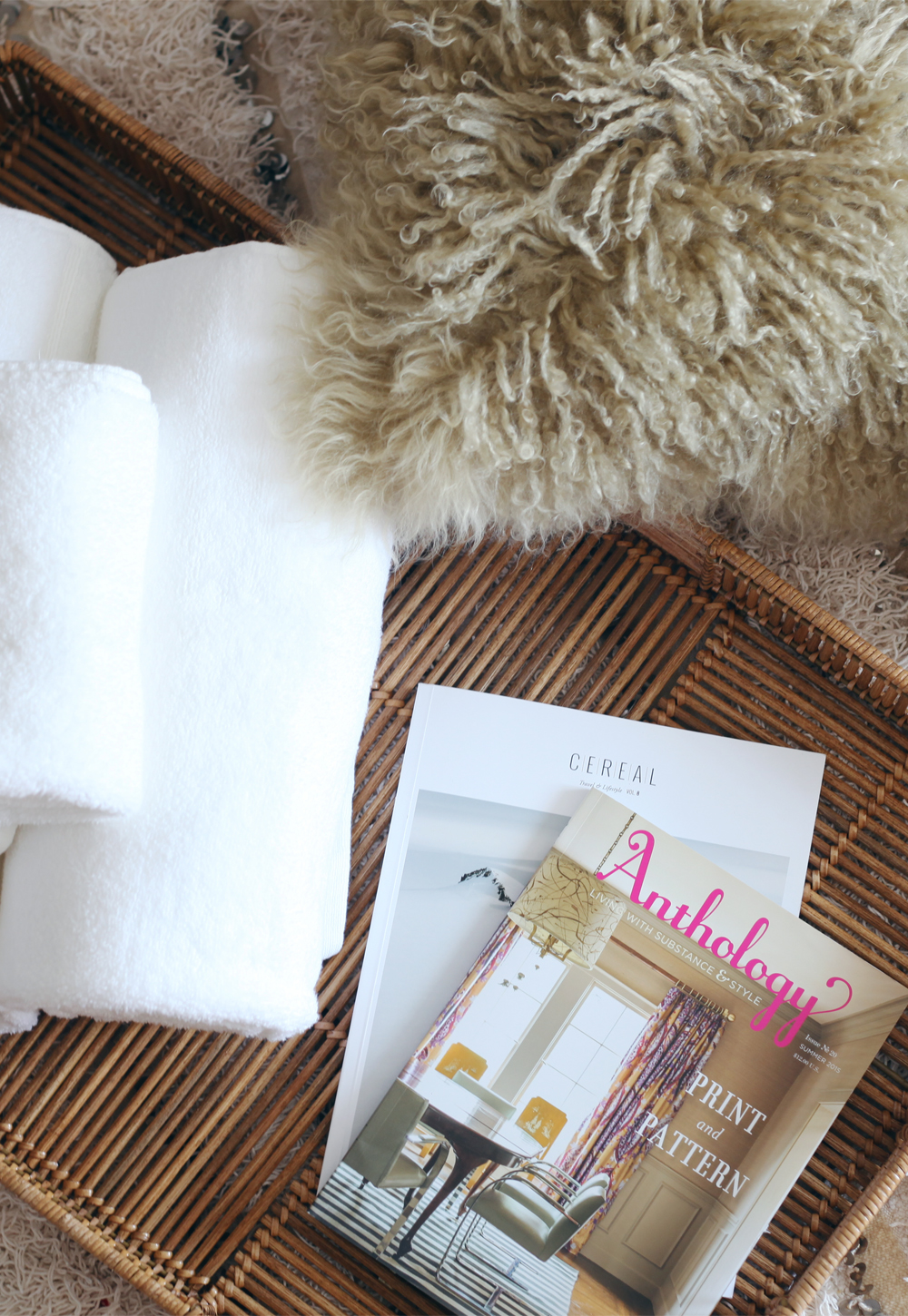 MORE AFTER THE JUMP…
If you haven't heard of Decorist, you need to. I found them about a year ago and have been watching them grow and basically change the interior design industry as we know it. They allow you to work virtually with a professional interior designer and help you take your room from now to wow with just a point and a click (and if you use the promo code HIPSTER you'll receive $20 off a Classic Design). I can't tell you how many emails I get from friends wanting advice on decor. And I get it. Creating a beautiful room is not the easiest thing to accomplish. But it shouldn't stress you out. In fact, it should be a fun and exciting process. And most important, when it's complete, it should bring you sheer joy.
Before Decorist stepped in, my guest bedroom looked like this. A space that acted as a catch all for the "stuff" I didn't know what to do with. Oh, I have an extra chair, meh, I'll throw it in the guest room. What do I do with this old duvet, meh, I'll put it on the guest room bed. Miss Maus has a dresser that won't fit in her bedroom until we move the rocking chair out of there, meh, put it in the guest room. That train of thought caused a train wreck of a room.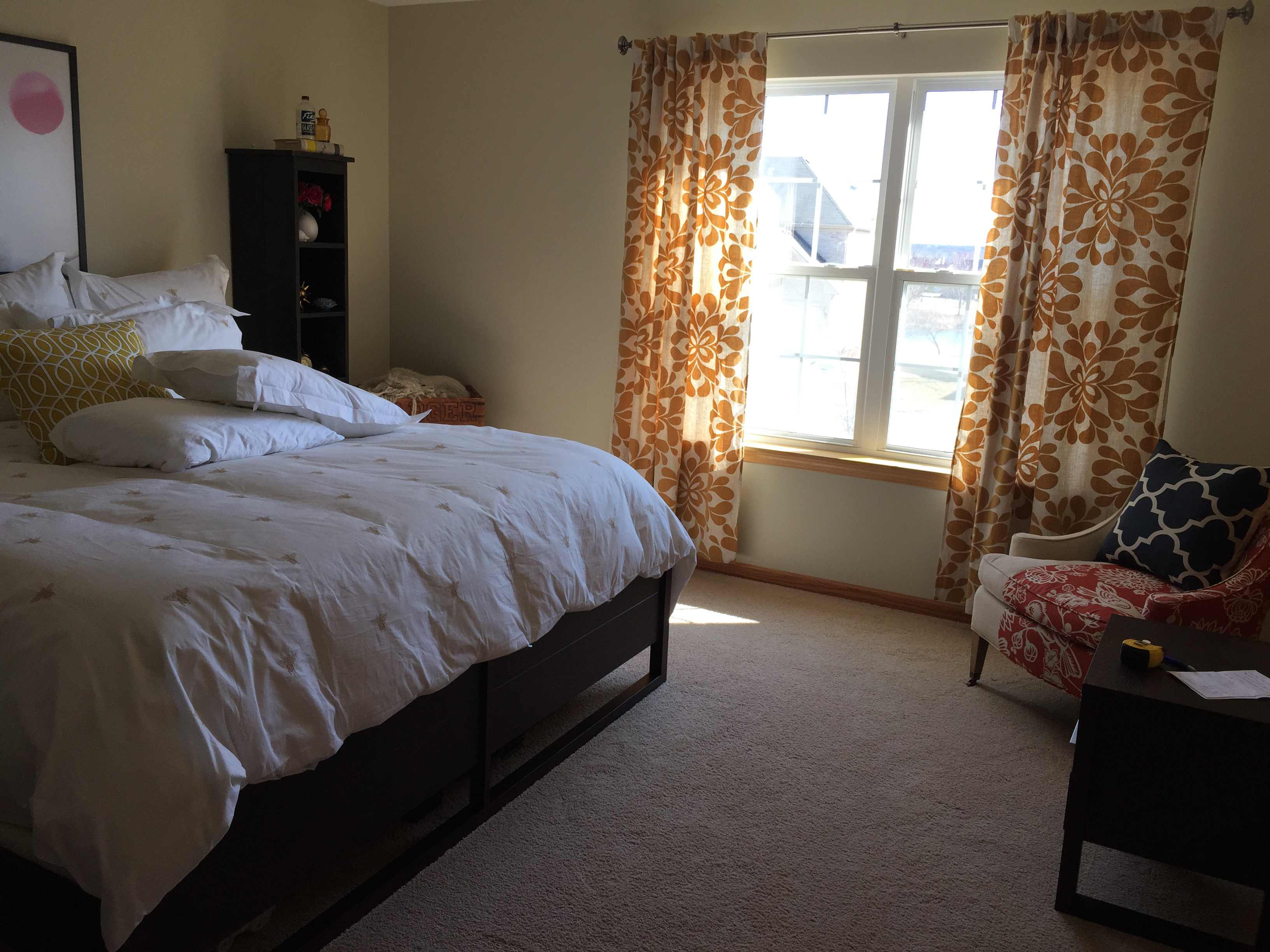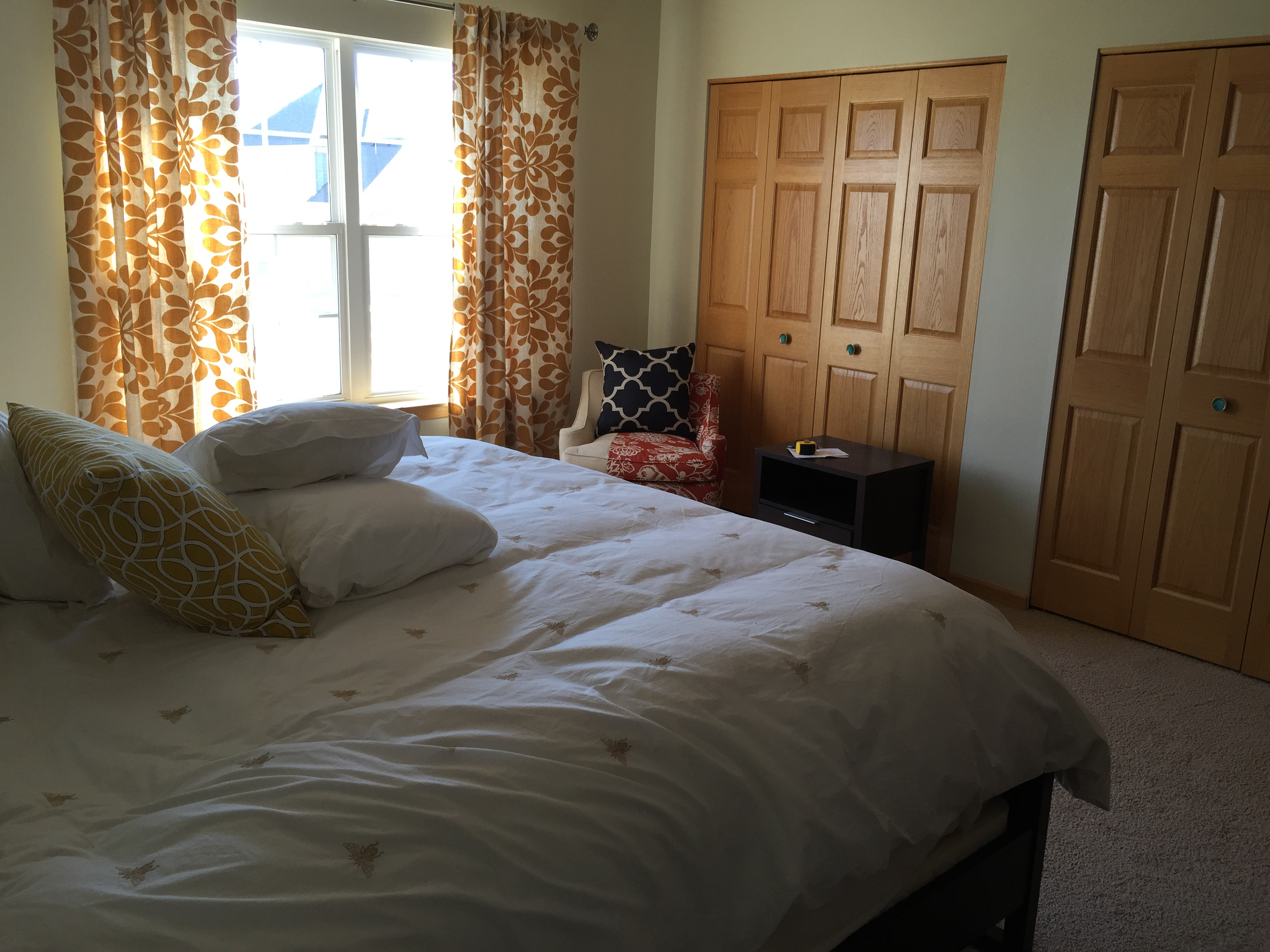 You're scrunching you're nose, aren't you. Oh. Em. Gee. Clutch the pearls. I mean, it's bad. We can all agree on this. I don't blame you. Are you covering your eyes and gasping in the horror of it? If you, seriously, that is some what dramatic, but I don't blame you. I'm embarrassed to think this room was even in my home but a few months ago. It's a space that is rarely used, and my thought was, what's the point. However when guests actually DO stay overnight, I silently die on the inside. It's one of those rooms that almost everyone has. I'm just the same as you. But fear not friends, Decorist can mend the ways of rooms that have gone astray, and starting at only $199. AND, don't forget about my trusty little promo code "HIPSTER" for an additional $20 off the Classic Design. Kittens, you can't beat that price tag.
So what's the process and how long does it take? When you purchased a Decorist Design Project, you're asked to complete a questionnaire. Basically you explain what you like, don't like, favorite color, least favorite colors, favorite pattern, etc…it's painless and quick. Then you are paired with an interior designer that fits your style, wants and wishes. Ashley Redmond was the winner winner chicken dinner of this hot mess of a room. I seriously wish I could have seen her face when reading my email and viewing the before pictures. It had to have been priceless. Anyhoo, she gave me 2 general concepts to chose from. You can see them here. I chose Concept 2 (below) – Natural and Earthy is what we decided to call it.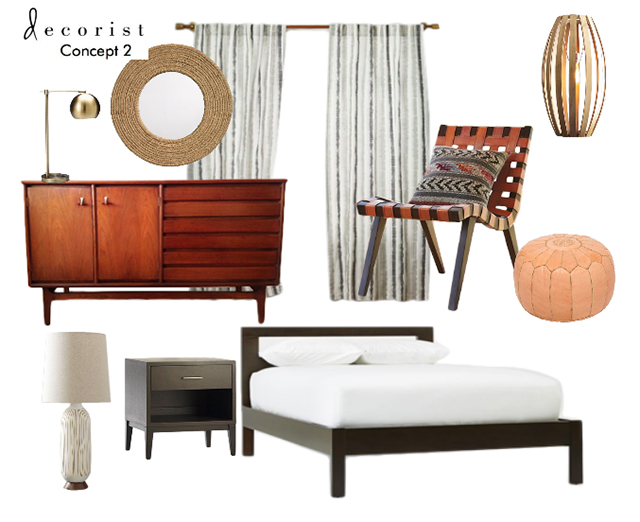 Let's think of this mood board as the foundation. After the general concept was chosen, Ashley moved on the styling of the space. The fun stuff like pillows and bedding and vases and such. Now the bedroom design project was moving into the second phase. I was given a list of items to shop and if for some reason an item was backordered or out-of-stock, I could simply send Ashley an email and a replacement would be found. Now, that didn't happen to me, and I really loved everything she chose. No changes were made. It was time to order. Let's just say the delivery man gave me an eye roll on a daily basis for like 2 weeks. When the final piece arrived, I actually hugged him, and he looked as uncomfortable as a cat in a bathtub as he ran back to his truck. Apparently he didn't understand the gravity of what he was delivering…and it's not like I could explain and ask him upstairs to my new beautiful bedroom. The hug was awkward enough.
So, after all my rambling, are you ready to see the FINAL Before And After? I know you must be dying!!! I know I am. Are you even reading this anymore, or did you just scroll down? The suspense has been killin' me!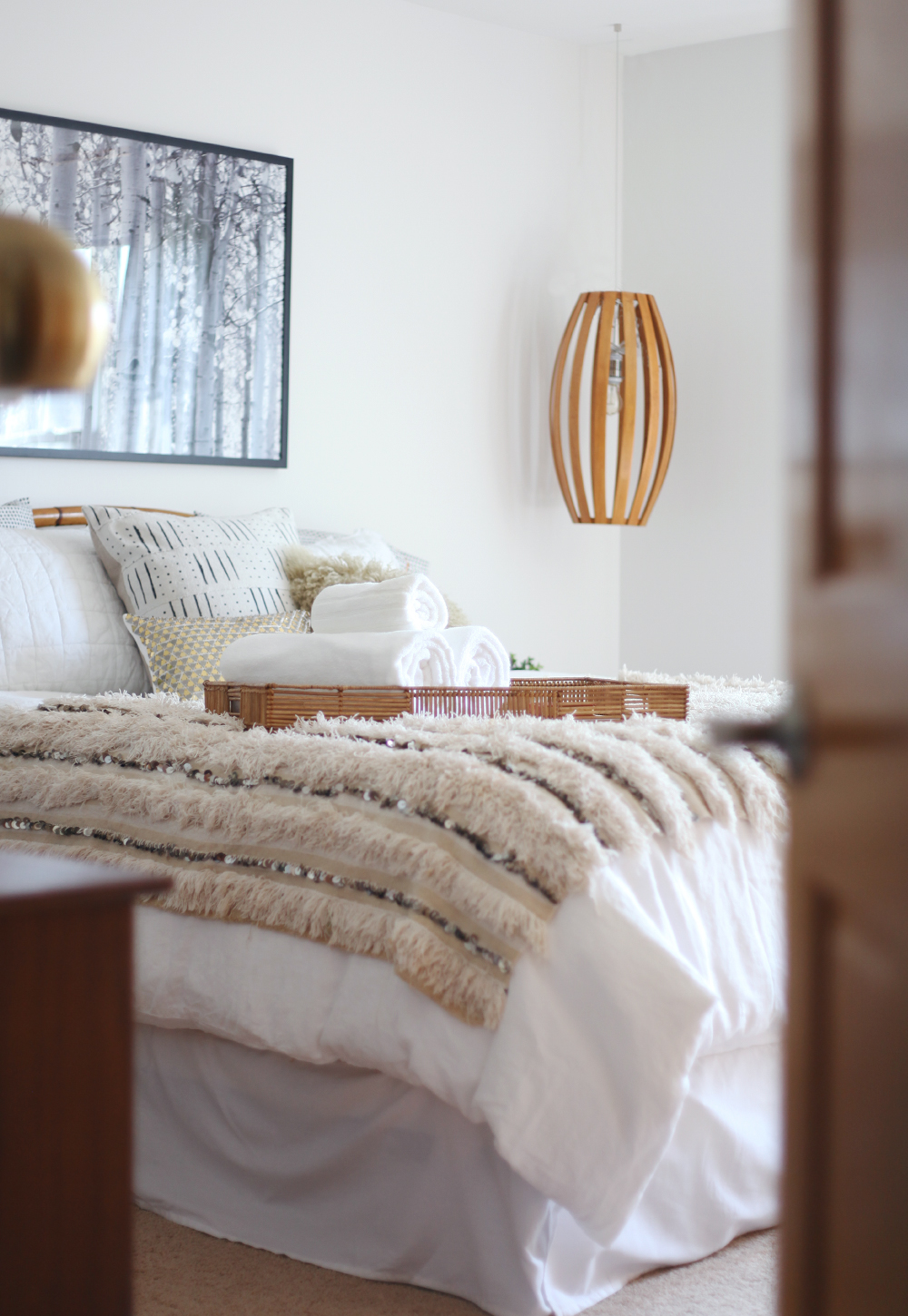 I KNOW RIGHT! Jaw drop! The white and the neutrals! It's glorious with all the texture popping! It keeps your eye moving. I think that wedding blanket weighs like 10 pounds. I found it over on Chairish at the Soukie Modern shop. I placed a rattan tray full of white fluffy towels and a couple of my favorite magazines on the bed as a welcoming gift to overnight guests. The linen duvet against the flax shams' texture contrasts nicely. I added in a mud cloth pillow from a Chairish Instagram Sale with Orlando Soria and paired it with a metallic pillow (similar) and sheepskin pillow. The bentwood pendant was hung in the corner and works well as an extra reading lamp. I used an Edison bulb for subdued lighting. Over the bed is hung a photograph of birch trees (simliar)…which was actually quite personal to me, unbeknownst to Ashley. My favorite tree while growing up was a birch in my front yard. I used to climb it with my sister and was thrilled when I saw it in the final concept board.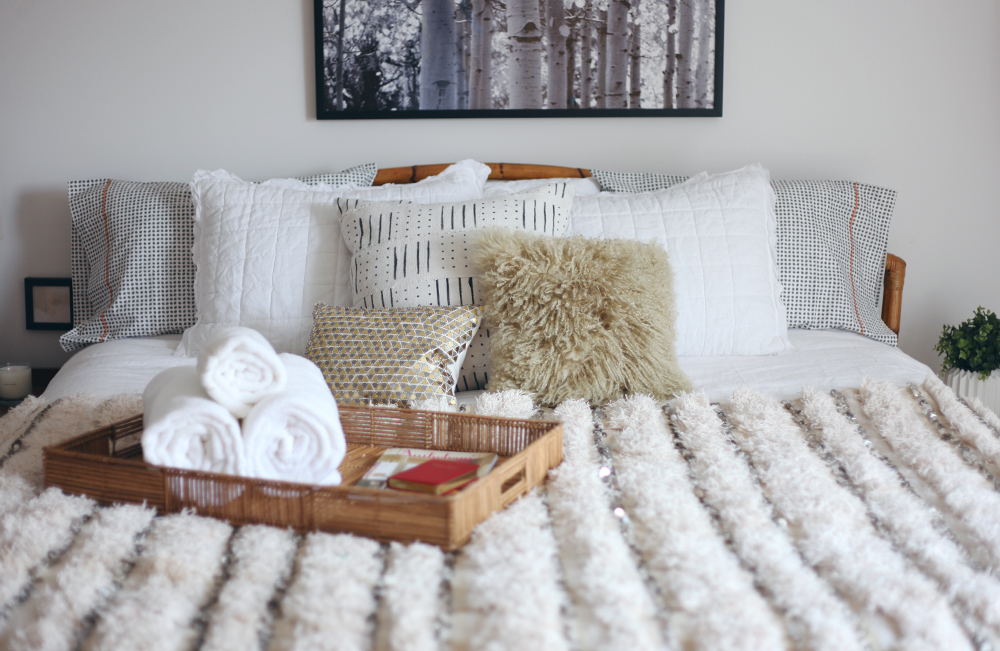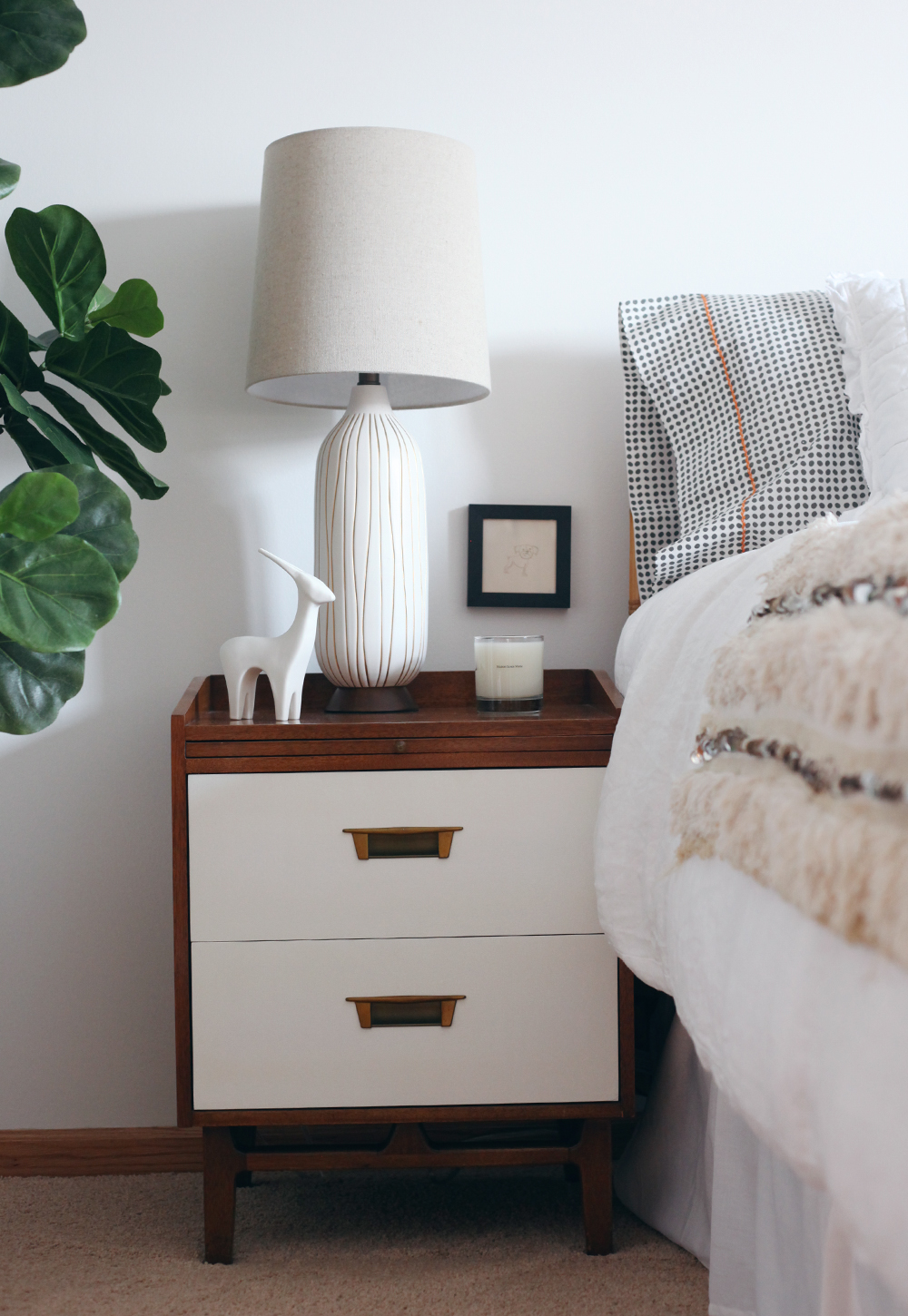 The nightstand and headboard in the concept was originally, per my request, from my old master bedroom set. Ashley worked with it and incorporated the old furniture into the final concept. She did leave me with some wise words that rang true in my brain. If you want a mid century modern look, be sure to avoid the matchy-matchy look. I put the entire room together and the old master nightstands and bed frame stood out like a sore thumb. It was 100% my fault. I raided Miss Maus' room for this beauty of a nightstand and hit the Randolph Street Flea Market. Only to find the most amazing vintage rattan king sized headboard. I walked through the gates and saw it 200 yards away. I beelined for the booth and grabbed the owner basically screaming like a crazy woman, "Just take my money already!"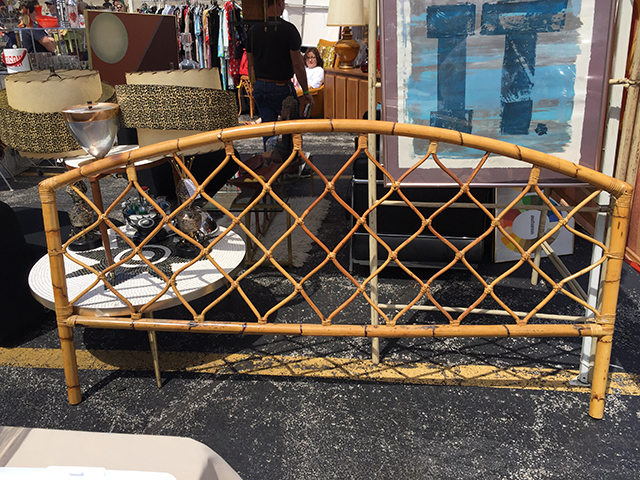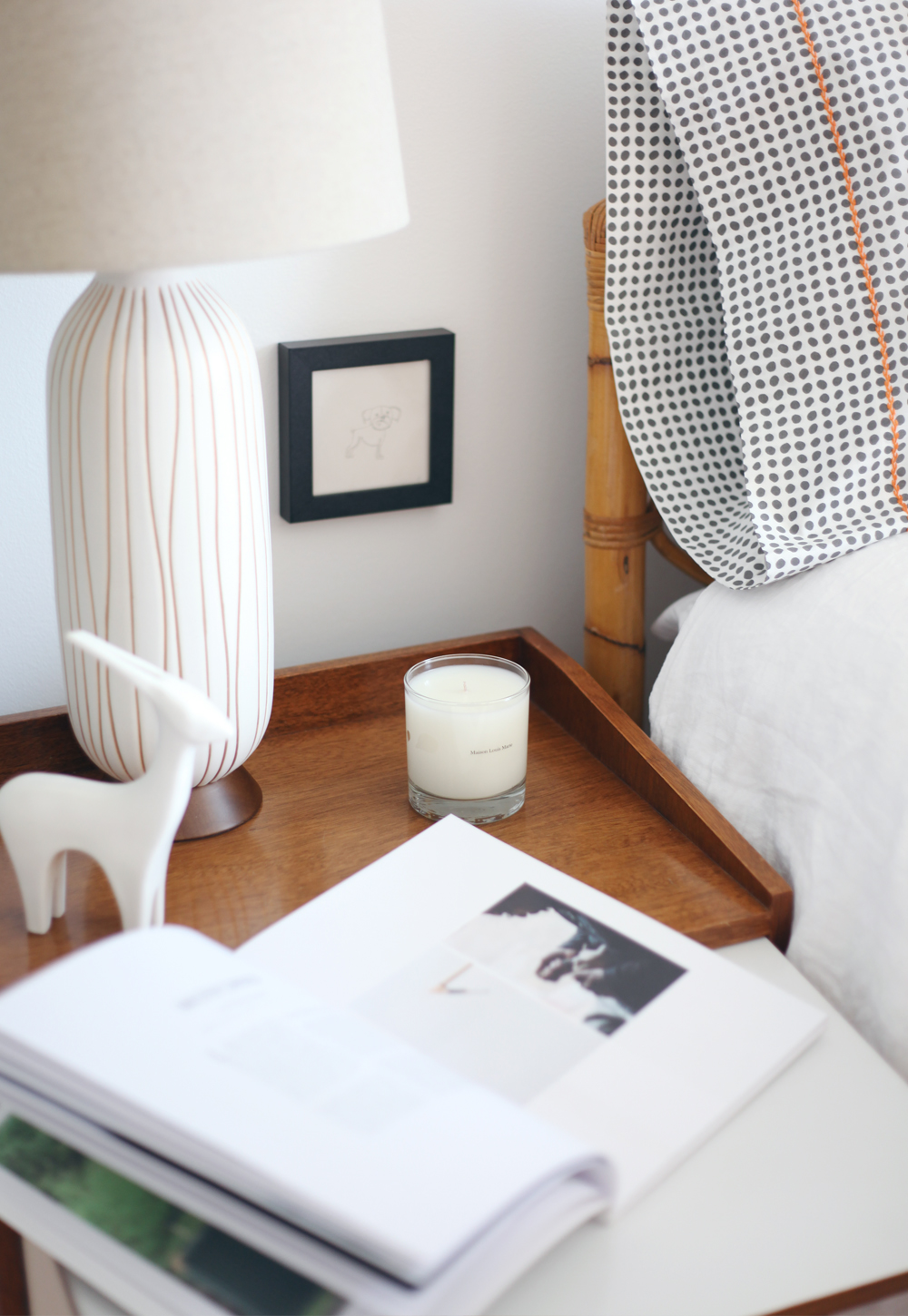 The nightstand has this super cute little pull out tray that is great for added room. And how 'bout the gold accents on that table lamp? (On sale right now BTDubs) But, what was really the icing on the cake was that adorable little doggie drawing I snagged at the Orlando Soria Chairish Instagram Sale. It was love at first sight when I saw him and knew exactly where he was going to live.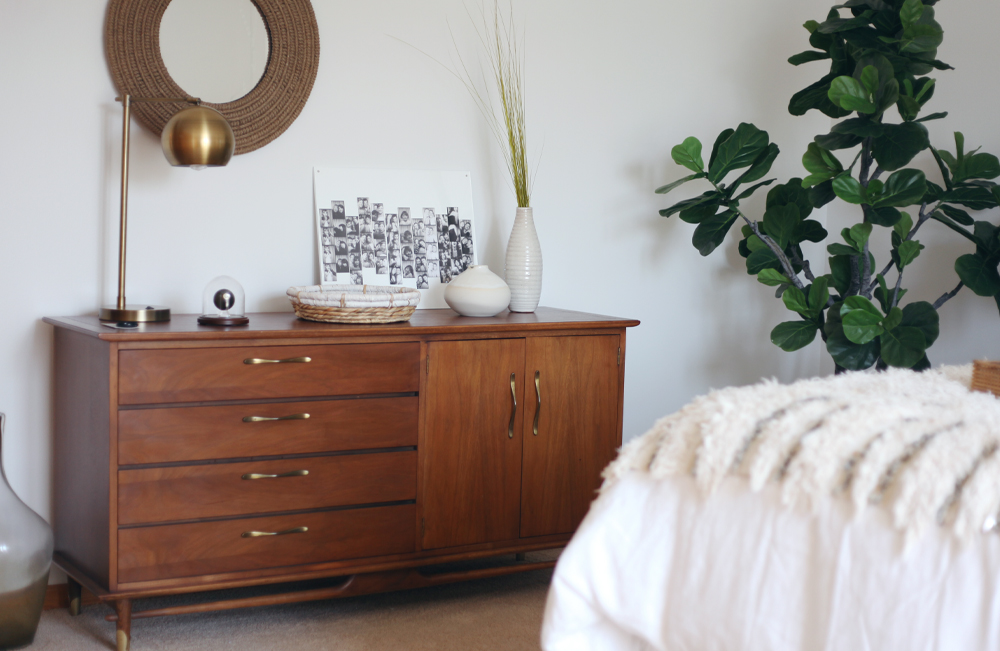 I instantly fell in love with the mid century modern dresser I snapped up on Craigslist from Sharkgravy. And would you believe that fiddle fig tree is a faux plant? Yeppers! While the room itself gets quite a bit of light, the corner does not. The jute mirror adds in even more texture to the space, and the brass task lamp gives a metallic pop.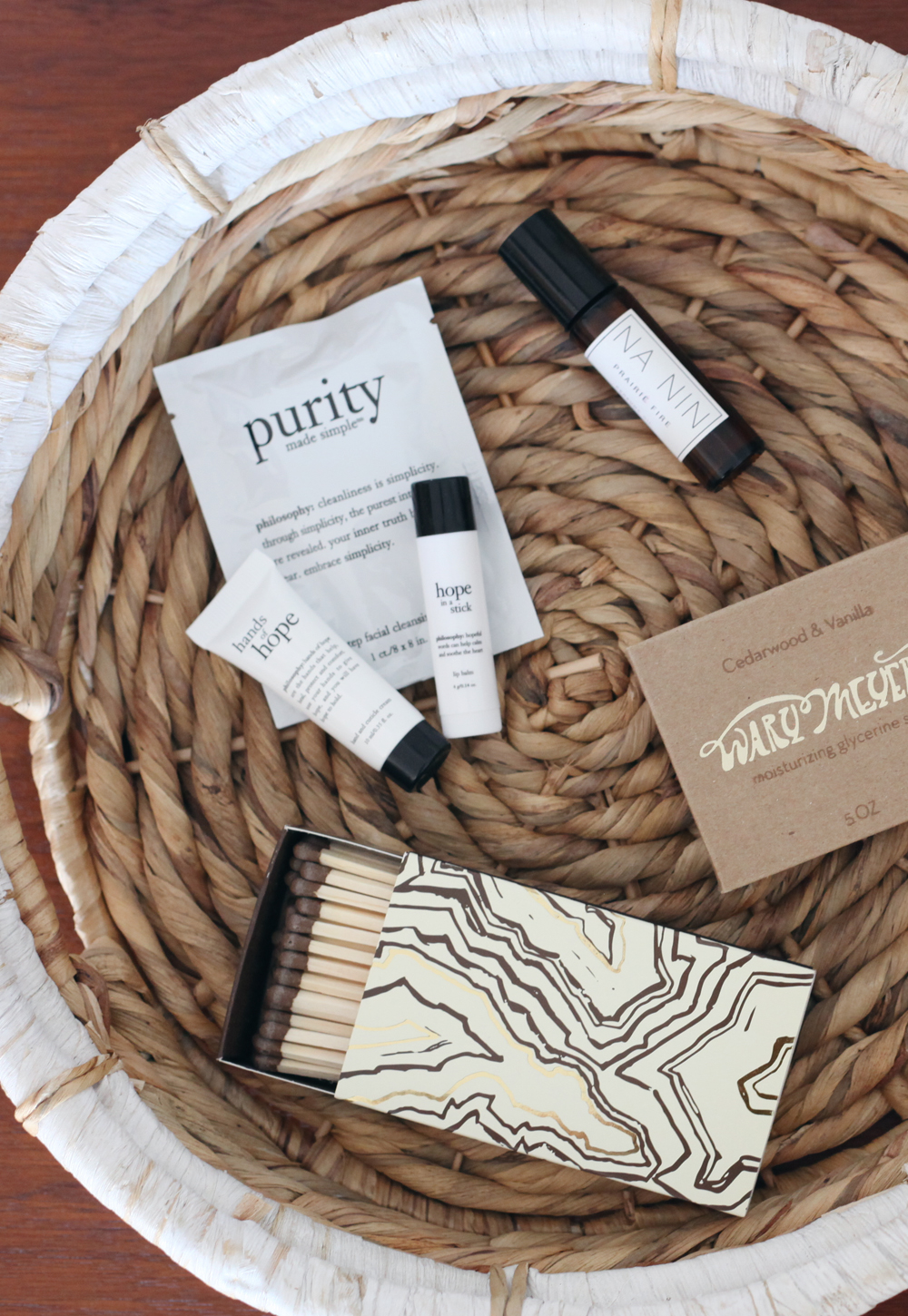 While walking around Target, I found this cute tray and thought it would be a really sweet gesture to use it to wrangle a couple personal gifts for my guests. Matches to lit a candle, smelly soap, a roller of perfume and some luxurious lotion.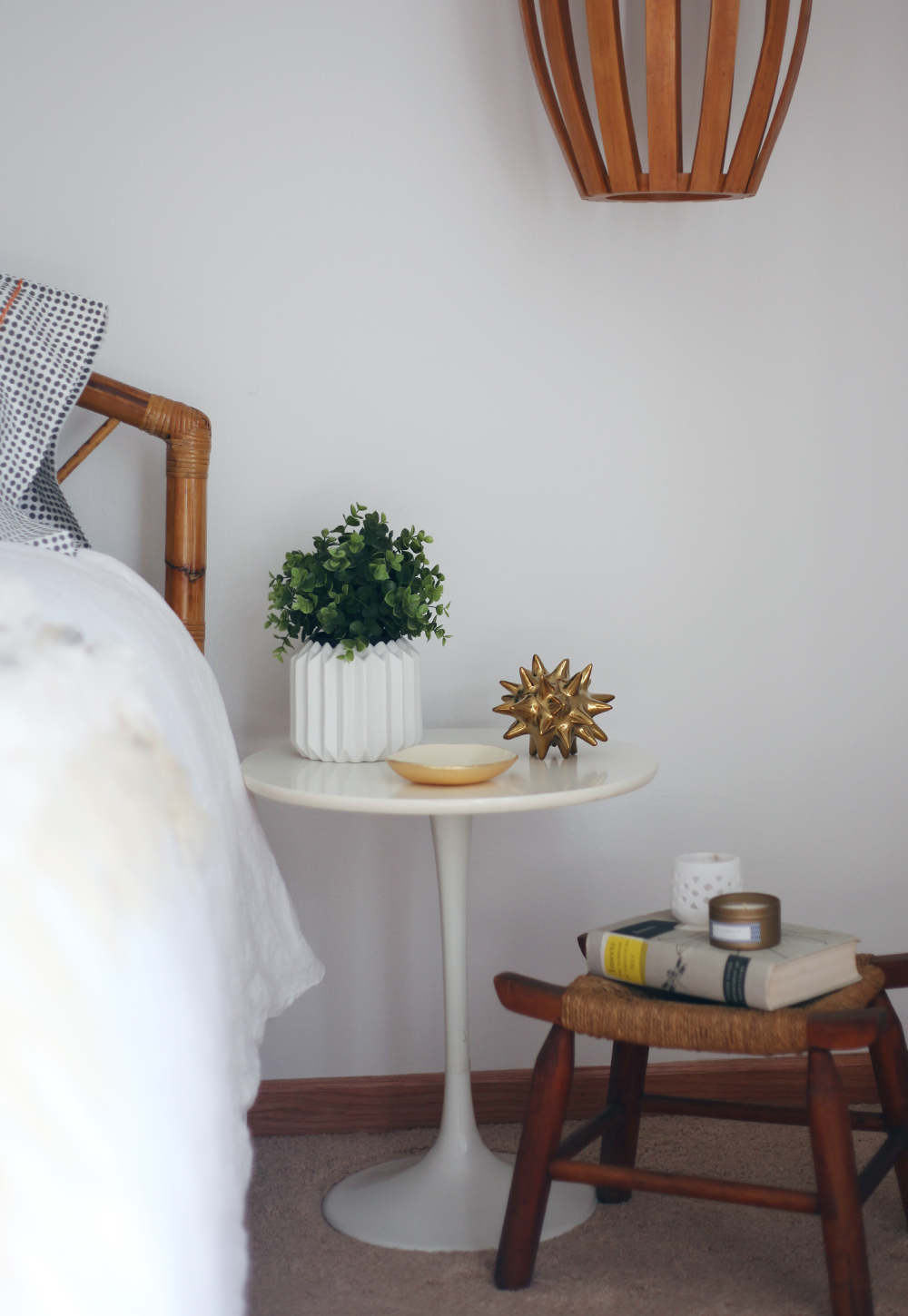 While thrifting months ago, I found this amazing white tulip table. It's bounced around from room to room and finally landed in the perfect spot as a nightstand. The woven stool was purchased at the Randolph Street Flea Market…speaking of which, Jen Harrison and I will be attending this weekend, August 29th. So if you're in the Chicago area, you should really stop by, track us down and say hello. Canary Lane will have her booth all set up and Territory Design might even join in the fun as well.
Oh! And do you remember the insect book? It's probably one of my most favorite pieces in the house. It's from the sfgirlbybay Chairish Instagram Sale.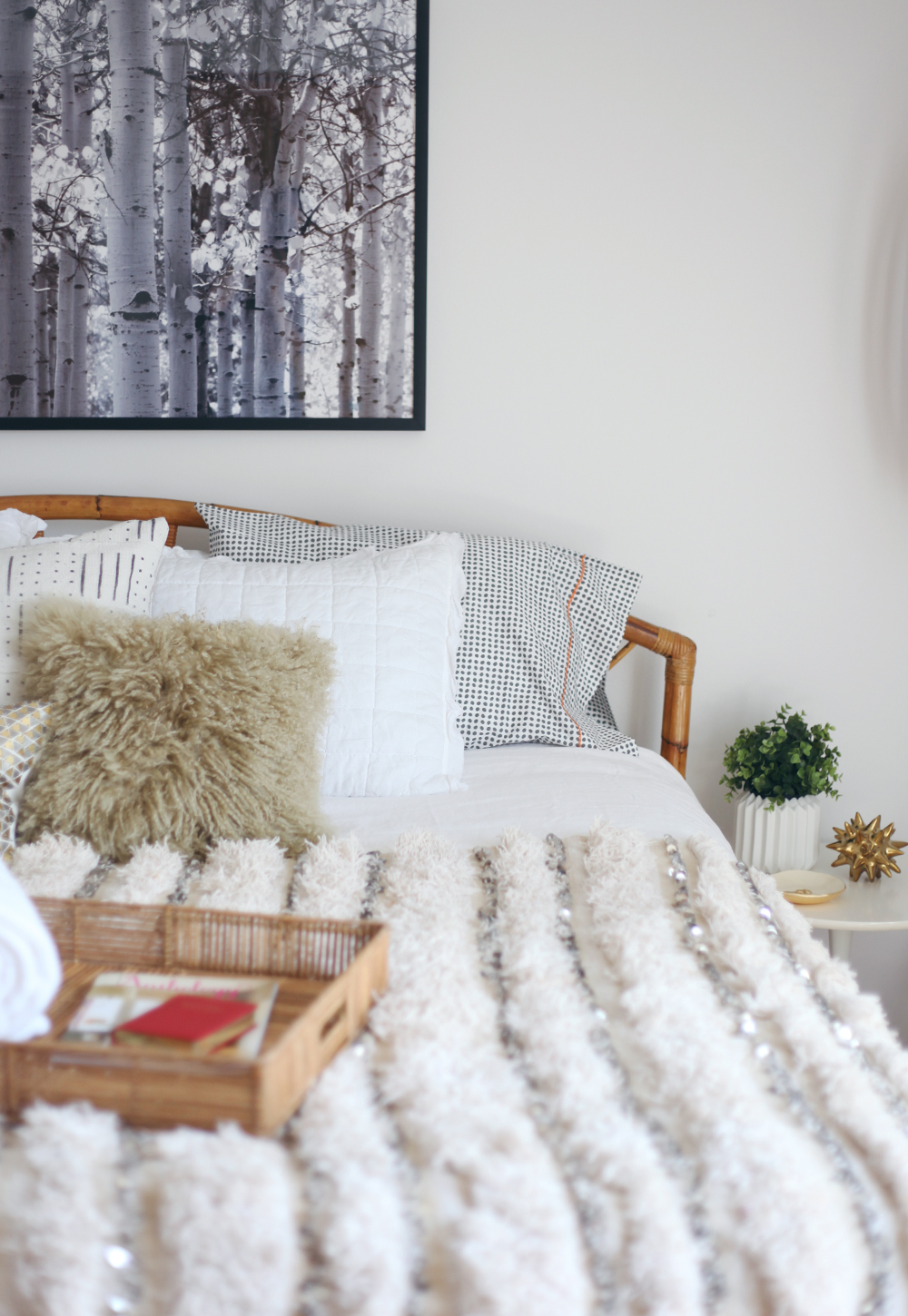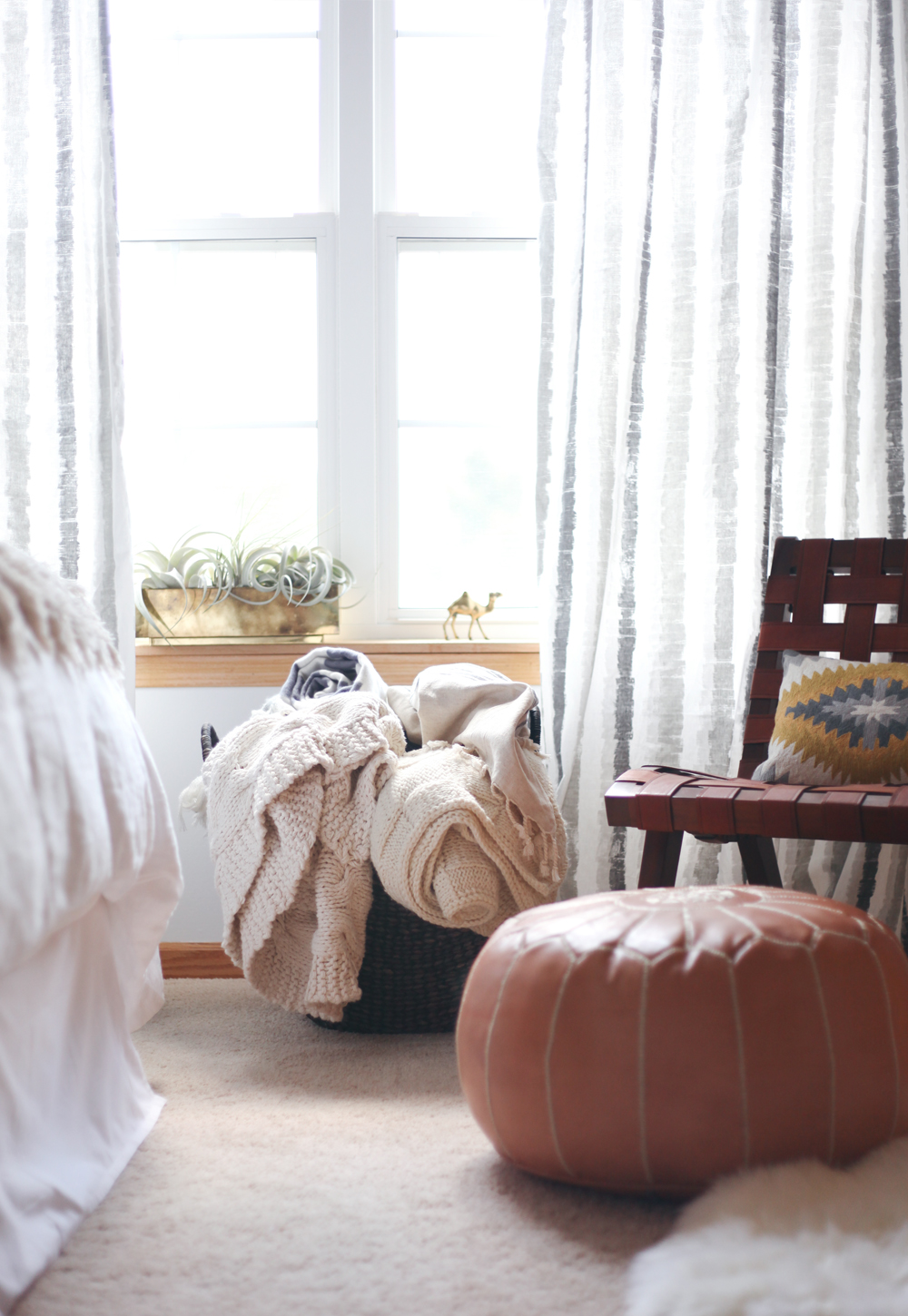 At the foot of the bed is this chair that quite possibly sold the entire concept. The leather woven slipper chair (similar) paired with a leather caramel colored Moroccan pouf…perfection! I've always wanted one of these suckas! I FINALLY HAVE ONE! The sheep skin rug is seriously the softest thing I've touched. I'd be lying if I said I haven't sat down to pet it. And now my mom will no longer get cold at night. Look at all those throws in the curved basket! The brass planter filled with air plants is my nod to my sweet thang Emily Henderson.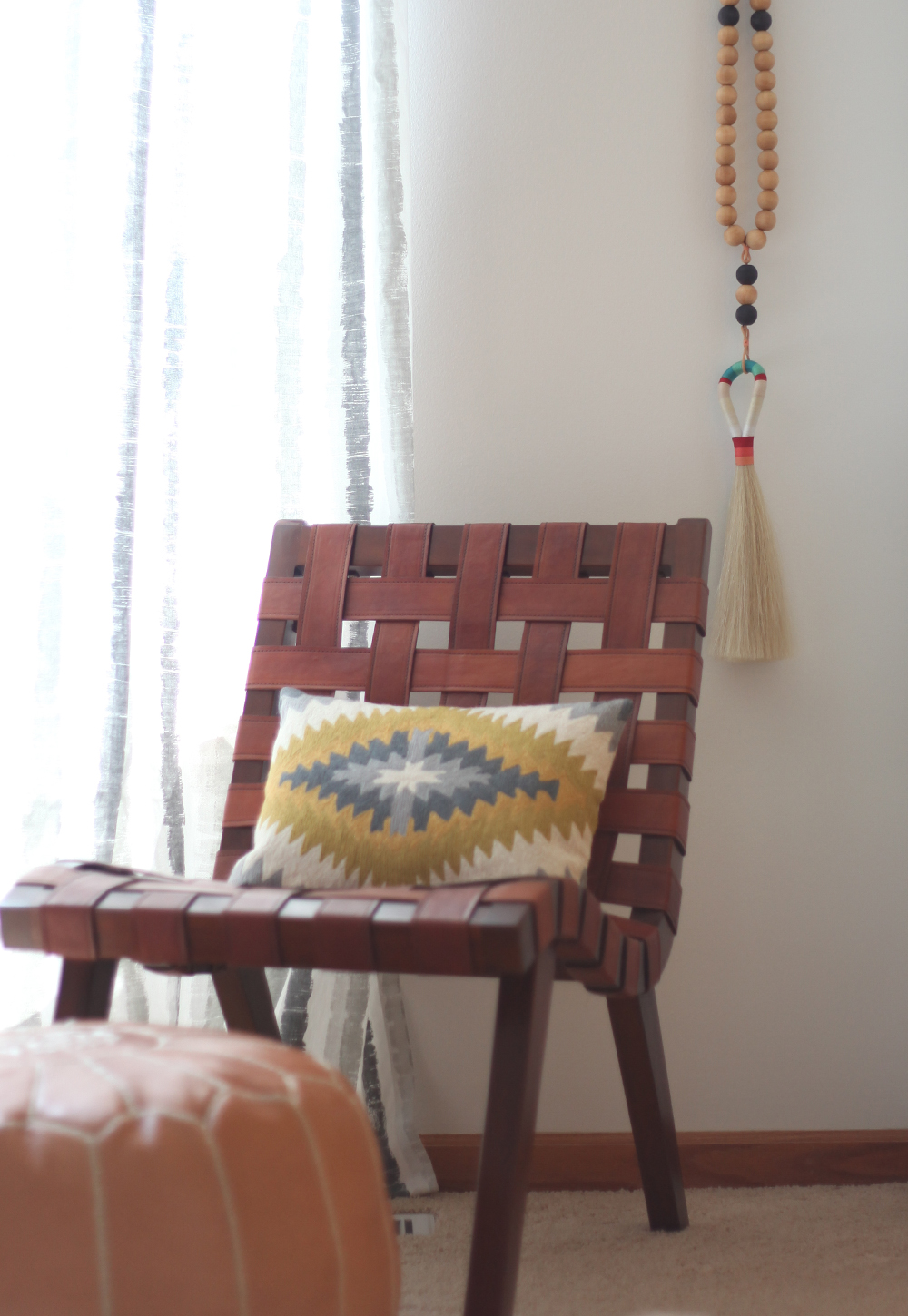 The corner felt a little bare, so I added in my worry beads with a colorful horse hair tassel. They hang from a vintage brass fox hook.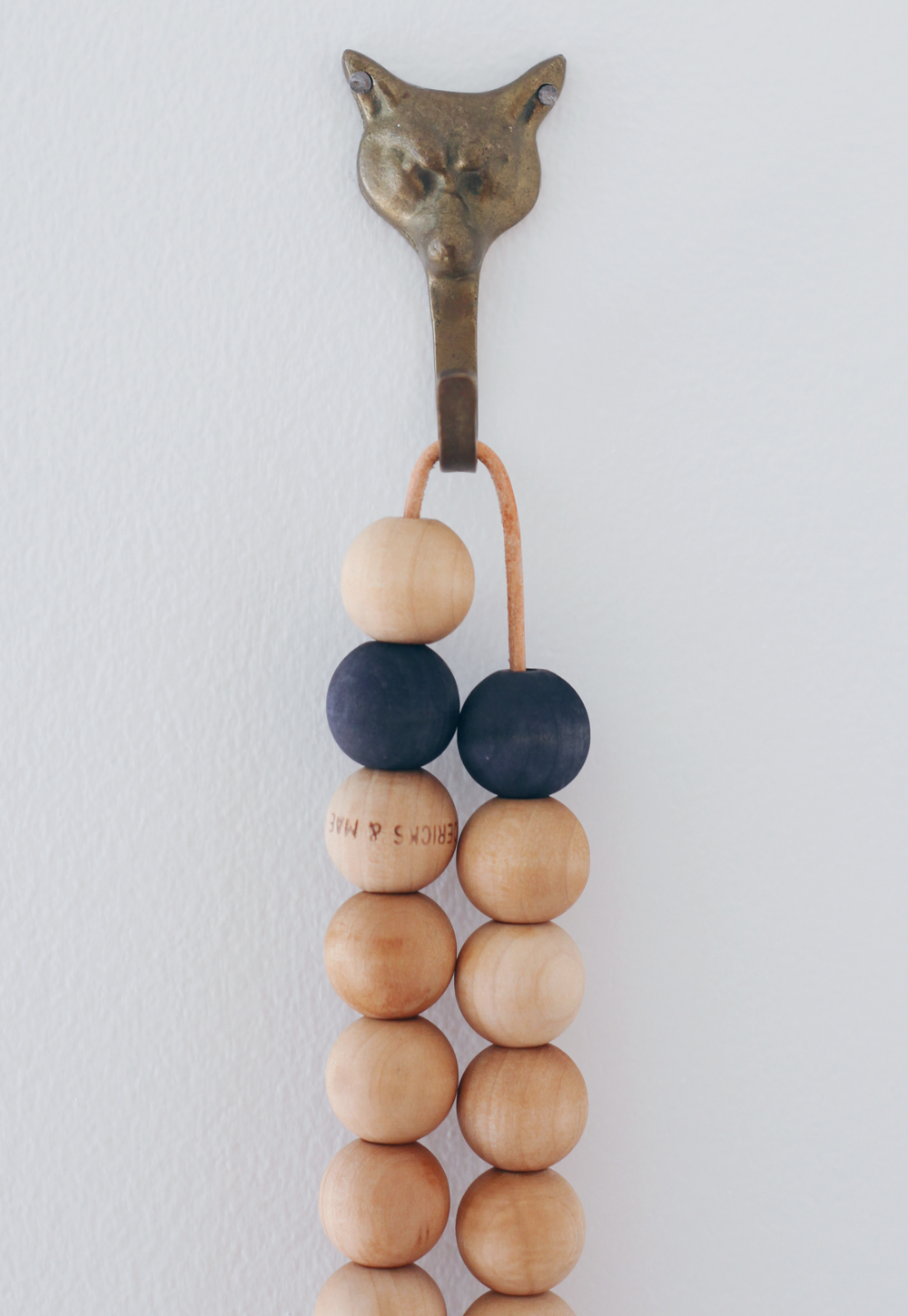 I was pleasantly surprised by how much of my personality was brought into a room design that was completed over the internet. For those who think the process might be sterile or impersonal, it's sooooo not. At least not with Decorist. They listened to me and by the end of the project, there was a bond between Ashley and I. We're even Instagram buddies now. She left room on the walls for me to hang my favorite photo booth strips from my wedding. These photos are especially fun in my guest room, since the people in the photos are usually the people visiting and staying in the space. Every morning over coffee, my wedding is usually the topic of discussion.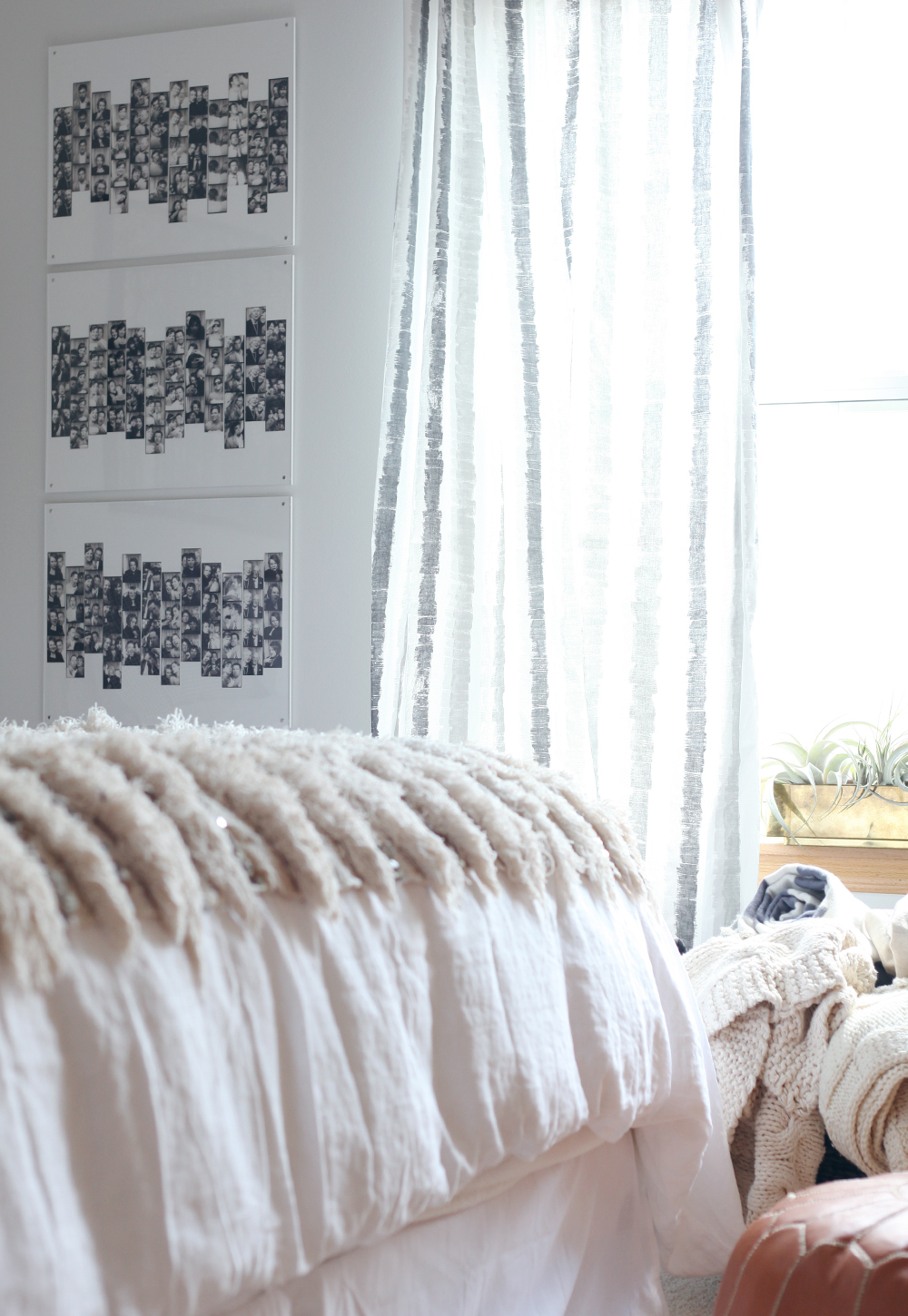 Oh, and this is always asked…the white paint. I used Sherwin Williams Snowbound. It doesn't have that tinge of yellow nor did it turn gray. And I have to give a giant shout out to Thomas Paint (paintedbythomas.com). If you're looking for an insanely awesome painter in the Chicagoland area that you'll want to bear hug when he's finished…although that is probably creepy… please check him out. You won't regret it.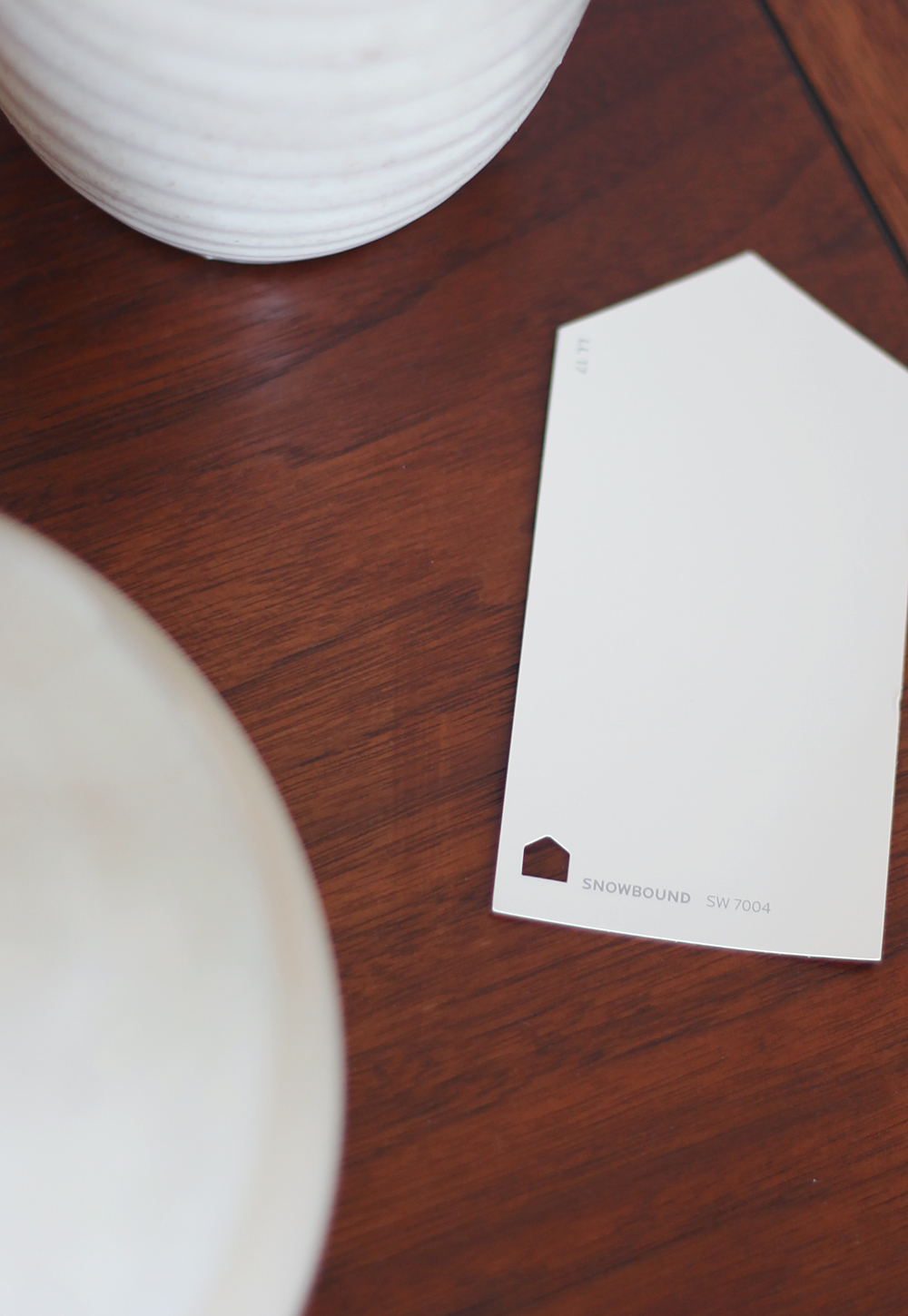 So that's it you guys…are you still here…did you make it through this insanely long post? I certainly hope so.  This design project with Decorist was truly a knock it out of the park home run. I had a blast putting it all together, and I hope you all had a fun time following along. Don't forget, if you have a sad room in need of some serious love, stop over to the Decorist site and use the promo code "HIPSTER" for an additional $20 off a Classic Design. And no, I don't get paid every time you use it. They are just super sweet and want to give the HOH readers a little sumthin' sumthin' extra. Have a great day you guys and happy decorating!
I was not paid for this post but did receive a makeover as compensation. I only recommend products or services I use personally and feel my readers will enjoy. All opinions are 100% mine.