One Room Challenge Work From Home Office
ERMERGERD! Did you hear? I'm one of the featured designers in the One Room Challenge, and I couldn't be more excited about it. I've participated in the ORC twice as a guest participant…the first was my home office in the old house. When I look back 5 years ago, I srsly ask myself what on earth were you thinking. The room was a boho, indigo, and rattan explosion. The second time around was Potty Paradise which is still one of my most favorite rooms in the house. Before we jump into the design, I've listed and linked to all the Spring 2020 ORC featured designers at the bottom of this post. Carve out some time in the next few days to grab a cup of coffee (or a mimosa) and check out their spaces. Trust me, it's worth it. Oh and one more thing, I'll be posting weekly updates of the room here, on Instagram, and TikTok for the next 7 weeks.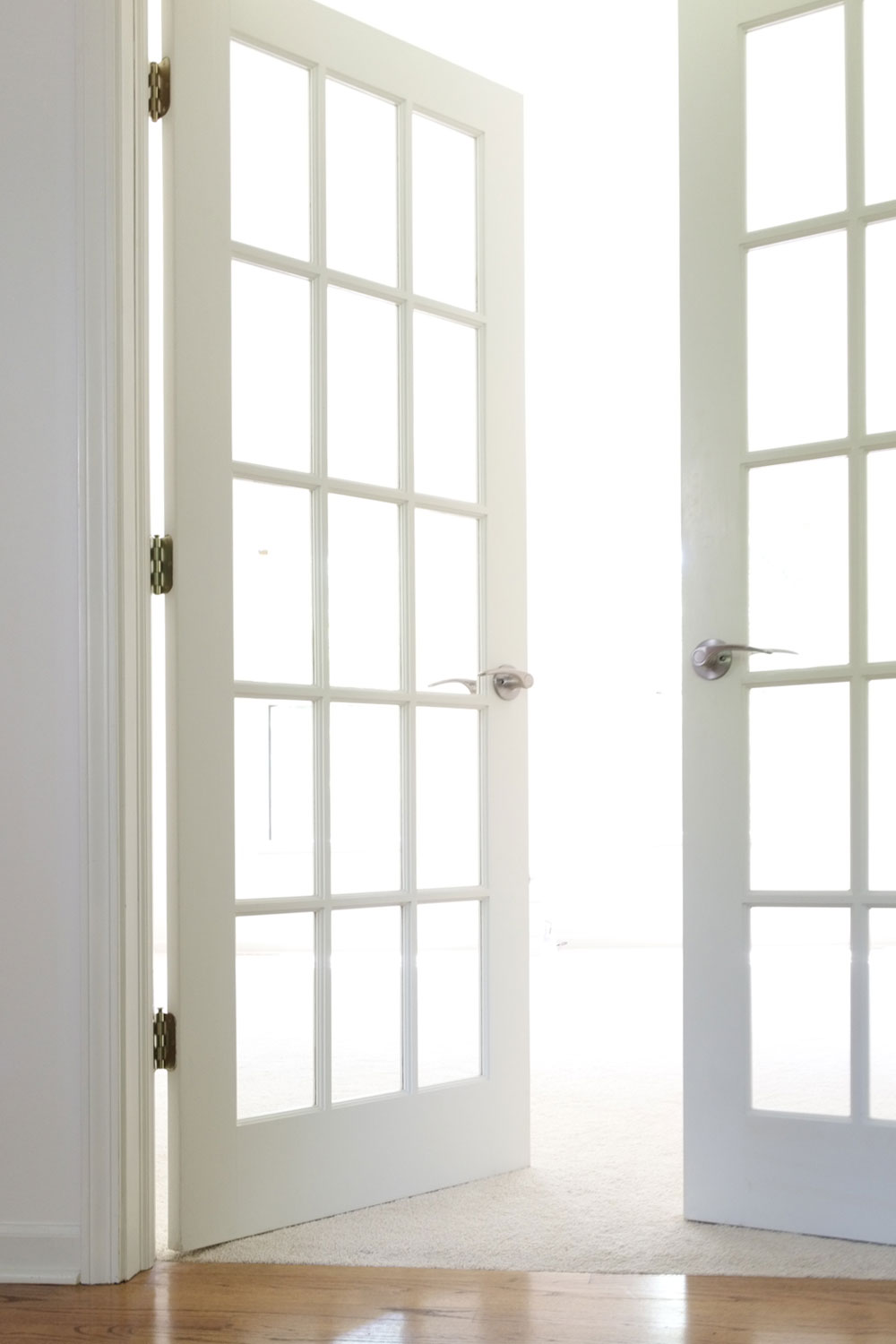 When Linda from One Room Challenge reached out a couple of months ago, I freaked out, did a jig, and replied in 2 seconds flat. Yes. Yes. Yes. I want in! After 24 hours of intense contemplation, I decided to give my home office another go…this time in the new house. Since we moved in 4 years ago, my office has been a space where furniture floats in and out but nothing ever sticks. I've rotated the desk, sofa, coffee table, and cabinet around and around to the point where even The Boy asked, "wasn't it just like this a couple of months ago?"
Ummmm, yes, yes it was. Don't question it. It was necessary. It just wasn't right…again. Being that I spend most of my time in this space, I want it to feel more welcoming and cozy…not cluttered and chaotic. My office looks like this for photoshoots only. More often than not it's a dumping ground for sourced merchandise waiting to be cleaned, processed, and styled in the shop. Yup, I sometimes work in junklandia…don't judge. A soothing work environment it is not.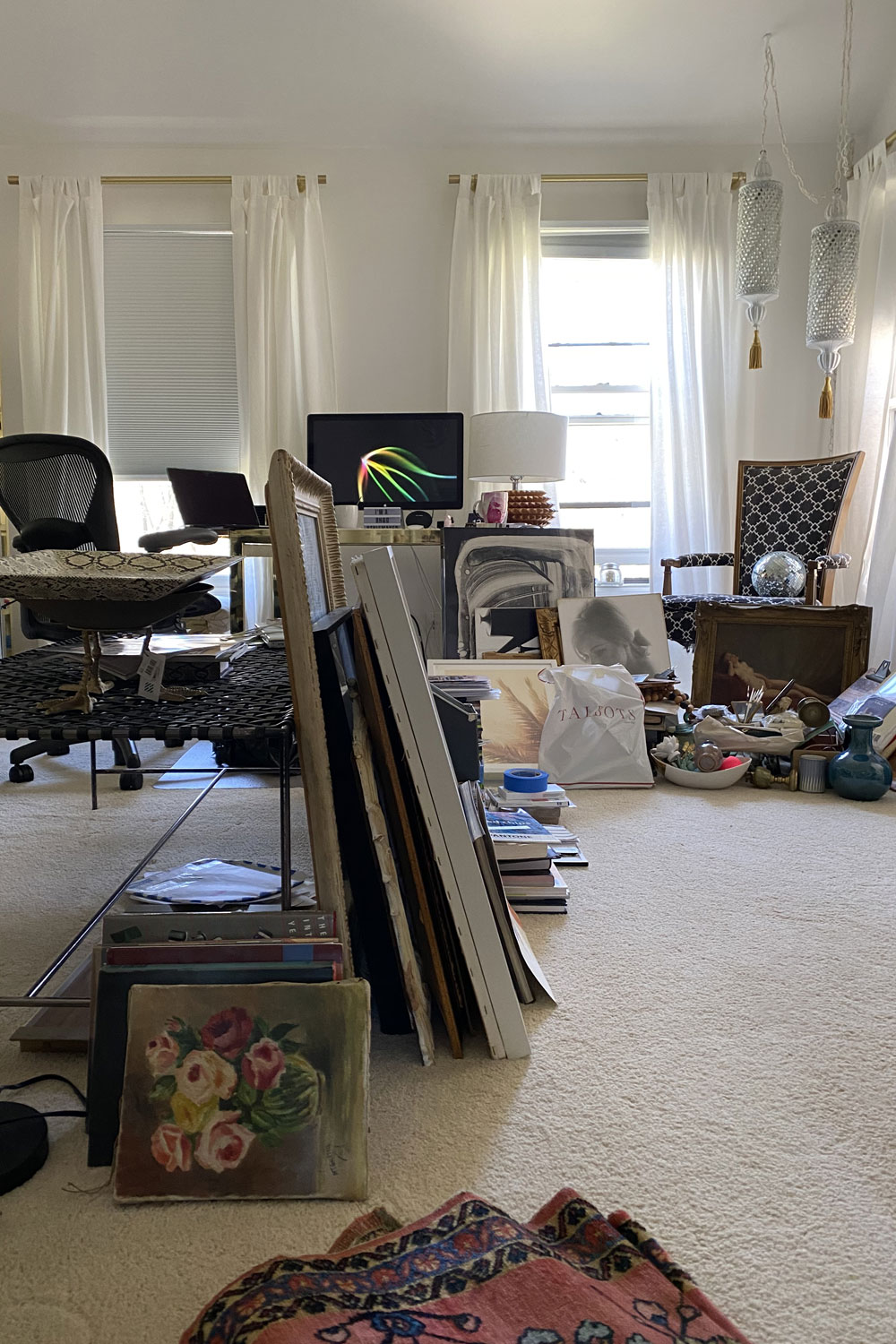 Pre-House of Hipsters, my office was the master bedroom for the former homeowners prior to the addition they built about 10 years ago. It has french doors, a vaulted ceiling, and spectacular afternoon light. What used to be the walk-in closet became their home gym and a storage room pre-brick and mortar for me. But once I opened the shop, storage was no longer needed and this space became a room for vintage that had not made it through processing and my Peloton bike was chucked in there. Hmmmm, could this become a home gym again? Interesting thought.
When it's clean, this is my office. It looks beautiful…in photos. The existing gray sofa is entirely too long, but I use it daily to get away from my desk. It's the perfect spot to curl up for a conference call. A loveseat would make for much better use of the space. The art has been moved downstairs to the front room and has been joined by the horn table and Sonneman lollipop lamp. Told ya, nothing sticks around in here. The rams were swapped out for the woven black bench in the previous photo. Again, just too big for the space. I did love this look though.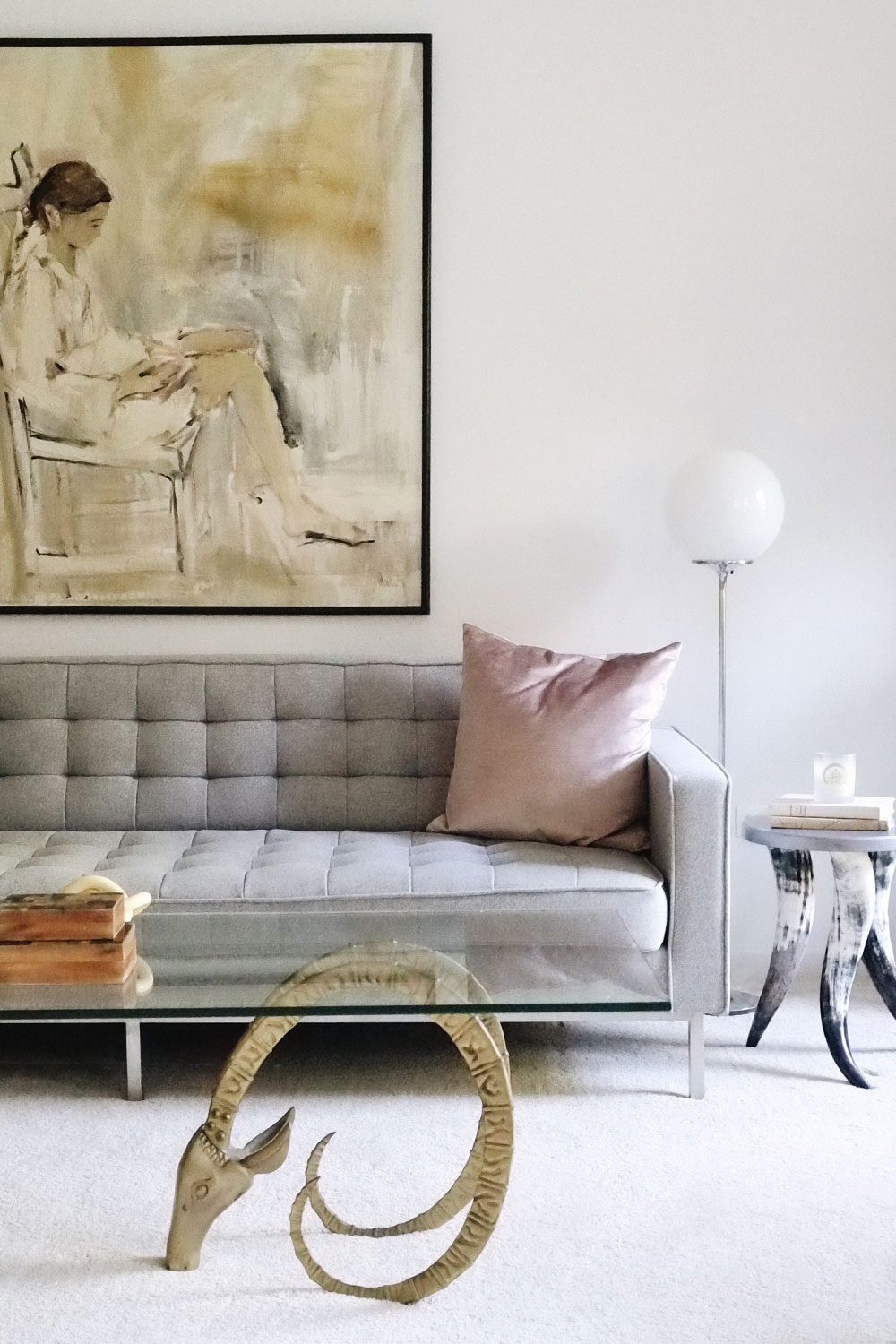 So what's the plan? Rather than chucking in what I think might work or shopping the house, I made an actual layout…the graphic design janky version of an architectural blueprint…but a plan all the same. Everything is scaled down with accurate sizing of the windows, doors…the whole shebang.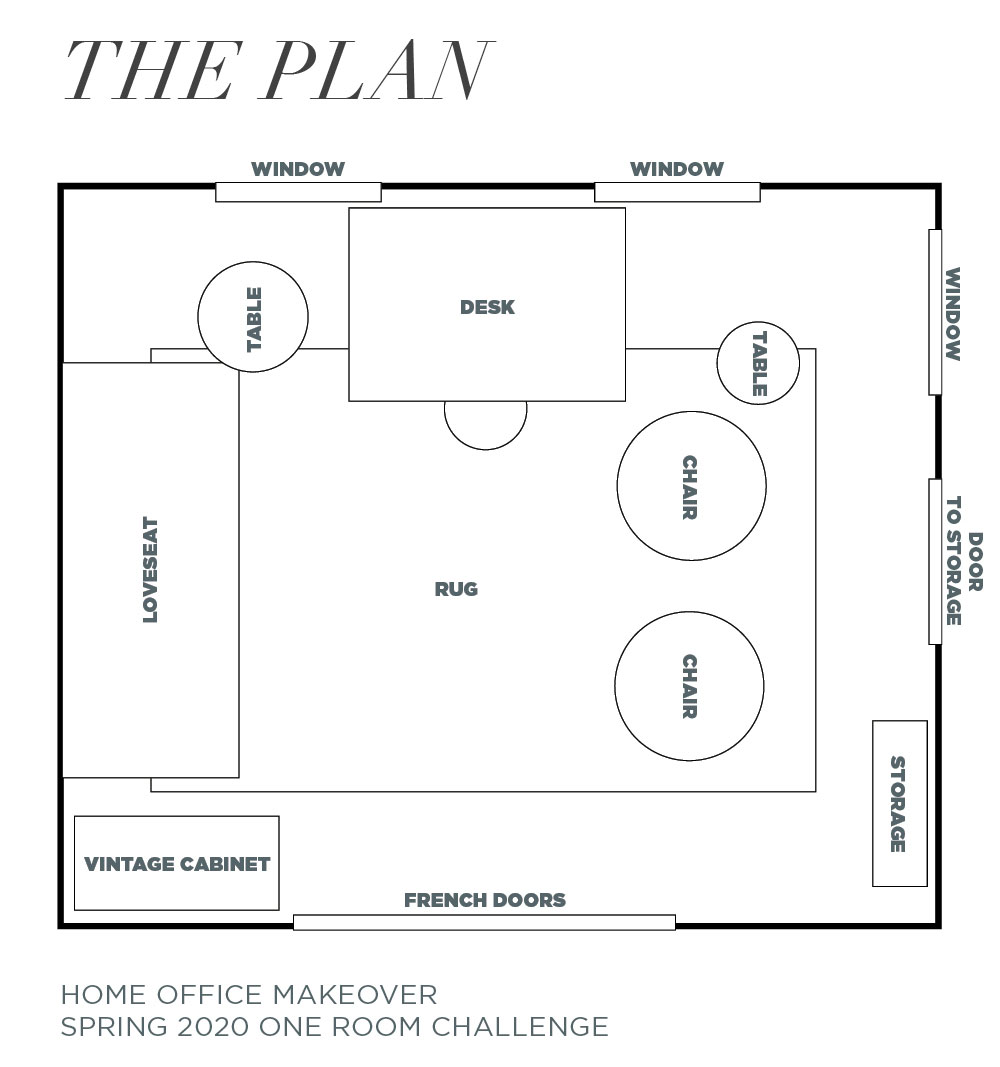 Wait, what about that home gym Kyla? Don't worry, I didn't forget that, but there's not as much to that space. Imma wing it sans plan. So, without further ado, I present to you my Spring 2020 One Room Challenge mood boards…woah, woah, wait up…I forgot something.
If you want sneaky peeks of the final room reveal before ANYONE else sees it, I have the key that unlocks the insider scoop. Sign up for my newsletter right here…don't worry, I won't spam you…this gal ain't got no time for that. It comes out sporadically (I'm trying to get better at it), but you WILL get the room reveal deets first. Pinky swear.
Ok, NOW, are you ready for this jelly?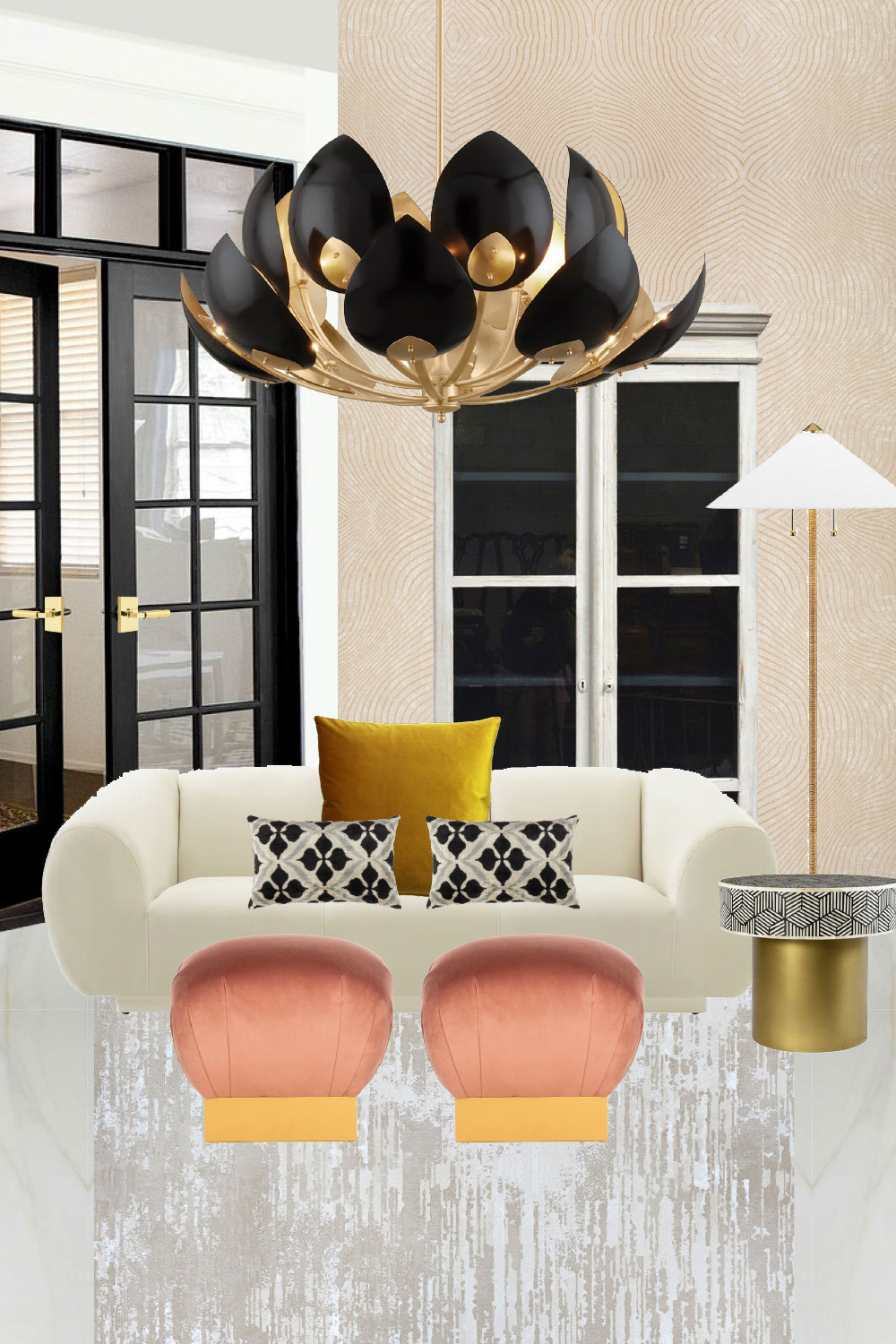 One Room Challenge Sponsors
Pacific Designs International Wallpaper
BUT WAIT…THERE'S MORE!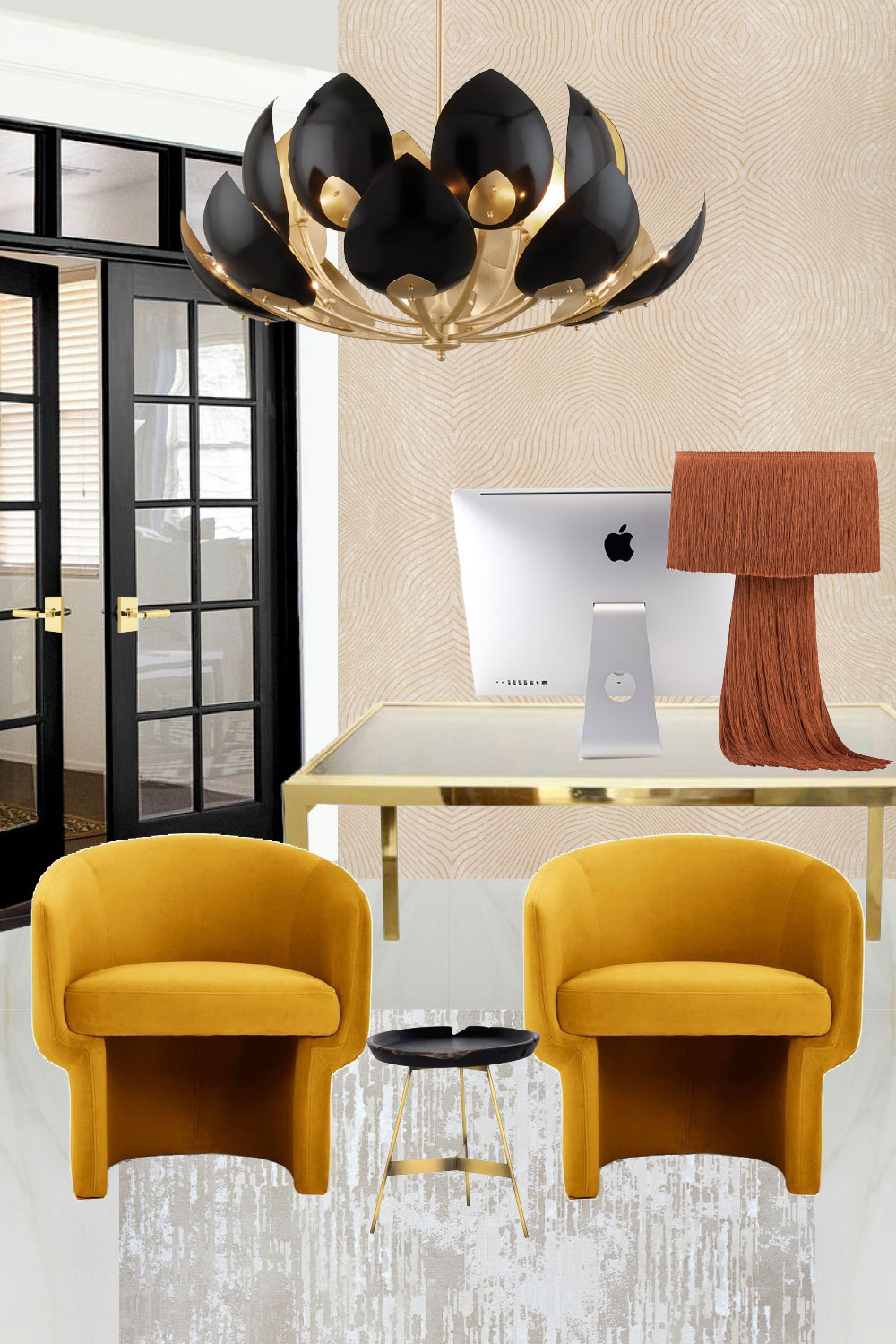 AND YES, IMMA DO THE HOME GYM!!!!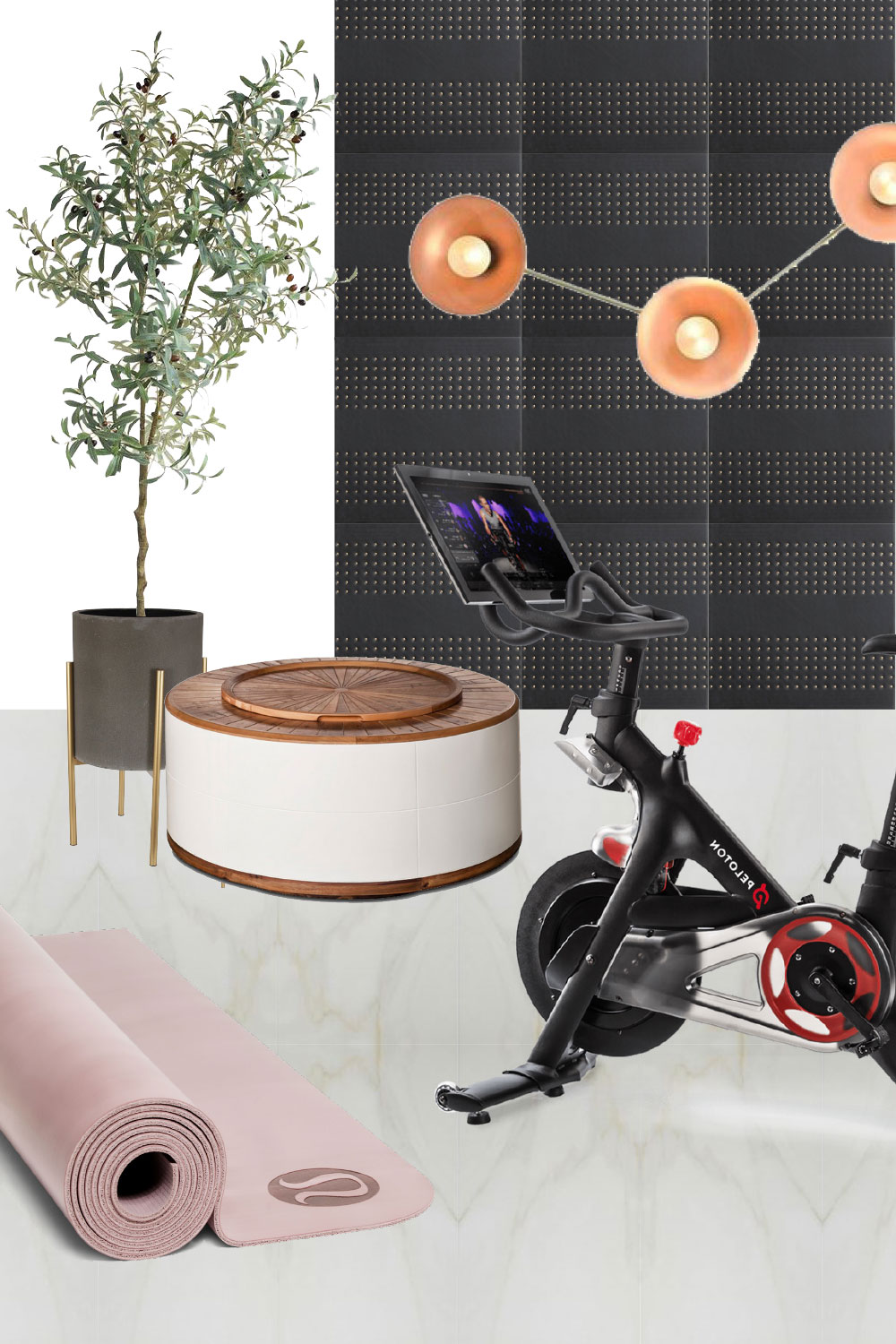 This home gym is not a place for the bro. Thou shalt not slam weights on the porcelain tile. No sir. This is going to be a girly gym. Yoga zen, meets meditation spin bike with resistant bands kinda gym. Oh and that black wall tile is so killer cool. I can't wait to mount this lamp on it! Yes, that's a freakin' lamp!
I will also feature a very special painting from Tony Curry who I met through my PPP Loan post when he dropped a comment. I can't wait to see what he comes up with. If you're unfamiliar with his artwork, please check out his website. I've been a fan of his for a couple of years now, and I'm over the moon to be working with him.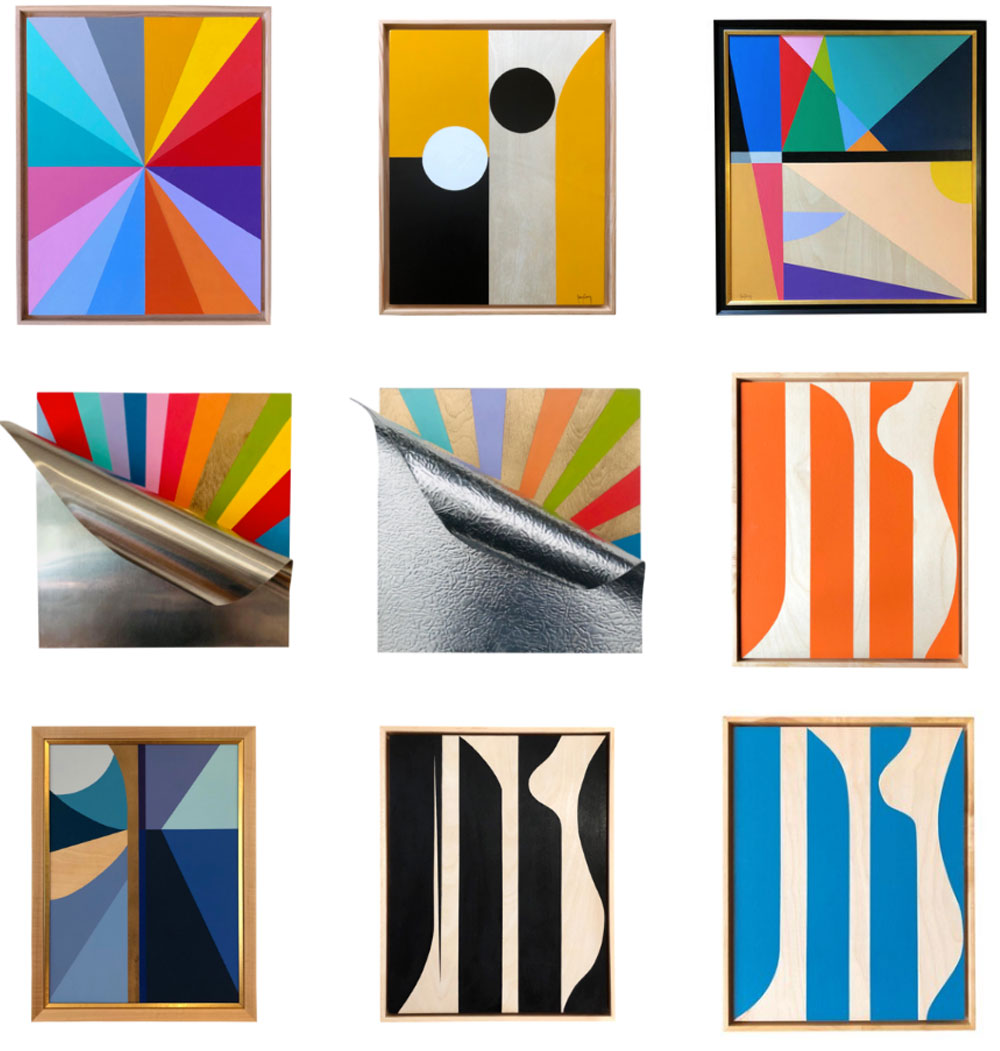 Phew! Do you love the designs? Would you change anything? Are you still with me? I know, this was a long one. Next week I promise to source all the furniture and decor, but for now, I'm bushed and ready for bed. Yes, I'm legit finishing this post minutes before the deadline. Wish me luck and be sure to visit all my fellow One Room Challenge designers.