One Room Challenge Week 6
Last Updated on September 19, 2023
Welcome to the crunch time portion of the One Room Challenge. Thus far, I've been feeling pretty confident, but that doesn't mean Imma let my foot off the gas pedal. There are still so many tiny details to wrap up, but first, let's review what's completed, shall we?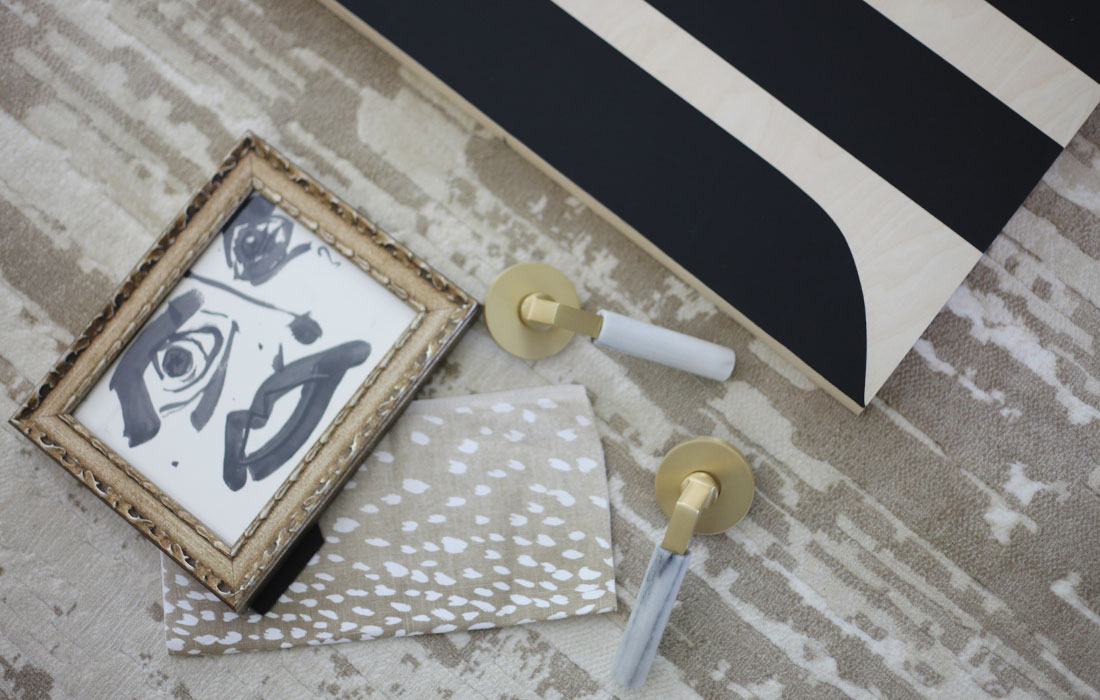 The wallpaper was installed a couple of weeks ago by a wizard…like he's srsly a magical unicorn. The textured wallpaper was sourced from Pacific Designs International, a sponsor of the ORC. The wallcovering I chose has a monochromatic, zebra-like pattern and is from their European Prints and Textures line from the Delightful Collection. This neutrals-loving gal is digging the bold yet subtle look. If you get up close and personal to it, you'll detect a slight sparkle.
For my new friends visiting me today, hi, my name is Kyla, and I'm a home decor blogger based out of Chicago, IL. This is my 3rd One Room Challenge…but my 1st time ever as a Featured Designer. If you want the daily behind-the-scenes updates, check out my Instagram or TikTok.
Week 1 | Week 2 | Week 3 | Week 4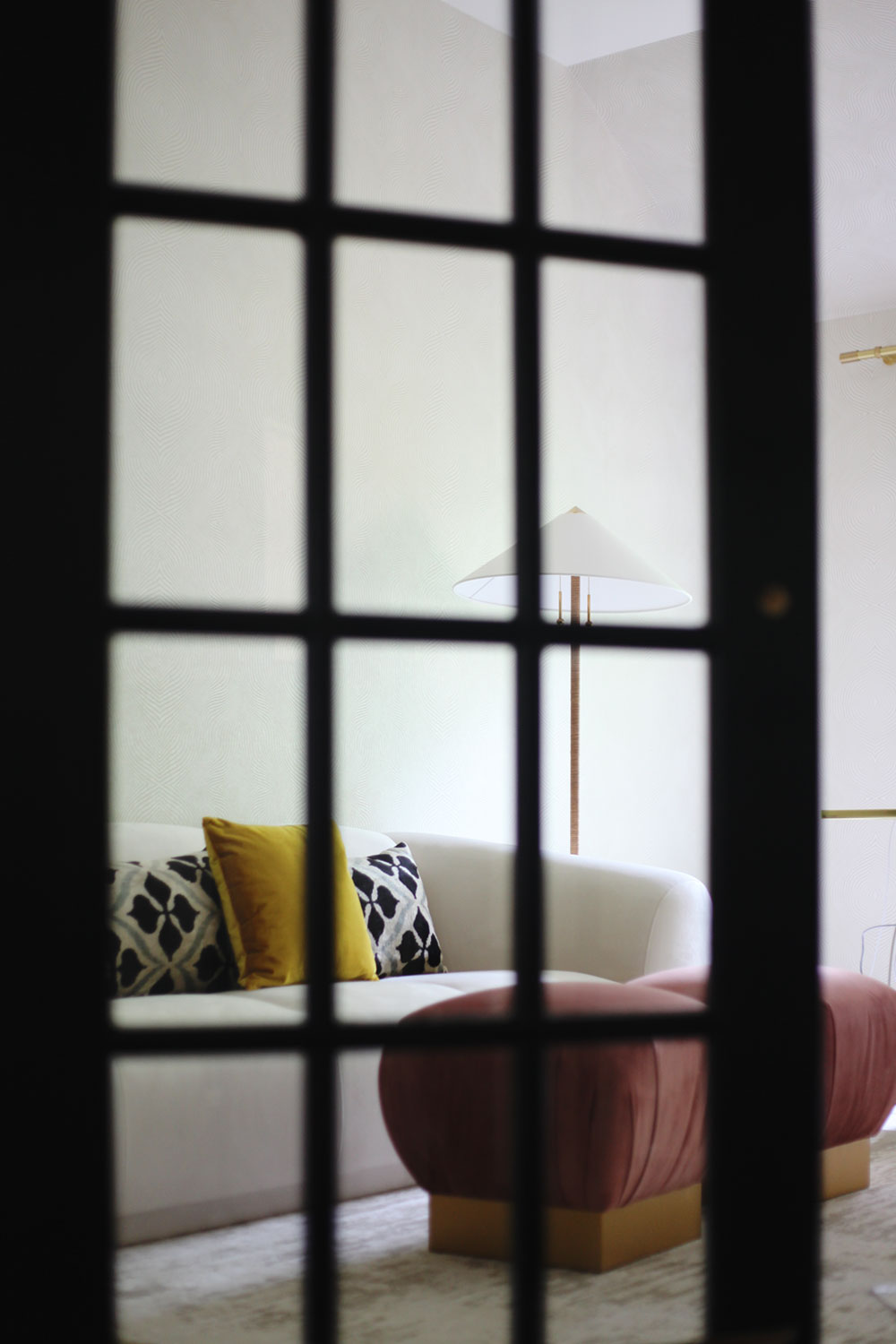 Last week, I painted the french doors black. The trim and transom still need to be tackled, but I'm contemplating whether I should paint on the hallway side trim of the room or not. Right now, it's getting side-eye with the thought of it looking weird if it's black…so I'm presently in problem-solving mode. I'll sit in my mess and eventually, the answer will come to me. The doors were painted in Sherwin Williams Tricorn Black in semi-gloss… the same as the french doors on the main floor.
And an exciting delivery just arrived! As I am typing this, the marble door hardware from Emtek arrived. Thank you UPS man! Fingers crossed, I'll be installing the levers later today! After going back and forth on black matte or satin brass rosettes, I finally chose brass. It'll give that marble an extra pop instead of blending in.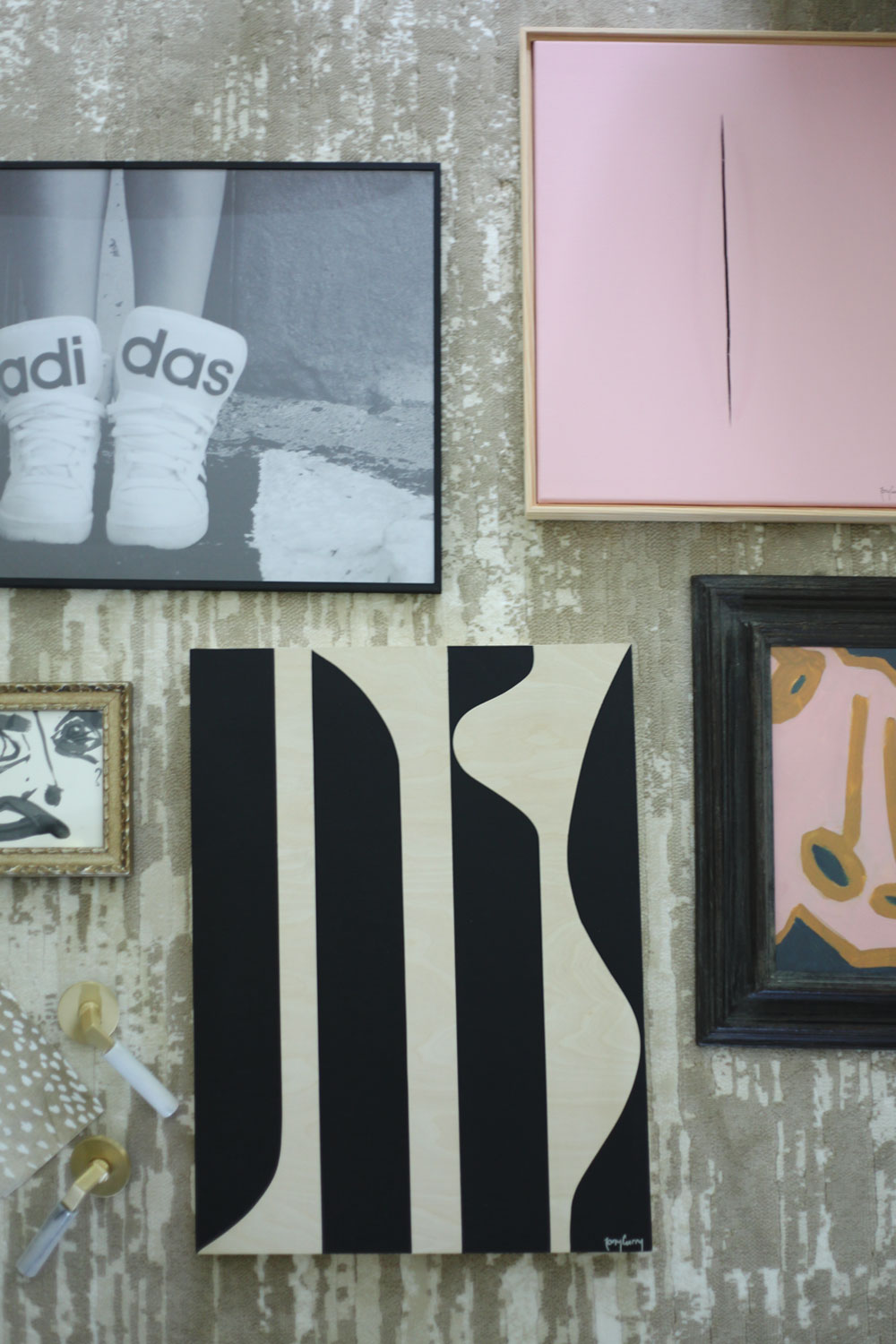 Speaking of deliveries, Tony Curry's pink sliced canvas artwork arrived last Friday afternoon, and I'm freaking out because he also included a graphic black and white piece! Both are sooooo incredibly amazing, but now I'm contemplating where to hang them. Originally, one was to hang one over the sofa and another by the arch, but now I'm contemplating putting them together in a gallery wall. Maybe mixing in a couple of vintage pieces. Again, I will sit and stare before piercing the wallpaper. If you have any suggestions, I'm all ears.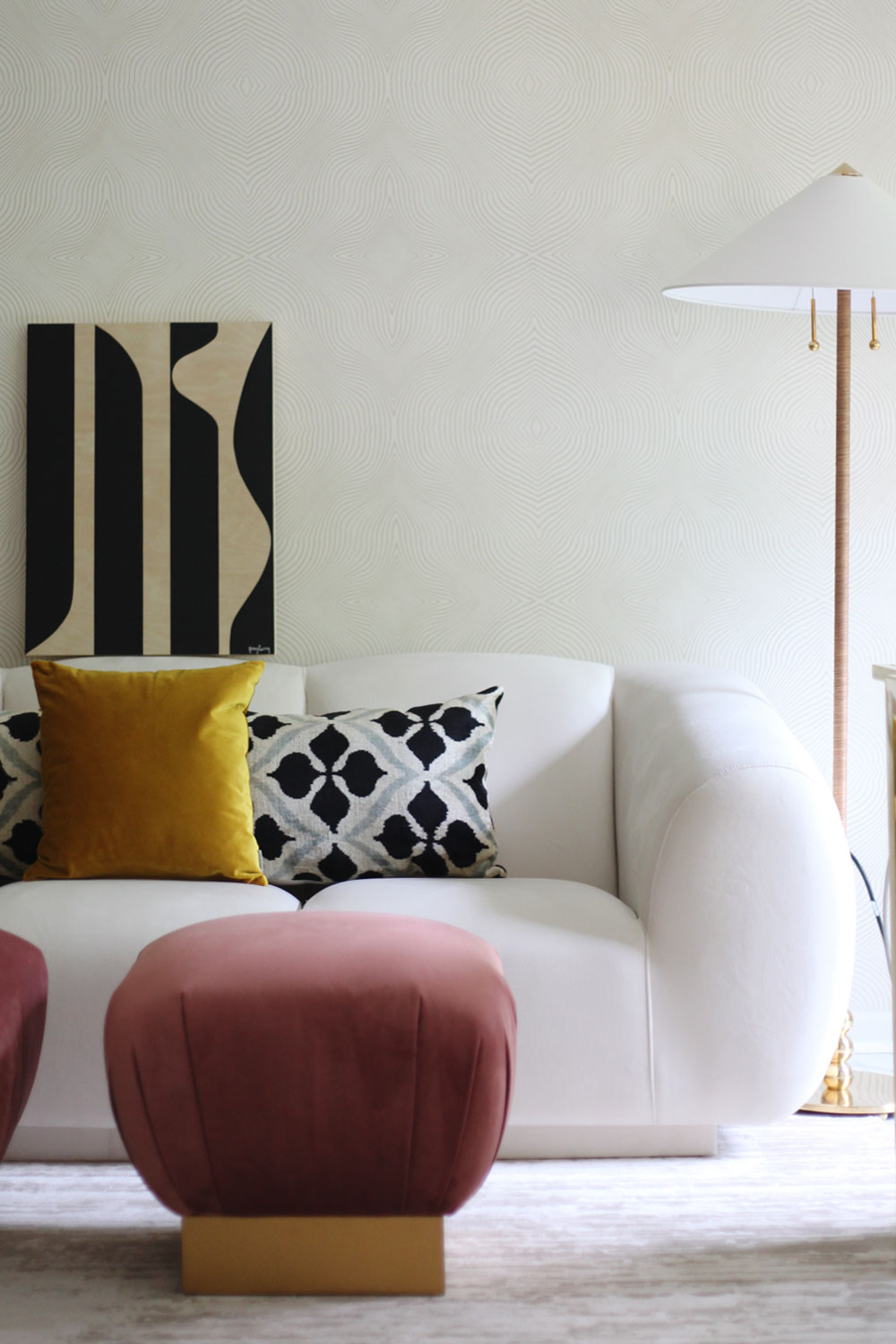 Can we finally talk about the furniture in the room Kyla? OMG! Yes! Let's chat about it already, shall we? Confession time, I kinda went nuts on Overstock. Have you shopped their furniture selection? It's bananas! I've shopped them for accessories and bedding, but for some reason, they were never top of mind when it came to chairs, sofas, and tables. Wow, have I been missing out on gems!


The first design iteration had a mustard gold sofa and black coffee table, but once I measured out the space, I came to the conclusion it was just too much for the room. During my search for something smaller, I kept coming back to this modern sofa. I told myself no, not another ivory sofa. No, no, no. Do something different. This is the One Room Challenge. But no matter how hard I tried to ignore her, I was like a moth to the flame. Had to have it. The shape was different, modern, vintage-inspired, and downright awesome.
Speaking of vintage, while searching for chairs, I stumbled over these dusty rose poufs. ERMERGERD srsly? These are just like the vintage Karl Springer soufflé poufs I've been chasing for years but guess what…they aren't a million dollars. To save space in the room, I've removed the coffee table from the design and replaced it with these.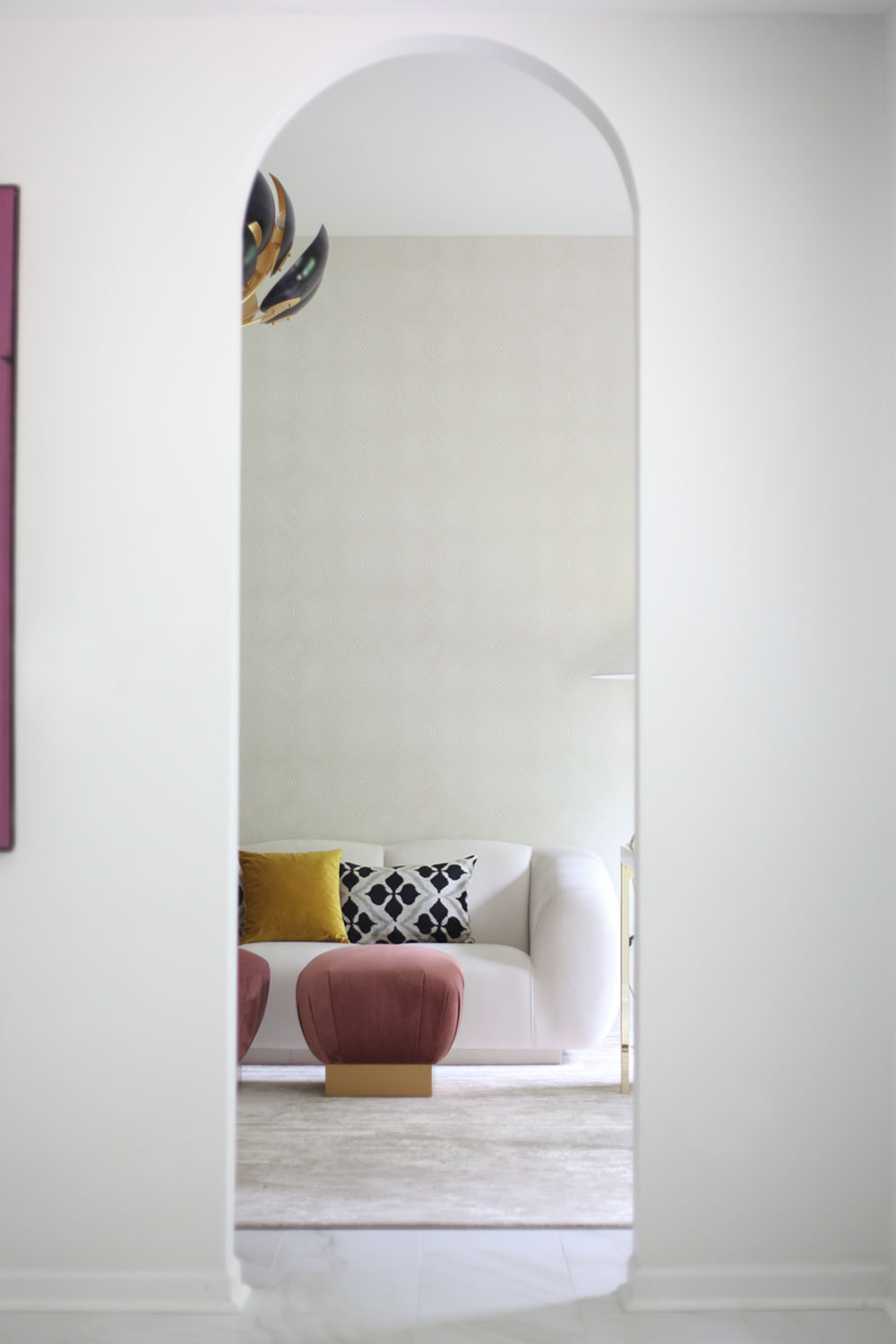 The pillows arrived, and I couldn't be more excited about them. The ikat black and ivory velvet paired with the mustard gold velvet pillow is "chef's kiss" perfection.


That brings us to chairs. As a chair fanatic, I didn't think shopping for seating would be as difficult as it proved to be. Hello, my name is Kyla, and I'm a chair snob. I found many I liked, but I wanted something less MCM, more 80's glam, and mustard. Something different. Something unique. Something that I had not seen anywhere else. Overstock, you provided a unicorn. They are fully in the space as I type this, but can we please hold a moment of silence for those mustard-colored chairs? They checked all the boxes, plus they're comfy to boot!
The black and white graphic credenza (no longer available) has entered the building. You're getting a sneak peek of pre-styling. Pieces that I know I want in the room are starting to trickle in; they just need a home. I'm thinking the printer will live on the bottom shelf, hidden inside. Yes, it is an office, but who wants to look at a printer, am I right? If I can hide it, Imma hide it. So now I sit here daring myself to drill a hole in the back for the cord. Double dog dare me to do it?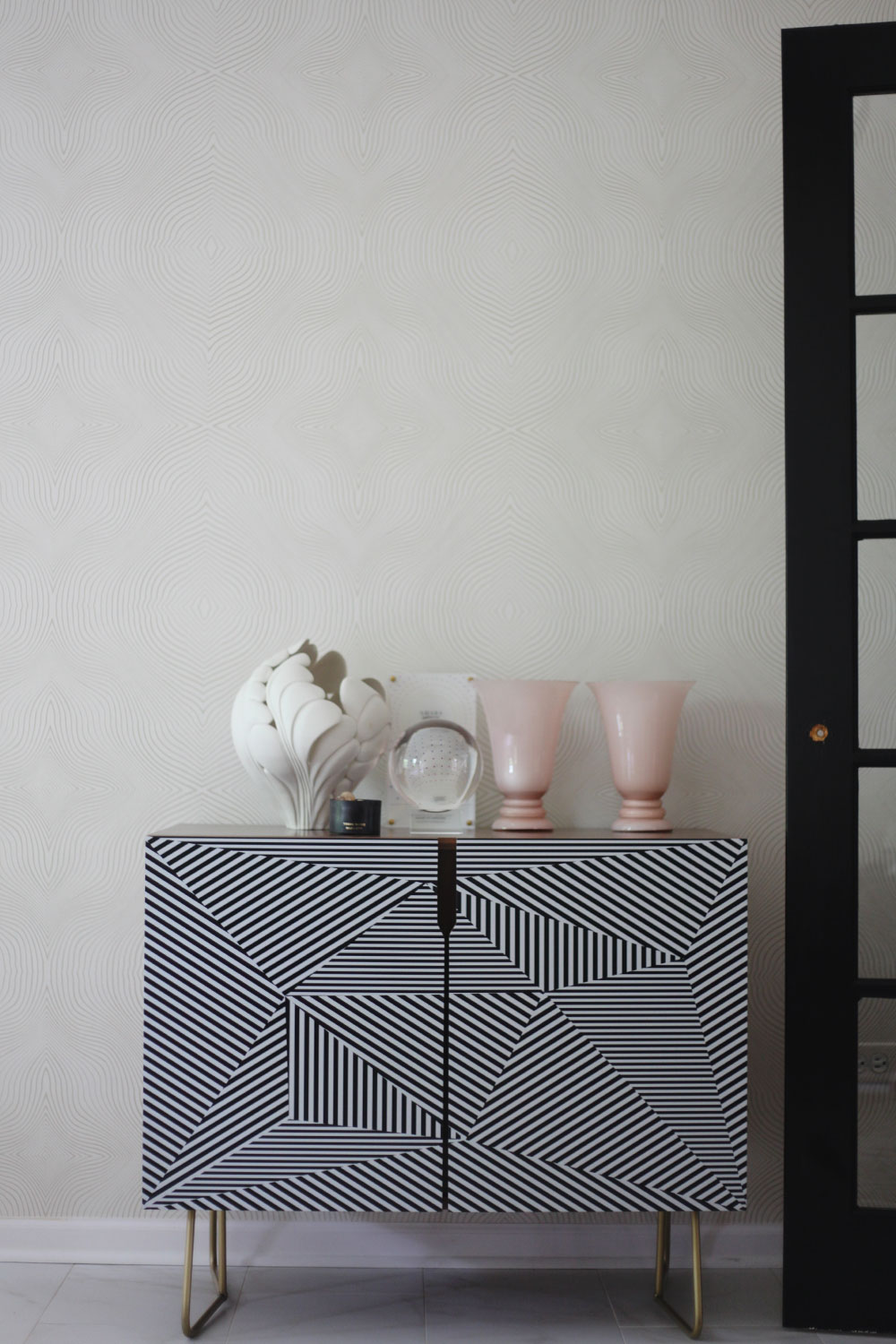 Oh! That little mid-century planter in the gym arrived! If you haven't heard, I'm a big fan of faux plants, so of course, the faux olive tree living in the gym is faux. It needed a nice little planter…something simple, MCM, modern. Again, boxes have been checked. However, I'm not completely sold on the artwork here. Part of me says to move the fireplace against this wall instead. It feels a bit harsh living on the black tile. What do you think?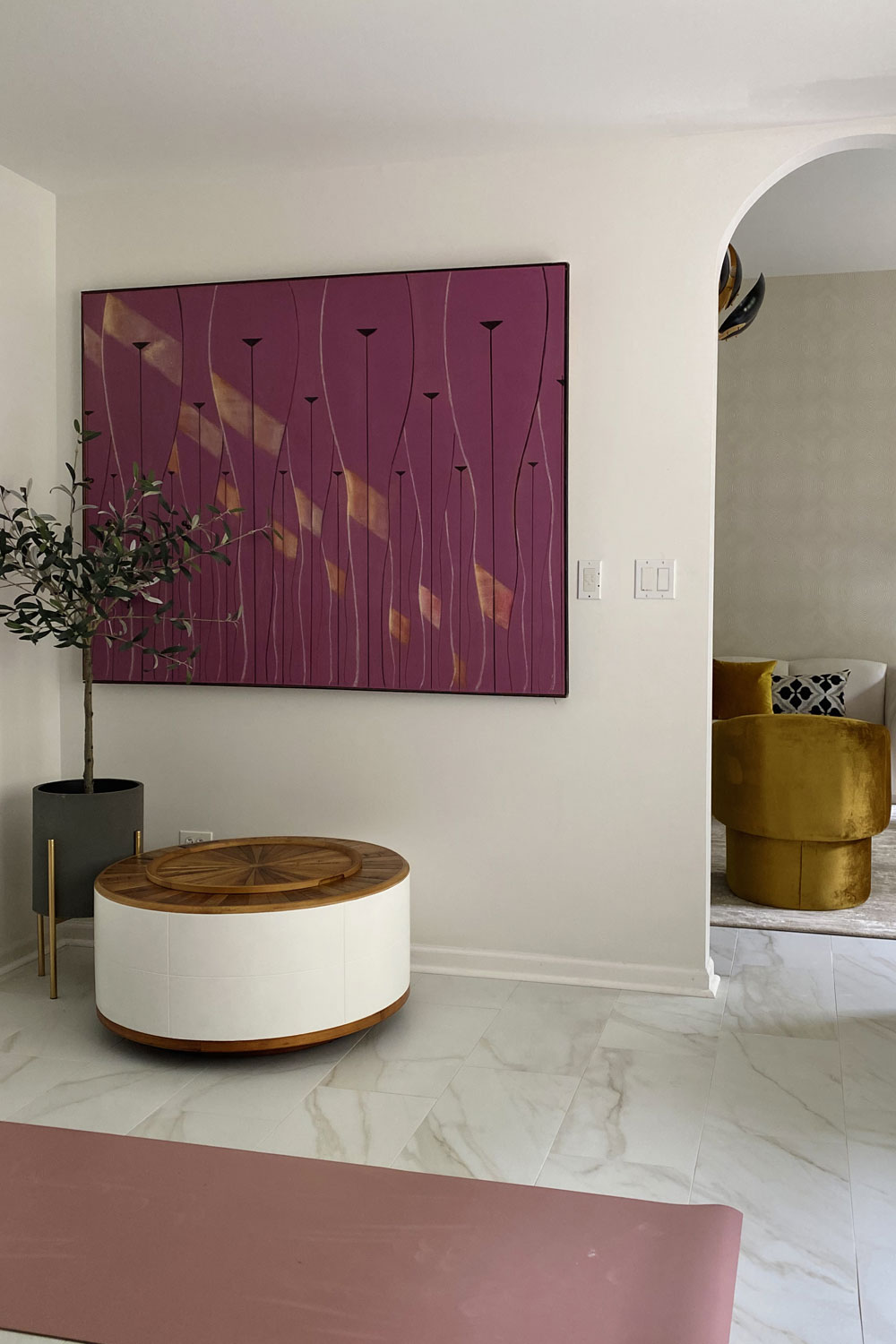 The round storage table has been put to good use as well. It's perfect storage for yoga blocks, resistance bands, and more. And yes, I have already taken this space out for a spin and Shavasana.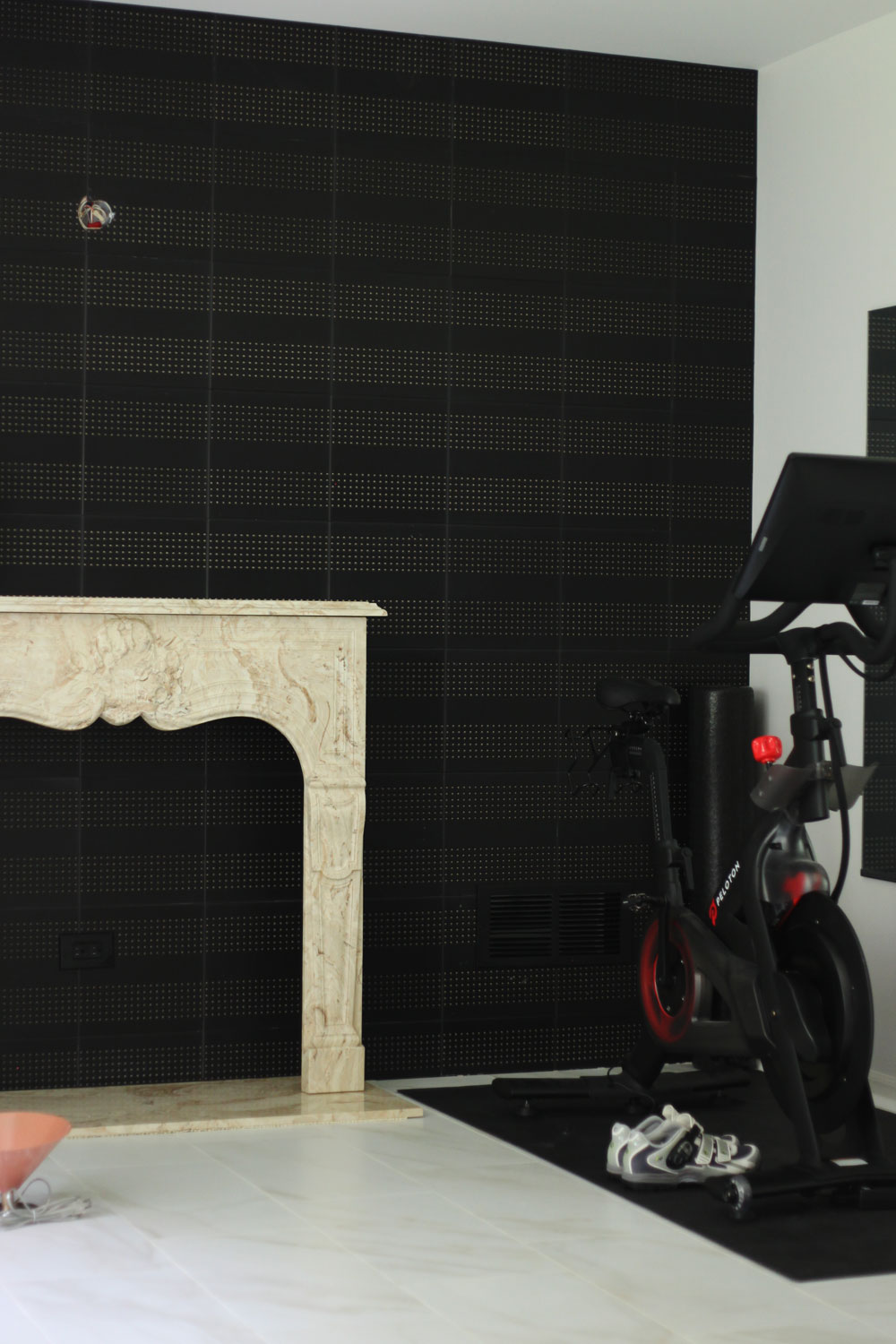 Now that pretty much all the furniture has arrived, I've decided that I hate my vintage desk. Ya, I know, not good timing considering I have less than 2 weeks to figure this problem out and shoot the final space…and this is a major issue considering it's the DESK in my home office. What's existing I love, but just not here. It's a vintage DIA Milo Baughman extendable glass table, but because it's a dining table, it's HUGE!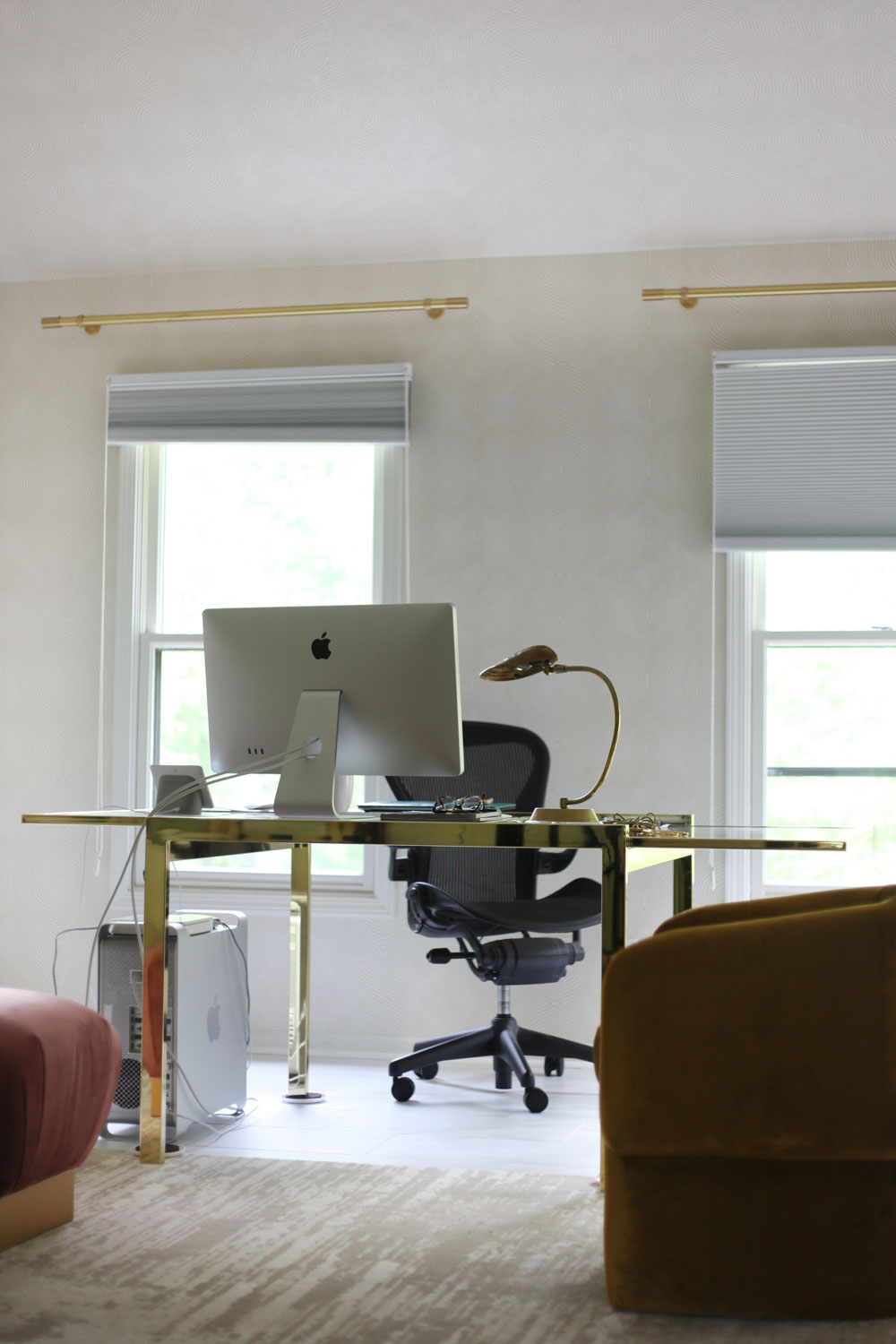 My main computer is a Mac tower…it comes with a giant monitor which is perfect for retouching. Then there is the laptop, magazines, notebook, planner, cameras, Google home thingy, phone charger and so on and so on. Ya, I need room but maybe not 10 person seating room. Bigger than a writing desk but not as deep as a table. The hunt is on and time's a tickin'. Wish me luck!
Huge shout out to Cathy's Custom Pillows. After a bit of googling, I landed on her Etsy shop and she accepted the challenge to complete the drapes in a week's time. She messaged me the other night and holy schmoly, they are in a box, on a truck, and on their way to my home! She sourced the exact antelope fabric I was looking for and sewed her little heart out.


Don't forget to check out the rest of my crew linked below! These hella talented designers are killing it. I'll be grabbing a cup of coffee and checking each space out today over lunch. Also, don't forget to head over to the One Room Challenge guest designers. They post their updates tomorrow!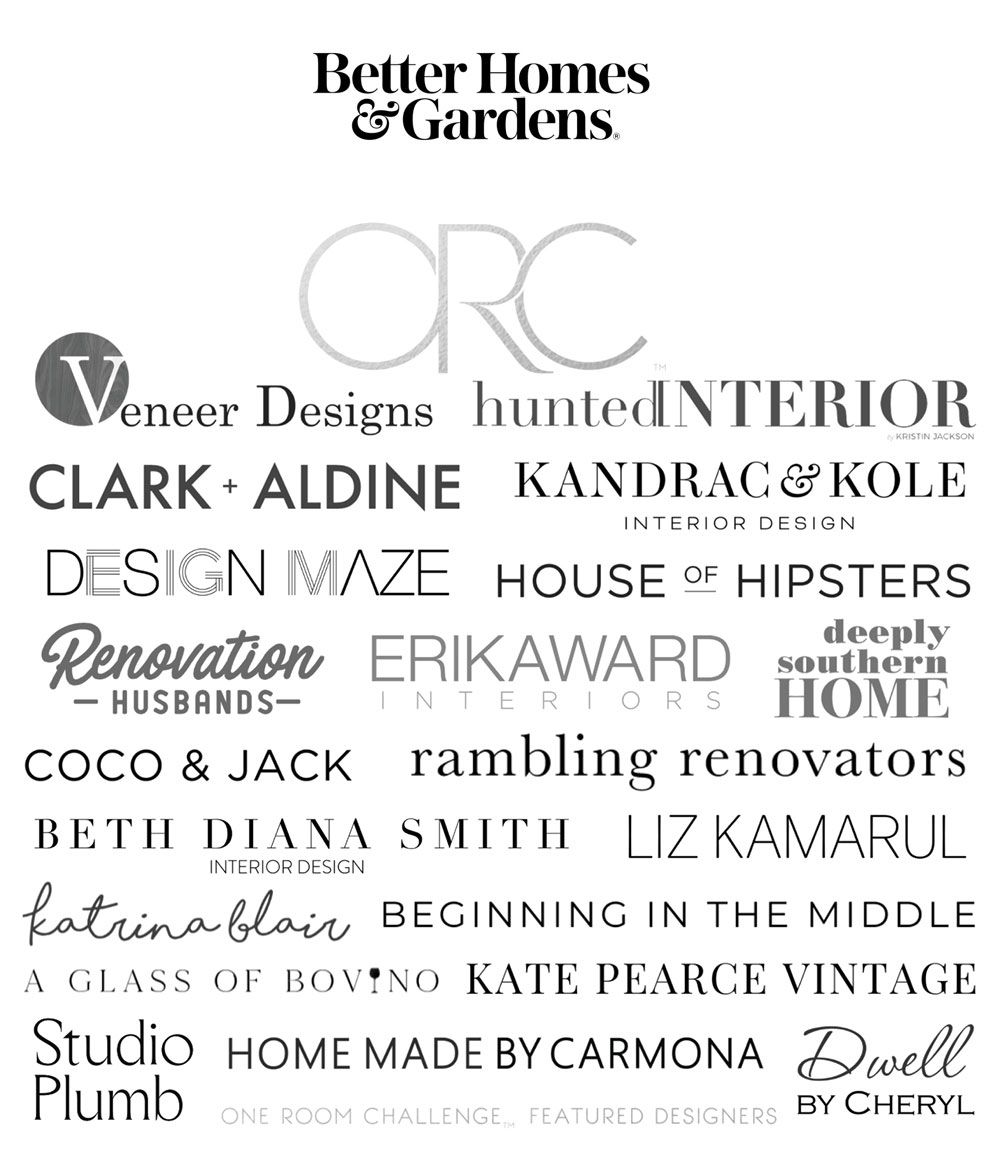 A Glass of Bovino | Beginning in the Middle | Beth Diana Smith | Clark + Aldine | Coco & Jack | Deeply Southern Home | Design Maze | Dwell by Cheryl | Erika Ward | Home Made by Carmona | House of Hipsters | Hunted Interior | Kandrac & Kole | Kate Pearce | Katrina Blair | Liz Kamarul | Veneer Designs | Rambling Renovators | Renovation Husbands | Studio Plumb | Media BH&G
Discover More DIY Home Decor Inspiration
Rounding up affordable modern decor finds that I have used in my home and love.
Playing with decor—check out these dining room design ideas
Favorite Fall Home Decor Finds to cozy up your home.
The ORC Week 5 – Home Office In The Old House
The ORC Week 1 – the project has begun and here's the renovation checklist
Playing With Decor – The Home Office
Get Your Home Holiday Party Ready with these tips for entertaining guests
Playing with decor—check out these vintage home office ideas