One Room Challenge — Week 2
Last Updated on July 25, 2023
Holy Hannah! How has it already been a week? Time is flyin', so I guess that means we've been hard at work on the One Room Challenge. In case you missed the debut post, you can get all the deets and a peek at the mood boards on ORC Week 1 here. Present state of the space — The Boy ripped the carpet out, and we have a clean slate! Check it out!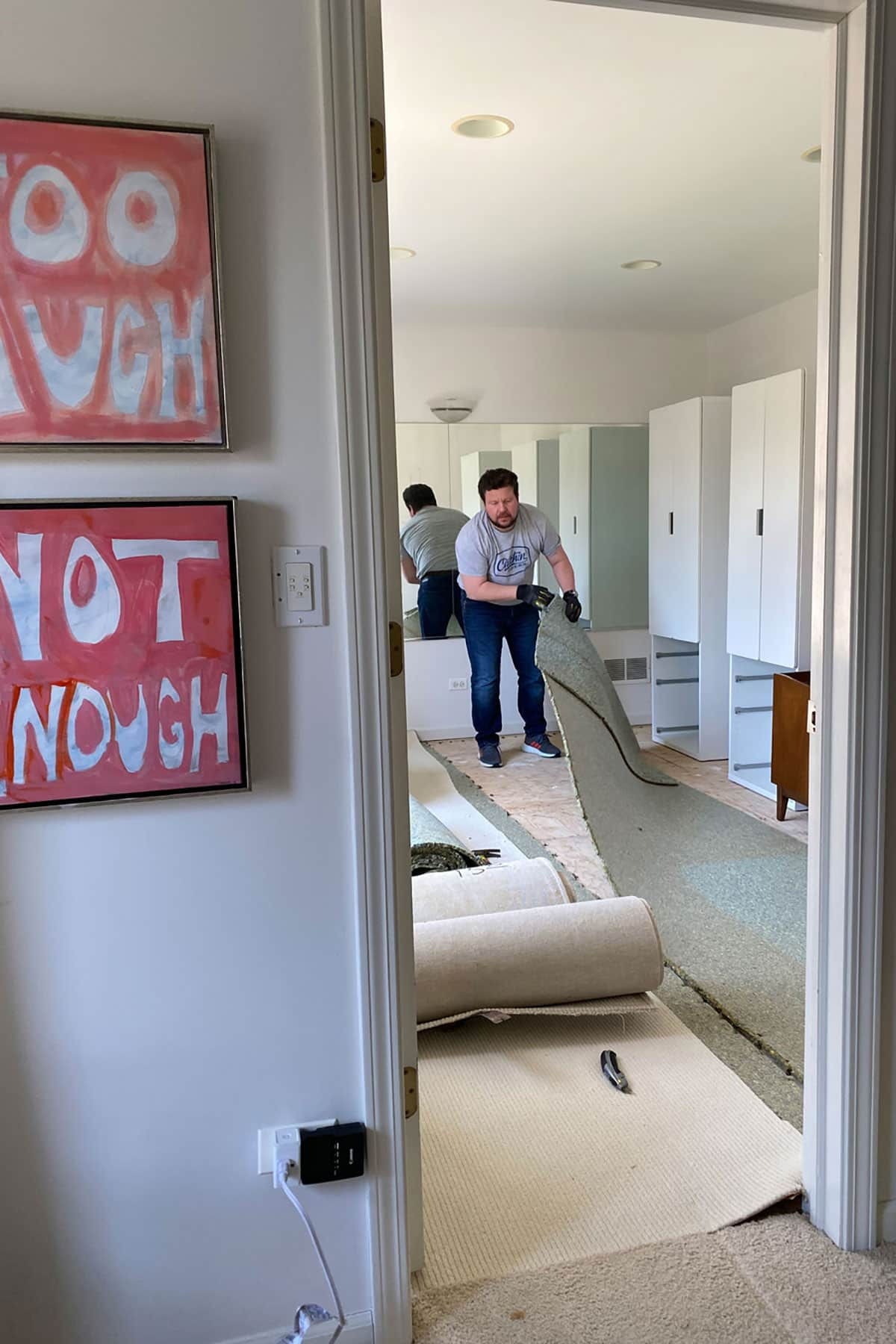 What you see here will be the home gym. Can I just tell you how excited he was to dig into this carpet? Allergies filled up his nose holes with all the dust. He was so not thrilled. On a good note, the plywood subfloor looks to be in good shape. This room was part of the addition, so we weren't too worried about it. My work from home office, on the other hand, was original to the home, and needless to say, we were quite nervous pulling up that carpet. We held our breath and found this.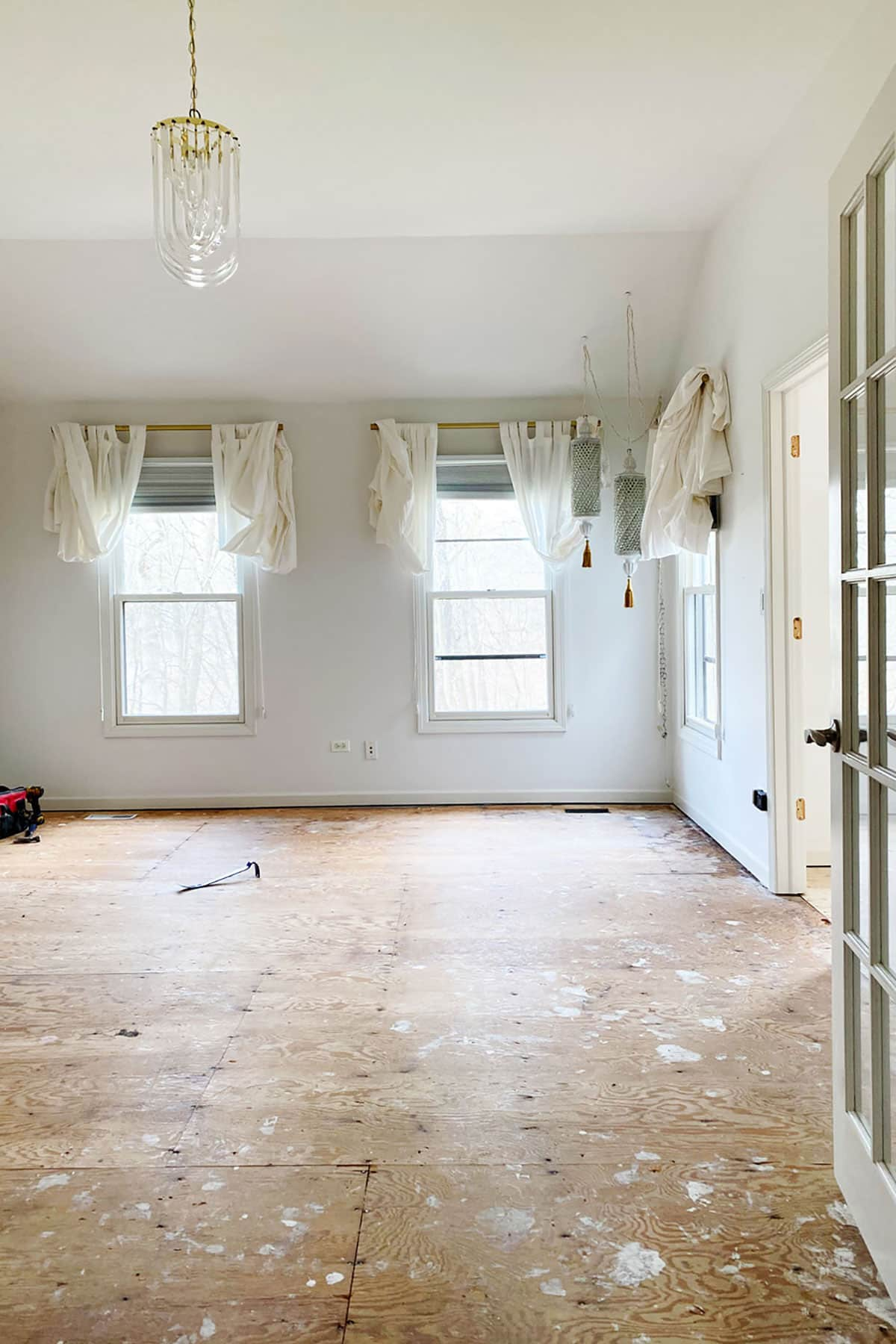 YEAH! Thankfully, it doesn't look too shabby! There was some sort of past leak under the one window, but it was dry. It also rained a lot over Mother's Day, and it stayed dry. Phew! In the clear!
Work from Home Office Decor That Has Arrived
Flooring: A big thank you to The Tile Shop! Everything has been signed, seal, delivered and it sitting in the garage awaiting its trip upstairs. I chose a matte faux marble porcelain tile, and I'm working with Gerry Reinhardt Renovations for the install. If you remember, he also helped me create Potty Paradise and repaired our basement after the great flood.
Tile Wall: The matte black wall tile with metallic dots has also arrived.
Chandelier: The Lotus chandelier from Hudson Valley Lighting is still in its ginormous box, and the anticipation to peek at it is killing me.
Floor Lamp: This stunner arrived the other day, and I'm obsessed. The empire shade totally sets it apart. Oh and it rests on 3 stacked brass spheres. It's bonkers good.
Coffee Table: This table will reside in the home gym. What's great about this piece is it doubles as storage. The credenza (no longer available) is on its way.
Rug: The rug arrived from Courisan, and I can't even begin to describe how beautiful it is. I can't wait to roll it out and see it in all its beauty.
Wall Sconce Lighting: The spectacular sconce which doubles as a sculptural element in the space is waiting to be hung! I can't wait to mount that sucka!
Work From Home Office Decor To Be Shipped
Overstock: Sofa, Chairs, Poufs, Side Table, and Pillows
Pacific Designs Wallpaper: I have a couple of colorways in the Delightful collection and one other design that's sort of a stripe with palm leaves in it that I'm contemplating. (If you click here, it's the very first room photo…do you like the stripes?) DEL30-035 is the one I'm leaning towards in creamy antique ivory color. I love the texture. You can see the green colorway of the pattern here (under the stripes)…it kind of reminds me of a zebra.
Tony Curry Artwork: Tony texted me his thoughts on artwork…I texted him back at like midnight on a Friday so not thinking about time. Sorry Tony!!!! He's thinking one of his slice canvases, and I can't even handle the excitement.
The Makeover To-Do List
Wow, there's so much that needs to happen, I'm not even sure where to begin. Part of me just wants to stick my head in the sand and pretend as it'll magically finish itself.
• I need to source door handles. I think I'm head over heels in love with the Emtek Select Lever. What do you think? All brass or the brass and matte black…oh…and they also have a marble handle too. I know, clutch the pearls, right? Now that I'm talking about the marble, man, they would look spectacular and unexpected against the black doors, wouldn't they?

• Speaking of those black French doors, they need to be painted black, and I'm so NOT looking forward to that. Taping all that glass is the absolute worst. Wonder how much it would cost to enlist my kids to tape that out for me. If I remember correctly, it took Thomas Paint 2 days to do that job on the downstairs doors.
• Finally, I think I need new drapes. Fabric always transforms a room. I'm digging this design by Vern Yip from Calico Corners. Although, is it too many animal prints…is there such a thing as too many animal prints? I guess I just need to group my swatches and play. Hopefully, I will have enough time to get them here. I best get on that.
Don't forget to check out the rest of my crew! These hella talented designers are killing it, and I am watching with bated breath every step of the way. Also, don't forget to head over to the One Room Challenge guest designers. There are so many incredible rooms being transformed.
Check Out The Other One Room Challenge Featured Designers
A Glass of Bovino | Beginning in the Middle | Beth Diana Smith | Clark + Aldine | Coco & Jack | Deeply Southern Home | Design Maze | Dwell by Cheryl | Erika Ward | Home Made by Carmona | House of Hipsters | Hunted Interior | Kandrac & Kole | Kate Pearce | Katrina Blair | Liz Kamarul | Veneer Designs | Rambling Renovators | Renovation Husbands | Studio Plumb | Media BH&G 




More Home Decor Ideas and Interior Design Tips
If you don't know the magic of a disco ball, check out ideas for decorating with disco balls.
Rounding up the best interior design books – if you're looking for gift idea inspiration for a home decor obsessed loved one, this post is for you! There's also a full round-up of the best coffee table books too!
Wanna make your home look expensive when you don't have the luxury of a high budget? Try this!
Bobby Berk told me he has always invested in quality bedding. Here's the ultimate guide to the best sheets and bedding.
Love the Primrose mirror but hate the price tag? I got you! Here's a full round-up of affordable Anthropologie mirror dupes.
Do you have a rug that is too small or too big? Not sure? Here's how to choose the best size rug for a living room.
Love plants as decor but have a black thumb? No worries! I have a rounds ups of the best faux olive trees, my favorite faux fiddle leaf fig trees, and a huge round-up of faux plants that look real.
Cozy up your windows with these affordable velvet curtains – oh, and they're all available online.
Cane furniture is trending, and so is rattan and cane lighting. If cane isn't your jam, but you want more lighting ideas, check out this round-up of boob lighting alternatives.