I Found This Vintage Marble Table By Accident
Last Updated on September 26, 2023
The dining room was the first room I began decorating in this home. Probably because the formal dining room was the kids' playroom in our previous home, this was something new, fun, and different to decorate…thank you, ADHD. After the kids went night-night, I perused Facebook Marketplace, hunting for a vintage pine wood table and 80s modern chairs.
Gotta Chat Design Process Before We Get To The Table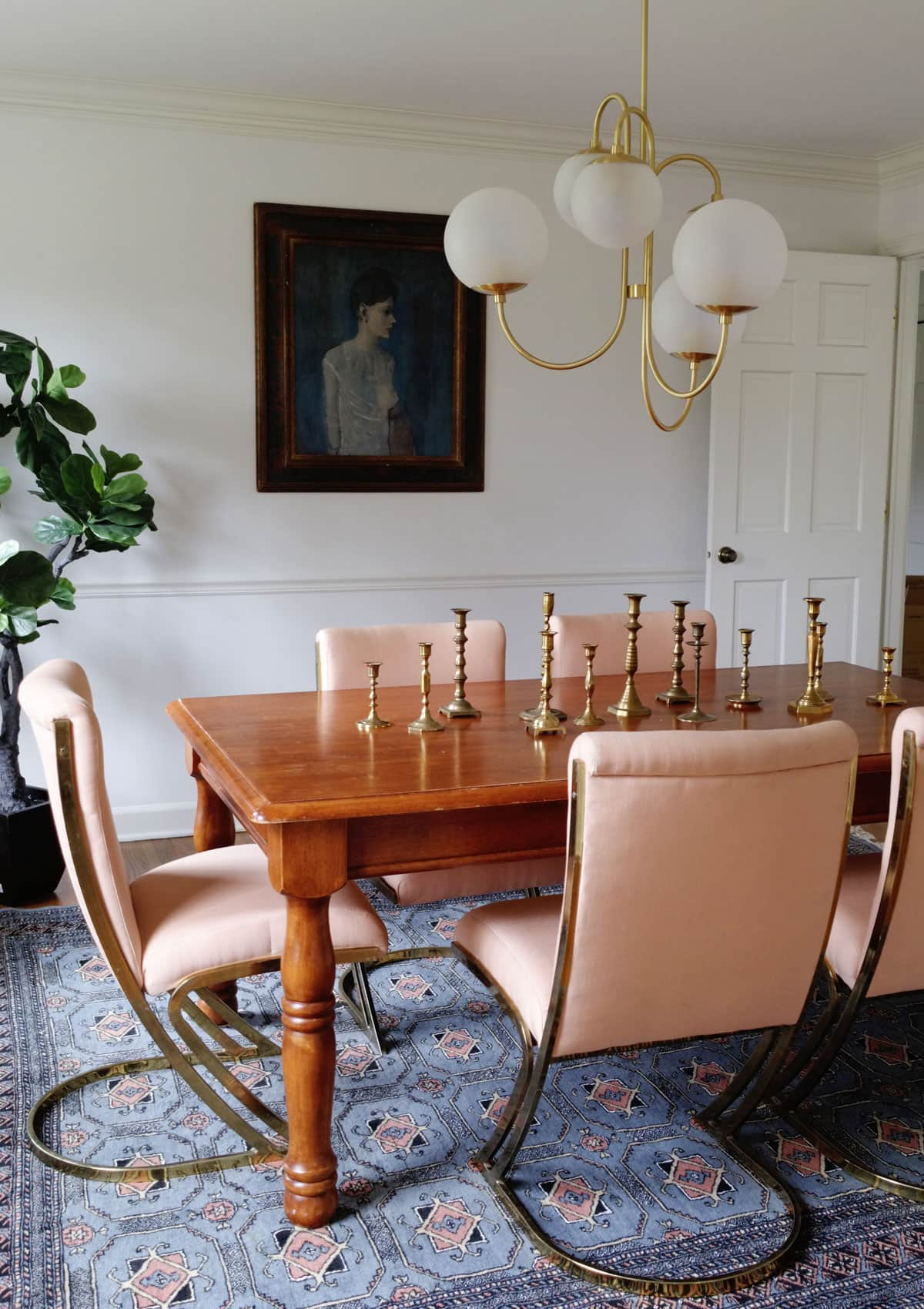 The final room design looked like this, and I loved it. I probably should have disassembled the wood table and sanded it down for that distressed farmhouse look, but I was busy then.
RELATED: Go back in time and see the beginnings of the dining room design process.
Anyhoo, fast forward a couple of years later to when I swapped out the vintage blue Bokhara rug for an Art Deco style Peking rug I found on Craigslist that has jokingly become known as "The Purple Pig." The color with the wood was a design crime, but sadly, I already sold the blue bokhara. I felt like I had officially wrecked my dining room.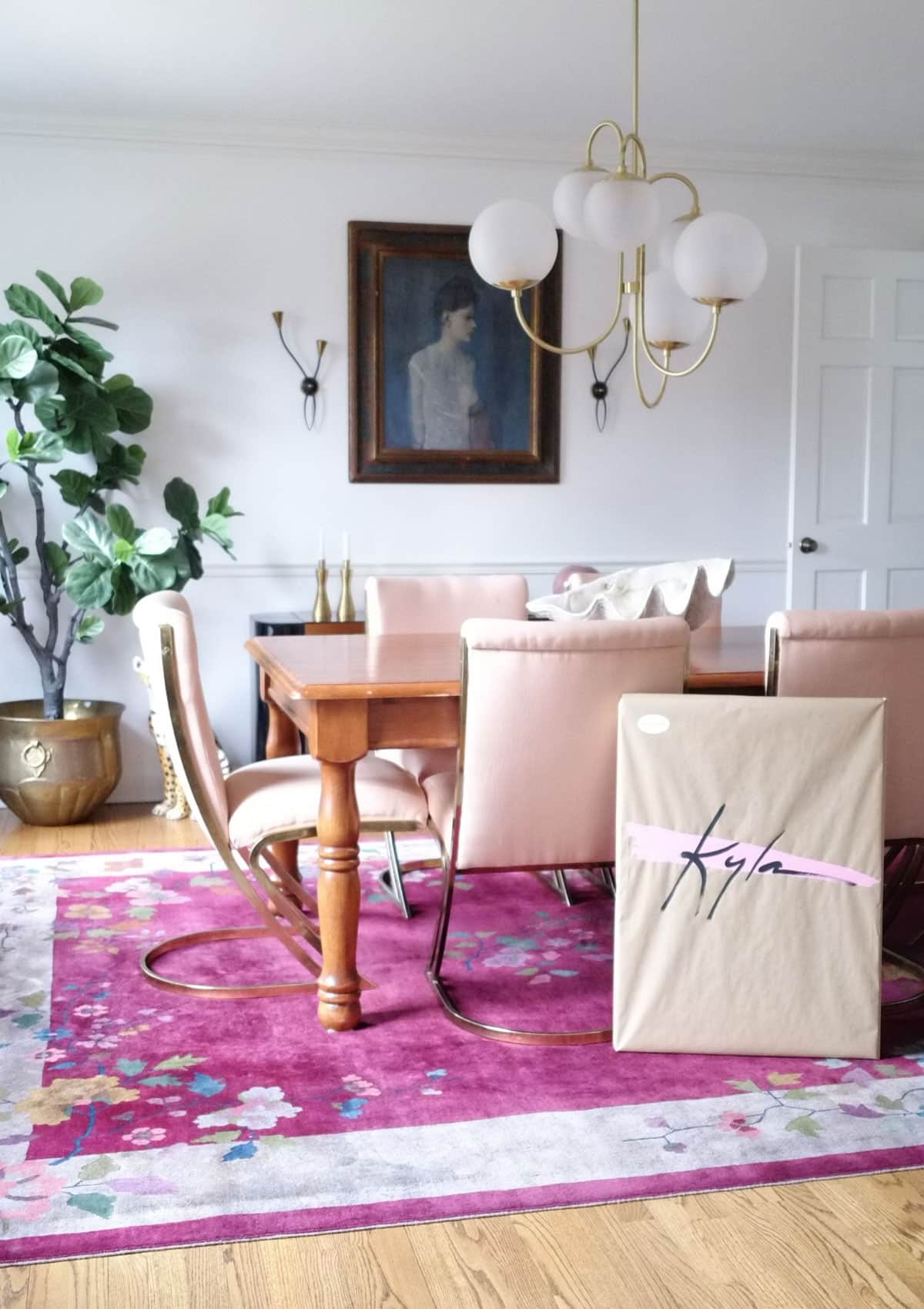 RELATED: Read more about the dining room rug debacle and why I relate my
Now, before you think I was being wasteful, I should tell you that I owned a vintage shop at the time. If it didn't work in my house, it was simply passed along to the next happy owner. So, bye-bye, Purple Pig, you're off to the shop.
The replacement was the Hugo rug from Annie Selke, aka my forever rug. To this day, when the dining room is posted on social media, the comment section is filled with one particular question, "Hey Kyla, where can I buy that rug?" Even six years later! This rug is a keeper and 100% worth the investment.

Finally, Getting To The Vintage Marble Table
One night while sourcing merchandise for the shop, I found an antique Carrera marble table on Facebook Marketplace that stopped me in my tracks. She was a beauty! But in terms of resale pricing, it was not a good investment. However, I could trade my wood dining room table for this marble beauty.

I sat on the Facebook listing for 3-4 weeks, stared at it, and put my phone down. Rinse and repeat. I'm fairly certain it was listed for $500, and I offered $400. This vintage marble table was mine.
Another question I'm asked is how do you find gems like these on Marketplace. My go-to search words for something like this would be Italian, stone table, marble, unique table, and old table.
RELATED: See how I style my bar cart with vintage barware.

The previous owners told me it was a 1950s pastry table, but I'm not 100% on board with that because it is not standing height. This was a standard dining table height. I didn't care, though. This table was a beauty, and I'm still obsessed with it to this day.
And I should say, even though marble can be high maintenance, it's kid-friendly…the whole room is really.

What do you think? Do you love more, the wood table or the vintage marble table? Let me know your thoughts in the comments below.
This design iteration of the dining room stuck around until Ultrasuede, a high-performance fabric company, asked to partner with me. Now, those pink chairs may look like they're in mint condition, but in person, they were gross. Spattered and stained with who knows what. It was time to reupholster the dining chairs.

I loved the pink color, but I decided to add a little spice since this was a sponsored post. It was 2020, and we were eyeball-deep in a pandemic, so to shake things up, I let TikTok help me pick a color. This fun experiment tuned my pink chairs Bottle Green (middle swatch). Check it out! They're a vibe.

The pendant light was from West Elm, but they discontinued it. However, I did find a similar one here.

Shop The Dining Room Look
Vintage Stone Table – this listing is the closest I've come to ever finding a similar table.
Brass Pierre Cardin Chairs – Set of 6 dining chairs
Brass Pierre Cardin Chairs – Another set of 6, but these definitely need new upholstery. But these are also a steal of a deal.
Annie Selke Hugo Rug – she's pricy, but she is worth every penny—hand-knotted wool rug with high pile.
Ivory Curtains – get all my secret sources for affordable curtains here.
Gooseneck Chandelier – a dupe to the West Elm Pelle light that was discontinued.


RELATED: Learn more about reupholstering the vintage Pierre Cardin chairs with Ultrasuede here.
Now, do I miss the pink color? Maybe sometimes, it was fun. But the green brings a new level of sophistication to the room. The space has undergone a few more changes since then, but that is a tangent for another day. TTFN!



Find More On House Of Hipsters Interior Design Blog
TikTok just educated me on the things hot girls are obsessed with, and this list is oddly educational.
Have you noticed arched cabinets are trending? They're not only stylish but their ample storage space makes them incredibly functional. Check out my top picks.
I am obsessed with this dinnerware set from Ann Demeulemeester for Serax plates.
I'm also obsessed with this Orren Ellis Vigna Upholstered Accent Chair. It kinda reminds me of a circus tent.
These photographs of men with their cats have me cackling. The weirdness is on another level.
Sharing with you how to choose upholstery fabric to know you're getting quality that will last.