It's Week 5 of the One Room Challenge, and right now I feel like my entire life is revolving around this project. Nothing else really matters. I'm okay with being 7 blog posts behind and staying up until midnight. It's crunch time, and next week is the final reveal. If you're new here and wondering what on Earth is this One Room Challenge, well, check out Week 1, Week 2, Week 3, and Week 4.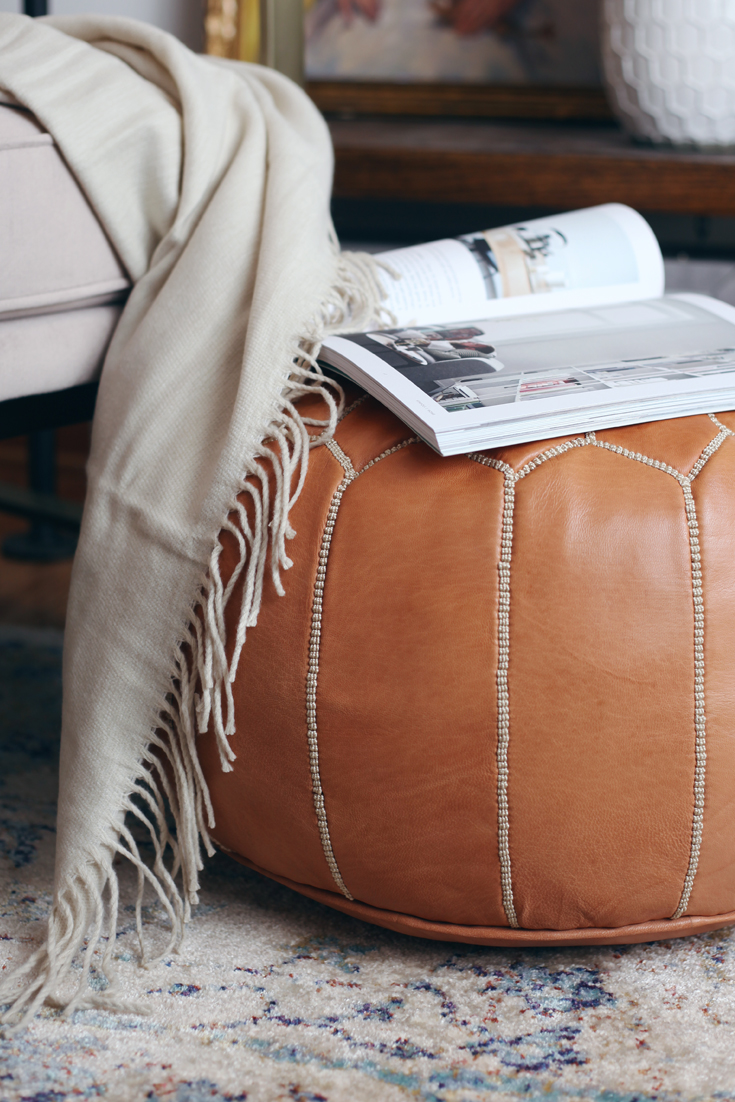 MORE AFTER THE JUMP…
Last week I left you in a state of impatience. I was cursing the lack of immediate gratification and online shopping in general. Well, low and behold, most everything arrived. Vases and pillows and throws, oh my. Oh so quickly I found I can spend a few hundred bucks on home decor and still need more. Wait, what?!?! Yep, you read that right. Eh! What are you going to do. Back to online shopping it was.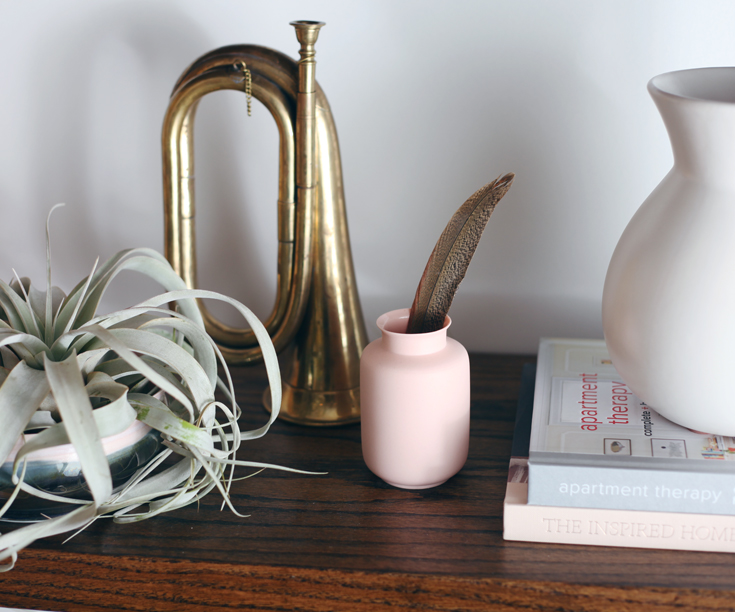 I decided to poke around Chairish, Etsy, and Instagram. Again I needed to channel my vintage roots. Since thrifting takes time and patience…for which I have neither…basically every waking hour has been spent scouring the interwebs for thrifted treasures. I did hit the jackpot, but that again means waiting for delivery; however, I'll have a whole bunch of new awesomeness to share with you on reveal week…plus, I have the Grayslake Flea this weekend as my backup plan…no napping this Saturday.
Every night I've been reading Styled by Emily Henderson. For me, styling can be tricky. I don't like it too posed, a la straight out of a catalog. I like it to look lived it. Well loved. And that my friend can be easier said than done. So I've been taking notes from my guru. Sometimes even hopping outta bed and running downstairs just to move a pillow or add a book when I get an idea. The whole room is turning out pretty darn beautiful. See if you notice the subtle styling changes from last week to this week. There's actually quite a few.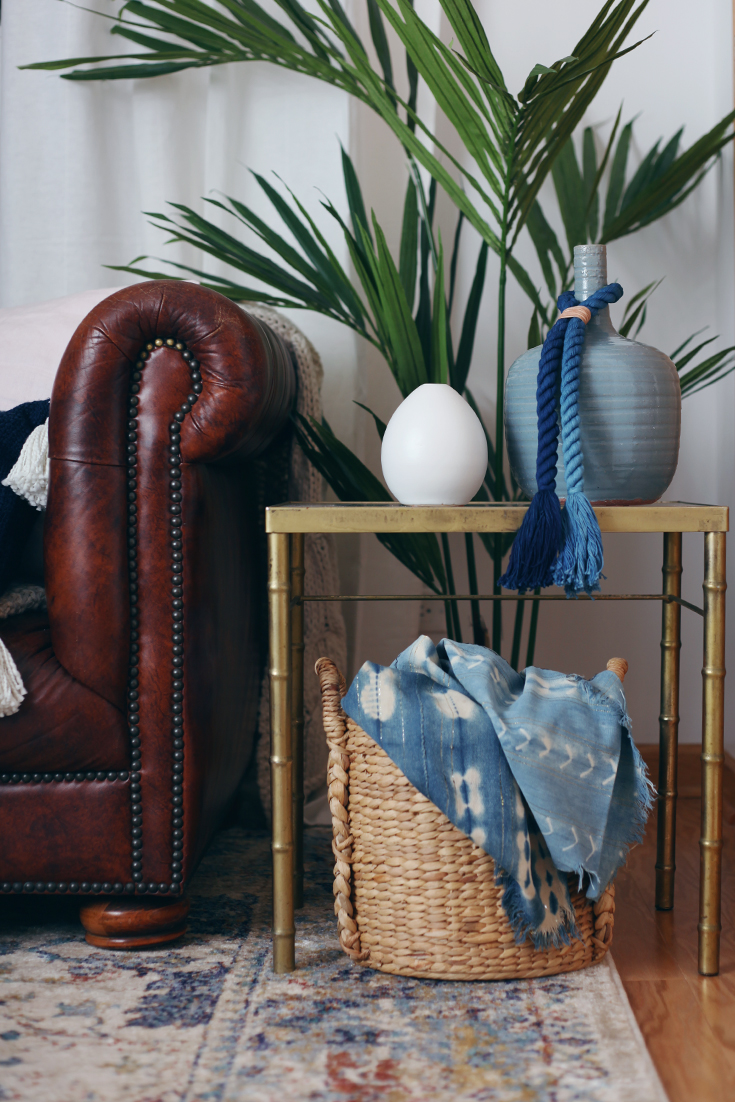 If you remember a couple weeks ago, I made the heartbreaking decision to remove the indigo and rattan from the space. Confession time, a little bit kinda sorta snuck back in. I couldn't help myself. I needed something to fill the space under this table. Originally this side table was part of a nesting table set, but since I already had the waterfall lucite nesting tables acting as a coffee table, I removed the smaller of the two glam-boo sides. Besides, two sets of nesting tables in the same space can look plain old weird and awkward. A basket filled with vintage wedding indigo seems to fit the bill. Phew! All is right with the world, and these hits of blue with the seagrass basket are really working the Loloi Anastasia rug.
Speaking of the other set of fancy nesting tables. Let's take a gander, shall we? They are vintage. They are lucite. And they are fabulous. I bought them from South Loop Loft Vintage along with the amazing Chester. I don't know about you, but I'm really crushing on the whole mix of masculine and feminine and vintage and glam going on in this space. It's looking rather amazing.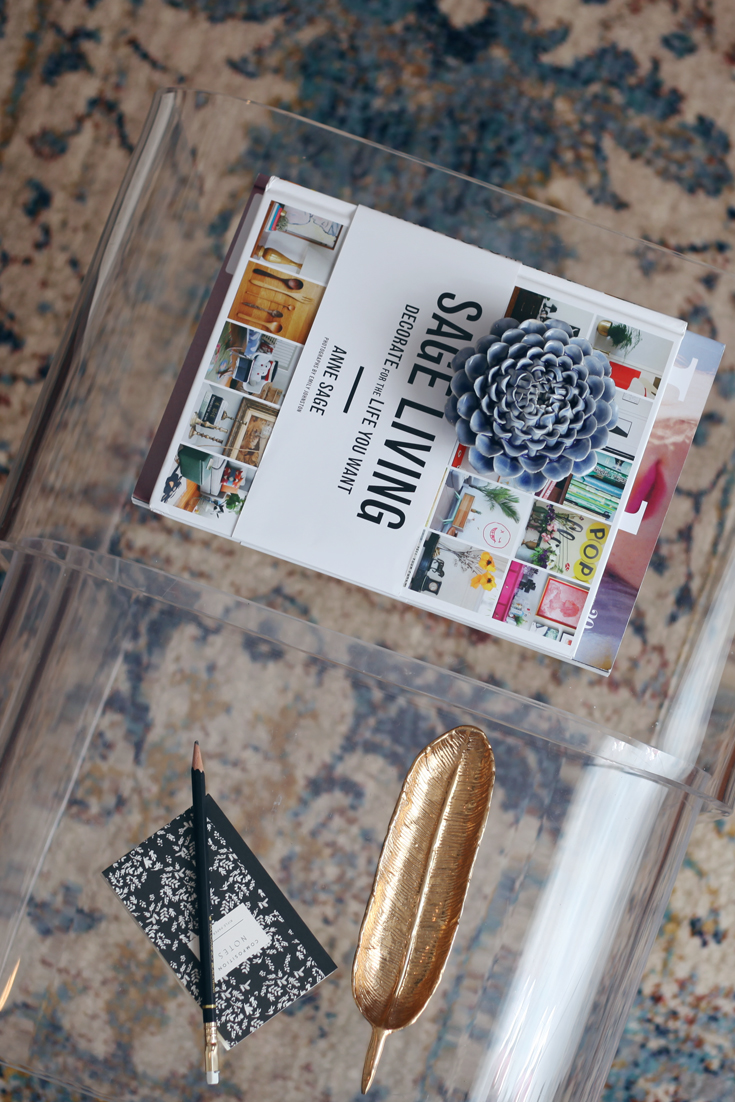 I've also been styling my desk and workspace area. The plain white wall behind my computer needs to stay simple and minimal. On many occasions, I use this space for shooting, so instead of adding more nails to the wall, I used washi tape to hang personal photographs. Each photo can easily be removed and replaced after a shoot.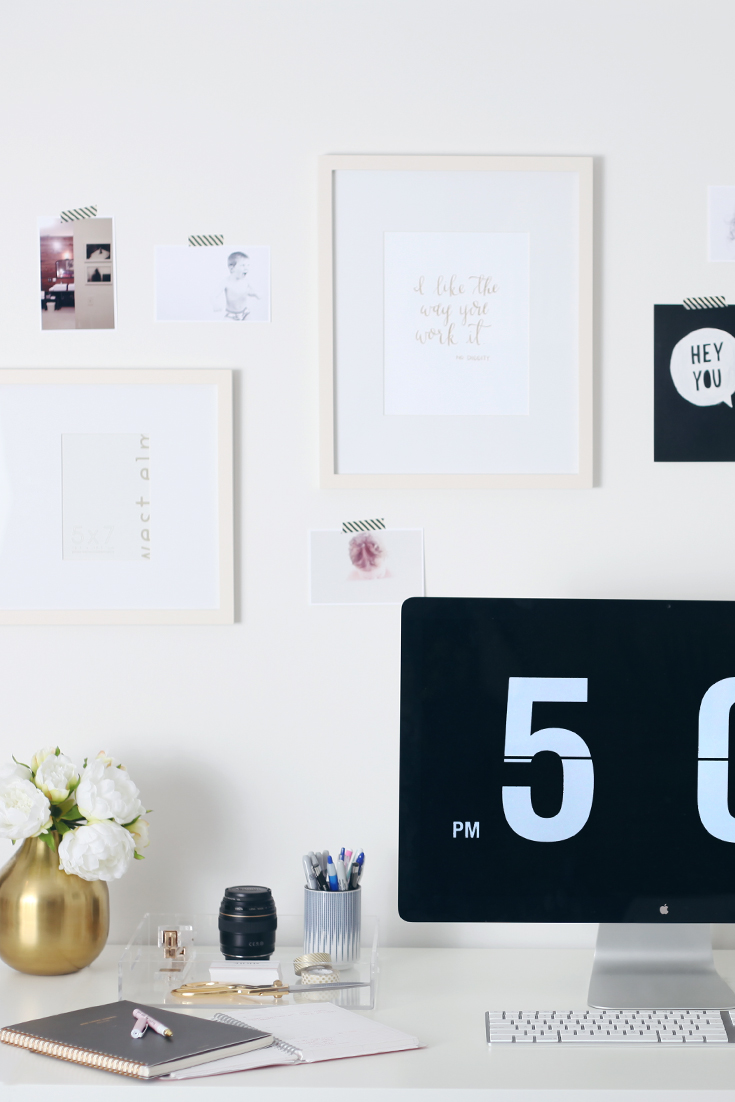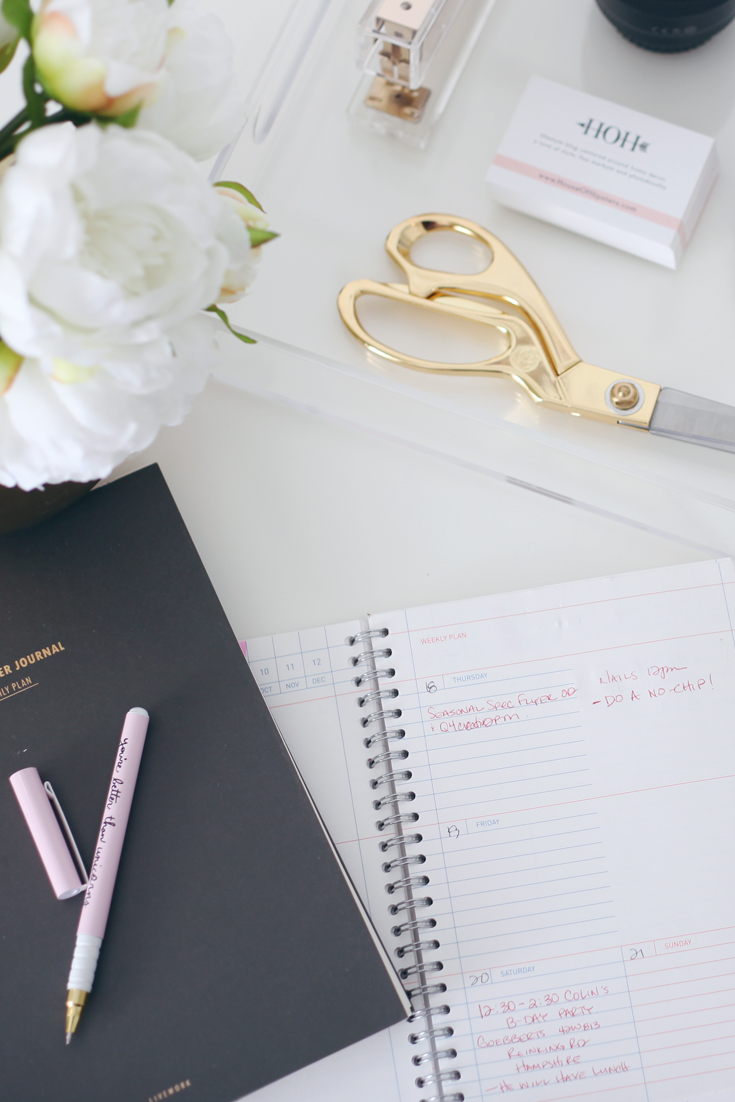 Now that my lighting is back in working order, (last week's post was shot on an iPhone and I was crying in my yellow tinged soup) here's a better look at my new favorite chair from West Elm. She's a huge favorite of mine.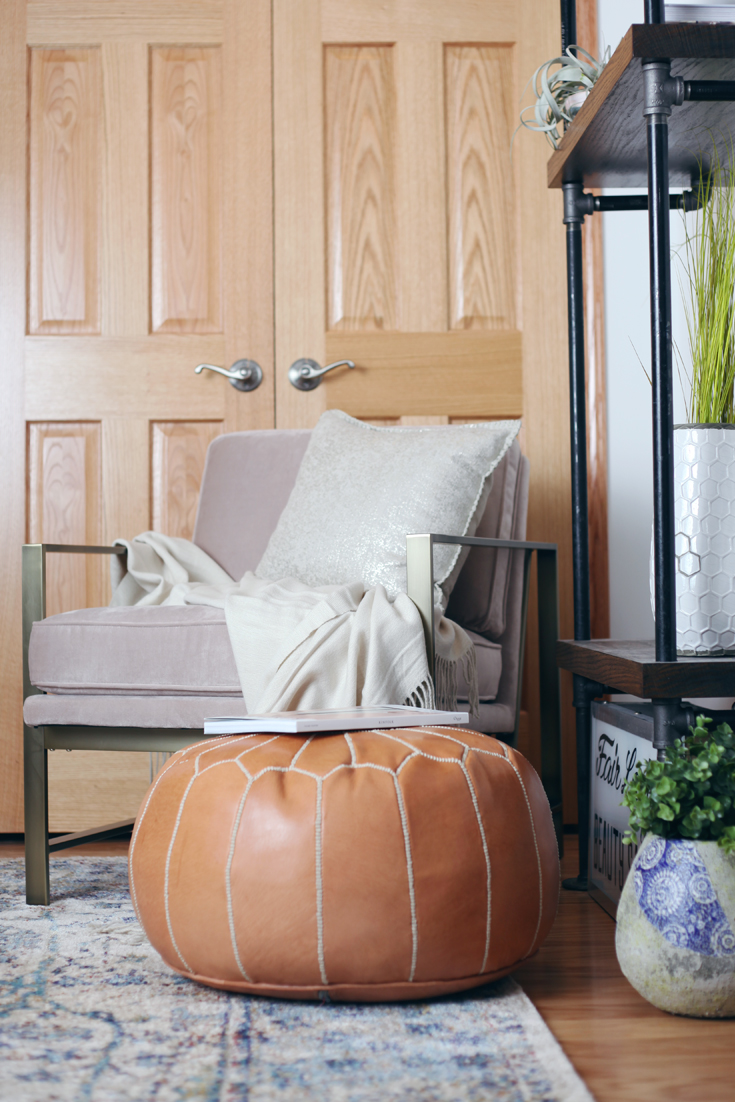 This beauty and I have had a long standing love affair. When the indigo left the building and blush entered the color palette, I knew I had to have her. When she went on sale with an extra 20% off, well that just sealed the deal. It also helped she sings beautifully with the Loloi Anastasia rug. She's also mid-century and brass.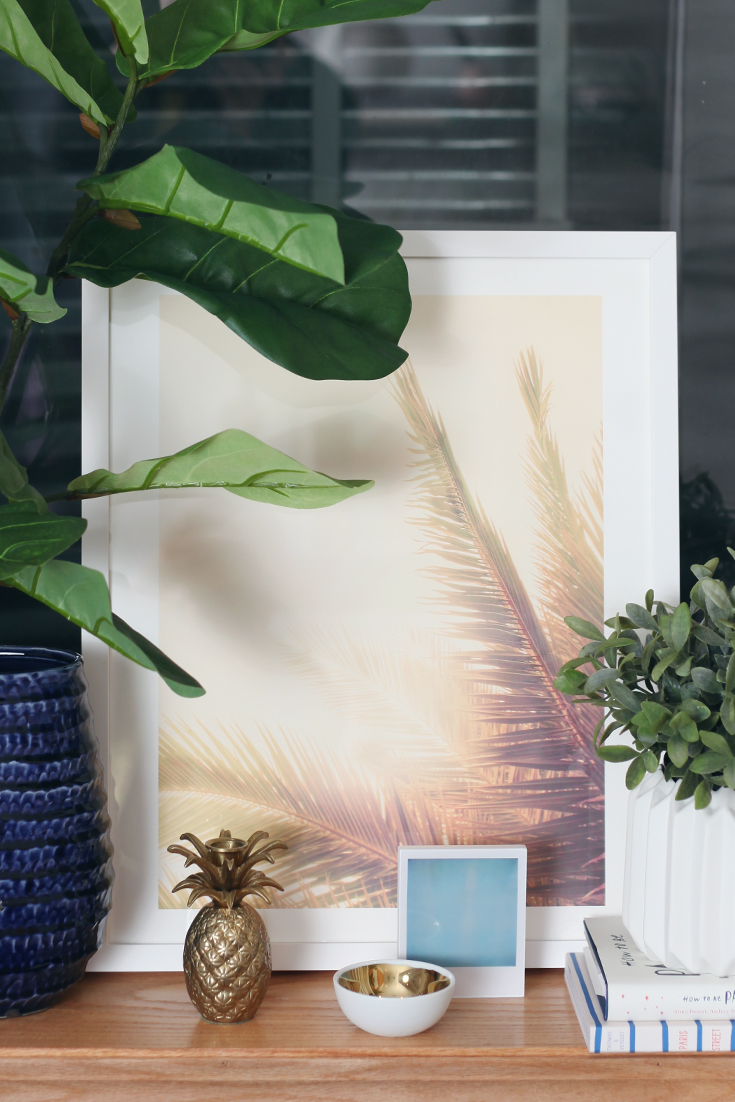 Can't we just take a moment to talk about this artwork? I'm in love with this palm print from Minted. Just looking at it gives me the warm and fuzzies and transports me back to my vacations in Maui. Oh how I miss Maui right now.  I went through a lot of back and forth in my shopping cart to finally make this guy my final selection. Minted just has so many great picks to chose from. But this one, well, it's perfect for me.

So that's about it…oh, I am having one dilemma. Remember the wedding blanket I dressed the Chesterfield in? Well after pinning like crazy the other night, I took a step back to see what I was attracted to. Everything and I mean every single pin was cozy and warm and zero boho. So I ran upstairs and swapped out the handira for this cable knit Serena and Lily cream throw. What do you think? Do you agree? Am I crazy for ridding a room of a wedding blanket? I already considered committing myself for banning indigo and rattan. This decision might just put me over the edge…but I'm kinda loving it! It just looks so inviting and comfy.

Don't forget to check out the other One Room Challenge participants and be sure to check back next week (Week 6) for the final reveal. I'll also be sourcing every single item in the room so you can get your hands on it too! See you soon.