Pipe Shelf
Last Updated on July 25, 2023
After a bit of prodding, begging, pleading, and a little googling, The Boy built me a pipe shelf for my home office, and I have to say, it's AWESOME! it took me quite a while to style it, but it is finally coming together. I love decorating the little spaces in our home almost as much as the large spaces but sometimes find it difficult to find the right composition. More often than not, I step back and think, too cluttered or too minimalist. It takes plenty of trial and error to find the right balance. This post is dedicated to the little snippet of progress I have made styling the shelf thus far…although it is bound to change.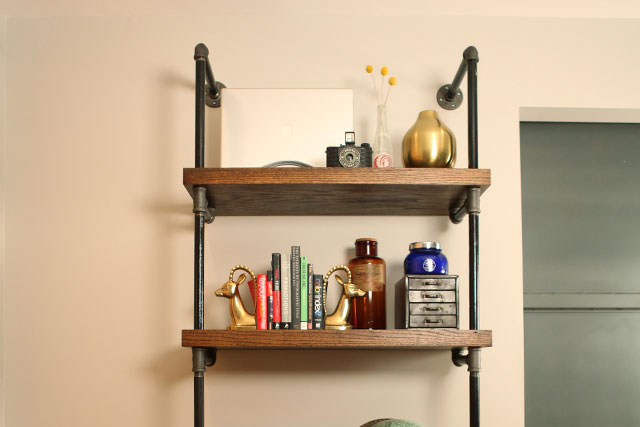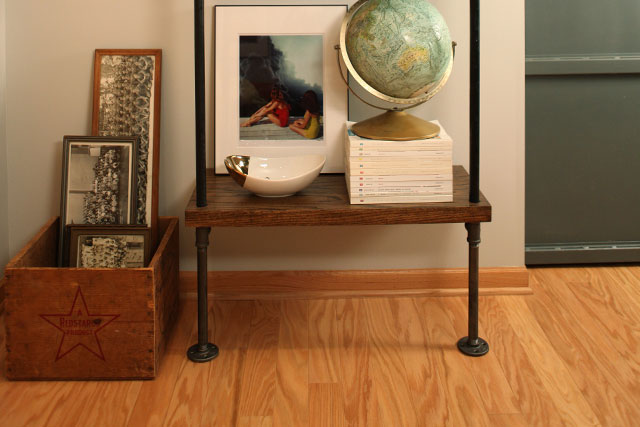 I learned how to style on set for a catalog I was designing. while art directing the shoot, I found myself following victor, the stylist, everywhere he went. He sensed my enthusiasm and took me under his wing. However, I quickly learned that styling a studio set is so much different than styling a vignette at home.
On set, you want to add punch without too many knick-knacks. those tiny details just do not register when dropped into a layout. Although at home, the tiny details are what make your home unique. Your guest can walk right up to that shelf and touch (okay, at my home, we have a no touchy rule, but whatevs) each item.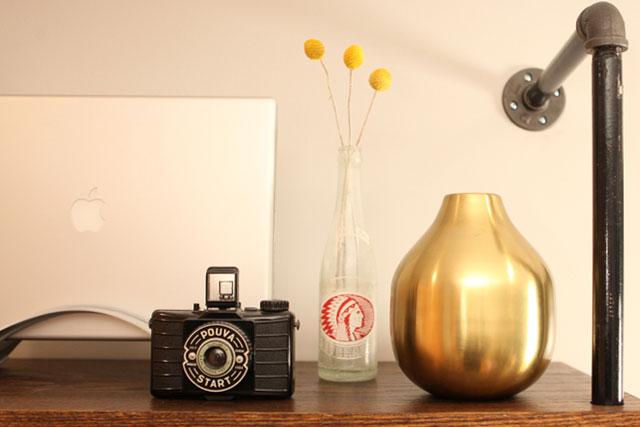 The top shelf is probably the shelf that I change out the most. I don't think I need to display my laptop, but something large needs to take its place. A vessel may be filled with hydrangeas? But I already have 2 vessels here. Oh, I don't know, decisions, decisions. BTW, this is what keeps me awake at night folks. I love the Pouva Atart bakelite vintage camera. The Indian head soda bottle was thrifted and the brass vase is Nate Berkus for Target.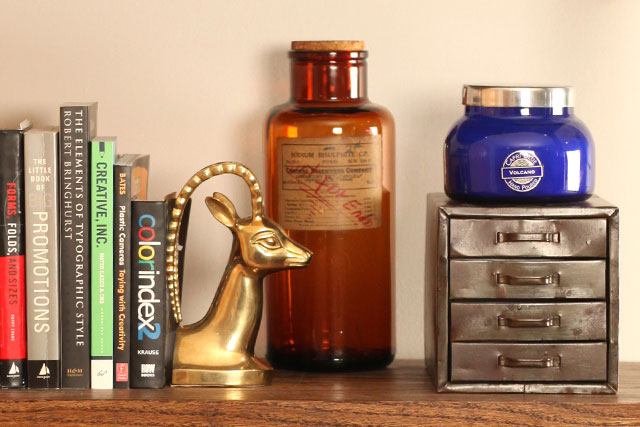 I own a ton of design books. many that I use on a daily basis. the brass ram bookends and vintage apothecary jar are finds from Etsy. The candle is my favorite scent from Anthropologie and the tiny drawers were purchased at a flea market. because I'm constantly mocking up design layouts, the drawers are great for childproofing my scissors, x-acto knives, and blades.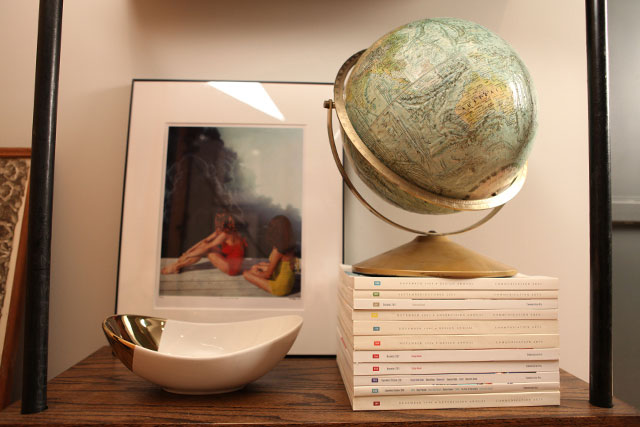 I have to hardest time throwing away magazines, especially my communication arts periodicals. I like that they are so simple and minimal with the white spine and small pops of color; I chose to display them topped with a large vintage globe I sourced at BAM Chicago. The small bowl is again from target and the artwork is by Beth Hoeckel. If you have never heard of her, you should…go check her out now.
The spacing between this shelf and the shelf above it is a bit too large. I'm trying to find the perfect lamp (task lamp or in my dreams Pierre Cardin brass lamp) to replace that globe, and as I'm typing this a light bulb just appeared over my head. Once I find said lamp, the globe will replace the laptop on the top shelf…HA! I've been told by the boy that decreasing that space between the shelves is not an option, so maybe that Pierre Cardin brass lamp is not just a pipe (shelf) dream.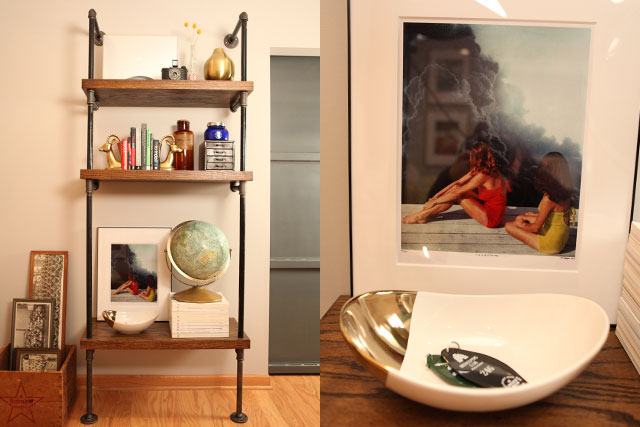 Now, before you started to read this post, you were probably eyeing this pretty little gem, asking yourself how you can build one in your own home. Well, ask and you shall receive. I found a few good tutorials, but apartment therapy and the brick house seemed to have the clearest of instructions. I wanted a thicker wood which was unavailable at my local Home Depot (we purchased the pipe there, and they cut it down for us in under an hour), so I contacted a nearby lumberyard (isn't that grain amazing?). They cut the wood, and the boy painstakingly drilled each hole (not realizing just how hard of a wood oak is; each hole took over 30 mins to complete…poor little cordless drill). He stained it using Minwax in walnut, and voila! A beautiful pipe shelf was created!
More Home Decor On House Of Hipsters