Trial And Error Vignettes
Last Updated on December 7, 2021
If you have been reading this blog, then you will remember a while back I posted some images of our front room…you know that room that has no tv and adults sip coffee and chat room? Well, we have one of those rooms, but one will usually find me sipping coffee, sitting quietly in a chair only early Sunday mornings. The dude wakes me up while the boy is out hunting. The dude plays on his leap pad while I peruse my email and the local news…okay, really I'm probably Instagramming and Facebooking.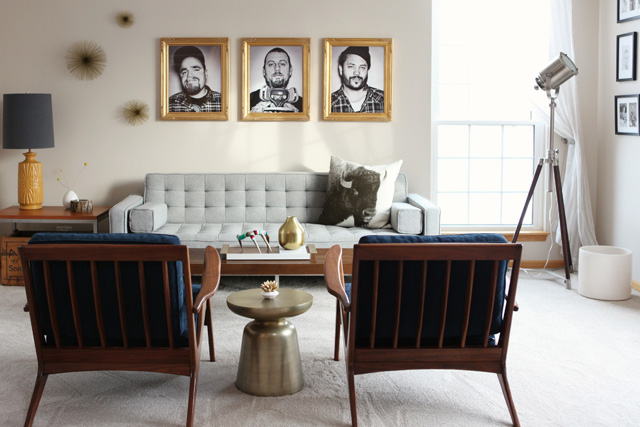 In that post, I didn't however show the 2 other pieces of furniture in that room. I suck at composing vignettes and styling in general. you know, those little arrangements of cute knick-knacks on tables and shelves that interior designers set up flawlessly. I finally set out to face my nemesis. Take the bull by the horns. I figured since Santa would be sending a lot of presents via the postman, a few more packages of vases and little brass objects would not be overly noticeable to the boy. I was bound and determined to conquer the vignette come hell or high water so a shopping I went, and here's a look at how it turned out.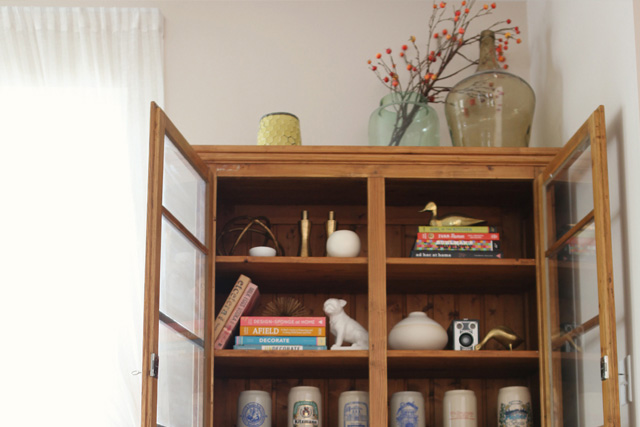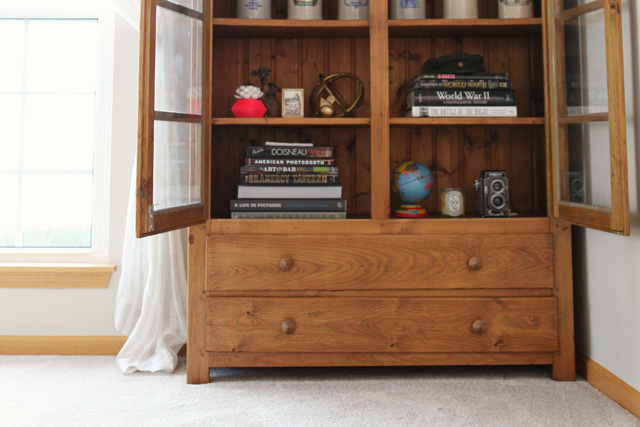 This cabinet, made by The Boy's Opa in Germany, was shipped to The States and gifted to him by his parents. I knew, even though it was not quite my style, that it was here to stay, and I have learned to love it (quite a lot actually). When I first met the boy it was filled with the steins that he collected from festivals in Germany. I had to embrace those. He also loves duck hunting, cooking, and WWII…hmm, how do I combine all that into a vignette? Well, i stole his books, obviously. I stacked cookbooks and war books together and added in a brass duck and goose. as a nod to the boy's grandfather, I topped the WWII books with his Opa's hat after his passing to honor him in a special way.
Here are a couple of closer looks at the compositions on the shelving.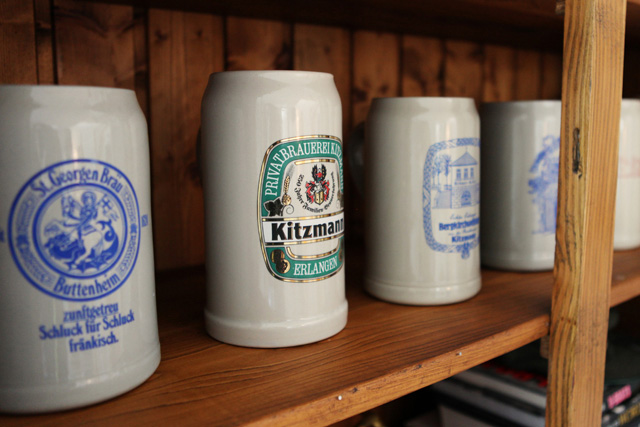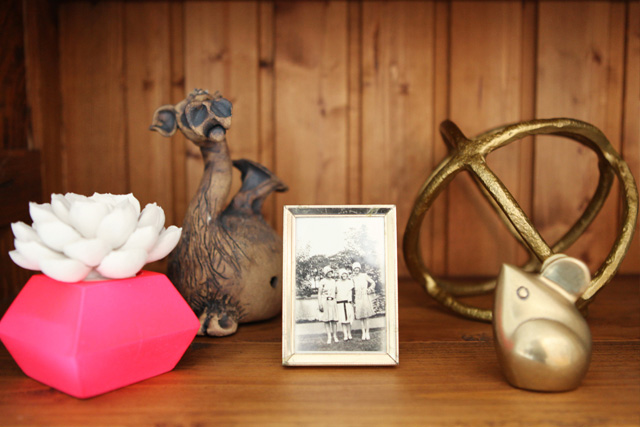 By grouping the books in coordinating colors, each stacking holds its own space on the shelving. The pug bookend is from Yearbook Studios.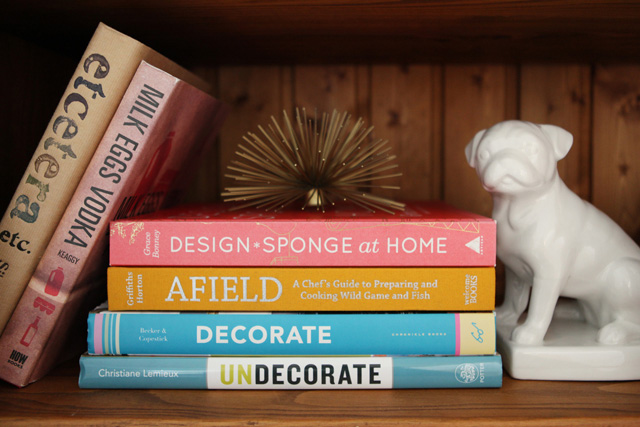 Then came the hairpin table. I purchased this off of craigslist and it has been the revolving door of knick-knacks. I think I'm finally happy with it, but really only time will tell.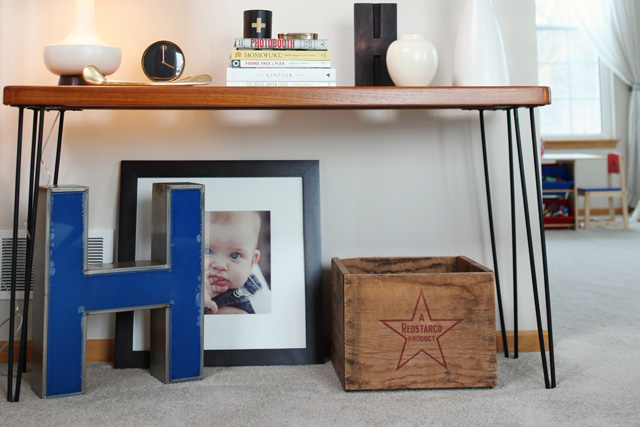 While I'm still not thrilled with the bottom area, overall, I'm pleased with how this has evolved. Eventually, I'd like two of these small ottomans below, but since they are quite pricey, I think I have to wait a bit and save my pretty pennies.
The Caravan Pacific Lamp has been my dream lamp for the last 3-4 years. I found them on Kickstarter, but at the time was in no position to be spending money on lamps. Little did I know, the price would double after achieving their Kickstarter goal. This past Christmas, The Boy surprised me…the best husband ever! My dream lighting come true!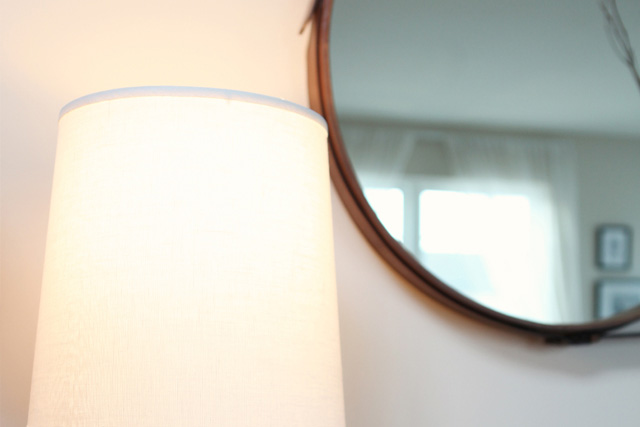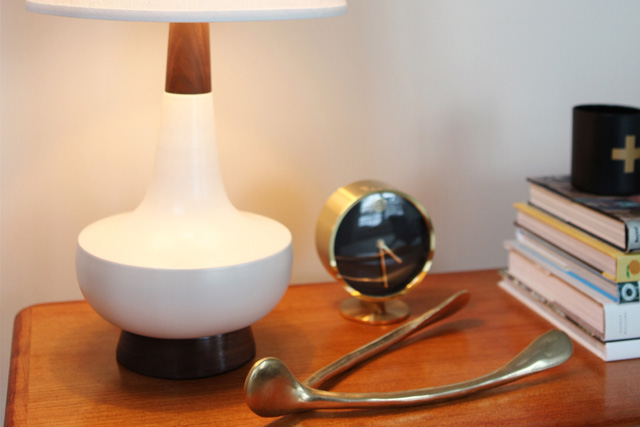 This final grouping of books is filled with my favorites. The photo booth book, and every year, for Christmas, I give the boy a new cookbook. This year, he finally received Momofuku. He is presently planning an epic food trip to new york. A couple of months ago, I stumbled across a blog post about Camp Wandawega. We will be staying here for a long weekend this coming summer, and I can't wait! I mean, who can resist a faboosh vintage resort complete with rustic original decor? Dream come true, am I right?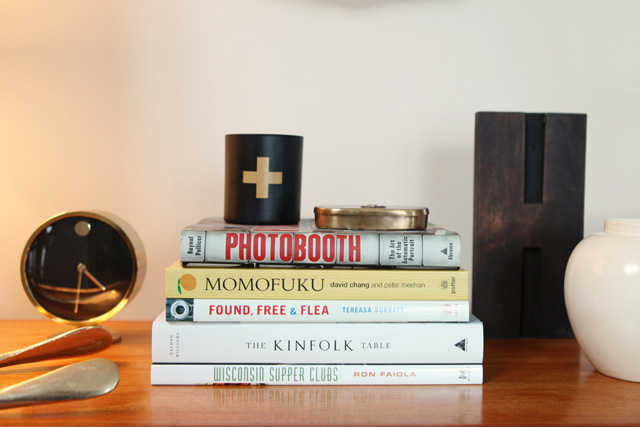 Anyhoo, the book, found, free & flea is written by the owner of Camp Wandawega. It has become my new go-to book for decor ideas…it is packed with goodies. My favorite place to dine back home is a small supper club named Ishnala in Wisconsin Dells. It's featured on the front cover of the bottom book.
Discover More Vignettes and Home Decor Inspiration
Styling A Desk In An Awkward Desk