10 Perfect Coffee Table Books
Last Updated on December 8, 2022
Check out my recent best coffee table books for the most up to date list. If you've been reading House of Hipsters, you know I love to style with a stack of books (usually topped with a small object or vase). As of late, I've been styling the house like a madwoman, and I'm running low on reading material. Good heavens, what's a girl to do? Ummmmmm, ya, go shop for books, duh! And that is exactly what I've been doing. I have a few interior design books I've been yearning for, but I also like to shake things up. I like topics that reflect the house's personality (and the people that live there).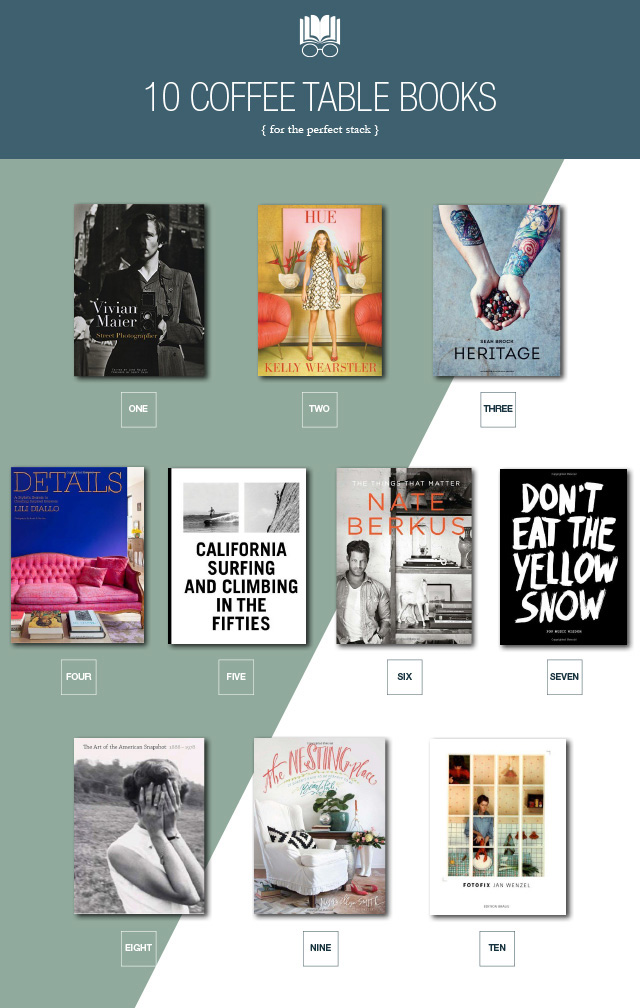 10 Favorite Coffee Table Books
6. Nate Berkus Things That Matter: He constantly reminds me to have things in my home that I love. Don't care what other people think. If it makes you happy, if it makes you smile…it stays. For me, the most successful interiors are put together by people who surround themselves with things they love. They aren't materialistic or created to gain status. They reflect the homeowner's personality.
7. Don't Eat The Yellow Snow: Pop Music Wisdom: I'm not a huge Frank Zappa fan, but this book is fun. I mean, what better advice is there than to not eat yellow snow? It's a simple book of music trivia. You are given a song lyric (which is always words to live by) and get to guess the title and artist name. Great party book (and perfect housewarming gift!)
8. The Art of the American Snapshot 1888-1978: I love film. I love analog cameras. I love candid snapshots. Enough said.
9. The Nesting Place: It Doesn't Have to Be Perfect to Be Beautiful…Well, I think that subhead really sums up this book. Words to live by when decorating and styling your home. This book has everything to do with embracing imperfection and the chaos of daily living. Decorating for real people at its best. It also happens to be written by one of my favorite bloggers Myquillyn Smith from TheNester.com.
10. Fotofix: Jan Wenzel. I've been on a quest to find this book for under $300 without success. If the boy is reading this post…I WANT THIS BOOK FOR CHRISTMAS (preferably not in German, but will take in German…you can translate it for me). Jan Wenzel was a (not very famous but incredible) photobooth artist (there are not many famous photobooth artists out there…the art world didn't really believe that you could make art in a booth). Wenzel created these intricate mind-boggling room scenes out of 4 photobooth strips. If you know anything about a photobooth, you have 3-4 seconds (if you are lucky) between shots. There's no doubt in my mind he had these scened sketched out with assistants on hand to have these strips coincide with each other. The man was brilliant. Take a look at the photo below and you will notice that everything had to be gridded out to perfection. The background stayed the same, but the props and people had to be arranged just perfectly in order for it to work. If it didn't line up just right, a new strip had to be made. Amazing. #photoboothnerdery at its finest.