Renegade Craft Fair Chicago
Last Updated on January 13, 2022
Last Saturday I was lucky enough to attend the Renegade Craft Fair in Chicago with my little buddy Laura from Avery Street Design. Minus a minor diversion by the navigation lady who lives in the speakers of my car and a parking delay (not to mention almost getting crushed by a white van…that might or might not have been my fault…whoopsies), we had SOOOOOOOO much fun!
Now, when I think of craft fairs, I normally think of doilies, crocheted what nots, odd garden trinkets, and old ladies, but this craft fair was anything but granny! This well-curated event showcased the best and brightest of the indie craft and design world. Over 300 DIY-ers featured products ranging from leather goods (my favorite was the buttery, Italian leather handmade totes that were found at the FOUNT Leather Goods booth, hello Santa!), jewelry design, ceramics, paper goods, and more.
After making our way through some crazy traffic on the Kennedy Expressway and an excursion through Logan Square, we arrived on Division Street in Wicker Park! Hooray for finally getting out of the car (not to mention the waffle fries)!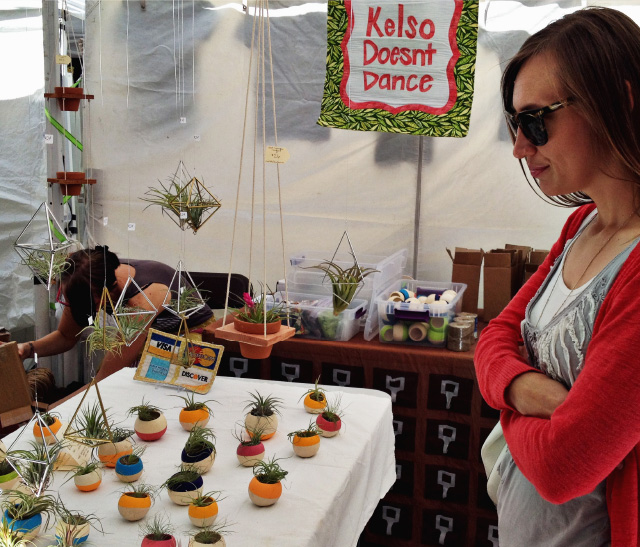 One of our first stops was at this cute air plant booth by Kelsey Cooper. She was seriously, one of the sweetest girls we met at the fair. She apparently lugged 3 suitcases, a backpack, and a purse on a plane by herself to attend. Not to mention all the boxes she shipped in. This gal was well stocked…she also wore the cutest apron. That's her bending down to string more air plant hangers. I should have waited for her to sit up because she had the cutest pink sunglasses on.
The air plant hangers are made of brass or aluminum tubing, wire, fishing line, and crimp beads and are inspired by the Finnish tradition of Himmeli, Christmas decorations made of straw. She also makes these cute air plant pods. I wanted everything! So hard to pick just one. To buy one of your own, you can find her on Etsy.
I am so kicking myself for not bringing my DSLR camera because this booth was so cute (and packed with people…literally swarming)! This was the booth of White Nest. They had some super cute cut-out art prints and beautiful pillows. Ya, so get this, that's not ink printed on paper. Those are die-cut with a color backer. So cool! I was so torn between geometric diamond, "YOU ARE WONDERFUL", and the "You Are My Greatest Adventure" prints. I finally settled on "YOU ARE WONDERFUL" in neon pink…yes, each comes in a variety of colors and yes, I'm going bonkers for splashes of neon pink lately. I think I'm going to frame and hang a gallery wall in Little Maus' room.
Renegade Craft Fair Best In Show
BDJ Craft Works booth stopped us in our tracks. Each piece was unique and sooooooo amazingly gorgeous! Brian David Johnson (BDJ) lives in Austin, TX (only like the coolest city in the States, right?). He has been building furniture and fine cabinetry since opening his own studio in 2002, but in 2009, he establish BDJ Craft Works which is a line of small hand-crafted pieces. My favorites were the wall hanger vases with inlays and the planters (with what else, air plants!)
Speaking of air plants, let me tell you, this place was the air plant mecca! If you don't own one already, you need to. And Kesley from Kelso Doesn't Dance was kind enough to tell us how to care for one…and I tell ya what, I'll share with you what I learned. It's super easy peasy! You just pop that little guy in a bowl of water for 10 mins once every 10 days. Yep, that's it! I told ya it was easy! Now to see if he lives. I felt him shudder when I picked him up. IF you know nothing of me and plants, read this post on indoor plants you won't kill. And if you're a plant killer like me, read my guide to the best faux plants.
Okay, so this may have been our favorite booth! FOUNT Leather Goods. OMG, where to even start with these guys! First and foremost, we deemed them the most beautiful couple at the craft fair. How dorky are we? Based out of Cleveland, Ohio, these two cuties patooties focus on high-quality leather goods. I"m pleased to introduce to you, Phillip and Jackie Wachter. I swear, you talk to Jackie for like 2 minutes and it feels like you have been BFFs for years. This creative husband and wife team hand sew beautiful totes (and more) made of this buttery Italian leather.
My favorite was The Bellfield Tote and Jackie was kind enough to take the time to give us a quick rundown on the bag. Each tote has two spacious leather interior pockets with brass snap closures to keep valuables secure. There's an internal and external brass key ring holder that includes one FOUNT Kestrel Keychain. But here is the best part. They hand-sewn these heavyweight veggie tanned leather straps and reinforce them on the inside and the outside. So, if you are someone like me who by the end of the week seems to have everything and their mother inside their bag, well, it's probably not going to rip out. I can't even begin to count how many tote bags I've ruined because of this.
FOUNT is also featured in October's Country Living Magazine AND they are one of Martha Stewarts' finalists! These guys are ones to watch. They are going to be big and you can say you heard it first at House of Hipsters! You guys, this bag is on my Santa list this year. Oh, and a quick story about the flag…because it was so purdy, we had to ask. It's vintage and has only 48 stars (and each one was hand-sewn). Ya, it was A-MAZING, so I had to take a picture.
I snagged this cute vintage FILLY pin for $2…can you believe it! $2!
This air plant and hanger was a steal at $24 from Kelso Doesn't Dance.
I so wish I would have snapped a picture of the Territory Design booth. Hopefully, Laura did. I spied this rug hanging in the back of the booth and told Laura I really thought I might need it. Ya, I said, "need it". Once I found out it was a one-of-a-kind piece from Mexico that couldn't be found online, well, that was it, that sucka was mine. I snatched it up in two-point five seconds. Before my credit card was swiped, two more women asked if it was sold. Yep, it was, back off ladies. HA. They also sell some really beautiful vintage textiles on their website….hmmm…hey Santa! Are you still reading this? Hint, hint, nudge, nudge, wink, wink.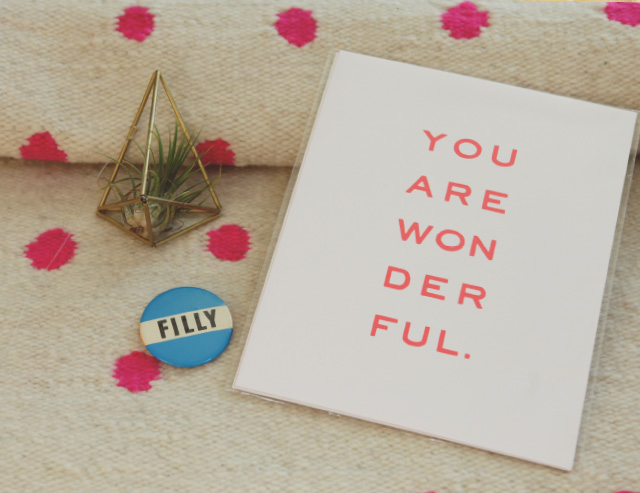 So here is one last look at everything I bought at Renegade. If you missed it this year, don't worry, they come back to Chicago December 6-7. And if you don't live in the Chicagoland area, you can find them in New York, Portland, Los Angeles, Austin, San Francisco, and London. You can also search #renegadecraftfair or #renegaedcraftfairchicago on Instagram for more eye candy. Or stop over at Laura's Instagram for more pictures of goodies from our adventure. I'm still waiting for the picture of "the wall" and my polka dot phone. Seriously, that shot is drool-worthy.
The next craft fair we will be attending is the Show of Hands presented by Orange Beautiful on November 22-23. Who's coming with us? Hey Laura, maybe we should make this a fun outing with our readers? What do you think!