Styling A Desk In An Awkward Space
Last Updated on June 28, 2023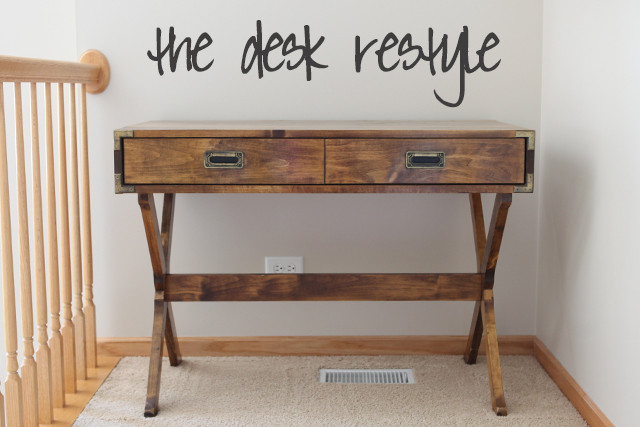 Today i'd like to share a fun styling project that I've been working on with Laura over at Avery Street Designs. you know, one of those proper design posts with lots of before and afters, resources, and such. It's a pretty exciting one that I can't wait to share with you! Don't worry, I know you want to know where you can buy some of these goodies…they are listed at the bottom.
Here's a bit of background, Laura and I were neighbors 3 years ago, but she put her house on the market and it sold. We followed suit. Laura recently found me again on Instagram (by the way, you need to visit her feed…it's beau-ti-ful!), noticed I had a blog…she had a blog…and both bloggetty blogs were about interior design, photography, random tidbits of our lives…she suggested a collaboration and I said, "well you know, I have this little desk" and that's how the magic began.
A catwalk that leads to nowhere. It's just an odd space. About 8 months ago, I found a campaign-style desk that I thought would work perfectly in the nook…well, let's be honest, I didn't find it, my design goddess Emily Henderson found it for me with her "Trolling Craigslist…Chicago" blog post. and btw, I got it for a better deal than the $300 price tag it was listed for…always wheel and deal.
Over the course of the last 8 months, this desk has seen about 6 different lamps (at least), a globe or two, countless vases, stacks of books, brass boxes, candles, artwork, and other decorative pieces. but nothing where I've said, "you nailed it sista!" I style it, look at the arrangement for a couple of weeks, move a couple of things, and repeat the process. since I finally styled the front room, I figured, you got this girl…but 8 months later, I knew I needed some help.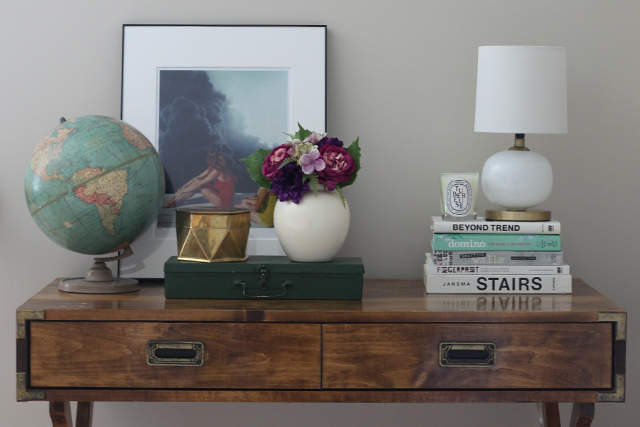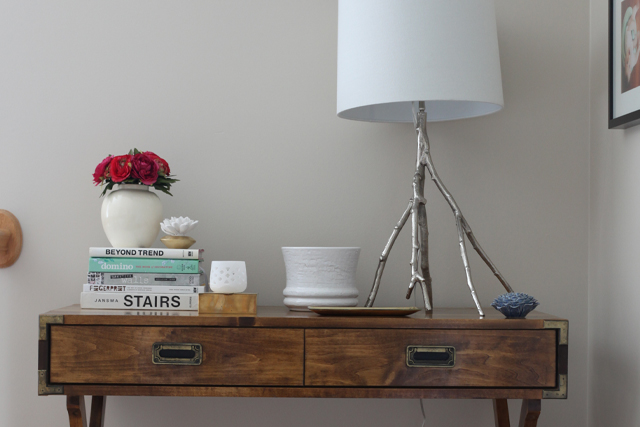 Let me elaborate, you see, it's a tricky little spot. the adjacent wall has a collage of family photos and it's a tight fit between the wall and the railing. You don't want too much in fear it will fight with the wall hangings, but you don't add enough and it looks sparse. Also, since this is on a catwalk, the lamp had to be on the inside wall or you could see up into the shade which became a hard rule I learned on round 1 of styling this puppy…no bulb should be seen from the foyer.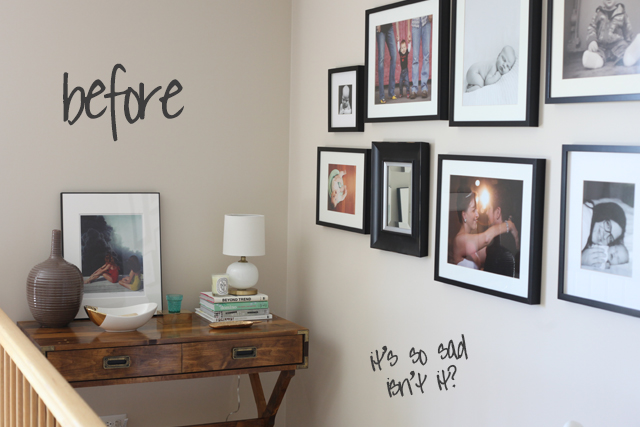 Since our schedules are crazy busy and family time is precious, we decided to give this a go over email…electronic restyle so to speak. I photographed the desk and all of its orphaned items (I'm a flea market junkie and have collected a lot of small vases and random boxes). below is a glimpse of some of the items which have found a temporary home on the desk. along with a few styled options that have stuck around longer than others.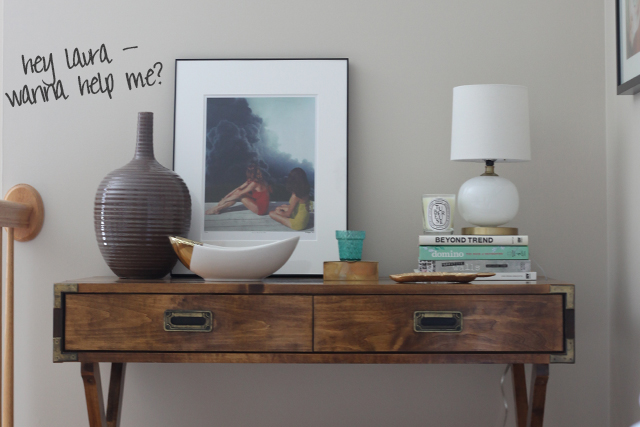 The white lamp was too small, but I had become married to it…it was so cute. It was from west elm back in February, and it had finally arrived after being back-ordered for over 4 months…come hell or high water this lamp was staying. but looking at it in the pictures, I thought I had to hang something above it…a large mirror maybe? would it fight with the photos on the adjacent wall? was that the right thing to do? finally, I came to grips with it, the lamp couldn't stay, it was just too small. that dark vase, although a very pretty vase, was so not right. the artwork by beth hoeckel is so amazing, right, but not perfect in the space. it needed help…it needed a little avery street design makeover…enter laura.
I sent her a few photos of what I was working with…she worked on it thru the night, and delivered perfection to my inbox. be sure to read her behind the scenes on her styling process over at avery street design blog.
so here it is, the big reveal! it's so ridiculously good! I swear, every time I walk upstairs I suffer from the triple "s"… I stop for a couple of seconds, stare and smile! thank you so much laura! I could not have done this without you…now for those to credenzas and dresser, right??? hint, hint, nudge, nudge, wink, wink…
now let's get a bit closer, shall we?
and how bout even closer